December 2016 News And Events
FLORIDA HERITAGE TRAVEL
is the companion monthly e-zine of
FLORIDA-BACKROADS-TRAVEL.COM
---
WINTER HAVEN, FLORIDA: HISTORIC CHAIN OF LAKES CITY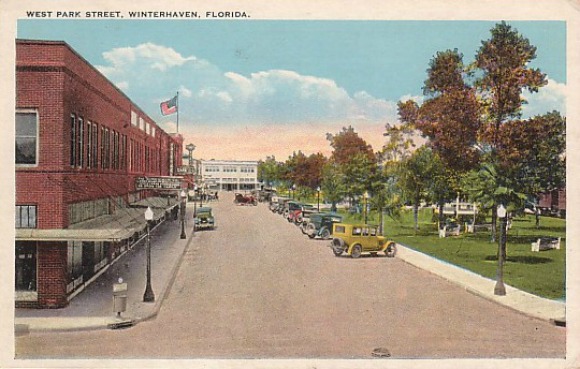 Winter Haven is like many other Florida towns: you have to get off the main highway to see the real town. In this case the main Highway is US-17 that meanders across Florida from the Georgia border near Jacksonville to Punta Gorda in Southwest Florida on the Gulf of Mexico.


The town began to develop in the early 1880s in the days before highways when the Plant System built the first railroad across Polk County. It passed just north of current day Winter Haven. The town was first called Harris Corners but was incorporated as Winter Haven in 1911. The canals connecting the chain of lakes were started in 1915, and the town boomed in the 1920s along with many other Florida places.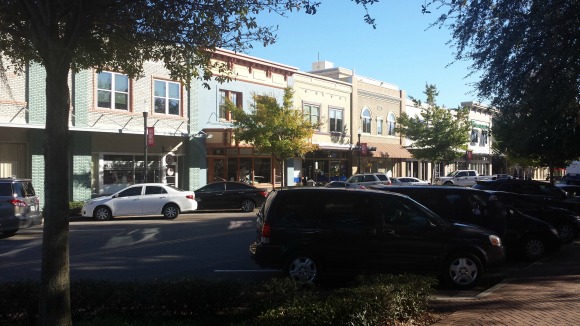 The 1920s saw many homes built in the colonial revival style, and more than 50 of these homes are on the National Register of Historic Places today. There are four historic districts in Winter Haven including the downtown area.


The first Publix supermarket was opened in 1930 by George W. Jenkins. His second store, the first stand-alone Publix, opened in 1935 at 199 West Central Avenue. The building still stands but is no longer used as a grocery store.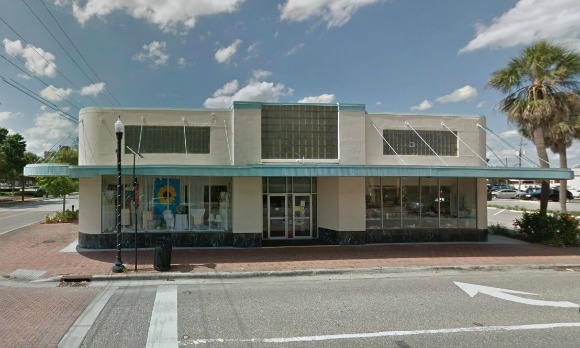 During the 1930s and 1940s, citrus pioneer John A. Snively operated one of the largest fruit packing plants in the world in Winter Haven. At its peak, Snively Groves Inc. employed more than 1,500 people. The town is still the center of a major citrus industry.


Mr. Snively was the maternal grandfather of musician Gram Parsons. The Snively mansion, known as Magnolia Plantation, is now part of the Legoland property and is open for special occasions.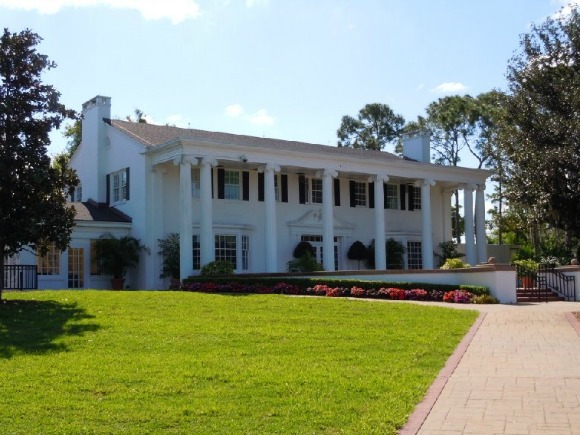 In the years before Walt Disney World opened in 1971, Winter Haven was the destination for more tourists than just about any other place in Florida. This is because of Cypress Gardens, known as the "Water Ski Capital of the World", that opened in 1936.


Many movies were filmed at Cypress Gardens and thousands enjoyed the Southern Belles and water ski shows until the park finally closed its doors in 2009. It was reborn under different owners as Legoland in 2011, and the new owners have preserved key elements of the beloved old Cypress Gardens attraction.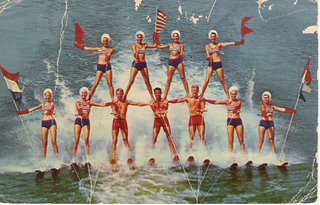 The numerous lakes in this city do not allow a strict north-south and east-west street layout. The canopied residential streets meander throughout the town around the lakes and offer lots of great scenery. Many of the lakes have streets around their entire shoreline and these make for great scenic drives. Several neighborhoods, including the downtown area, have been designated as historic districts and you will see many historic buildings and houses on your drives.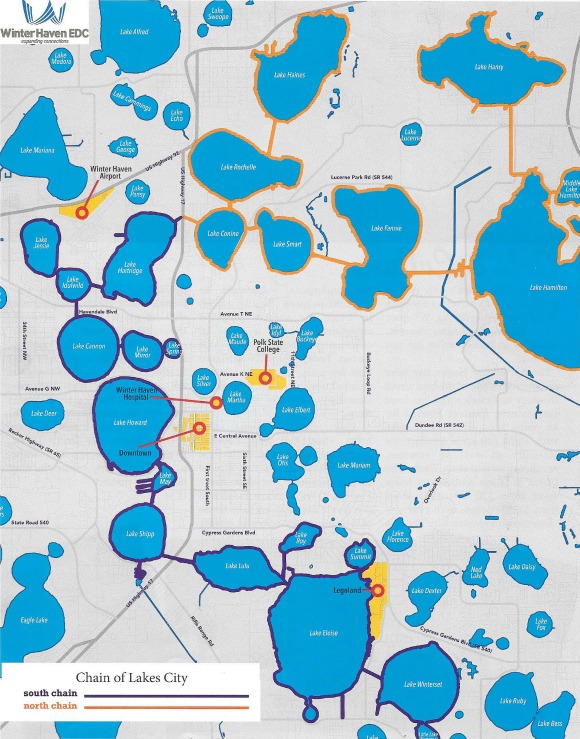 Winter Haven's nickname - "Chain of Lakes City" - has been earned because of its location among more than 50 lakes ranging in size from tiny to large. 24 of these lakes are connected by canals in the Winter Haven area, making Winter Haven a boater's paradise. Visitors can rent boats, kayaks, paddle boards, and pontoon boats and spend hours fishing or just enjoying the water. Winter Haven is also close to many other Florida attractions such as Bok Tower Gardens and Spook Hill.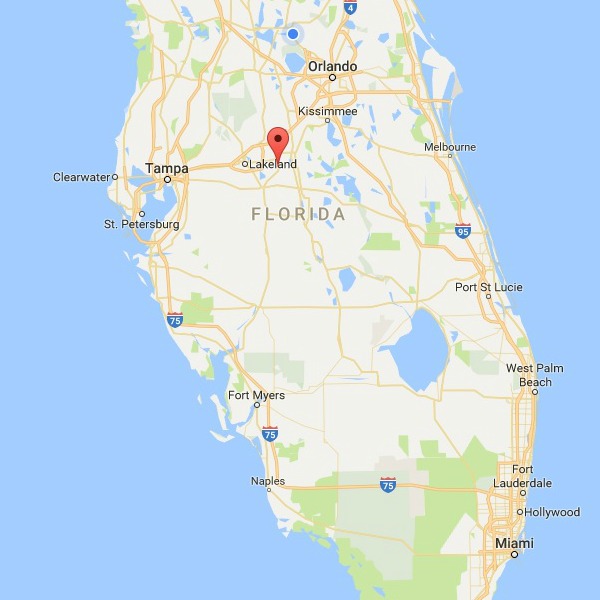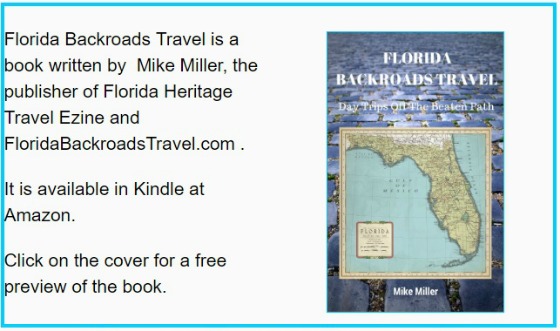 ---
RESTAURANT OF THE MONTH
Harry's Old Place
3751 Cypress Gardens Road
Winter Haven, Florida 33884
Tel: 863-324-0301
www.harrysoldplace.com/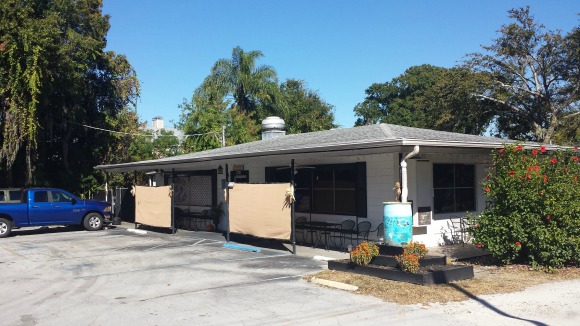 Harry's Old Place has been a Winter Haven tradition for almost 25 years. During the winter season you can expect to wait 45 minutes or so to get a table. The wait is worth it because of the quality and taste of the food and the good drinks you can sip while you wait.


Harry specializes in seafood, and the menu changes every day. The modest building sits on the shore of Lake Ned and many of the windows have views of the peaceful water. There is a small service bar for beer and wine with about three stools just inside the entrance, but plenty of space to wander around on the grounds if you have to wait. The interior of Harry's is rustic and homey. Nothing is fancy but it gives you a very comfortable feeling.


Lunch and dinner is served here; the lunch menu is large and varied and the dinner menu even more so. Some unusual items are featured here. For example, the appetizer menu includes duck fingers, gator bites, baked oysters, escargot in mushroom caps and deviled crab balls. You can get your main entree fried or broiled. All fried entrees are served with hush puppies and your choice of two: cole slaw, tossed salad, French frieds, New Potatoes, rice or fresh vegetables.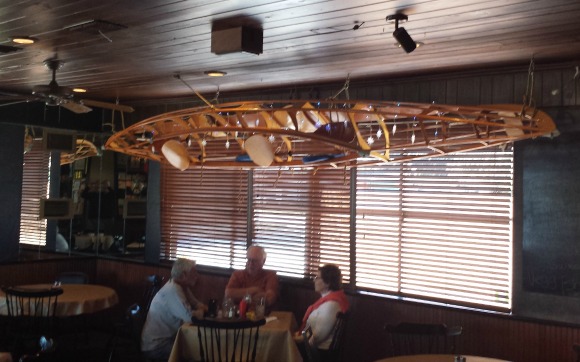 The fried entrees include oysters, grouper fingers, scallops, shrimp, catfish and clams and can be ordered separately or as either a fish and chips special or a combo platter. Broiled entrees include crab imperial, shrimp kabob, scallops, snow crab legs and Harry's catches of the day. These catches are always fresh and you can have them prepared any way you like.


Landlubbers have not been forgotten with plenty of beef and chicken dishes including filet mignon, garlic steak, New York strip, chopped steak, and plain, Cajun or BBQ grilled chicken breast. The also serve linguini with clams and shrimp, and pescatore with scallops, shrimp, clams, white fish and mussels on a bed of linguini. Children's dinners include hamburgers, grilled cheese, spaghetti and meatballs and even a peanut butter and jelly sandwich. The dessert menu is generous, too, and the favorite here is Key Lime Pie.


Harry's Old Place is open for lunch Tuesday through Friday from 1130 to 130, and for dinner Tuesday, Wednesday and Thursday 500 to 900, Friday from 500 to 1000, Saturday 400 to 1000 and Sundays (December 2 through May 13) from 400 to 800.



FLORIDA BACKROADS TRAVEL UPDATES


Thanks for continuing to subscribe to Florida Heritage monthly e-zine. Our website, FloridaBackroadsTravel.com continues to grow, and we hope you enjoy these updates.


You can also subscribe to our Florida Blog by going to our home page and selecting an RSS feed. This way you will have daily updates. I recently added a new page to the website: Florida Tales. This feature allows website visitors to share their favorite Florida stories with us. We also revised our Florida Getaways page to provide links to getaways in all 8 geographical regions of Florida.


December is just right in Florida. We get some cold snaps, but most of the state is blessed with occasional periods of balminess that warm the bones. The snowbirds have come back from up north so the lines are longer at our local restaurants.




HERE ARE SOME INTERESTING FLORIDA EVENTS FOR DECEMBER:




ALL REGIONS


FLORIDA WINERIES. Check the Florida winery nearest you. Many of them have wonderful weekend events that include music and wine tastings. Our site has information on 27 wineries scattered across the state. We plan to add even more when we have time to visit them.


FLORIDA TOURIST ATTRACTIONS. We have an extensive list of Florida Tourist Attractions. Some of them are well known; other are a wonderful step back into Old Florida.


FLORIDA FESTIVALS. There are several outside events this time of year. Among these are outdoor art festivals and folk and bluegrass music festivals.


FLORIDA BEACHES. Almost anything you decide to do in Florida can be enhanced by spending some quality time at a great beach, and best beaches in Florida will guide you in the right direction.


FLORIDA MUSEUMS. Many Florida art and historical museums have scheduled events. Click on the links to find out what is going on.


FLORIDA THEATER. This is an active time for plays and musical events in our many Florida theaters.. Check the links to find out what might be interesting to you.


FLORIDA AUTHORS. Any time is a good time to read a book by a Florida author. Our most visited author pages are those of Randy Wayne White, the creator of adventurous marine biologist Doc Ford, Tim Dorsey and his unlikely protagonist, serial killer Serge Storms, and Robert N. Macomber, and his historical novels featuring Captain Peter Wake of the U.S. Navy.


Here is a useful link that will tell you what is going on this month virtually everywhere in Florida.




FLORIDA FESTIVALS AND OTHER EVENTS FOR DECEMBER 2016


Information on the towns and places hosting these events, or near them, including lodging, can be found at Florida Towns.


A few events are cancelled on very short notice. I do my best to ensure that our information is correct and current, but I recommend you call before leaving for the event to make sure it's still on.


Thanks for subscribing to Florida Heritage Travel. We will see you next month with more updates and event information.

IF YOU ARE NOT A SUBSCRIBER TO FLORIDA HERITAGE TRAVELAND WOULD LIKE TO BECOME ONE, GO TO OUR HOME PAGE AND SUBSCRIBE!