January 2017 News And Events
---
FLORIDA HERITAGE TRAVEL
is the companion monthly e-zine of
FLORIDA-BACKROADS-TRAVEL.COM
---
STEINHATCHEE, FLORIDA: HISTORIC FISHING VILLAGE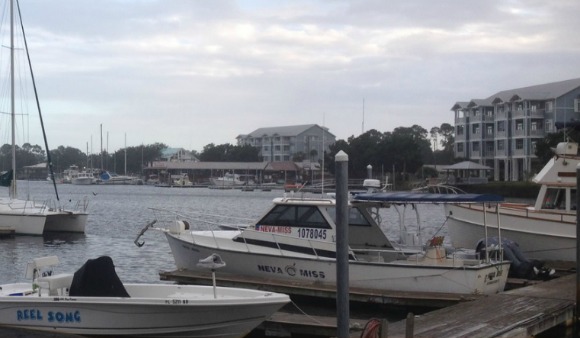 Steinhatchee, Florida is on the Gulf of Mexico at the southern end of State Road 51. It is about 70 miles west of Gainesville, about 1.5 hours by car. The first syllable of this town rhymes with mean as in Mean Joe Green. It is a fishing village of about 1,000 people on the north side of the Steinhatchee River.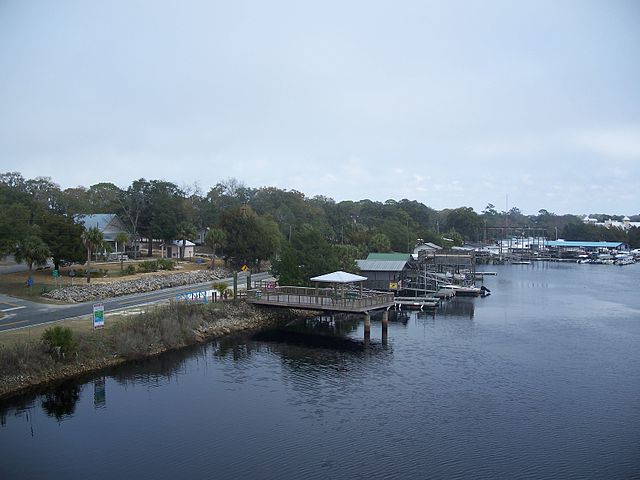 The little village of Jena is across the river from Steinhatchee, and is usually included when folks talk about Steinhatchee; they have a combined post office. Fishing is the big industry in town. Both commercial and sport fishermen find a lot to catch in the waters of the river and gulf.


Up the river from the village is Steinhatchee Falls. This can still be visited, and is where General Andrew Jackson supposedly crossed with his army in pursuit of Seminole Indians. It's a good spot for picnics and swimming.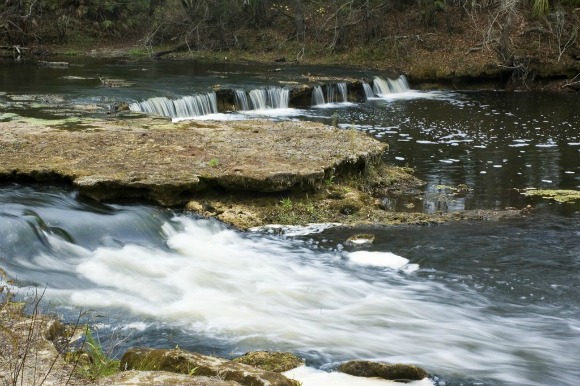 The wild land surrounding Steinhatchee and Jena are teeming with alligators, panthers, hogs, turkeys and all kinds of shore birds. A lot of artists spend time in Steinhatchee to capture images of the Old Florida town and the surrounding wildlife. The town has many Victorian homes along the river, and it is a good walking and biking town.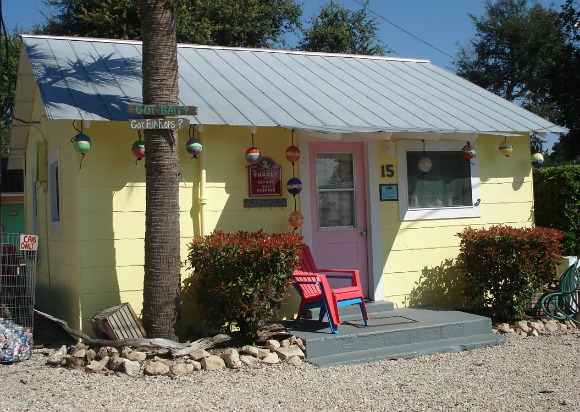 There are many charming Old Florida style places to stay in Steinhatchee. It's a great place to spend a laid back weekend or longer. You can fish, explore, cycle or just chill out. It's a unique place.


The Gulf shallows are abundant with scallops, stone crabs and blue crabs. People come from all over to snorkel for scallops during the season from July to mid September. The river is famous for its large population of trout and redfish.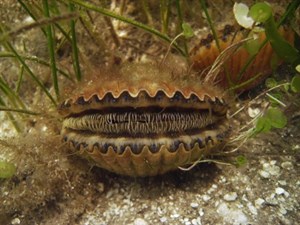 There are also several good restauants in town, along with numerous docks and marinas. More information about these restaurants and lodging can be found on our website at Florida-Backroads-Travel.com/steinhatchee-florida.html.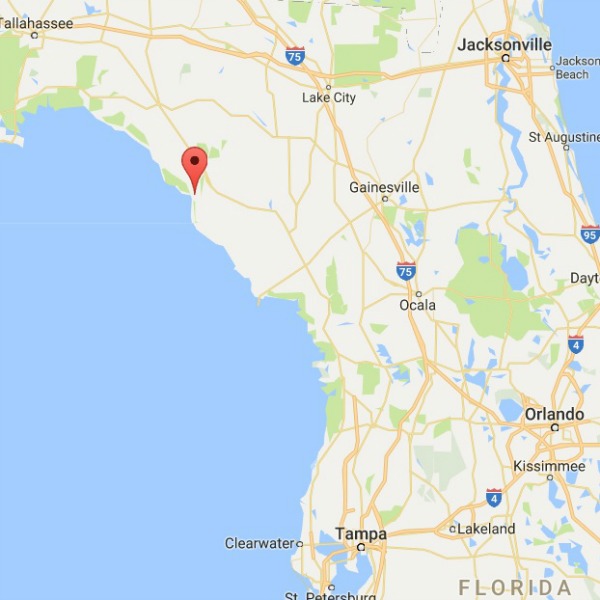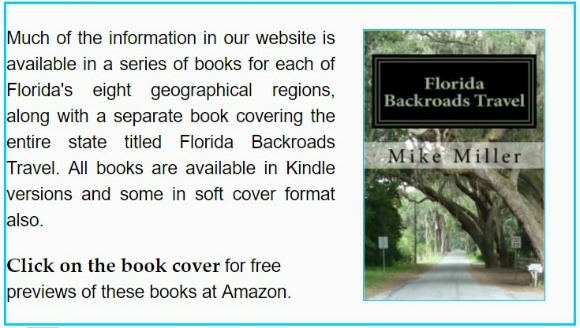 ---
RESTAURANT OF THE MONTH
Kathi's Krabs
1408 Riverside Drive SE
Steinhatchee, Florida 32359
Tel: 904-813-3428
www.facebook.com/kathiskrabs/?hc_ref=SEARCH&fref=nf


Kathi's Krabs is one of Steinhatchee's newer places, but it has already caught on and become one of its most popular restaurants. The clientele is a great mix of locals and tourists The food is described as "farm to table", and the food is certainly fresh.


The first thing you learn is that breakfast is a popular meal in this establishment. You can get a good old southern breakfast with pancakes or biscuits and gravy. Enjoy eggs and bacon and sausage prepared just the way you like it.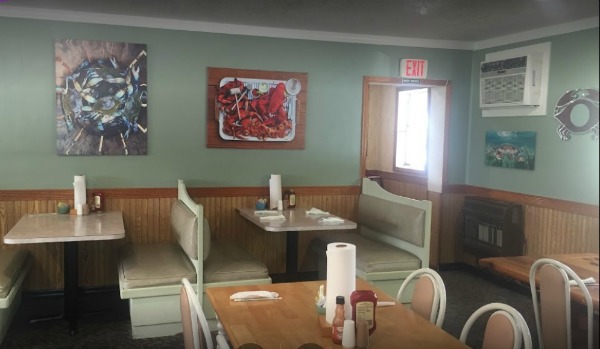 As the name implies, seafood is the specialty of the house for lunch and dinner. Many of the entrees are fried but some selections can be prepared any way you want. You can have grouper, flounder, snapper, scallops, stone crab, and soft shelled blue crabs raised on the premises. People love their oyster or shrimp po boys, and the Apple Pie and Jambalaya, Shrimp Alfredo, and other specials also get good reviews.


Their blackened grouper is great, and fish is caught in local waters. Most meals are served with grits and fried okra and cole slaw. They have great fish tacos along with all you can eat shrimp or mullet. The landlubbers will love the hamburgers here. Another favorite landlubber meal is a grilled cheese sandwich and chili. They even have a lunch special of meatloaf, mixed veggies, with mashed potatoes and gravy.


Kathi's Krabs is open for breakfast, lunch and dinner. No alcohol is served in this restaurant.



FLORIDA BACKROADS TRAVEL UPDATES


Thanks for continuing to subscribe to Florida Heritage monthly e-zine. Our website, FloridaBackroadsTravel.com continues to grow, and we hope you enjoy these updates.


You can also subscribe to our Florida Blog by going to our home page and selecting an RSS feed. This way you will have daily updates. I recently added a new page to the website: Florida Tales. This feature allows website visitors to share their favorite Florida stories with us. We also revised our Florida Getaways page to provide links to getaways in all 8 geographical regions of Florida.


January is a great month in Florida. We get some cold snaps, but most of the state is blessed with occasional periods of balminess that warm the bones. The snowbirds have come back from up north so the lines are longer at our local restaurants.




HERE ARE SOME INTERESTING FLORIDA EVENTS FOR JANUARY:




ALL REGIONS


FLORIDA WINERIES. Check the Florida winery nearest you. Many of them have wonderful weekend events that include music and wine tastings. Our site has information on 27 wineries scattered across the state. We plan to add even more when we have time to visit them.


FLORIDA TOURIST ATTRACTIONS. We have an extensive list of Florida Tourist Attractions. Some of them are well known; other are a wonderful step back into Old Florida.


FLORIDA FESTIVALS. There are several outside events this time of year. Among these are outdoor art festivals and folk and bluegrass music festivals.


FLORIDA BEACHES. Almost anything you decide to do in Florida can be enhanced by spending some quality time at a great beach, and best beaches in Florida will guide you in the right direction.


FLORIDA MUSEUMS. Many Florida art and historical museums have scheduled events. Click on the links to find out what is going on.


FLORIDA THEATER. This is an active time for plays and musical events in our many Florida theaters.. Check the links to find out what might be interesting to you.


FLORIDA AUTHORS. Any time is a good time to read a book by a Florida author. Our most visited author pages are those of Randy Wayne White, the creator of adventurous marine biologist Doc Ford, Tim Dorsey and his unlikely protagonist, serial killer Serge Storms, and Robert N. Macomber, and his historical novels featuring Captain Peter Wake of the U.S. Navy.


Here is a useful link that will tell you what is going on this month virtually everywhere in Florida.




FLORIDA FESTIVALS AND OTHER EVENTS FOR JANUARY 2017


Information on the towns and places hosting these events, or near them, including lodging, can be found at Florida Towns.


A few events are cancelled on very short notice. I do my best to ensure that our information is correct and current, but I recommend you call before leaving for the event to make sure it's still on.


Thanks for subscribing to Florida Heritage Travel. We will see you next month with more updates and event information.

IF YOU ARE NOT A SUBSCRIBER TO FLORIDA HERITAGE TRAVELAND WOULD LIKE TO BECOME ONE, GO TO OUR HOME PAGE AND SUBSCRIBE!