March 2017 News And Events
---
FLORIDA HERITAGE TRAVEL
is the companion monthly e-zine of
FLORIDA-BACKROADS-TRAVEL.COM
---
PORT SALERNO, FLORIDA: A HISTORIC FISHING VILLAGE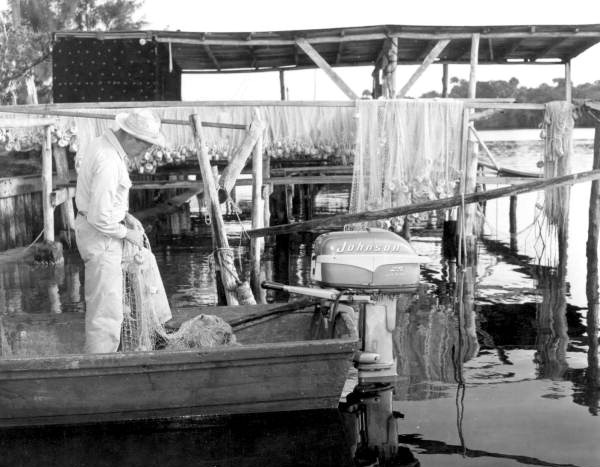 Port Salerno is a residential and fishing village in unincorporated Martin County on the south side of Stuart. It is located along the waters of the St. Lucie River near the inlet to the Atlantic Ocean. Its waterfront district is located at the south end of Manatee Pocket. The main highway through town is State Road A1A and the waterfront district is adjacent to the highway. You can see the district in the lower right hand corner of the aerial photo below.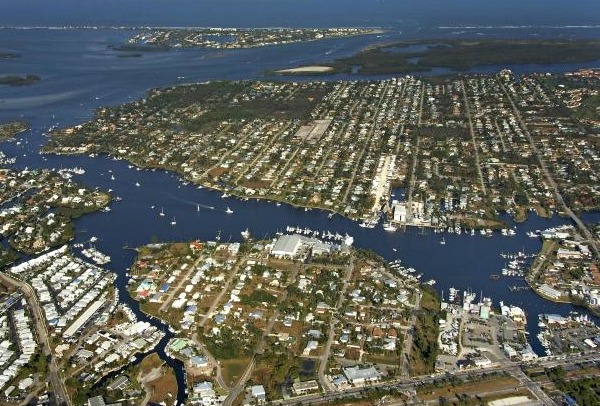 Manatee Pocket is well known by boaters as a natural "hurricane hole", as good a place to take shelter in a bad storm as any harbor along the east coast of Florida. The shoreline of Manatee Pocket is busy with fishing related enterprises like charter boats, commercial fishing boats, marinas, boatyards, and seafood restaurants.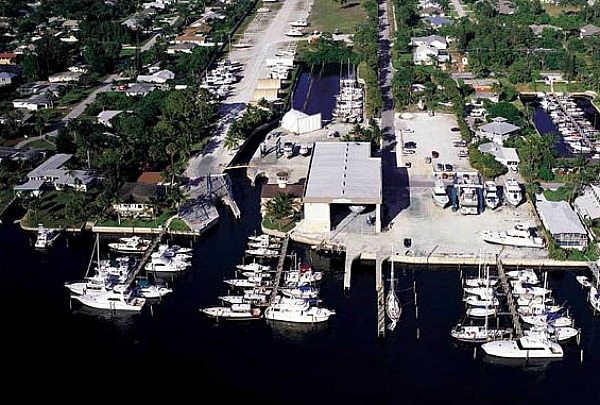 Port Salerno was founded in 1894 as Salerno and the "Port" was added in 1924. The name had been chosen by some of the earlier settlers who were from the Italian town of Salerno. Most people in the early years made their livings by fishing commercically or working in nearby pineapple farms. In the 1930s, Port Salerno became well known for its shark industry.


The population of the Port Salerno area is about 10,000, but it is contiguous with the larger and busier Stuart and is often considered part of that town. The residential areas are east of the waterfront district on a large peninsula separated from nearby Jupiter Island by Great Pocket, a section of the Intracoastal Waterway. Many cruising yachts stay at the marinas in the area during the winter; others stay there year around.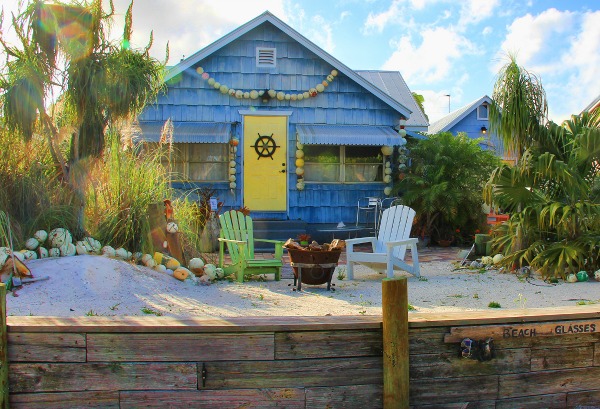 Fishing with large nets was banned by the State in 1995, and the commercial fishing industry was devastated. Since then, the marine industry has taken the place of many of the commercial fishing establishments. Although marinas and boat yards are all over the area, commercial fishing is still important to the town's economy. People today like to visit the area's many nautical shops and seafood restaurants.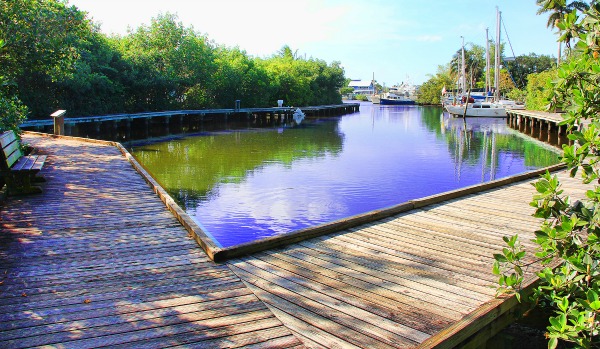 Martin County government and local citizens have been busy in recent years with preservation and improvement projects. An example is the Manatee Pocket walk, a board walk around a portion of the Manatee Pocket waterway. The goal of these projects has been to preserve the historic fishing village feel of the town and not let it become just another overcrowded Florida waterfront.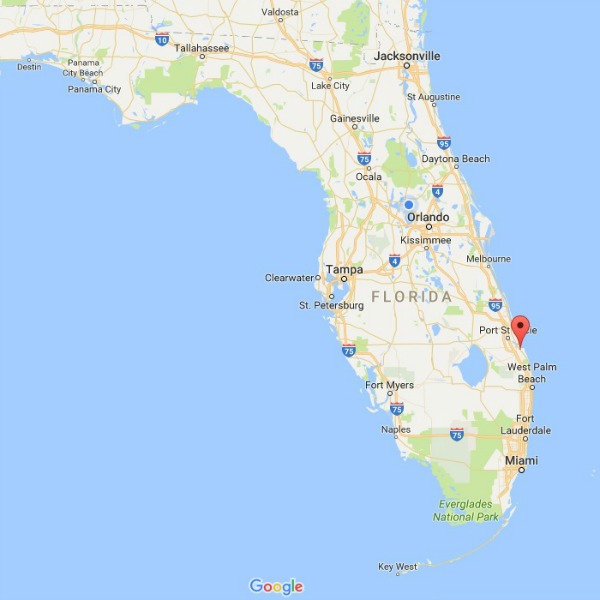 ---
RESTAURANT OF THE MONTH
The Twisted Tuna
4290 SE Salerno Rd
Stuart, Florida 32324
Tel: 772-600-7239
thetwistedtuna.com/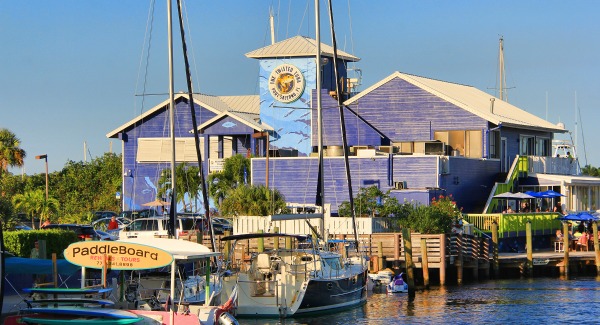 The Twisted Tuna is on the shoreline of Port Salerno, a historic Florida fishing village. It offers a beautiful view of the water that surrounds it on two sides, and is well known for its delicious seafood offerings. You can visit the restaurant by land or on a boat.


The interior is bright and open, and you have your choice of dining inside or outside on one of the decks. The menu features something for everyone, but seafood is the specialty of the house. The atmosphere is friendly and inviting, and the service is great. The restaurant and bar quite often feature local musicians.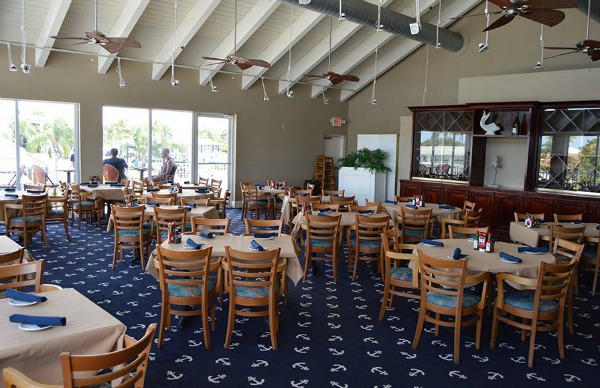 Some of their menu items include tuna based appetizers along with my favorite, Conch Ceviche. You can also get cracked conch and conch fritters, Oysters Rockefeller and Twisted Calamari. They have a raw bar, too, and a wide selection of soups and salads and even feature sushi. Entrees include several kinds of steamed seafood platters and a large variety of fried baskets.


Other entrees feature various fish, shrimp or chicken tacos and a huge variety of sandwiches and wraps. Fish dinners feature grouper, mahi-mahi, snapper, salmon and they will even cook your own catch for you. Landlubbers are not forgotten with an 8 ounce filet mignon, various chicken dishes, and a surf and turf feature with lobster tail. To cap it all off, Italian fans will love their large selection of pasta dishes and their brick oven pizza. They also have a gluten free menu.


The Twisted Tuna Cafe is open at 1100 am seven days a week, and closes at midnight except for Fridays and Saturdays when it stays open until 100 am. On Sunday they take it easy and close at 1100 pm.



---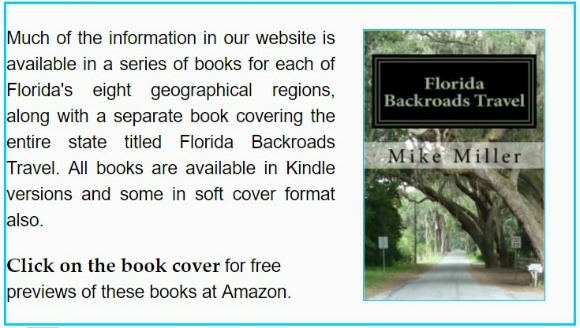 ---
FLORIDA BACKROADS TRAVEL UPDATES

Thanks for continuing to subscribe to Florida Heritage monthly e-zine. Our website, FloridaBackroadsTravel.com continues to grow, and we hope you enjoy these updates.

You can also subscribe to our Florida Blog by going to our home page and selecting an RSS feed. This way you will have daily updates. I recently added a new page to the website: Florida Tales. This feature allows website visitors to share their favorite Florida stories with us. We also revised our Florida Getaways page to provide links to getaways in all 8 geographical regions of Florida.

March is one of our favorite months in Florida. We get some cold snaps, but most of the state is blessed with occasional periods of balminess that warm the bones. The snowbirds are still here for a while longer so the lines are longer at our local restaurants.
HERE ARE SOME INTERESTING FLORIDA EVENTS FOR MARCH:
ALL REGIONS

FLORIDA WINERIES. Check the Florida winery nearest you. Many of them have wonderful weekend events that include music and wine tastings. Our site has information on 27 wineries scattered across the state. We plan to add even more when we have time to visit them.

FLORIDA TOURIST ATTRACTIONS. We have an extensive list of Florida Tourist Attractions. Some of them are well known; other are a wonderful step back into Old Florida.

FLORIDA FESTIVALS. There are several outside events this time of year. Among these are outdoor art festivals and folk and bluegrass music festivals.

FLORIDA BEACHES. Almost anything you decide to do in Florida can be enhanced by spending some quality time at a great beach, and best beaches in Florida will guide you in the right direction.

FLORIDA MUSEUMS. Many Florida art and historical museums have scheduled events. Click on the links to find out what is going on.

FLORIDA THEATER. This is an active time for plays and musical events in our many Florida theaters.. Check the links to find out what might be interesting to you.

FLORIDA AUTHORS. Any time is a good time to read a book by a Florida author. Our most visited author pages are those of Randy Wayne White, the creator of adventurous marine biologist Doc Ford, Tim Dorsey and his unlikely protagonist, serial killer Serge Storms, and Robert N. Macomber, and his historical novels featuring Captain Peter Wake of the U.S. Navy.

Here is a useful link that will tell you what is going on this month virtually everywhere in Florida.
FLORIDA FESTIVALS AND OTHER EVENTS FOR MARCH 2017

Information on the towns and places hosting these events, or near them, including lodging, can be found at Florida Towns.

A few events are cancelled on very short notice. I do my best to ensure that our information is correct and current, but I recommend you call before leaving for the event to make sure it's still on.

Thanks for subscribing to Florida Heritage Travel. We will see you next month with more updates and event information.
IF YOU ARE NOT A SUBSCRIBER TO FLORIDA HERITAGE TRAVELAND WOULD LIKE TO BECOME ONE, GO TO OUR HOME PAGE AND SUBSCRIBE!