May 2017 News And Events
---
FLORIDA HERITAGE TRAVEL
is the companion monthly e-zine of
FLORIDA-BACKROADS-TRAVEL.COM
---
FORT GATES FERRY: REMINDER OF A SIMPLER FLORIDA TIME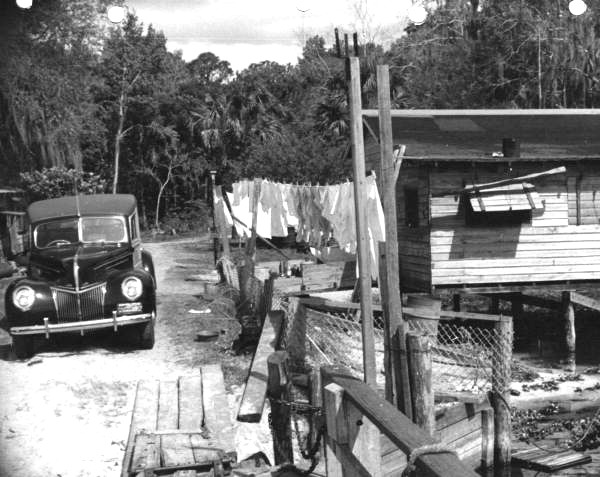 The historic Fort Gates Ferry carries cars, pickup trucks, motorcycles, bikes and their passengers across the St Johns River. Fort Gates, on the eastern edge of the Ocala National Forest near Salt Springs, was an army stockade during the Second Seminole war (1835-1842).


The ferry's eastern terminus is the Gateway Fish Camp near Fruitland, and its western landing is in the Ocala National Forest at the end of FR-29 (Forest Service Road) probably near where the old Seminole War stockade was located.


The ferry route is part of the "Florida Black Bear Scenic Highway", a national scenic byway that meanders over this part of Florida. This ferry saves some motorists who live near either side of the ferry route almost 50 miles of driving if they want to go from one side to the other. Without the ferry they would go north to Palatka and across the Memorial Bridge there, or down to Astor and cross that bridge.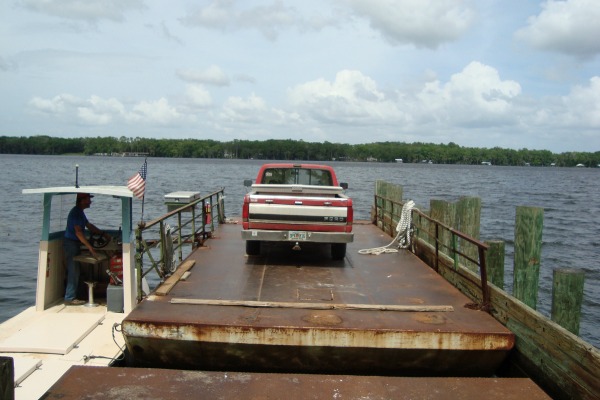 On April 15, 2017, I drove the sandy clay washboard Forest Service road from SR-19 at Salt Springs 7 miles east to the ferry landing on the St Johns River. The drive took me one hour because I chose to drive slow on the rough washboard road. Even so, my little Toyota Corolla shook and shuddered like a cold wet dog during the entire drive.


Locals later told me that the best way to drive on a road like this is 60 or 70 miles per hour because the tires only make contact with the higher ridges and result in a much smoother ride. Next time I will try that technique. (MythBusters tested this concept and it worked for them.)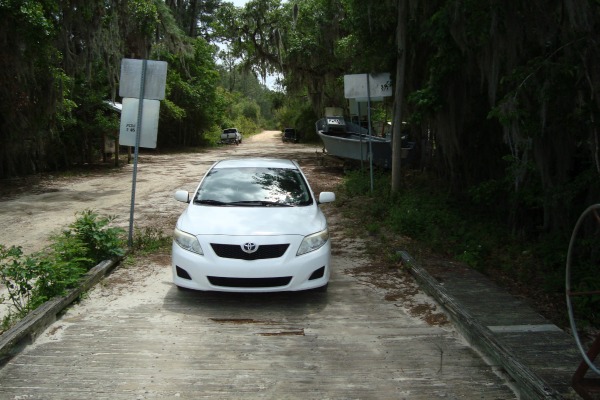 When I got to the end of the long torturous road, an official sign greeted me that made my heart drop:


It said "FORT GATES FERRY CLOSED".


I was more than a little peeved to have made the bone jarring trip for nothing. I was pacing around befuddled when I noticed a man chopping brush from the edge of the road near the ferry landing and asked him about the status of the ferry. His name was Dale Jones and he was the ferry captain (and I later learned, the owner). He said the ferry had been closed since January 11 due to the low water level in the river and I would be his first passenger since then.


He stuck some duct tape over the "Closed" part of the sign and first carried his own pickup across the river. About 20 minutes later he was back on my side and I drove my car onto the 40 foot long barge.


His push boat is a 21 foot sailboat hull made in Welaka in 1910 and powered by a late model Isuzu diesel engine. The push boat is named "Too Wendy" and in its original sailboat form was known as a"Sharpie". He lashes it alongside the barge and it powers the barge across the river.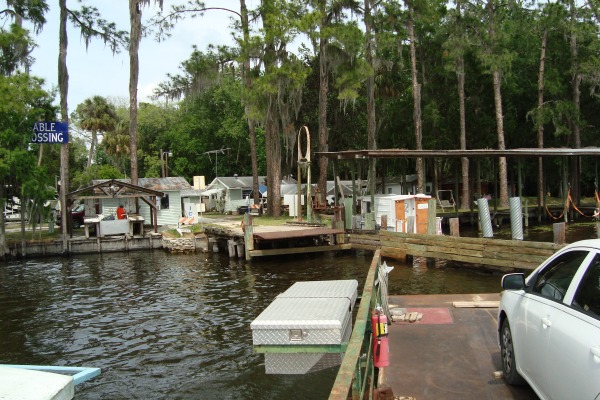 The old steel barge can hold two cars or pickups and was built in 1946. It can handle up to twenty motorcycles and double riders, and even more bicycles. The Fort Gates Ferry has been operating since 1853 and is the oldest ferry service still operating in Florida. During the Civil War it was operated by the Confederate Army.


The modern version of the ferry (with a pusher boat and barge) began operating in 1914 and is privately owned and operated by the Gateway Fish Camp with a subsidy from Putnam County, Florida. Modern Floridians may remember a 1982 commercial for the Nissan Skyline filmed on the ferry and featuring Paul Newman, who used to race cars for Nissan.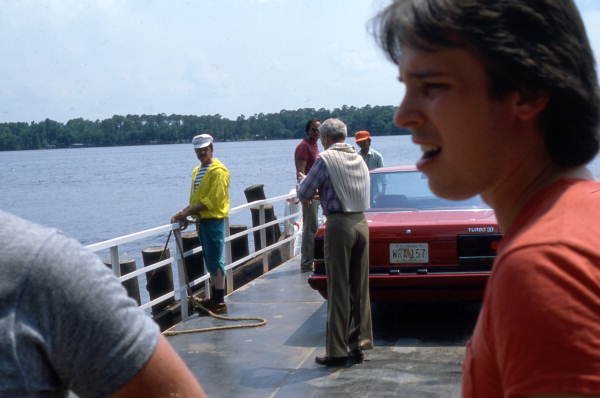 The ferry operates every day from 800 am to 530 pm except Tuesday. It is estimated that about 1,500 vehicles use the ferry each year. It takes ten minutes to cross the one mile wide St Johns River. The time honored way to signal the ferry (if you are on the forest side and the ferry is at the fish camp) is to drive your car up close to the ramp and turn on your headlights. You will soon see the ferry heading your way.


Another way is to call the Gateway Fish Camp at 386-467-2411.


The one way toll is $10 per vehicle.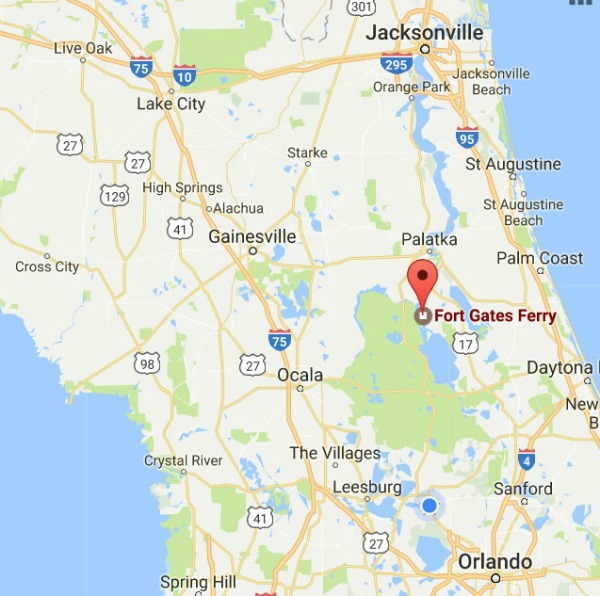 ---
RESTAURANT OF THE MONTH
3 Bananas
11 S. Lake Street
Crescent City, Florida 32112
Tel: 386-698-2861
3bananas.com


Crescent City is a small town north of DeLand a few miles east of the Fort Gates Ferry landing. It is on Crescent Lake, a 13 mile long, 2 mile wide freshwater body that is connected to the St. Johns River at the north end by Dunn's Creek.


I don't know if 3 Bananas is the best restaurant in Crescent City, Florida, but it assuredly has the best view in town. It is located at the south end of Lake Street in a nicely renovated building that was a community center in the old days. The restauant has a beautiful view of Crescent Lake both from the inside dining area and bar and from the decks and outside seating.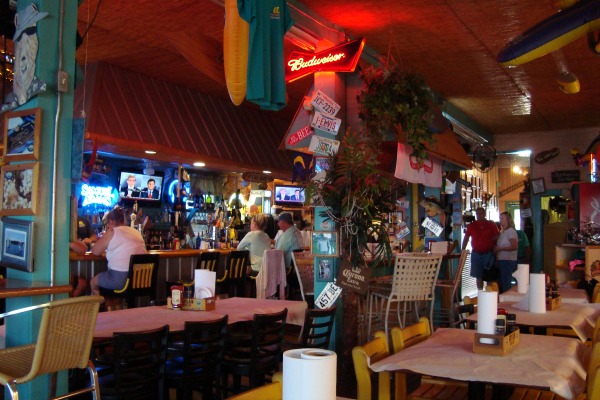 The interior has a tiki bar look that works very well as a casual setting for this popular local establishment. There is a bar on your right as you enter from the front door, and it is well stocked with beer, wine, and the hard stuff.


The menu is oriented toward the seafood side, with a lot of fried offerings like clam strips, shrimp, and lightly breaded fish. They haven't forgotten landlubbers either with fried chicken fingers and even a hand cut prime rib on Saturday nights.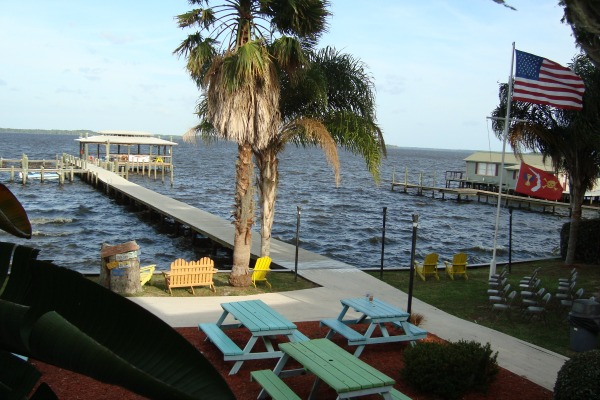 There is also an extensive sandwich and wrap menu with a variety of fish, turkey, port, and beef selections along with a nice selection of burgers and even a Philly Cheese beef sandwich.


Service is prompt and friendly whether you choose to sit inside or outside. 3 Bananas is open every day of the week except for Tuesday. They are open on Sunday from 1100 am to 800 pm, and on other days from 1100 am to 900 or 930 pm.



---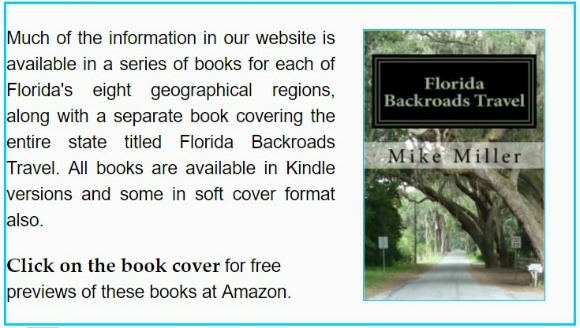 ---
FLORIDA BACKROADS TRAVEL UPDATES

Thanks for continuing to subscribe to Florida Heritage monthly e-zine. Our website, Florida-Backroads-Travel.com continues to grow, and we hope you enjoy these updates.

You can also subscribe to our Florida Blog by going to our home page and selecting an RSS feed. This way you will have daily updates. I recently added a new page to the website: Florida Tales. This feature allows website visitors to share their favorite Florida stories with us. We also revised our Florida Getaways page to provide links to getaways in all 8 geographical regions of Florida.

May is one of our favorite months in Florida. Most of the state is blessed with daily periods of balminess with an occasional hot day. The snowbirds have mostly gone back North so the lines are shorter at our local restaurants.
HERE ARE SOME INTERESTING FLORIDA EVENTS FOR MAY:
ALL REGIONS

FLORIDA WINERIES. Check the Florida winery nearest you. Many of them have wonderful weekend events that include music and wine tastings. Our site has information on 27 wineries scattered across the state. We plan to add even more when we have time to visit them.

FLORIDA TOURIST ATTRACTIONS. We have an extensive list of Florida Tourist Attractions. Some of them are well known; other are a wonderful step back into Old Florida.

FLORIDA FESTIVALS. There are several outside events this time of year. Among these are outdoor art festivals and folk and bluegrass music festivals.

FLORIDA BEACHES. Almost anything you decide to do in Florida can be enhanced by spending some quality time at a great beach, and best beaches in Florida will guide you in the right direction.

FLORIDA MUSEUMS. Many Florida art and historical museums have scheduled events. Click on the links to find out what is going on.

FLORIDA THEATER. This is an active time for plays and musical events in our many Florida theaters.. Check the links to find out what might be interesting to you.

FLORIDA AUTHORS. Any time is a good time to read a book by a Florida author. Our most visited author pages are those of Randy Wayne White, the creator of adventurous marine biologist Doc Ford, Tim Dorsey and his unlikely protagonist, serial killer Serge Storms, and Robert N. Macomber, and his historical novels featuring Captain Peter Wake of the U.S. Navy.

Here is a useful link that will tell you what is going on this month virtually everywhere in Florida.
FLORIDA FESTIVALS AND OTHER EVENTS FOR MAY 2017

Information on the towns and places hosting these events, or near them, including lodging, can be found at Florida Towns.

A few events are cancelled on very short notice. I do my best to ensure that our information is correct and current, but I recommend you call before leaving for the event to make sure it's still on.

Thanks for subscribing to Florida Heritage Travel. We will see you next month with more updates and event information.
IF YOU ARE NOT A SUBSCRIBER TO FLORIDA HERITAGE TRAVELAND WOULD LIKE TO BECOME ONE, GO TO OUR HOME PAGE AND SUBSCRIBE!