June 2017 News And Events
---
FLORIDA HERITAGE TRAVEL
is the companion monthly e-zine of
FLORIDA-BACKROADS-TRAVEL.COM
---
BRINY BREEZES, FLORIDA: MILLION DOLLAR MOBILE HOMES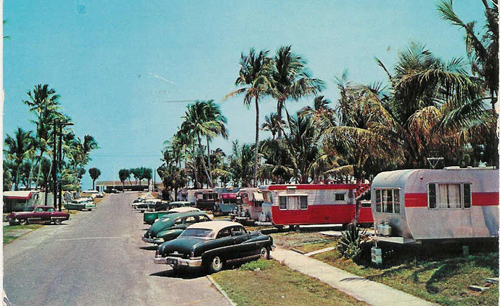 Briny Breezes, Florida is a small town of mobile homes on State Road A1A. Trailer parks are a dime a dozen in Florida, but people who pass by Briny Breezes get a different feeling about this one.


For starters, it is located on the barrier island that separates the Intracoastal Waterway from the Atlantic Ocean. How many trailer parks can say that? Or mobile home communities or manufactured home or modular home communities?


Briny Breezes is across the Intracoastal Waterway from Boynton Beach and Delray Beach. It is nestled in on the barrier island between the upscale oceanfront communities of Ocean Ridge and Gulf Stream with their multi-million dollar homes. The 2010 census put the population at 601. It is one of only two mobile home parks in Florida that are incorporated towns.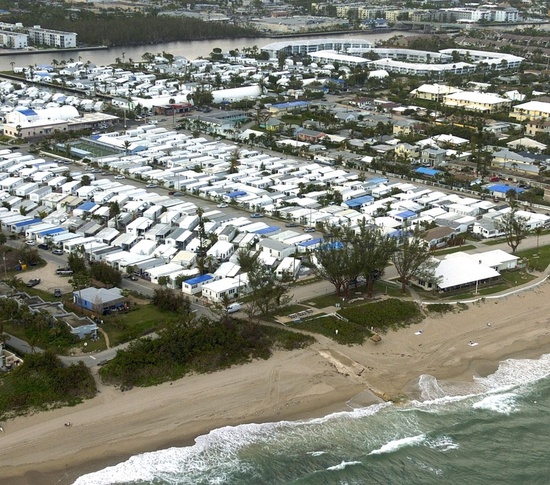 A Michigan businessman named Ward Miller started a strawberry farm on the current town site in the 1920s. During the Great Depression, he permitted "tin can tourists" to camp on his farm. These tourists - most from northern states - spent a lot of time in their trailers and loved being right on the ocean.


Miller advertised his trailer park in northern newspapers, including the Chicago Tribune, and emphasized his park's $3/week lot rent. In 1958, Miller decided to retire and offered to sell the trailer park to the campers. He charged from $2,000 to $2,500 per lot. The campers got together and bought the park and incorporated it as a town in 1963.


In the early days most of the town's residents only came down during the cold winter months. It was primarily a "snowbird" community, but today the majority of the residents live in the town full time. Most of them are retirees.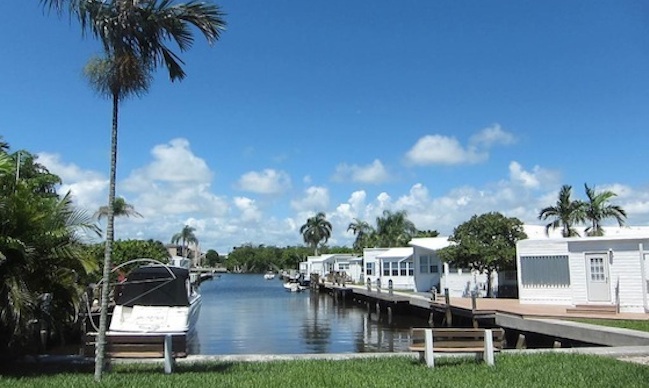 The Briny Breezes community center is in a building on State Road A1A along with a pharmacy. The Town Hall is in another building on A1A that also houses a beauty salon. About half of the homes are on the ocean side of A1A and the others are on a parcel that fronts on the Intracoastal Waterway with a marina and several canals.




Several Quonset hut style buildings on the west side of A1A house various town offices, storage areas, and a community church. There is a large community building directly on the ocean beach. The town has a pleasant feel, friendly attitude and sense of community.


Briny Breezes, Florida almost disappeared in 2005 when a developer offered $510 million to buy the entire town. This would have resulted in each lot going for a bit more than $1 million.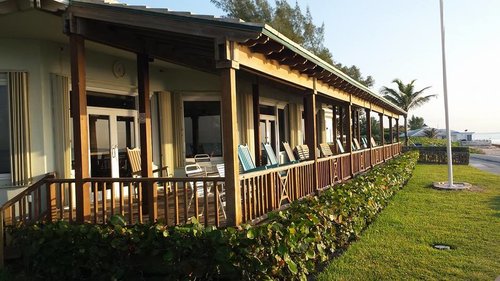 The majority of the town's citizens voted to accept the offer, but the deal fell through in 2007 during the negotiation phase. According to Realtor.com, homes for sale today (2017) in Briny Breezes range in price from $139,000 to $1,200,000. The average asking price is about $250,000.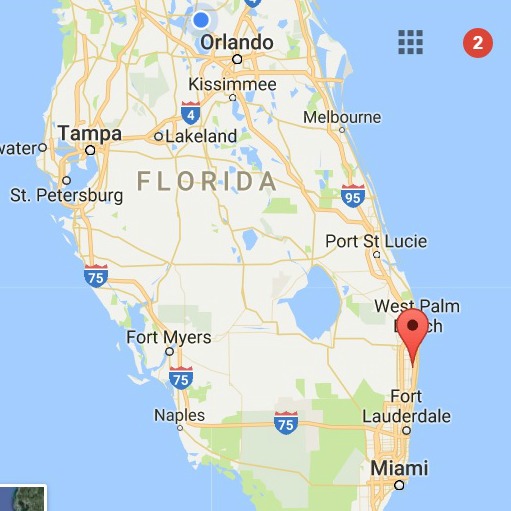 ---
RESTAURANT OF THE MONTH
Prime Catch
700 E. Woolbright Road
Boynton Beach, Florida 33435
Tel: 561-737-8822
primecatchboynton.com


Prime Catch is a seafood restaurant on the water across the Intracoastal Waterway from Briny Breezes. It is located at the western end of the Woolbright Road bridge in Boynton Beach. The view of the waterway is great from most of the seating, but especially so from the outside deck.


The restaurant is very popular with locals for lunch, Happy Hour, and dinner. As the name implies, seafood is the specialty of the house. Most of their seafood is local, but they also import some favorites like Maine lobster, Maryland blue crab, and Boston cod.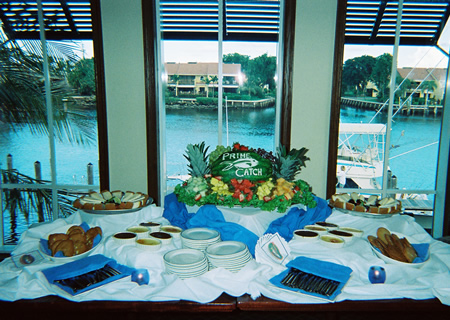 The interior has large windows overlooking the waterway and a nice fully stocked bar. The bar staff makes great drinks and are extremely good with their Bloody Marys. The service staff is friendly, from the hostess who greets and seats you to your server.


Seafood entrees include the fresh catch of the day, and one of their specialties, the Prime Mixed Grill with lobster tail, jumbo shrimp, sea scallops. Their vegetables are also great - especially asparagus - and they can handle vegetarian or gluten free requests too.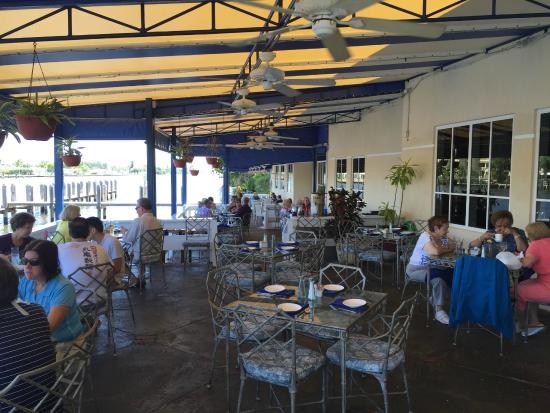 Like most good restaurants, they haven't forgotten the landlubbers. The menu includes burgers, prime rib, ribeye, filet mignon, organic chicken, and an entree of seasonal vegetable tempura. You can also make a great meal at the bar with just appetizers including tuna tacos, grilled Spanish octopus, wild shrimp and avocado toast, and many other offerings.


This is not a cheap restaurant, but you have great service and awesome views of the waterway. You are across the waterway from million dollar homes - even mobile homes - and location is everything not just in real estate but restaurants too. They are open 7 days a week from 11:00 am until 10:00 or 11:00 pm. Happy Hour is Monday through Friday from 4:00 pm to 7:00 pm.



---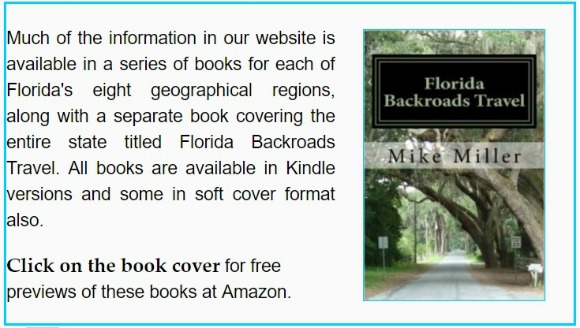 ---
FLORIDA BACKROADS TRAVEL UPDATES

Thanks for continuing to subscribe to Florida Heritage monthly e-zine. Our website, Florida-Backroads-Travel.com continues to grow, and we hope you enjoy these updates.

You can also subscribe to our Florida Blog by going to our home page and selecting an RSS feed. This way you will have daily updates. I recently added a new page to the website: Florida Tales. This feature allows website visitors to share their favorite Florida stories with us. We also revised our Florida Getaways page to provide links to getaways in all 8 geographical regions of Florida.

June is a great month in Florida, but it's starting to get hot and humid. One good thing is most of the snowbirds are gone for the summer so the lines are shorter at our local restaurants.
HERE ARE SOME INTERESTING FLORIDA EVENTS FOR JUNE:
ALL REGIONS

FLORIDA WINERIES. Check the Florida winery nearest you. Many of them have wonderful weekend events that include music and wine tastings. Our site has information on 27 wineries scattered across the state. We plan to add even more when we have time to visit them.

FLORIDA TOURIST ATTRACTIONS. We have an extensive list of Florida Tourist Attractions. Some of them are well known; other are a wonderful step back into Old Florida.

FLORIDA FESTIVALS. There are several outside events this time of year. Among these are outdoor art festivals and folk and bluegrass music festivals.

FLORIDA BEACHES. Almost anything you decide to do in Florida can be enhanced by spending some quality time at a great beach, and best beaches in Florida will guide you in the right direction.

FLORIDA MUSEUMS. Many Florida art and historical museums have scheduled events. Click on the links to find out what is going on.

FLORIDA THEATER. This is an active time for plays and musical events in our many Florida theaters.. Check the links to find out what might be interesting to you.

FLORIDA AUTHORS. Any time is a good time to read a book by a Florida author. Our most visited author pages are those of Randy Wayne White, the creator of adventurous marine biologist Doc Ford, Tim Dorsey and his unlikely protagonist, serial killer Serge Storms, and Robert N. Macomber, and his historical novels featuring Captain Peter Wake of the U.S. Navy.

Here is a useful link that will tell you what is going on this month virtually everywhere in Florida.
FLORIDA FESTIVALS AND OTHER EVENTS FOR JUNE 2017

Information on the towns and places hosting these events, or near them, including lodging, can be found at Florida Towns.

A few events are cancelled on very short notice. I do my best to ensure that our information is correct and current, but I recommend you call before leaving for the event to make sure it's still on.

Thanks for subscribing to Florida Heritage Travel. We will see you next month with more updates and event information.
IF YOU ARE NOT A SUBSCRIBER TO FLORIDA HERITAGE TRAVELAND WOULD LIKE TO BECOME ONE, GO TO OUR HOME PAGE AND SUBSCRIBE!