August 2017 News And Events
---
FLORIDA HERITAGE TRAVEL
is the companion monthly e-zine of
FLORIDA-BACKROADS-TRAVEL.COM
---
DADE CITY, FLORIDA: KUMQUATS AND SOUTHERN SOUL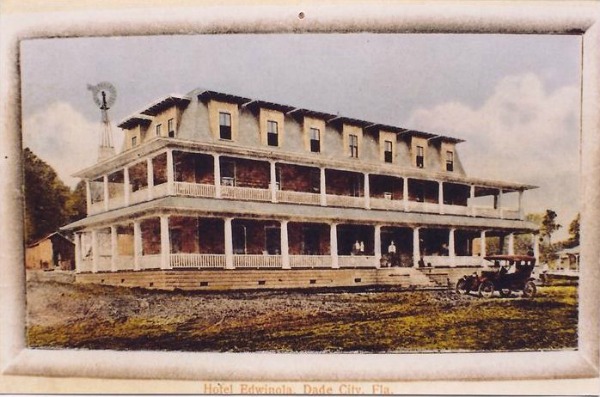 Dade City is a small town of 6,500 people about 39 miles north of Tampa on U.S. Highway 301. It is the seat of Pasco County; the centerpiece of the historic downtown is the Pasco County Courthouse.


The town takes its name from Major Francis L. Dade who was killed by the Seminoles not far from this location in the Second Seminole war in 1835. The nearby Dade Battlefield Historic State Park memorializes what is known as the "Dade Massacre". Only 3 of the 110 soldiers under Major Dade survived the surprise ambush by the Seminoles.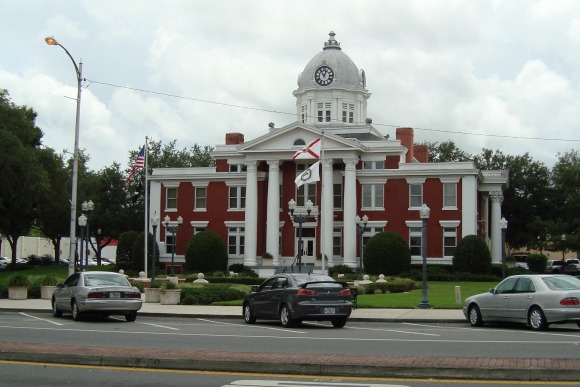 The Pasco County Courthouse was built in 1909 and has been restored a couple of times. It looks great, and is worth visiting just to take a look inside. The building is on The National Register of Historic Places.


A relatively new Valentine's Day tradition has been established in Dade City: the County Clerk performs a free wedding ceremony on the steps of the courthouse. What a great way for couples to remember their wedding anniversary date.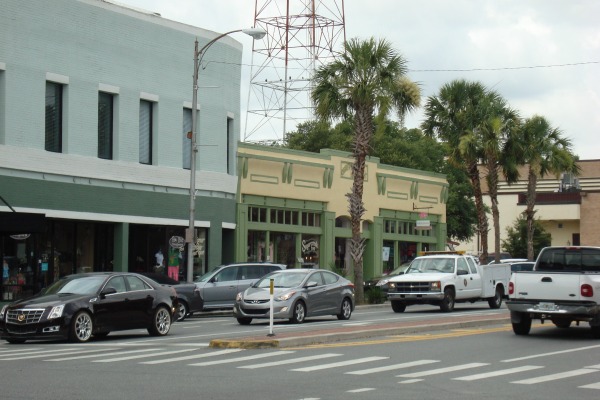 In the 1870s there was a small town known as Fort Dade nearby. In the 1880s, the railroad bypassed Fort Dade a few miles to the east; the whole town packed up and moved to be next to the railroad. In 1884, the town was incorporated as Dade City.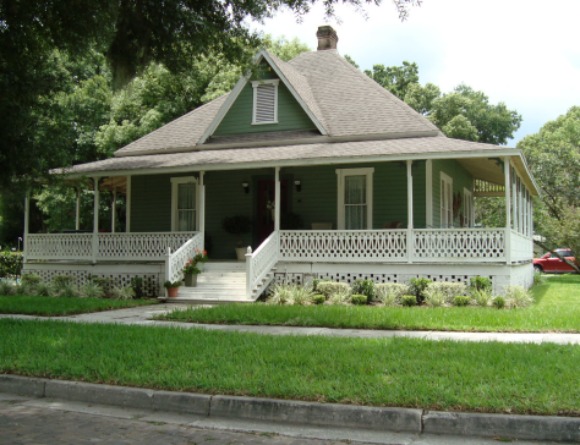 The town is a popular destination for antique hunters. Numerous antique shops, quaint restaurants and historic buildings are located downtown. Each year the town hosts the Kumquat Festival. The festival celebrates the kumquat, a tart citrus fruit that is grown all around the area. Another popular attraction is the Pioneer Florida Museum and Village on the east side of town.


This museum features all kinds of old farm equipment and antique tools used by the early pioneers in the area. A restored 1864 house is on the grounds, as well as an old railroad depot from the nearby town of Trilby. There is even an old locomotive on display. Detailed exhibits show how the early pioneers survived and prospered in the wilds of early Florida.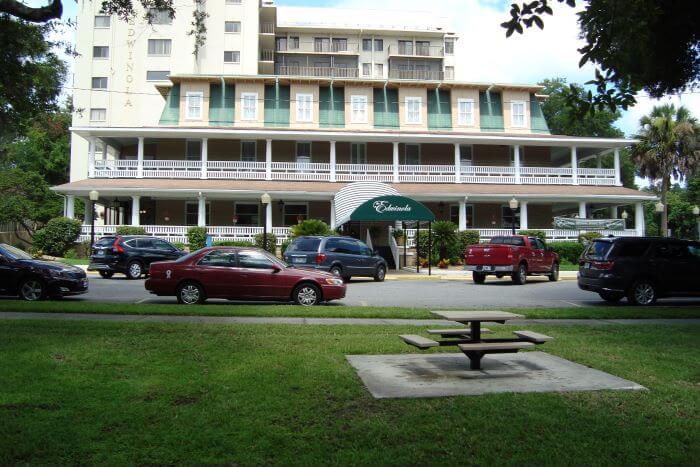 Other historic buildings in downtown Dade City include the Hugh Embry Library and the Edwinola Hotel; both structures are still in use today. Residential neighborhoods include many homes that were built in the Florida real estate boom of the 1920s.


A prisoner of war camp was located in Dade City during World War Two. The camp was for German soldiers who had been captured in North Africa as part of Field Marshal Erwin Rommel's Afrika Korp. The camp operated from 1942 to 1946. The camp is now repurposed as Pyracantha Park Civic Center.


Dade City makes a great day trip from Tampa and you can spend a full day visiting antique galleries, coffee shops, and restaurants in between your time spent at the Pioneer Village.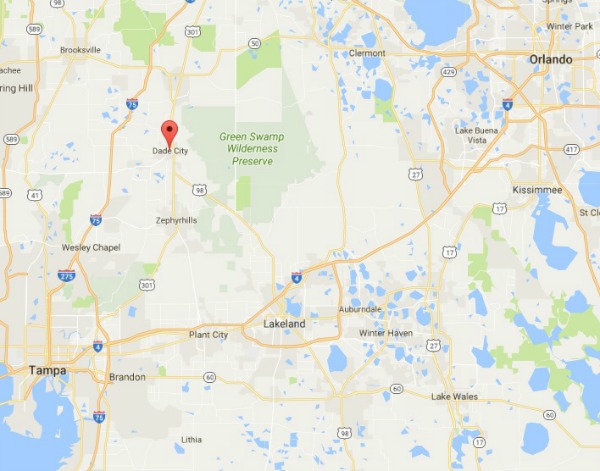 ---
RESTAURANT OF THE MONTH
Steph's Southern Soul Restaurant
14519 5th Street
Dade City, Florida 33523
Tel: 352-437-5907
www.stephssouthernsoul.com/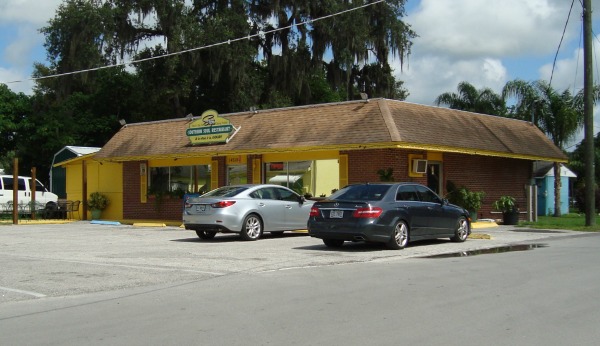 The minute you walk into Steph's you will feel like you just came into the home of your favorite aunt or grandmother. That's because the owner, Stephanie Reaves, and her staff make you feel so welcome you automatically think you're a member of the family. Steph's motto is "I love to cook as God uses and guides my mind and my hands to prepare delicious food".


Steph's is a buffet style restaurant that features several options. If you are really hungry, you can order Herold's Plate that consists of 1 1/2 meats, 2 side dishes, and bread. That plate is $9,99 and the sizes and prices step down from there.


The meat selections typically include fried fish, meat loaf, baked chicken, fried chicken, smoked BBQ ribs, liver & onions, pork chops and the meat of the day. Sometimes the meat of the day is oxtail. Your bread can be corn bread, rolls, or biscuits. Side orders usually available are collard greens, green beans, mac & cheese, mashed potatoes, okra & tomatoes, cabbage, rice, sweet potato souffle, rutabaga, beans, squash, and the vegetable of the day.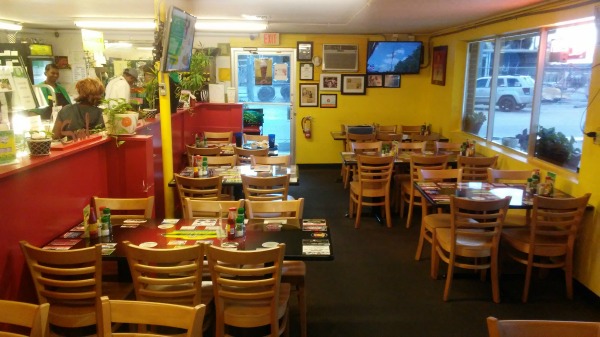 All of this bounty is loaded onto your plate as you amble along the buffet line. Soups and salads are also available. The salads are garden, apple, cole slaw, pea salad, potato salad, fresh fruit, chicken salad, and carrot salad. Desserts are great old southern style also: red velvet cake, sweet potato pie, chocolate cake, peach or blueberry cobbler, key lime pie, banana pudding, and strawberry shortcake.


The interior of Steph's is comfortable, bright, and cheery. It's obvious that most of the customers are locals who have developed expertise in negotiating the extensive buffet menu. The servers are busy keeping your water, tea, or lemonade glass full and for special requests from the buffet.


Steph's is open 7 days a week. Monday through Thursday their hours are from 7am to 7pm. Friday and Saturday the stay open until 8pm. Sunday hours are 1030am to 5pm.




---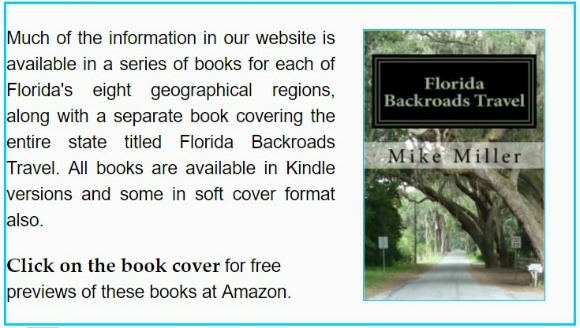 ---
FLORIDA BACKROADS TRAVEL UPDATES

Thanks for continuing to subscribe to Florida Heritage monthly e-zine. Our website, Florida-Backroads-Travel.com continues to grow, and we hope you enjoy these updates.

You can also subscribe to our Florida Blog by going to our home page and selecting an RSS feed. This way you will have daily updates. I recently added a new page to the website: Florida Tales. This feature allows website visitors to share their favorite Florida stories with us. We also revised our Florida Getaways page to provide links to getaways in all 8 geographical regions of Florida.

August is a hot month in Florida: very hot. One of the few good things about August is most of the snowbirds are gone for the summer so the lines are shorter at our local restaurants. Air conditioners are cranking away no matter where you are. Temperatures in the high 90s are typical.
HERE ARE SOME INTERESTING FLORIDA EVENTS FOR AUGUST:
ALL REGIONS

FLORIDA WINERIES. Check the Florida winery nearest you. Many of them have wonderful weekend events that include music and wine tastings. Our site has information on 27 wineries scattered across the state. We plan to add even more when we have time to visit them.

FLORIDA TOURIST ATTRACTIONS. We have an extensive list of Florida Tourist Attractions. Some of them are well known; other are a wonderful step back into Old Florida.

FLORIDA FESTIVALS. There are several outside events this time of year. Among these are outdoor art festivals and folk and bluegrass music festivals.

FLORIDA BEACHES. Almost anything you decide to do in Florida can be enhanced by spending some quality time at a great beach, and best beaches in Florida will guide you in the right direction.

FLORIDA MUSEUMS. Many Florida art and historical museums have scheduled events. Click on the links to find out what is going on.

FLORIDA THEATER. This is an active time for plays and musical events in our many Florida theaters.. Check the links to find out what might be interesting to you.

FLORIDA AUTHORS. Any time is a good time to read a book by a Florida author. Our most visited author pages are those of Randy Wayne White, the creator of adventurous marine biologist Doc Ford, Tim Dorsey and his unlikely protagonist, serial killer Serge Storms, and Robert N. Macomber, and his historical novels featuring Captain Peter Wake of the U.S. Navy.

Here is a useful link that will tell you what is going on this month virtually everywhere in Florida.
FLORIDA FESTIVALS AND OTHER EVENTS FOR AUGUST 2017

Information on the towns and places hosting these events, or near them, including lodging, can be found at Florida Towns.

A few events are cancelled on very short notice. I do my best to ensure that our information is correct and current, but I recommend you call before leaving for the event to make sure it's still on.

Thanks for subscribing to Florida Heritage Travel. We will see you next month with more updates and event information.
IF YOU ARE NOT A SUBSCRIBER TO FLORIDA HERITAGE TRAVELAND WOULD LIKE TO BECOME ONE, GO TO OUR HOME PAGE AND SUBSCRIBE!