September 2017 News And Events
---
FLORIDA HERITAGE TRAVEL
is the companion monthly e-zine of
FLORIDA-BACKROADS-TRAVEL.COM
---
EUSTIS, FLORIDA: GEORGEFEST and HARRIS CHAIN of LAKES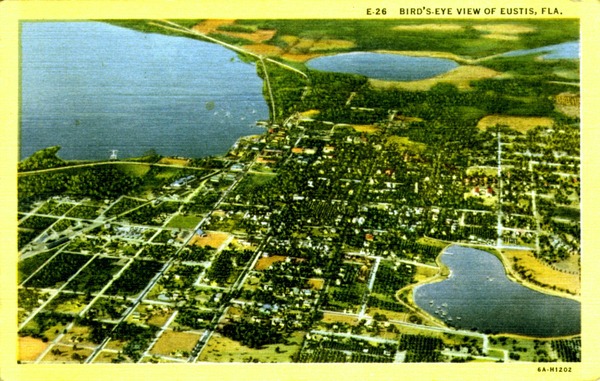 Eustis is a town of about 20,000 people about 30 miles northwest of Orlando. Along with Tavares and Mount Dora, it is one apex of what is known as Florida's "Golden Triangle". Eustis is on the eastern shore of Lake Eustis, and was first known as Highlands and later as Pendryville. It became known as Lake Eustis after the lake which had been named in 1825 for Abraham Eustis, an American general in the Seminole Wars.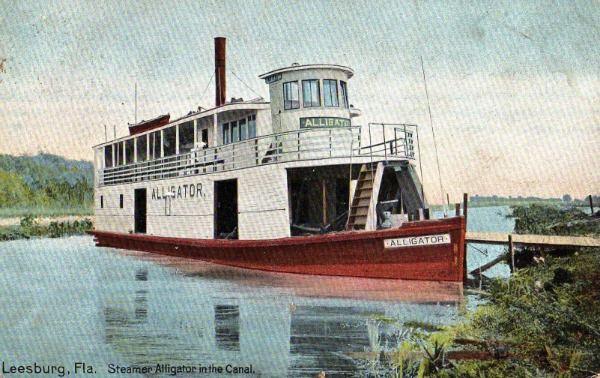 Before the railroad showed up in the 1880's, Eustis was a busy port for steamers traveling on Lakes Harris, Eustis, Dora and Griffin. This chain of lakes had access to the world through the Ocklawaha River to the St Johns River and the Atlantic ocean. In 1883 the town dropped the "Lake" part of its name and became simply Eustis.


Citrus became an important crop in the area, but the great freezes of 1894 and 1895 nearly destroyed the industry. Over the years, the fruit trees once again became prominent in the economy of the area, but more freezes in 1983 and 1984 were once again major setbacks.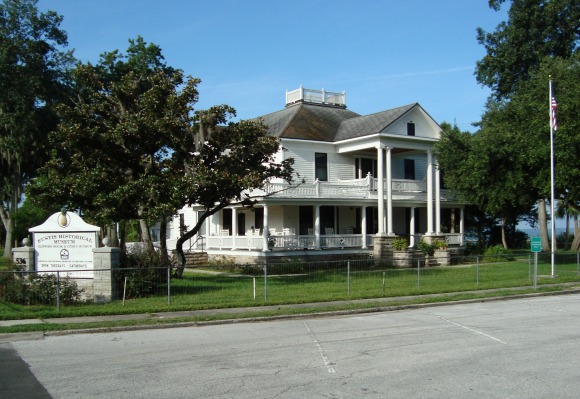 Eustis has many well preserved older homes and buildings. Its downtown area has been redeveloped and has many interesting shops and restaurants. Guilford David Clifford was an early pioneer whose house at the corner of Bay Street and Bates Avenue is now home to the Eustis Historical Museum and Preservation Society.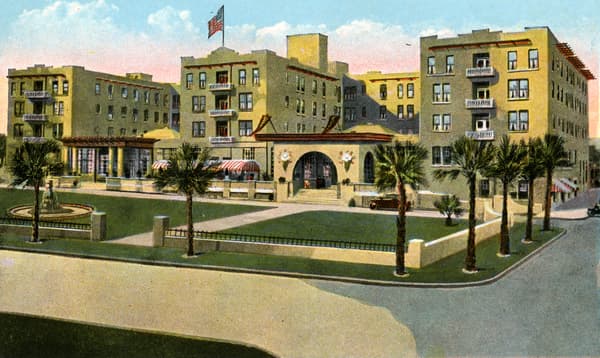 Frank Waterman was a fountain pen manufacturer from New York who built the Fountain Inn in Eustis in the 1920s. It served later as the local hospital until it was demolished in recent years. It is the direct ancestor of today's modern Florida Hosptital Waterman in Tavares.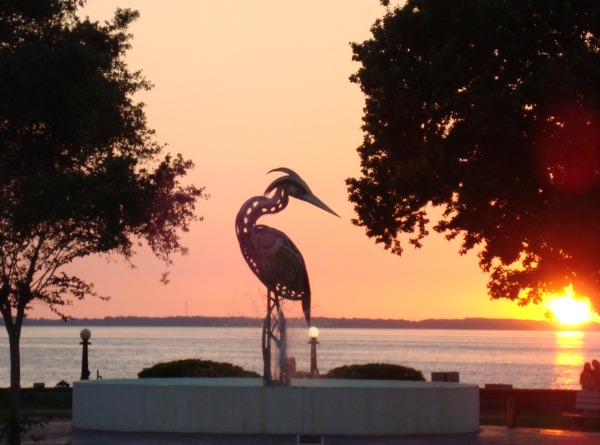 The downtown area along Lake Eustis has been developed into a wonderful park for fishing, picnics and concerts. Ferran Park is a great place to watch the Central Florida sunsets.


The downtown area is the focal point for many community activities. They named this area the Downtown Waterfront Entertainment District and among the events are a Cruise In of Classic Cars on the fourth Saturday of every month. Another standing event is on the first Friday of every month called Eustis Live that features street vendors and live music. It's a large community block party.


The highlight of each year is GeorgeFest, one of the oldest festivals in the United States celebrating the birthday of George Washington. It is reportedly the longest running festival of any kind in the entire state of Florida. February, 2018 will mark the 116th consecutive celebration.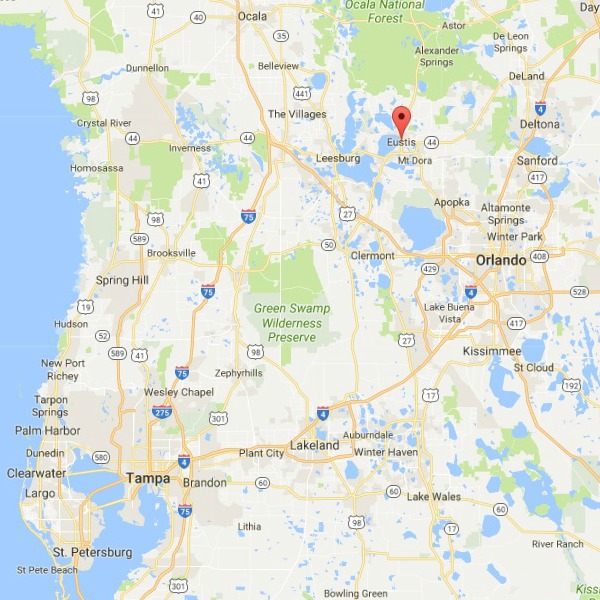 ---
RESTAURANT OF THE MONTH
Night Owl Caribbean Cuisine
929 South Bay Street
Eustis, Florida 32726
Tel: 352-589-0256
www.nightowlcaribbeancuisine.com/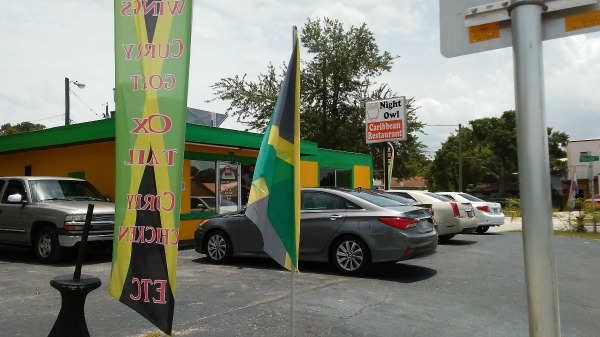 Night Owl is in a small yellow building on the right hand side of State Road 19 (Bay Street) as you drive north through Eustis. The restaurant has small parking lots in front, in back, and on the side. Most of its business is take out and it has become very popular with locals who know where the good food is.


Night Owl specializes in Jamaican food and has a full menu of appetizers, entrees, desserts and beverages. Some of the entrees include curried chicken, brown stewed chicken, jerk chicken, jerk pork, oxtails, curried goat, and more. You could also make a full meal from the appetizer menu if you decided to: mac and cheese, collard greens, sweet cornbread, green beans, steamed vegetables, plantains, chicken and beef patties, coco bread and manish water soup.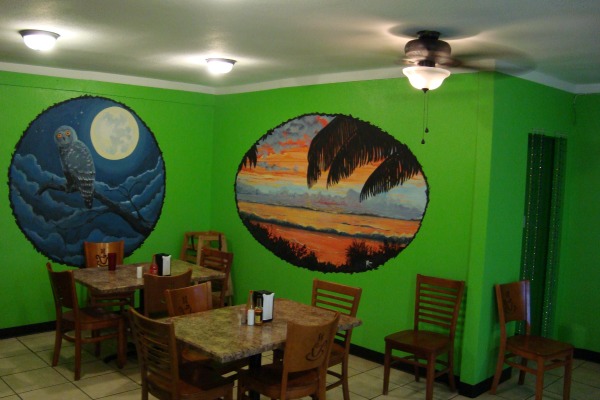 The dining room is very small at Night Owl: only four tables. I choose to eat in rather than take out, and have never had trouble finding a table during lunch hour. There is usually a steady flow of take out customers dropping in. Many of them are regulars who call in their orders so they don't have to wait.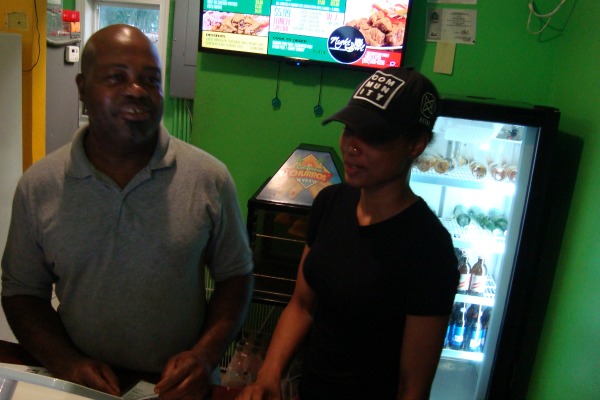 The Wright family came to Eustis many years ago from Jamaica. Richard Wright is the owner of Night Owl, and was well known in the area to Jamaican food lovers when he operated his own food truck. People who enjoyed what he served from the food truck kept asking him to open a permanent place, and he finally did. Lovers of Caribbean food are glad he decided to do it.


Night Owl is open every day except Monday. Its hours are 11:00 AM to 8:00 PM Tuesday through Thursday, and from 11:00 AM to 10:00 PM Friday and Saturday. They are open on Sunday from 11:00 AM to 7:00 PM.



---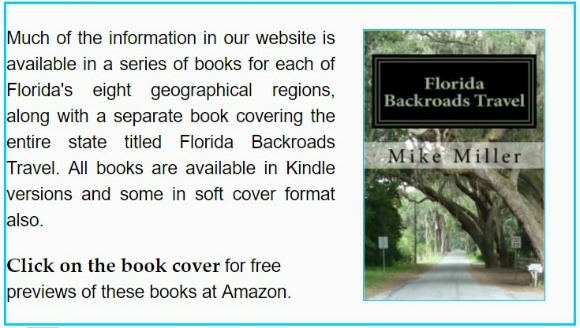 ---
FLORIDA BACKROADS TRAVEL UPDATES

Thanks for continuing to subscribe to Florida Heritage monthly e-zine. Our website, Florida-Backroads-Travel.com continues to grow, and we hope you enjoy these updates.

You can also subscribe to our Florida Blog by going to our home page and selecting an RSS feed. This way you will have daily updates. I recently added a new page to the website: Florida Tales. This feature allows website visitors to share their favorite Florida stories with us. We also revised our Florida Getaways page to provide links to getaways in all 8 geographical regions of Florida.

September is still to hot in Florida, but every now and then we get a cool day with the temperatures in the low 80s. Most of the snowbirds are still up north so the lines are shorter at our local restaurants. Air conditioners are cranking most of the time, but now and then take of few minutes off rather than continually running like they do in July and August.
HERE ARE SOME INTERESTING FLORIDA EVENTS FOR SEPTEMBER:
ALL REGIONS

FLORIDA WINERIES. Check the Florida winery nearest you. Many of them have wonderful weekend events that include music and wine tastings. Our site has information on 27 wineries scattered across the state. We plan to add even more when we have time to visit them.

FLORIDA TOURIST ATTRACTIONS. We have an extensive list of Florida Tourist Attractions. Some of them are well known; other are a wonderful step back into Old Florida.

FLORIDA FESTIVALS. There are several outside events this time of year. Among these are outdoor art festivals and folk and bluegrass music festivals.

FLORIDA BEACHES. Almost anything you decide to do in Florida can be enhanced by spending some quality time at a great beach, and best beaches in Florida will guide you in the right direction.

FLORIDA MUSEUMS. Many Florida art and historical museums have scheduled events. Click on the links to find out what is going on.

FLORIDA THEATER. This is an active time for plays and musical events in our many Florida theaters.. Check the links to find out what might be interesting to you.

FLORIDA AUTHORS. Any time is a good time to read a book by a Florida author. Our most visited author pages are those of Randy Wayne White, the creator of adventurous marine biologist Doc Ford, Tim Dorsey and his unlikely protagonist, serial killer Serge Storms, and Robert N. Macomber, and his historical novels featuring Captain Peter Wake of the U.S. Navy.

Here is a useful link that will tell you what is going on this month virtually everywhere in Florida.
FLORIDA FESTIVALS AND OTHER EVENTS FOR SEPTEMBER 2017

Information on the towns and places hosting these events, or near them, including lodging, can be found at Florida Towns.

A few events are cancelled on very short notice. I do my best to ensure that our information is correct and current, but I recommend you call before leaving for the event to make sure it's still on.

Thanks for subscribing to Florida Heritage Travel. We will see you next month with more updates and event information.
IF YOU ARE NOT A SUBSCRIBER TO FLORIDA HERITAGE TRAVELAND WOULD LIKE TO BECOME ONE, GO TO OUR HOME PAGE AND SUBSCRIBE!