September 2018 News and Events
---
FLORIDA HERITAGE TRAVEL
is the companion monthly e-zine of
FLORIDA-BACKROADS-TRAVEL.COM
---
JUPITER, FLORIDA. BEAUTIFUL INLET AND LIGHTHOUSE

Jupiter is one of the most beautiful towns on the east coast. It has a population of about 62,000 and is situated on an inlet to the Atlantic Ocean.

Most people who live in Jupiter would rather not live anyplace else. It's usually voted by travel authorities as one of the best beach towns in Florida.

It is the northernmost town in Palm Beach County and most traveler think of Jupiter as the line of demarcation between heavily urbanized south Florida and the quieter places to the north.

Many Floridians have been known to say "I'll live anywhere in Florida as long as it's north of Jupiter Inlet.

History of Jupiter The area was first settled by the Hobe tribe of Native Americans whose village was at the mouth of the Loxahatchee River. This river flows into the ocean at Jupiter Inlet. The tribes's name is memorialized in Hobe Sound, the brackish lagoon that separates the barrier island from the mainland.

Somewhere along the line of history somebody thought the word "Hobe" was spelled "Jobe" and it became further corrupted as "Jove". Then someone else thought that Jove was the Latin name for Jupiter, one of the ancient gods. Jupiter was known by the name of Zeus in ancient Greece, but at least that error wasn't made and early settlers stuck with the name Jupiter.

The name is appropriate, because the ancient Romans believed Jupiter to be the god of weather, light, and the sky. The weather in Jupiter is superb. Just to cap off this story, a nearby town was named Juno after Jupiter's consort.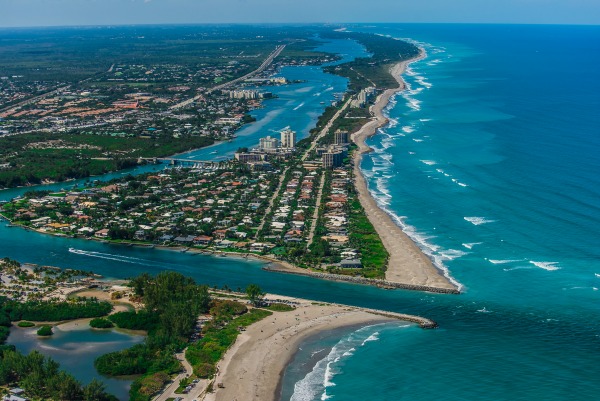 One of the most memorable things along this coast is the Jupiter Inlet Lighthouse. It was built in 1860 and is made of brick. The lighthouse and adjacent museum are open to the public. The view of Jupiter Inlet and Jupiter Island is magnificent.

Some of the wealthiest families in the United States live on Jupiter Island. This barrier island stretches north from Jupiter inlet. A road along the ocean offers some views of the ocean, but most homesites are heavily landscaped and extremely private.
The community on the north side of the inlet is known as Jupiter Inlet Colony. For many years one of it's best known and best loved residents was the singer Perry Como. He regularly attended church in the nearby town of Tequesta. He passed away in 2001 at the age of 87.
The mainland around Jupiter is also beautiful, with many upscale golfing and boating communities. There are many fine shops and restaurants to keep you busy for a long time.

MORE ABOUT JUPITER INLET LIGHTHOUSE

1500 Captain Armour's Way Jupiter, Fl 33469 Tel: 561-747-8380

The Jupiter Inlet Lighthouse and Museum has been open to the public since 1972.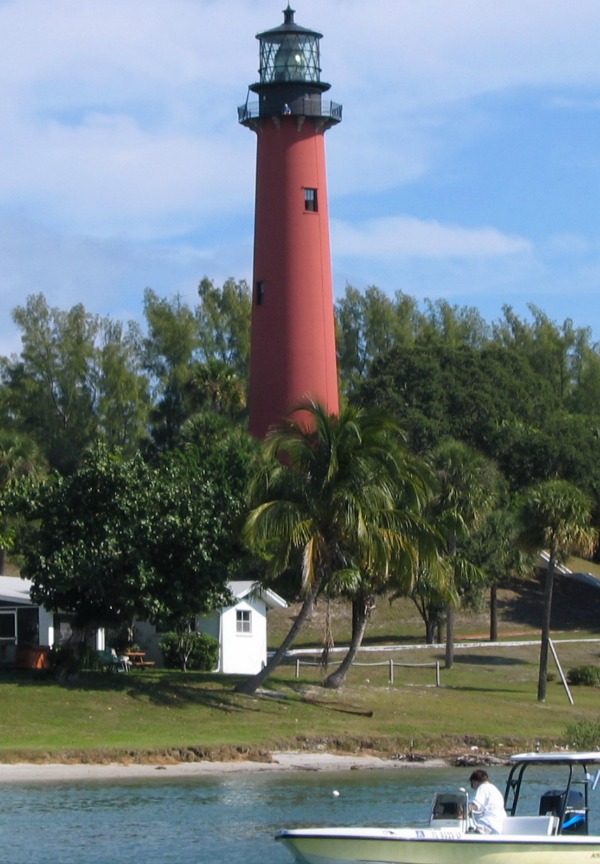 The tower was first lit in 1860 and has a wonderful view of Jupiter Inlet, the Intracoastal Waterway and the Atlantic Ocean.

In World War Two the lighthouse property served as a U.S. Navy radio detection station. The station is credited with providing information that led to the sinking of more than 60 German submarines that had been torpedoing Allied ships along the Atlantic coast in 1943.

WHAT TO DO:

Tours of the lighthouse grounds and museum, including tower climbs, are available to the public. The lighthouse is on a large property that also includes nature walks and various scenic events such as lighthouse sunset and moonrise tours.

The lighthouse property also serves as a park and community center for the area and has a busy event schedule. The museum is also open to the public and features many exhibits of Native American and early pioneer culture.

ADMISSION FEES AND HOURS:

Access to the lighthouse is by paid guided tour only and tickets are purchased in the museum. The lighthouse and museum are open to the public on the following schedule:

May-December. Open Tuesday - Sunday 10 am to 5 pm. Closed Memorial Day, Independence Day, Labor Day, Thanksgiving Day, Christmas Day.

January-April. Open 7 days a week 10 am to 5 pm. Closed New Year's Day and Easter

Admission Fees: Adults $12.00 (Veterans and Seniors $10), Children (6-18) $6.00

Admission is free for children 5 and under and for active U.S. Military and their families (with I.D.)
---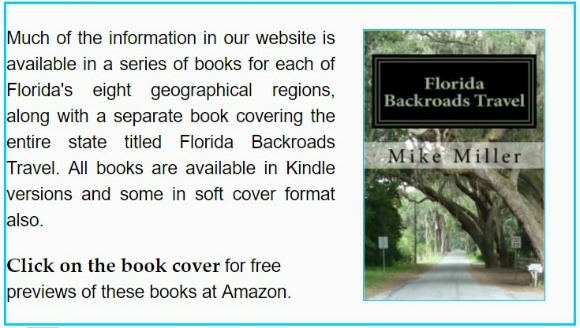 ---
Thanks for continuing to subscribe to Florida Heritage monthly e-zine. Our website, Florida-Backroads-Travel.com continues to grow, and we hope you enjoy these updates.

You can also subscribe to our Florida Blog by going to our home page and selecting an RSS feed. This way you will have daily updates. I recently added a new page to the website: Florida Tales. This feature allows website visitors to share their favorite Florida stories with us. We also revised our Florida Getaways page to provide links to getaways in all 8 geographical regions of Florida.

September is starting to cool down in Florida. Most of the snowbirds have gone back North so the lines are shorter at our local restaurants. It's also cool enough on many days to sit outside.

HERE ARE SOME INTERESTING FLORIDA EVENTS FOR SEPTEMBER:

ALL REGIONS

FLORIDA WINERIES. Check the Florida winery nearest you. Many of them have wonderful weekend events that include music and wine tastings. Our site has information on 27 wineries scattered across the state. We plan to add even more when we have time to visit them.

FLORIDA TOURIST ATTRACTIONS. We have an extensive list of Florida Tourist Attractions. Some of them are well known; other are a wonderful step back into Old Florida.

FLORIDA FESTIVALS. There are several outside events this time of year. Among these are outdoor art festivals and folk and bluegrass music festivals.

BEST BEACHES IN FLORIDA. Almost anything you decide to do in Florida can be enhanced by spending some quality time at a great beach, and best beaches in Florida will guide you in the right direction.

FLORIDA MUSEUMS. Many Florida art and historical museums have scheduled events. Click on the links to find out what is going on.

FLORIDA THEATER. This is an active time for plays and musical events in our many Florida theaters.. Check the links to find out what might be interesting to you.

FLORIDA AUTHORS. Any time is a good time to read a book by a Florida author. Our most visited author pages are those of Randy Wayne White, the creator of adventurous marine biologist Doc Ford, Tim Dorsey and his unlikely protagonist, serial killer Serge Storms, and Robert N. Macomber, and his historical novels featuring Captain Peter Wake of the U.S. Navy.

Here is a useful link that will tell you what is going on this month virtually everywhere in Florida.

FLORIDA FESTIVALS AND OTHER EVENTS FOR SEPTEMBER 2018

Information on the towns and places hosting these events, or near them, including lodging, can be found at Florida Towns.

A few events are cancelled on very short notice. I do my best to ensure that our information is correct and current, but I recommend you call before leaving for the event to make sure it's still on.

Thanks for subscribing to Florida Heritage Travel. We will see you next month with more updates and event information.

IF YOU ARE NOT A SUBSCRIBER TO FLORIDA HERITAGE TRAVEL AND WOULD LIKE TO BECOME ONE, GO TO OUR HOME PAGE AND SUBSCRIBE!

FLORIDA BACKROADS TRAVEL HOME PAGE