September 2020 News and Events
---
FLORIDA HERITAGE TRAVEL
is the companion monthly e-zine of
FLORIDA-BACK-ROADS-TRAVEL.COM
---
MELBOURNE BEACH: GATEWAY TO BEACH AND FISHING PARADISE

Melbourne Beach is a quiet bedroom community of about 3,000 people on the barrier island across the Indian River Lagoon from the larger city of Melbourne. It is Brevard County's oldest beach community.

The village has numerous access points to the beautiful sand beaches. Melbourne Beach is also the main access point for the long stretch of beach along State Road A1A all the way down to Sebastian Inlet.

The barrier island has many parks and beach access points between Melbourne Beach and the inlet.

READ MORE ABOUT MELBOURNE BEACH




---
RECOMMENDED MELBOURNE BEACH RESTAURANT
DIJON'S STEAK AND LOBSTER HOUSE
522 Ocean Avenue
Melbourne Beach, Florida 32951
Telephone: 321-722-2737


Djon's is a fine dining establishment named after its owner, Djon Papej. It is not your typical beach establishment; you will be okay wearing slacks or shorts and a polo shirt, but leave your flip-flops and tee shirt at home.

This place warrants your dressing up a bit; you won't be disappointed. I lived for many years near this restaurant. In the old days it was known as Poor Richard's.

READ MORE DIJON'S AT OUR MELBOURNE BEACH PAGE

NOTE: DURING THIS PERIOD OF THE COVID-19 PANDEMIC, THE RESTAURANT SHOULD BE CONTACTED REGARDING ITS CURRENT STATUS.




---
If you enjoy Florida Heritage Travel Ezine, I am sure you will enjoy our Facebook page as well. I post daily on various towns, attractions, restaurants, road trips, culture, and history.

Clicking on the image below will take you to the Florida Back Roads Travel Facebook page. If you like what you see, just "like" the page and you will be able to see our daily posts on your own Facebook page.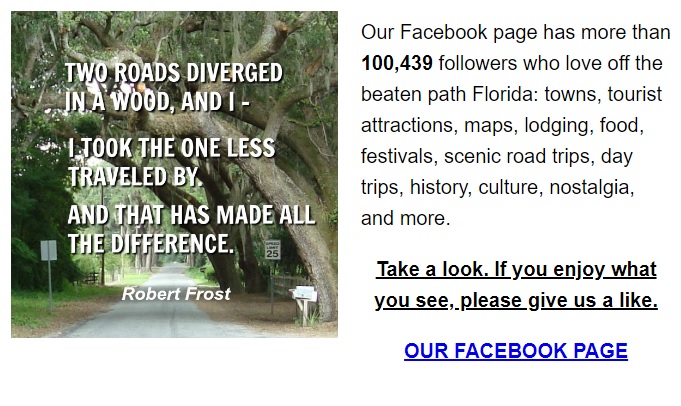 Ever thought of starting a website or blog? I use Solo Build It! to create this ezine and related website and believe it's the best way to build an online business.

If you sign up for a free trial, I get a small commission.


---
Thanks for continuing to subscribe to Florida Heritage monthly e-zine. Our website, Florida-Back-Roads-Travel.com continues to grow, and we hope you enjoy these updates.

You can also subscribe to our Florida Blog by going to our home page and selecting an RSS feed. This way you will have daily updates.

Some new pages on our website include FLORIDA CRACKER RECIPES and DAY TRIPS BY THEME OF INTEREST. We hope you will check them out and give us your imput.

September is starting to cool down in Florida, but many of us stay home in our air conditioned homes during the pandemic. Some heroic people go to their jobs every day and we appreciate them. Some restaurants are open with curbside service only or limited seating. Everybody is doing their best. The weather is still too hot and humid, so we enjoy our time at home by reading and getting caught up on chores. Not many restaurants are completely open, but some are. Most of our snowbirds are still up north, but some are staying in their Florida homes during the pandemic. Restaurants are beginning to open with new recommended health procedures in place. Some also offer take out or delivery services.

HERE ARE SOME INTERESTING FLORIDA EVENTS FOR SEPTEMBER:

ALL REGIONS

FLORIDA WINERIES. Check the Florida winery nearest you. Many of them have wonderful weekend events that include music and wine tastings. Our site has information on 27 wineries scattered across the state. We plan to add even more when we have time to visit them.

FLORIDA TOURIST ATTRACTIONS. We have an extensive list of Florida Tourist Attractions. Some of them are well known; other are a wonderful step back into Old Florida.

FLORIDA TOWNS. We have profiles and histories on hundreds of Florida towns and cities.

FLORIDA FESTIVALS. There are several outside events this time of year. Among these are outdoor art festivals and folk and bluegrass music festivals.

BEST BEACHES IN FLORIDA. Almost anything you decide to do in Florida can be enhanced by spending some quality time at a great beach, and best beaches in Florida will guide you in the right direction.

FLORIDA DAY TRIPS BY LOCATION. Hundreds of destinations withing one hundred miles of eight major Florida cities.

FLORIDA DAY TRIPS BY THEME OF INTEREST. Many people like to take day trips to destinations that reflect their interests.

FLORIDA ROAD TRIPS. Hundreds of recommended road trips with maps that let you explore all regions of the state.

FLORIDA AUTHORS. Any time is a good time to read a book by a Florida author. Our most visited author pages are those of Randy Wayne White, the creator of adventurous marine biologist Doc Ford, Tim Dorsey and his unlikely protagonist, serial killer Serge Storms, and Robert N. Macomber, and his historical novels featuring Captain Peter Wake of the U.S. Navy.

Here is a useful link that will tell you what is going on this month virtually everywhere in Florida.

FLORIDA FESTIVALS AND OTHER EVENTS FOR SEPTEMBER 2020

Information on the towns and places hosting these events, or near them, including lodging, can be found at Florida Towns.

A few events are cancelled on very short notice. I do my best to ensure that our information is correct and current, but I recommend you call before leaving for the event to make sure it's still on.

Thanks for subscribing to Florida Heritage Travel. We will see you next month with more updates and event information.

IF YOU ARE NOT A SUBSCRIBER TO FLORIDA HERITAGE TRAVEL AND WOULD LIKE TO BECOME ONE, GO TO OUR WEBSITE AND SUBSCRIBE!

FLORIDA HERITAGE TRAVEL EZINE SUBSCRIBE PAGE