ATHENA RESTAURANT

14 Cathedral Place
St. Augustine, Florida 32084
904-823-9076
Athena Restaurant is a nice little Greek cafe right in the heart of downtown St. Augustine across the street from the Old Slave Market. I've been eating there for years and have never been disappointed. It has been owned for years by the Chryssaidis family.
There is nothing fancy about the interior of this restaurant. It is clean but simple, and will remind you of a typical country restaurant or family diner. Once you are inside it's hard to remember you are right in the middle of a historic downtown district loaded with tourist attractions.
For example, the oldest Catholic church in Florida, the Cathedral Basilica of St. Augustine, is on the same block as this restaurant.  It's a great place for breakfast, lunch and dinner is you plan a long sightseeing day in the Ancient City.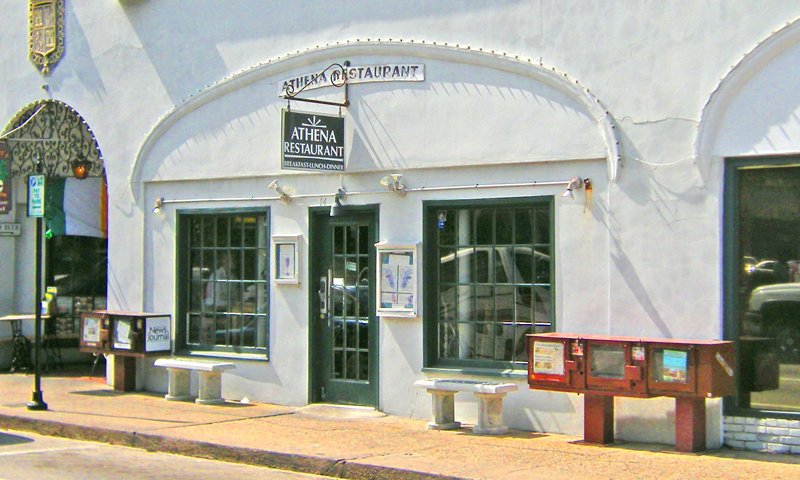 I love Greek food, and Athena has some good stuff. They have all of the standards like grape leaves, spinach pie, Greek salad and avgolemono soup with a nice lemony taste. They also have kebobs featuring chicken, lamb, beef or shrimp. Their pita bread is great.
They also have the traditional saganaki, a flaming dish of cheese, with the traditional "opa" being shouted as the server ignites the plate and scares the hell out of granny who wasn't paying much attention.
For folks with a more typical American palate, Athena also has good steaks and seafood. Tasty desserts include baklava and rice pudding.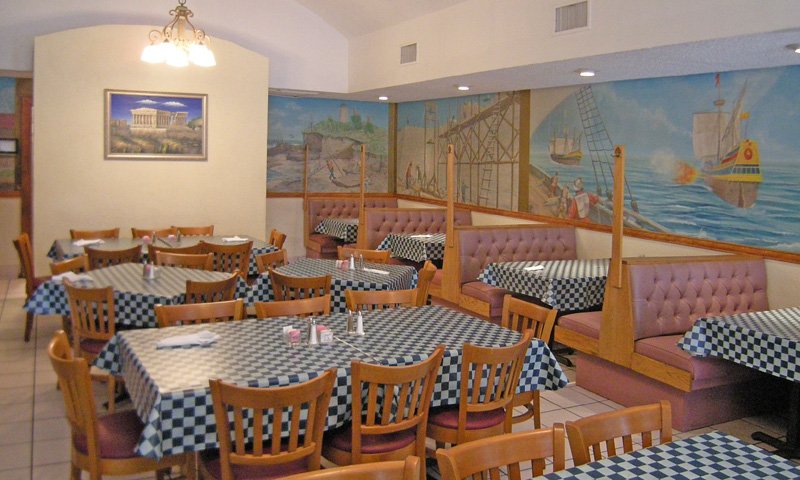 Athena is open 7 days a week for breakfast, lunch and dinner, and it's my preferred spot in the Ancient City for breakfast. My favorite here is just a simple breakfast of scrambled eggs, corned beef hash and whole wheat toast.
They also have great waffles, good coffee and the prices are very reasonable.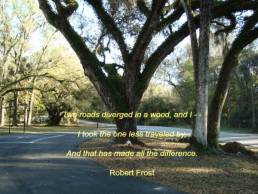 Over 65,000 followers can't be wrong. Learn about off the beaten path Old Florida, historic towns, attractions,  festivals, scenic drives and more.
Like Us On Facebook
Return From Athena Restaurant To Florida Restaurants