BUZZARD BEACH GRILL

As of 10/1/17 Yelp users have reported this restaurant is closed.  We went by today and it sure looks closed.  We'll leave this writeup on the website for a while to see if the place makes a comeback.
Tel:  352-552-8849
Buzzard Beach Grill is on the south shore of Lake Eustis, one of the major lakes in the Harris Chain of Lakes.
The address of this little bar and grill is 2050 W. Burleigh Blvd (US-441), Tavares, Florida 32778.
Fishing is still good on the Harris Chain in spite of the problems with giant Lake Apopka to the south.
Buzzard Beach looks like a fish camp, but it's a neat little casual dining establishment.
The dining room is a screen enclosed patio that probably seats 60 to 80 people. It has a great view of adjacent docks on Lake Eustis. There are also dining tables outside on the docks.
The dining room is not air conditioned, but the screens allow air to flow through and ceiling fans keep it comfortable on all but the most miserably hot days.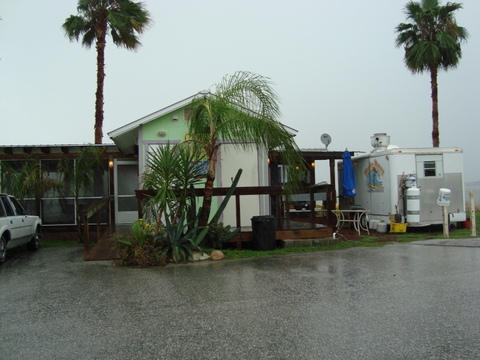 Buzzard Beach bills itself as "Casual Dive Dining - No Shirt. No Shoes. No Clothes...No Problem!" Their menu also proclaims "All children must be on a leash...Dogs are allowed to roam free!"
During my recent visit, a canine visitor was a gentle old Corgi named Gilligan. He was a bit plump, and my bet is that more than one diner slips Gilligan a tidbit now and then. I noticed the floor is very clean for a casual place like this.
Buzzard Beach Grill Is Boater Friendly
Boaters stop by on a frequent basis to enjoy Buzzard's food and beverage offerings. It is very casual. My lovely server, Heather, was wearing a tasteful bathing suit. It was two piece, not a bikini, but her costume fit the beachy tiki bar feeling of the place. The fact that she provided excellent service was an added bonus. I had a burger that was very delicious, cooked on a grill somewhere back in the kitchen. It was a full half pound of lean ground chuck, cooked well done the way I like it and served with fries and cole slaw. It cost $8.50, and was well worth it.
The menu includes some fairly fancy salads, including New York Strip Salad, Lobster Salad, Grilled Chicken Salad and Grouper Salad. Standard sides are fries, onion rings, bean salad, potato salad or cole slaw. Sandwiches and baskets include Hebrew National hot dogs, brat dogs, Philly cheese steak and tuna salad sandwich.  You can even get a grilled cheese sandwich and an oyster "Po Boy" sandwich. For such a small place, the variety on the menu is amazing. There are wings and chicken tenders, BBQ pork sandwiches and the list goes on.
The owner, Jack, does the cooking and also rambles around the place meeting his customers. Buzzard Beach Grill also has a full liquor license with a large variety of beer, wine, whiskey and other spirits. Drinks are about the cheapest in Lake County.
One final observation: I used the restroom as I was leaving the place, and it was spotless. That is always a very good sign!
I think you will enjoy a visit to Buzzard Beach. Just don't overdress.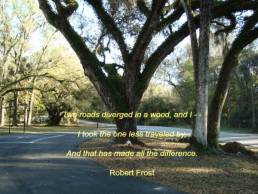 Over 65,000 followers can't be wrong. Learn about off the beaten path Old Florida, historic towns, attractions,  festivals, scenic drives and more.
Like Us On Facebook
Return From Buzzard Beach Grill To Florida Restaurants
Return To Florida Backroads Travel Home