CENTRAL EAST FLORIDA TRAVEL GUIDE
Central East Florida Travel Guide is your free mentor to this region of Florida and its diversity of towns and attractions.
This region starts in the north with Daytona Beach and its International Speedway and world famous beaches.
Other towns of interest include DeLand with the beautiful campus of Stetson University, New Smyrna Beach and Port Orange.
It's center is anchored by Kennedy Space Center. The Space Age exists contentedly among the old Florida towns of Titusville, Cocoa and Melbourne.
The southern end of this region includes the coastal towns of Sebastian, Vero Beach, Fort Pierce and the fast growing Port St. Lucie.  The only inland county is home to the city of Okeechobee on the north shore of the lake of the same name.
Central East Florida is a long narrow region that extends to St. Lucie Inlet in the south. There are only 5 counties in this region of Florida: Volusia, Brevard, Indian River, St. Lucie and Okeechobee.
All of these counties, except for Okeechobee, have miles of beautiful sand beaches on the Atlantic Ocean.
Here is a Florida Road Map and a Florida County Map for your enjoyment.
These maps will be useful to you as part of your free Florida travel guide to Central East Florida.
THINGS TO DO IN CENTRAL EAST FLORIDA
The following free Florida travel guide links will tell you about the many things to do in Central East Florida.
Central East Florida Art Festivals
Central East Florida Day Trips
Central East Florida Heritage Sites
Central East Florida Tourist Attractions
CENTRAL EAST FLORIDA TOWNS
This free Florida travel guide lists places to stay and eat on the individual town pages.
The individual town pages include a brief history of the town along with my recommended motels, hotels and restaurants.
Each town page also includes a description of at least one bed and breakfast or historic hotel.
Some towns and places in Central East Florida currently on our website are:
Cocoa
Daytona Beach
Deland
Melbourne
New Smyrna Beach
Vero Beach
CENTRAL EAST FLORIDA WINERIES
I don't know of any Florida wineries in this region. I do know many good wine bars, restaurants and taverns.
Although there are no wineries in Central East Florida, this free Florida travel guide has a list of all other Florida wineries.
CENTRAL EAST FLORIDA BEACHES
Daytona and New Smyrna have beaches that you can drive on. Ramps lead from the streets down onto the sand, which is usually firm enough to drive on with no trouble.
Another Central East Florida beach is Playalinda at the Canaveral National Seashore. You get there usually through Titusville.
It's one of two Florida nudist beaches that I know about. It's not legal to do so, but lots of nudists use Playalinda.
Be careful if you have granny and the kids with you. You may have a totally unexpected Florida travel experience.
The beaches along the entire coast are delightful. Surfers like the area north of Sebastian Inlet. Cocoa Beach has a wonderful fishing pier with a restaurant. Port Canaveral is the staging area for Disney cruises to the Caribbean.
For more information on Central East Florida Beaches, consult Best Beaches In Florida. 

CENTRAL EAST FLORIDA ATTRACTIONS
Brevard Zoo, Melbourne
Daytona International Speedway, Daytona
Kennedy Space Center, Merritt Island
Ron Jon Surf Shop, Cocoa Beach
More information on these and other attractions can be found at Florida Tourist Attractions. 

Our getaways are inns that capture the authentic Florida feeling and have been stayed at by Florida Backroads Travel staff or inspected and rated by established associations.
CENTRAL EAST FLORIDA HERITAGE SITES
Central East Florida heritage begins with the early native Americans who dwelled in the area 12,000 years ago.
This region was settled by southerners and midwesterners who farmed and fished along the Indian River and Halifax River.
This heritage is shared by all counties in Central East Florida. Each county has its fair share of sites that are an important part of Florida history.
A list of these heritage sites is at Central East Florida Heritage Sites.
CENTRAL EAST FLORIDA STATE PARKS
There are numerous beautiful Florida State Parks and campgrounds in Central East Florida. These include my favorite, Sebastian Inlet State Park. I have spent many days camping there and fishing from the Sebastian Inlet jetty.
Any Central East Florida travel experience will be enriched by a visit to one of the great state parks.
More information is available at Central East Florida State Parks.
CENTRAL EAST FLORIDA DAY TRIPS AND ONE TANK TRIPS
There is a demand throughout the country for information on day trips and one tank trips. People like the idea of leaving their home, seeing a lot in a day or two, and not breaking the family budget.
Virtually every state, including Florida, has websites and books that focus on the concept of being able to travel from your home and see a lot of interesting places and things.
Florida-Backroads-Travel.com is a Florida travel website that will give you some great ideas for local day trips and one tank trips.
Central East Florida has plenty of safe and scenic, lightly traveled backroads that will take you through interesting Florida towns and attractions. 

Here are some Central East Florida day trips and one tank trips.
---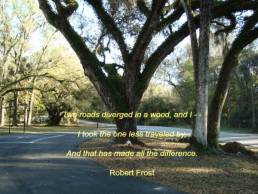 Over 64,000 followers can't be wrong. Learn about off the beaten path Old Florida, historic towns, attractions,  festivals, scenic drives and more.
Like Us On Facebook
Return From Central East Florida Travel Guide to Florida Travel Guide
Return To Florida Backroads Travel Home