CENTRAL FLORIDA TRAVEL GUIDE
Central Florida Travel Guide is your mentor to the many towns and attractions in this region of the state.

Most tourist activity in Central Florida is focused around the locations of the largest theme parks in Florida.  Walt Disney World, Universal Studios Florida and SeaWorld are all visited at least once by tourists who visit Florida.
There are also plenty of quieter towns away from the bustle of the theme parks, including Ocala, Clermont, Leesburg, Lakeland, Winter Haven, Frostproof, Sebring, Lake Placid and many others.
In fact, Central Florida is the most popular destination in the world, with so many vacationers wanting to return again and again.
Central Florida contains 9 counties: Marion, Lake, Sumter, Seminole, Orange, Osceola, Polk, Hardee and Highlands.
These Florida counties sprawl along the high sand ridge that forms the interior of Florida. This ridge was the beach in ancient times, and its surface is made of old rolling sand dunes.
This large region starts between Ocala and Gainesville in the north, and extends south to the citrus country around Lake Placid.
Ocala's rolling hills and pastures are known for producing some of the finest thorougbred horses in the world.
The center part of this region, around Orlando and Clermont, was the citrus capitol of the state until a big freeze changed things forever.
Here is a Florida Road Map and a Florida County Map for your enjoyment.
These maps will be useful to you as part of your free Florida travel guide to Central Florida.
THINGS TO DO IN CENTRAL FLORIDA
The following free Florida travel guide links will tell you about the many things to do in Central Florida.
Central Florida Heritage and History
Central Florida Tourist Attractions
CENTRAL FLORIDA TOWNS
This free Florida travel guide lists places to stay and eat on the individual town pages.
The individual town pages include a brief history of the town along with my recommended motels, hotels and restaurants.
Each town page also includes a description of at least one bed and breakfast or historic hotel.
The towns and places in Central Florida currently featured on this website are:
Cassadaga
Clermont

Doctor Phillips
Eustis
Fort Meade
Frostproof
Haines City
Highland Park
Howey In The Hills
Lakeland
Lake Placid
Lake Wales
Mount Dora
Ocala
Okeechobee
Orlando
Sebring
Tavares
The Villages
Wauchula
Windermere
Winter Garden
Winter Haven
Winter Park
There are many other towns in Central Florida that will be covered on this website in the future.
You can't help notice that many towns in this part of Florida have names that start with Winter. It can take new residents years to figure out which Winter something is where.

Florida travel includes knowing where your "Winters" are.
The town elders of Frostproof just got it over with and came up with the perfect Florida name. The name fascinated tourists when it showed up in early Florida travel brochures.
The individual town pages include a brief history of the town along with my recommended motels, hotels and restaurants.
Our getaways are inns that capture the authentic Florida feeling and have been stayed at by Florida Backroads Travel staff or inspected and rated by established associations.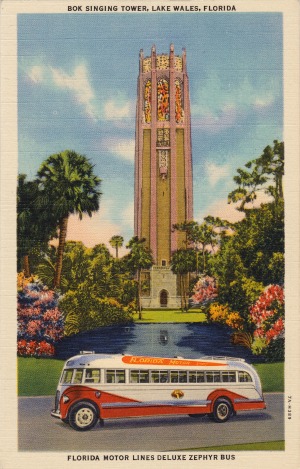 CENTRAL FLORIDA WINERIES
There are 2 Central Florida Wineries:
Lakeridge Winery and Vineyards, Clermont
More information about the Florida wine industry and a listing of all Florida wineries is here.
CENTRAL FLORIDA BEACHES
There are no ocean beaches in Central Florida, but there are miles of freshwater lake shorelines. There is also a long stretch of shoreline along the St. Johns River.
There are a literally thousands of fresh water lakes in Central Florida. Many of them are good for swimming, but it is best to swim in designated areas to be as safe as possible from alligators and water moccasins.
Most communities in Central Florida are little more than an hour away from the beautiful white Atlantic Beaches.
New Smyrna Beach and Cocoa Beach have long been beach vacation destinations for Orlando natives.
Natives of St. Cloud and Kissimmee would be more likely to enjoy the beaches of Indialantic, Melbourne Beach or Vero Beach.
Disney has a beach resort in Wabasso north of Vero.
For information about some of the fresh water beaches and swimming places in Central Florida, consult Best Beaches In Florida. 

CENTRAL FLORIDA ATTRACTIONS
Central Florida travel is influenced by the major, world famous attractions that include Walt Disney World, Universal Studios Florida, Epcot and SeaWorld. It is easy to find information on the internet about these super stars.
Some lesser known but very enjoyable Central Florida attractions include:
Bok Tower Gardens, Lake Wales
Cassadaga Spiritualist Camp, Cassadaga
Beautiful views are available from the top of the Citrus Tower in Clermont and the Lake Placid Tower in Lake Placid.
My favorite Central Florida attraction is Bok Tower in Lake Wales. It has a serenity that is hard to find anywhere else in these hectic times.
The ring of the carillons fits in perfectly with the natural setting.
More information on these and other attractions can be found at Florida Tourist Attractions.
CENTRAL FLORIDA HERITAGE SITES
Central Florida heritage begins with the early native Americans who dwelled in the area 12,000 years ago.
This region was settled by southerners, midwesterners and native Floridians in the years afer the Civil War.
This heritage is shared by all the counties in Central Florida. Each county has its fair share of sites that are an important part of Florida history.
Our free Florida travel guide has a list of these Central Florida Heritage Sites.
CENTRAL FLORIDA STATE PARKS
Central Florida State Parks are well distributed over this region.
Any Central Florida travel adventure will be enhanced by a visit to one of the state parks.
This free Florida travel guide has more information at Central Florida State Parks.
CENTRAL FLORIDA DAY TRIPS AND ONE TANK TRIPS
There is a demand throughout the country for information on day trips and one tank trips. People like the idea of leaving their home, seeing a lot in a day or two, and not breaking the family budget.
Virtually every state, including Florida, has websites and books that focus on the concept of being able to travel from your home and see a lot of interesting places and things.
Florida-Backroads-Travel.com is a free Florida travel guide that will give you some great ideas for local day trips and one tank trips.
Central Florida has plenty of safe and scenic, lightly traveled backroads that will take you through interesting Florida towns and attractions.
Here are some Central Florida day trips and one tank trips.
---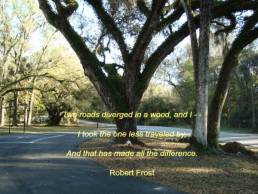 Over 65,000 followers can't be wrong. Learn about off the beaten path Old Florida, historic towns, attractions,  festivals, scenic drives and more.
Like Us On Facebook
Return From Central Florida Travel Guide To Florida Travel Guide 
Return To Florida Backroads Travel Home