CENTRAL WEST FLORIDA TRAVEL GUIDE
Florida Backroads Travel is your free mentor through some of the most populated areas of the state.
Tampa, St. Petersburg, Clearwater, Bradenton and Sarasota are major Florida towns in Central West Florida.

You also see some of the most rural and southern areas remaining in the state.
Central West Florida has 8 counties: Citrus, Hernando, Pasco, Pinellas, Hillsborough, Manatee, Sarasota and DeSoto.
All but Pinellas, Hillsborough and Sarasota counties are very rural.
Tampa, Orlando and Daytona Beach are all growing toward each other along the I-4 corridor that connects east Florida to west Florida.
The central part of Central West Florida is urban with large populations in Tampa, St. Petersburg and Clearwater.
With Busch Gardens in the region, and with Orlando only an hour or less away, this area is also a rival to Miami and Orlando in the Florida tourism industry.
Here is a Florida Road Map and a Florida County Map for your enjoyment.
These maps will be useful to you as part of your free Florida travel guide to Central West Florida.
THINGS TO DO IN CENTRAL WEST FLORIDA
The following free Florida travel guide links will tell you about the many things to do in Central West Florida.
          Central West Florida Art Festivals
          Central West Florida Day Trips
          Central West Florida Heritage Sites
          Central West Florida Tourist Attractions
CENTRAL WEST FLORIDA TOWNS
This free Florida travel guide lists places to stay and eat on the individual town pages.
The individual town pages include a brief history of the town along with my recommended motels, hotels and restaurants.
Each town page also includes a description of at least one bed and breakfast or historic hotel.
Some towns and places in Central West Florida currently on our website are:
Sarasota
St. Petersburg
Tampa
Venice
CENTRAL WEST FLORIDA WINERIES
There are four Central West Florida wineries listed in this free Florida travel guide:
Florida Orange Groves, Inc., St. Petersburg
Keel and Curley Winery, Plant City
Rosa Fiorelli Winery, Inc., Bradenton
Strong Tower Vineyard & Winery, Spring Hill
More information about Florida's wine industry and a list of wineries and vineyards is available at Florida Wineries.
CENTRAL WEST FLORIDA BEACHES
Our free Florida travel guide will tell you about some of the best beaches in Florida. The beaches in Central West Florida are magnificent and sandy from Venice in the south up to Caladesi Island north of Dunedin.
The Gulf of Mexico is usually warmer and calmer than the Atlantic.
The Florida Gulf Coast is troubled once in a while by "red tide".
This is a form of floating algae bloom that kills fish and makes your eyes water.
It won't kill you, but you won't enjoy it.
The Florida Fish and Wildlife Conservation Commission has a website that will tell you the status of red tide currents.
Don't book any beach time if you learn the red tide is around. Many Florida travel brochures and websites won't warn you about this.
For details of Central West Florida beaches, consult Best Beaches In Florida.
ATTRACTIONS
Ringling Museum, Sarasota
Crystal River Swim With The Manatees
University of Tampa, Tampa
Solomon's Castle, Ona
Weeki Wachee Springs
More information about these and other attractions can be found at Florida Tourist Attractions. 

CENTRAL WEST FLORIDA HERITAGE SITES
Central West Florida heritage begins with the early native Americans who dwelled in the area 12,000 years ago.
This region was settled by southerners and other Floridians in the mid to late 1890's.
This heritage is shared by all the counties in Central West Florida. Each county has its fair share of sites that are an important part of Florida history.
A list of these heritage sites is at Central West Florida Heritage Sites.
FLORIDA STATE PARKS
Central West Florida State Parks offer a tremendous variety of experiences. Camping, boating, beaching and hiking. There is something for everyone.
Your Florida travel experience will be enhanced by visiting one of our beautiful state parks.
More information is available at Central West Florida State Parks.
Our getaways are inns that capture the authentic Florida feeling and have been stayed at by Florida Backroads Travel staff or inspected and rated by established associations.
CENTRAL WEST FLORIDA DAY TRIPS AND ONE TANK TRIPS
There is a demand throughout the country for information on day trips and one tank trips. People like the idea of leaving their home, seeing a lot in a day or two, and not breaking the family budget.
Virtually every state, including Florida, has websites and books that focus on the concept of being able to travel from your home and see a lot of interesting places and things.
Florida-Backroads-Travel.com is a Florida travel website that will give you some great ideas for local day trips and one tank trips.
Central West Florida has plenty of safe and scenic, lightly traveled backroads that will take you through interesting Florida towns and attractions. 

Here are some Central West Florida day trips and one tank trips.
---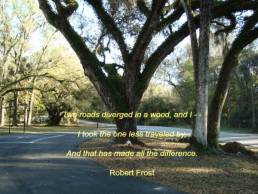 Over 65,000 followers can't be wrong. Learn about off the beaten path Old Florida, historic towns, attractions,  festivals, scenic drives and more.
Like Us On Facebook
Return From Central West Florida Travel Guide To Florida Travel Guide 

Return To Florida Travel Home