Purchase Confirmation For E-Book
WHAT WOULD WALT DO?

Thank you for purchasing the e-book, "WHAT WOULD WALT DO?"  I hope you enjoy reading it.
Your credit card or bank statement will show a charge by ClickBank or CLKBANK*COM.
After you have clicked the download link below, wait a few seconds until the PDF file appears on your screen.  Then save the PDF to a file folder on your computer.

DOWNLOAD "WHAT WOULD WALT DO?"

If you have any questions about the book, please contact me at dmichaelmiller@florida-backroads-travel.com.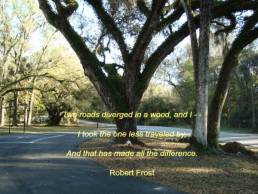 Over 65,000 followers can't be wrong. Learn about off the beaten path Old Florida, historic towns, attractions,  festivals, scenic drives and more.
Like Us On Facebook
Return To Florida Backroads Travel Home