FLORIDA GENEALOGY

We started this page on Florida genealogy in 2010.  It became too much trouble to maintain the page, so we deactivated the submittal feature on January 10, 2014.  The main problem was our need to do massive editing and even to contact submitters for missing information.  We are therefore not accepting information on any more families.  What you see here is what you get.
Most people don't think about Florida genealogy very much, because most people in Florida came from someplace else.
Most current Floridians came within the last 50 years. The population of Florida has quadrupled since I came here 50 years ago.
Florida genealogy is the story of pioneers.
Long before we recent transplants adopted the Sunshine State, there were a hardy bunch of pioneers who blazed the way and made it easy for us to survive. They were not interested in moving to Florida to enjoy retirement in Florida like most folks today. These tough early settlers were interested in establishing their Florida homestead and surviving off the land.
Before most white men started coming here, the Seminoles were already here. They first came to north Florida and over the years were pushed south to the Florida Everglades. The members of the Seminole nation have kept pretty good track of their Florida genealogy.
They were pushed south by the early white settlers, most of whom came down in the years before and after the Civil War and homesteaded farms. They were a tough bunch, most of them from the Carolinas, Georgia and Alabama. This is why the story of Florida genealogy quite often starts up in these states.
The first black people in Florida were usually slaves, but they also contributed greatly to the story of Florida genealogy.
The land was tough, too, but these pioneers survived Indian raids, snakes, blazing heat, stifling humidity, yellow fever and the most dreaded menace of all: mosquitoes. In later years they even survived the invasion of Yankees wearing Bermuda shorts, black socks and sensible dress shoes.
We would like to know more about these early Native Americans and the Florida genealogy of the pioneers who followed them, so this page is not just for us to enjoy but for the descendants of those early Floridians to tell us their story.
Here are the family names we have so far:
ALBRIGHT
ALLEN
ARNOLD
BARNES
BARROW
BATTON
BROWARD
CHAFFIN
CORDERY
DAVIS
GRAY
GRIFFIN
HARRISON
HENDERSON
HILL
HOLLAND
JOHNS
LEE
MAXCY
MCDONALD
MOORE
MOSELEY
PASCAL
PELLICER
POWELL
RAULERSON
WHIDDEN
WILSON
BATTON
Batton Family In Florida by Jason Batton (Lynchburg, Va).  My last name is Batton. My father's family goes back at least three generations probably more. My grandfather and my great uncles were definitely an interesting bunch. My father tells me stories about them all the time. He says they were true Florida crackers.

My father is 73 yrs old, and grew up in the native Florida culture. It is certainly a culture all of it's own. Not all of it good but distinct nonetheless.

They wrestled gators, fought mosquitoes, lived in the swamps, had drunken brawls, made moonshine, had a disdain for northerners, and a unique relationship with blacks and Native Americans. They were also very tough.

Through my fathers stories, I have some good insight into this dying culture. My father also has a real native Floridian accent. People always ask him where his accent comes from, because they can not place it.

I hope my family history helps to keep this dying culture alive. To understand the Batton family is to know what it means to be a native Floridian. Most of my father's stories took place in the Polk County area. They were an interesting mix of English and French ancestry. I would invite anyone to research this.
FLORIDA BACKROADS TRAVEL SAYS:  Jason has provided additional information for his family.  Here it is: 
First Name: Jason Batton
E-Mail Address: battonjason@yahoo.com
Jan 15, 2014:
I would like to apologize for the missing info concerning the Batton name. I wrote that shortly after discovering your site. Therefore I was not quite sure what you were looking for. My grandfather's name was William Batton. His brother's were Skip, Raymond, and Lamar Batton. My grandfather was born in Polk county in 1910. I will give you my great grandfathers info as soon I get it. I would also like to add that my father knew Katherine Harris and Ben Hill Griffin Sr really well. He used to work for Katherine's father ,George Harris, at Citrus & Chemical bank in Bartow. Ben Hill and Katherine are two new names you just added to your site. He has told me many stories about them. You may want to do some research on C & C bank too. It was started by Ben Hill Griffin while Katherine Harris's dad George and my father were instrumental in keeping it up and running.It played a major role in native Florida history and culture. Anyway, sorry about the missing info. I will give you more when I get the time. Thank you

One more thing. My father's name is James Lamar Batton. He was born in Bartow, Fl in 1941.
POWELL

Powell and Whidden by Barbara Whidden (Tampa, Florida). John Powell was one of the first settlers in North Fort Myers and 3rd settler in Fort Myers. Photos are in the "Lee County A Pictorial History Book" that was published in 1985.
WHIDDEN

John Wesley Whidden married to Margaret Powell came to Ft. Myers in the early 1900's. Photos are in the "Lee County A Pictorial Guide"book that was published in 1985. The name has had many spellings over the years.
WILSON
Wilson Family, by Deborah Callicott (Russell, Clay Co., FL ). JOSEPH WILSON, appeared in Florida late 1824, and was joined in early 1825 by JESSE WILSON, who along with his young family settled on property along Trout Creek in Duval Co. The two young men, both born in South Carolina, are believed to be brothers .... Both men served in the Seminole Wars, and both eventually settled in southern Duval Co., now Clay Co., in the area now known as Camp Blanding, FL . Oral history, now confirmed by DNA testing, show this family to be of Scottish Highland origin back to the Isle of Skye region and part of the Clan Donald, even though the Wilson surname is not recognized as a "clan" name.

Both men were involved in multiple industries, including livestock, timber, bridge building, general farming,and cultivation of "fine spirits". Their sons owned naval stores, general stores, turpentine operations, general farms, & fishing operations. Industry was a way of life, as was political & military service .... The women were the spiritual and educational leaders of the family, helping to bring civility and God to a most inhospitable place.

In the early 1800's the family intermarried with the Weeks, MacBurney, Knight, Conway, Bennett, Bush, Harris, Hogan/Hagen, Carter, Thomas, Murhree, Geiger, Higginbotham, Oglesby, & others who likewise were Florida Pioneer Settlers, and most of whom were of Scottish or Scotch-Irish ancestry ...

This family has left behind numerous descendants of similar fortitude and industry ....
Comments for WILSON
Jul 09, 2012
Interesting Geneology!
by: Anonymous

Deborah, keep providing us with more Florida family-tree history . . . this is so interesting!My brother and his wife are very much interested in geneology. When our cousin was living in Park City, Utah (he was a DELTA pilot) they spent a lot of time at the Geneology Museum in Salt Lake City. But Florida family-tree history is so interesting because our State is truly a pioneering one. 
ALLEN
Allen family, by Elizabeth Allen Sacco (Sacramento, CA).  I've enclosed an old plat map of Jacksonville Florida that shows Allen land.   Lorenzo Dow Allen lived in Duval,  Florida Territory and is found on the 1840 census. He was born in Saratoga New York; I am not sure when he arrived in Florida.

In 1841 he purchased 39 acres in the Jacksonville area and started his family. Sometime between 1850 and 1860 his wife and three of his four children died. (I believe it was from yellow fever.)

In 1861, Lorenzo and his oldest son John, enlisted in the Confederate Army in the 3rd Fla infantry Co F (Capt. Hardee's Cowboys). Lorenzo was captured on Sept 18 1862 in Glasglow Ky, paroled and discharged on Oct 29.

John was wounded and captured at Missionary Ridge in 1863. He then joined Company H, 3rd regiment of the USA Volunteer Infantry and spent the remainder of the war in frontier service in the Northwestern Territories.

I believe Lorenzo may have died during the war. John settled in Alabama after the war.
HENDERSON

Henderson Family In Florida by Jason Batton (Lynchburg, Va) The Henderson name came from my great grandmother on my dad's mother's side of the family. It was her maiden name.

The Hendersons go back too far to tell. It is likely they go back at least to the early 1800's in the sunshine state. Like many crackers, they were a very back woods people. They lived off the land and did not have much education. However, they certainly were not lacking in intelligence.

Although they survived off the land. There are many stories about Henderson men having unusual hobbies like playing chess and reading literature on philosophy. My great grandmother was said to be very opinionated, feisty, and quick to speak her mind. She did not possess one pretentious bone in her body. She did possess a kind heart however and was very hospitable to anyone in need of help. She would often leave food out for homeless strays to eat and was quick to offer her home for the night to travelers.

The Henderson ranch was full of cactus apples, Florida panthers, bobcats, and black bears and encounters with this wildlife were not uncommon in those days.

The Hendersons were of mostly English and Scottish ancestry. They were also Methodist. So it isn't suprising that they were not too thrilled when my great grandmother married my Irish Catholic great grandfather. Catholics were the minority in the sunshine state back in those days and were not always well received.

My great grandfather's family the Gilooleys, were never totally accepted by the Hendersons. Unfortunately, what I know about the Henderson family has been passed down to me by my 73 year old father.

Anyway, any website on native Floridian culture and history is not complete without including the Hendersons.
PASCAL

Pascal Family In Florida by Jason Batton (Lynchburg, Va).  The Pascal name comes from my father's side of the family. One Pascal married into the Batton family. Batton, my last name, is also a name that goes back really far into native Floridian history.

Pascal is my great grandmother's maiden name.

The Battons go back three generations or more. However, it is unknown how long the Pascals date back in the state of Florida. My great grand mother's family had been in Florida for a long time when she married into the Batton family, so they certainly go back 150 years or more. Rumor has it, they go back much further than that.

There are still many Pascals spread around in Florida. Although like a lot of native Floridians, many of the males had a reputation for being heavy drinkers and womanizers; they must have been a little more affluent than the Battons. The Pascal family produced many medical doctors. There are many Pascal doctors still living in Florida today.

Most of the Pascals alive today are very distant relatives of mine. Interestingly, they are of French descent. I have no idea what brought them to the state of Florida. All I know is that they are crucial to native Floridian culture and history. My fathers family is said to go back five generations in the state of Florida. I have never tried to confirm this though. None the less, the Pascal name is worth researching for anyone interested in native Florida history and culture.
MCDONALD

McDonald Family in Florida by Bryan McDonald (Tampa).  The McDonald name appeared in Walton County, Florida in the 1830s or so when they moved from North Carolina with a number of other Scotch-Irish settlers. They are listed on page 41 of John Love McKinnon's book "History of Walton County" as one of the pioneer families of the region.  My grandfather, Peter McCaskill McDonald was born in or around Eucheeanna Florida in 1898 or so. My name is Bryan McDonald , and I'm a Tampa resident interested in Cracker Culture and Florida History. Thank you for your informative site.

NOTE FROM FLORIDA BACKROADS TRAVEL:

Bryan, thank for your submittal. I did a little research about Eucheeanna Florida and learned from a Walton County website that it was named for the Euchee Indians, and the it was the first Scottish settlement in the Florida territory.

It was a small village with a courthouse, jail, school, a couple of fellowship halls, some stores, a grist mill and a sawmill. Eucheeanna was the county seat of Walton County until the courthouse burned down in 1885 and the county seat moved to DeFuniak Springs.

In September 1864, Yankee troups under General Asboth razed and plundered the small town on their way to Marianna and Tallahassee.

Thanks for the family history.
ALBRECHT
Charles Theodor Albrecht emigrated from Germany in November 1881 and settled in Minnesota where he lived for many years. He then retired about 1910 to Homestead, Florida with his wife Marie and two sons: Alfred and Charles John. The Albrechts became orange and grapefruit growers. On an early postcard, their fruit farm is identified as C. T. Albrecht & Sons, Redland, Florida. Marie died in about 1923 and Charles died in December 1932. The son Charles may never have married. The son Alfred married a woman with the maiden name of Bernecker.

ARNOLD

John Arnold and his wife Ellender Baker Arnold moved from Georgia to Florida with their boys in about 1845.  John and at least 3 of his sons served in the Confederate Army.  John was in the Home Guard.  One son died in Richmond at the Florida Hospital.  Another son, John Burton Arnold, was shot at Chickamauga and he lost part of his arm. He married Caroline Williams of Baker County, Florida.

BARNES

Earl Barnes was reportedly born in Eustis, Florida on August 22, 1889. His father was Theodore Barnes and his mother was Rena Grey.  This information has been provided by a daughter of Earl, Alta Godwin of Snohomish, Washington. Please provide any information on this family to alta.godwin@comcast.net.  Research on Florida genealogy is difficult in many cases because of the absence of accurate birth records in the early days.

BARROW

John Barrow moved to Florida from Georgia in 1818.
BROWARD

Napoleon Bonaparte Broward, Jr. was born on April 19, 1857, and died on October 1, 1910. He was raised on various family farms along the St. Johns River near Jacksonville. During the Civil War, the family farm was burned by Union troops that occupied Jacksonville. Broward began to work on tug boats and eventually owned a steamboat named "The Three Friends". Broward and the boat became famous for running guns to Cuba during their revolution against Spain in the late 1800's. Broward became sheriff of Duval County, Florida, and later won election as a Florida representative. He ended his political career as the 19th Governor of Florida from 1905 to 1909.

CHAFFIN
Earnest Calvin Chaffin was born in 1883 and died in 1958. He came to Miami, FL. in 1921 from Swords, Georgia. He and his wife Vada Hanson Chaffin (1887-1965) are both buried at Southern Memorial Park, North Miami Beach, FL.

CORDERY
E. Alonzo Cordery was born in New Jersey in 1851. He moved to Florida about 1893. In 1895, he started raising a tobacco crop near Fort Meade using workers imported from Cuba to plant seed beds. He formed the Cuban Tobacco Growers Company. He died in 1920.

Some of the information about this Florida pioneer came from an article in the October 29, 1897, edition of the Miami Metropolis Newspaper. The title of the article was "Culture of Tobacco".

DAVIS
Arthur Weston Davis and his new bride, Jessie Eliza Elcock Davis (nee Wright)came from Solihull and Halesowen, England, respectively in April 1911 and settled in Fort Myers, Florida. Their son, John Seymour Weston Davis, was born on Main Street in August of 1913.

Additional information has been provided by a daughter of John Seymour Weston Davis, Anita Davis Revell of Palm Beach County, Florida.

GRIFFIN
Ben Hill Griffin, Sr. was the father of Jr. He gave him a 10 acre orange grove as a wedding gift, and Jr. turned it into one of Florida's largest fortunes.

Ben Hill Griffin, Jr. was born on October 20, 1910, during a hurricane in the former town of Tiger Bay near Fort Meade, Florida. He was a citrus baron who operated out of Frostproof, Florida. He donated money to the University of Florida who named the stadium in Gainesville "Ben Hill Griffin Stadium at Florida Field". Ben would be happy that it's nationally known now as "The Swamp".

HARRIS
Katherine Harris is the granddaughter of Ben Hill Griffin, Jr. She is a former member of the Florida Senate and former Florida Secretary of State (best known for her role in the disputed 2000 presidential election).

HILL
Dr. James H. Hill was born on September 13, 1819 in Monroe County, Georgia, and died on August 6, 1865. He married Martha Thomas on March 28, 1844 and they moved to Columbia County, Florida about 1855. Dr. Hill was in the 3rd Florida Infantry during the Civil War.

Harold Hill Murphy is the great great grandson of Dr. James H. Hill and as of January 2014 was living in Lake City, Florida.

HOLLAND
Spessard Lindsey Holland was born on July 10, 1892, in Bartow, Florida, and died on November 6, 1971. His father was Benjamin Franklin Holland and his mother was Virginia Spessard Holland. Spessard was the 28th Governor of Florida from 1941 until 1945, and then a United States Senator from 1946 until 1971. A lifelong Democrat, he never lost an election.

JOHNS
Jeremiah Johns moved to Hamilton County, Florida from North Carolina about 1826 and settled on Camp Branch where he lived until his death.  He raised 6 sons and 3 daughters.  One son, Hezekiah, the great-great-grandfather of Harold Murphy (as of 2014, living in Lake City, Florida), fought in both the Seminole and Civil wars. Jeremiah was also in the Seminole wars.

Jeremiah was born in 1788 and died in 1869 and is buried in Prospect Primitive Baptist Church in Hamilton Co. Fl.

LEE
John Lee was born in 1794 in South Carolina and died in September 1884. He and his family moved to Georgia. In 1830, John and his family moved to Columbia County FL. He was married to Avarilla (Ava) about that time. Together they had ten children.

He and his first wife Elizabeth Jones, had five (maybe 6) children. He and some of his family voted in the first election, in Florida. The Lee family lived in several counties in Florida: Hamilton, Lafayette, Columbia, Taylor and Jefferson.

They are mentioned in the Pioneers of Wiregrass Georgia, by Huxford.

MAXCY
Latimer (Latt) Maxcy was born on November 7, 1887, in Columbia, South Carolina. During a camping trip in 1904 after a devastating freeze, Latt observed that the citrus and vegetable crops around Lake Reedy near Frostproof, Florida, were not affected. He persuaded his family to acquire 70 acres on the south side of Lake Reedy and plant a citrus grove. This was the beginning of one of the largest citrus and cattle empires in Florida history.

MOORE
Allen Irving Moore and his 17 year old daughter Carolyn Adela Moore came to Cocoa in 1884 from Islip, Long Island, New York. Mr. Moore had to leave his wife and older daughter in Islip when he came to Florida.  Mr. Moore was a former carriage maker who came to Cocoa because he had a married sister who lived in Cocoa with her husband. His health was poor, and he felt the climate would help him.

He must have been right, because he lived to age 84.

Carolyn told her descendant Marion Jackson that she used to sing for the Indians who came into town to shop and who camped along the Indian River at the foot of what is now Little John Lane in Rockledge.

They are buried in Cocoa Cemetery near the water tower.

MOSELEY
Julia Daniels Moseley and her family settled in Limona (now Brandon) in Hillsborough County in the 1880s.  A collection of letters (titled "Come To My Sunland" written by Julia Daniels Moseley describing life in early Florida was published by her granddaughter who still lives at the family homestead.

Mrs. Moseley was friends with Henry Plant and a myriad of other early Florida characters.

PELLICER
Xavier Lopez Pellicer was born on February 8, 1900, in St Augustine, Florida.  The Pellicer family name is prominent in modern St Augustine;  they are of Minorcan descent and came to town in the late 1700s after leaving Dr. Turbull's failed colony at New Smyrna Beach.

RAULERSON
William Raulerson was born in 1780 in South Carolina, and died in Columbia County, Florida (now Baker County) in 1858. His father, John Raulerson, fought in Francis Marion's brigade during the Revolutionary War. William was a mounted spy in the War of 1812. William moved to Columbia County, Florida and settled near the St. Mary's River and Moniac. On February 2, 1843, he received authorization to operate a ferry across the north prong of the St. Mary's River.
CRUM
Crum Family in Florida by Pat Knox Ketchie
(Salt Springs, Florida)
Crum Plaque in Brooksville Cemetery I'm a Sixth Generation Native Floridian...and a Fifth Generation Native of Hernando County, Florida. I love learning more of Florida's history and remembering some things that I've forgotten.

My Great-Great-Great Grandmother, Charlotte Wynn Pyles Crum, one of the first settlers in Hernando County, was killed by a band of Seminole Indians in 1842 shortly after the close of the Second Seminole Indian War. She was the 1st person buried in what is now Brooksville Cemetery. That property was on the original Homestead of her husband, Richard Crum.

Of course I can only remember my Grandfather, David M. Crum. born February 1879, deceased April 1963.

What great stories I remember.

Anyway May 3, 2003, the Florida Historical Society had a great dedication honoring her. The marker was placed at her grave site that day, 161 years after her death. The Historical Society did a marvelous job contacting many of the heirs. A day I'll never forget. I have saved any and everything regarding our heritage.

I also have a copy of the Homestead Certificate that was issued to my Great Grandfather, John W. Crum. Homestead Certificate No. 7038, dated April 29, 1890 signed by President Benjamin Harrison and registered with the "Register of the Land Office at Gainesville, Florida, pursuant to the Act of Congress 20th day of May, 1862". That Homestead contained 161 acres.

It reads: One hundred sixty one acres and eight hundredths of an acre.

Amazing what we learn. Marion, Citrus, Hernando, Pasco and I think Sumter counties were all part of Alachua County for many years.

Didn't mean to bore you with our family history, If you'd like more of Hernando County we may be able to supply you with lots of history. Some in Pasco County also, lots of ancestors and history there too.

Keep up the good work and I will be looking forward to all of your issues.
Comments for Crum Family in Florida

 Mar 10, 2013
I'm the wife of wife Timothy Crum
by: Susan Crum

Hi,
I just read your post and thought I'd contact you as my husband is the fourth son of Creighton Hale Crum(deceased) of Brooksville Florida. We live in California but have visited Brooksville several times. We have not been to the Brooksville cemetery but will certainly do so the next time we visit. We did find the Crum cemetery,quite by accident, near Ocala a couple of years ago.
CRUM AND LYKES

Crum and Lykes Families in Florida by Pat Knox Ketchie (Salt Springs, Florida). There are so many amazing true stories that many people have never heard and some that many people have forgotten. I thoroughly enjoyed reading some of the older issues of Florida Heritage Ezine.

When I have some time, I'll send you some info regarding more "ancestor history". Salt Springs (not where I live now) between Aripeka and Hudson (Pasco County). Desalination from the Gulf, salt supplied to the Confederate Army, etc.

My Grandfather and the Lykes family started in the cattle business together. Lykes Bros. went on to the commercial, Cattle, Orange groves, shrimp and shipping businesses and made millions.

My grandfather had a smaller cattle farm (about 1500 to 2000 acres) and seven children.

Someone in my family has always been the manager of Lykes Cattle Ranch in Brighton. First was Morris Crum, (my Mom's double-first cousin - brothers married sisters) then his son, Tommy Crum. After that it was Freddie Griffin. His grandfather (Fred Crum) and mine were brothers.

I could go on for days.

Have info from my Grandmother's family also. Alice Eiland Crum. Her sister, my great-aunt Mary Demeritt, was probably the first, or one of the first females that was an Ordained Minister. She and her family also owned/managed a zoo in the New Port Richey/Tarpon Springs area.

I recall that we attended an Annual Reunion at the Townsend House Cemetery...Between Spring Lake and Dade City. SR 41..at the County Line. Her Bro-In-Law, great Uncle Archie Burnsides was Clerk of Circuit Court, Pasco County for many years. Then his son, Stanley became Clerk after he retired. Also the other son, Walter Burnsides was Circuit Judge in Hillsborough County for many, many years.

I'm getting excited and nostalgic just thinking about facts that have been stored in my mind for years.

Maybe one day we will meet and we'll share some history.
Comments for Crum and Lykes Families in Florida
Dec 31, 2012
Mary Demeritt
by: Greg May

Did Mary's family own the Tarpon Zoo?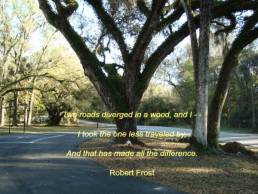 Over 65,000 followers can't be wrong. Learn about off the beaten path Old Florida, historic towns, attractions,  festivals, scenic drives and more.
Like Us On Facebook
Return To Florida Backroads Travel Home