FLORIDA MOM & POP LODGING
Mom and Pop inns, motels and hotels are often the most rewarding and economical way to enjoy the delights that Florida has to offer.
Staying in a family owned place makes you feel like one of the family.
Being locals themselves, the owners of these small places know the best restaurants, attractions and shopping to help make your vacation or even a brief stay a success.
Since they own the place and often live there, they also make sure that maintenance is not overlooked and that the place is clean.
The problem is that many of us are afraid to stay in a place that is unknown to us.  At least with the big chains we have come to expect a certain level of comfort and cleanliness. This is not always the case with Mom and Pop establishments.
TripAdvisor is one of the sources that can be used to check these places out, but one of the problems is that one or two bad reviews can scare you away and several reviews from the owners and their friends can make the place look better than it is.
The places you will learn about on the FloridaBackroadsTravel website have been vetted either by me, my friends or a trusted organization and will not disappoint you.
SOME FLORIDA MOM & POP PLACES YOU WILL PROBABLY ENJOY
These Mom & Pop places are briefly described on this website:
---
Lakeside Inn
100 Alexander Street
Mount Dora, Florida 32757
352‑383‑4101
This historic hotel has been in business since 1883. It is on the east shore of Lake Dora in the heart of downtown Mount Dora with all of its shops, restaurants and other attractions. It is a favorite spot to watch sunsets for locals and tourists alike.
Owners Jim and Alexandra Gunderson have been steadily renovating rooms and are dedicated to preserving this oldest continuously operating example of all Florida historic hotels. The Inn boasts Tremainʹs Lounge (with a fireplace and music), a large dining room, a swimming pool overlooking Lake Dora and a dock for taking captained boat tours and seaplane flights.
---
River Palm Cottages & Fish Camp
2325 NE Indian River Drive
Jensen Beach, FL 34957
772‑334‑0401
Jensen Beach is a small community on the west bank of the Indian River Lagoon that separates Hutchinson Island, a barrier island, from the Atlantic Ocean. This is salt water country, and a great location for one of the most unusual Florida fish camps.
Even though River Palm Cottages & Fish Camp is a fish camp, only about 15 per cent of their guests are fishermen. More than twenty Key West style guest quarters are scattered among 7.2 acres of lush tropical plants. The cottages are extremely quiet.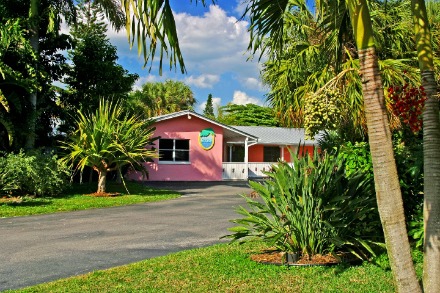 ---
---
Welaka Lodge & Resort
1001 Front Street
Welaka, FL 32193
386‑467‑7171
As fish camps go, this fish camp, lodge and RV park is a Ritz Carlton. You also have to love a place whose home page quotes Florida literary icon Marjorie Kinnan Rawlings:
If I could have, to hold forever, one brief place and time of beauty, I think I might choose the night on that high lonely bank above the St. Johns river.
Welaka is about 40 miles southwest of St Augustine, and about the same distance northwest of Daytona Beach. It is close enough for comfortable day trips, but far enough away from the maddening crowds.
This resort caters to fishing enthusiasts and their families, and it is on a magnificent stretch of the majestic St Johns River in the village of Welaka. The resort boasts a swimming pool and a variety of cottages of varying sizes perfect for a couples getaway or a larger family. Most of the cottages are fully equipped with kitchens and are set up so you can live there for long periods of time.
You may just want to do that once youʹve tried this place with its great views of the largest river in Florida.
---
Whippoorwill Sportsmanʹs Lodge
3129 Cookʹs Landing Road
Quincy, Florida
850‑875‑2605
This secluded camp is on the north shore of Lake Talquin, a large lake managed by the State of Florida and known for its fine fishing. Speckled perch and bass are favorite catches in this lake.
Whipporwill is at the end of a secluded road, and even though you will only be 30 minutes by car west of Tallahassee, you will feel like you are in Old Florida. Most of the shoreline of the lake is in a natural forest setting.
The lodge has several modern cottages and cabins along with some RV sites. The Whip Waterfront Pub and Grub bar and grill is on the property so you donʹt even have to leave if you donʹt want to. Nearby Lake Talquin State Forest has a lot of
things to do if you donʹt feel like fishing: hiking, horseback riding, cycling and lots of nature trails.
---
---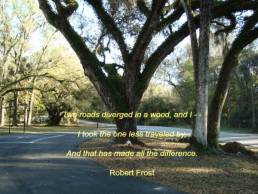 Over 65,000 followers can't be wrong. Learn about off the beaten path Old Florida, historic towns, attractions,  festivals, scenic drives and more.
Like Us On Facebook
---
Return to Florida Backroads Travel Home