Fruit and Spice Park Is A Fun Little Place To Visit
by Sylvia Gardner Bone
(South Miami, Florida)
I'm glad you introduced me to this park. I enjoy the tranquility of the grounds, but I also learn something new every time I visit.

Being new to Florida, I didn't have a good handle on what grows where and how, or how to care for it. Even though it is not a garden center, this place is an unbelievable source of that kind of information.

I live in South Miami, and have already planted a lot of the things I learned about at Fruit and Spice Park.
Return to Tell Us About Your Favorite Florida Tourist Attraction.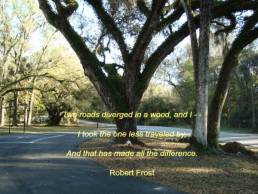 Over 65,000 followers can't be wrong. Learn about off the beaten path Old Florida, historic towns, attractions,  festivals, scenic drives and more.
Like Us On Facebook