HOTELS IN NAPLES FLORIDA
Hotels in Naples Florida include the 5 star Ritz Carlton (two of them), the Naples Grande, and a host of smaller facilities.
Some are on the ocean and others out near Interstate Highway 75.
The task of listing all of these lodging opportunities is beyond the scope of this website.
I will limit my list to those places I've stayed or at least know something about from first hand knowledge.
---
Bayfront Inn 5th Ave, 1221 5th Avenue South, Naples, Florida 34102. Tel: 239-649-5800. This botique inn is well maintained and has a great location. You can walk under the bridge to Tin City, walk downtown to the Fifth Avenue shopping district, or just dine at one of the many restaurants in the adjacent Bayfront shopping and residential complex. This is one of the most conveniently located hotels in Naples Florida. Prices are very reasonable; many rooms have a view of the marina. Average room rate $162.
Courtyard Naples, 3250 Tamiami Trail North, Naples, Florida 34103. Tel: 239-434-8700. This older well maintained Marriott is close to downtown Naples and the beaches. Prices are great here, even in season, and rooms are quiet, comfortable and clean. Good breakfast buffet served off the lobby in the mornings. Average room rates from $92-$175.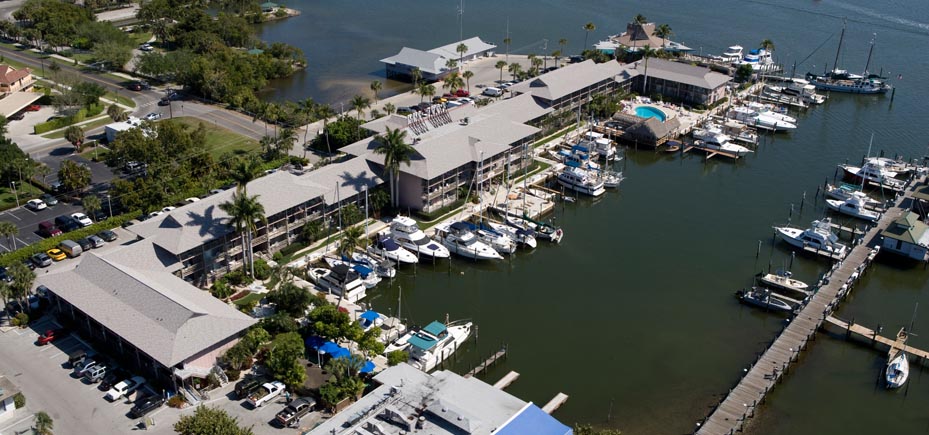 Cove Inn On Naples Bay, 900 Broad Avenue South, Naples, Florida 34102. Tel: 239-262-7161 (Picture Above). This is a great place to stay if you are on a Florida family vacation and want to be in the middle of everything happening in Olde Naples. The Cove Inn is right on Naples Bay overlooking the Naples City Marina. All of its rooms (and efficiencies) have balconies overlooking the water. It has a nice swimming pool, a tiki bar and two restaurants on the property. This is one of the hotels in Naples Florida where you can park your car and walk everywhere. Average room rates from $94-$199.   More info at Cove Inn.
Doubletree Suites by Hilton Naples, 12200 Tamiami Trail North, Naples, Florida 34110. Tel: 239-593-8733. This is a small hotel located on the Cocohatchee River in North Naples. It is a great place to stay for business and pleasure. It is close to Bonita Springs and North Naples, but is also an easy drive downtown to Olde Naples. Clean comfortable quiet rooms and great service. Average room rates from $74-$189.
Naples Grande Beach Resort, 475 Seagate Drive, Naples, FL 34103. Tel: 888-722-1267. This Waldorf-Astoria hotel is directly on the Gulf of Mexico with a fine white beach. For years it was known as the Registry, and along with the two Ritz Carltons was among the three hotels in Naples Florida that were five star properties. Locals still like to gather here for a drink at the end of the day. The rooms and suites are still great, the view is magnificent and the hotel has all the amenities and services you expect for a hotel of this stature. Average room rate $139-$386.
Hotels In Naples Florida Include Two 5 Star Ritz Carltons
Ritz Carlton, 280 Vanderbilt Beach Road, Naples, Florida 34108. Tel: 239-598-3300. There are two 5 star Ritz hotels in Naples Florida. This is the one for beach lovers; the other one is for golf lovers. Guest at either hotel can use the facilities of the other. This hotel features beautiful views of the Gulf of Mexico. Its 450 guest rooms include 35 suites and 70 Ritz-Carlton Club Level rooms and suites, each with a view of the beach and Gulf of Mexico. The hotel has a spa, fitness center and 8 restaurants. There are two heated outdoor pools and a host of other amenities. The Ritz has won the Forbes Five Star Award and the AAA Five Diamond Award for 22 straight years. Locals like to frequent the lounges and restaurants at this fantastic place. Average room rates from $299-$879.
The Inn On Fifth, 699 5th Avenue South, Naples, Florida 34102. Tel: 888-403-8778. Perfectly located in the heart of Old Naples, this Mediterranean-inspired boutique inn lies amid a scenic downtown area alive with arts, entertainment, shops and restaurants making it Naples' best hotel choice. Spacious rooms and suites, a generous array of amenities and an unsurpassed level of service, all just blocks from the beautiful Naples beaches. Average room rates from $140-$241.
The Naples Beach Hotel & Golf Club, 851 Gulf Shore Boulevard North, Naples, Florida 34202. Tel: 888-329-8604. This is one of the oldest hotels in Naples Florida, and it's right on the beautiful Gulf of Mexico beach. Some of the rooms have been recently renovated, and it's smart to ask for one of those. In addition to the beach and huge swimming pool, there is a great golf course. Florida family vacations are fun here because adults can golf while the kids swim and play on the beach. The locals love to gather at the beachside bar each evening to have a sunset drink. Average room rates from $109-$209.
Trianon Hotel, 955 7th Ave South, Naples, Florida 34102. Tel: 239-435-9600. The Trianon Old Naples is a fine hotel featuring 55 spacious guestrooms and 3 large one bedroom suites, a heated pool and off-street parking. Guests enjoy a continental breakfast served daily in the lobby. The hotel is located in the residential neighborhood of Old Naples. Guests can walk to the waterfront area know as "Tin City" and to Downtown Naples and the Fifth Avenue Shopping District. Nearby is 3rd Street South and Cambier Park. The pristine beaches of the Gulf of Mexico are only 5 minutes away. Average room rates from $88-$171.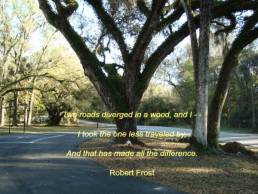 Over 65,000 followers can't be wrong. Learn about off the beaten path Old Florida, historic towns, attractions,  festivals, scenic drives and more.
Like Us On Facebook
Return From Hotels In Naples FloridaTo Naples Florida 

Return To Florida Backroads Travel Home