LOST FLORIDA TOURIST ATTRACTIONS 
Gone But Not Forgotten
The lost Florida tourist attractions listed on this page no longer exist.  You can't visit them, but will enjoy learning and sharing your own memories with other visitors.  
Lost Florida tourist attractions are gone but not forgotten. Florida's historical landscape is dotted with tourist attractions that didn't make it.
For every existing Florida tourist attraction, there seems to be two or three more that didn't survive. These long gone attractions are dreams that didn't work out.
People invested their money and worked hard to make their attraction succeed. Their payrolls were important to the communities they were located in. These lost attractions are part of our Florida heritage.
In the years after World War Two and up into the 1960's, there were no interstate highways in Florida and no Turnpike.  The main north-south routes were US-1, US-27, US-301, US-441, and US-41.
A lot of these roads converged near Ocala, and then fanned out to head southwest toward Tampa and Sarasota or southeast toward Lake Okeechobee and Miami beyond.

Many of these lost Florida tourist attractions were on these old highways, typical Florida backroads.
Others came later, trying to feed off the frenzy surrounding Walt Disney World and the other major theme parks. Many of them didn't make it either.
When you are wandering around Florida's back roads, it is fun to ask the locals where the lost attraction was and go visit the site and see what's there now.
Here are the ones I know about. I'm sure there are many more, but this is a start.
NORTHWEST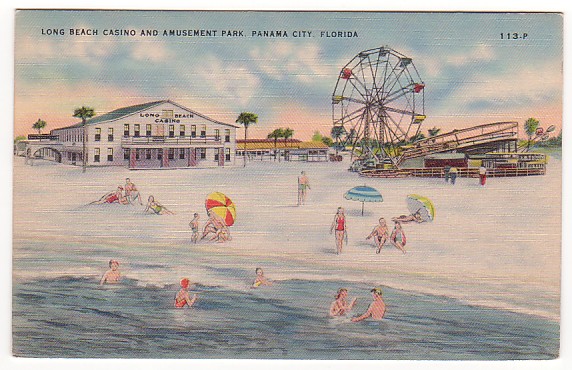 BLOUNTSTOWN
Western Daze Putt-Around

FORT WALTON BEACH
Funway Amusement Park

PANAMA CITY BEACH
Castle Dracula
Jungleland Zoo
Long Beach Deer Ranch

Magic World
Miracle Strip Amusement Park
The Ocean Opry
Petticoat Junction/Old Laredo
Snake-a-Torium
Toombstone Territory
Top O' the Strip Observation Tower



---
NORTH CENTRAL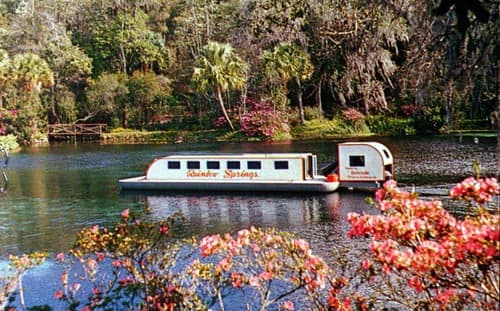 BUSHNELL
Rainforest Art Garden and
Dinosaur Jungle

CHIEFLAND
Dogland

DUNELLON
Rainbow Springs (Now a Florida
State Park)

GAINESVILLE
Fred Bear Museum

LAWTEY
Florida Reptile Land

MCINTOSH
Bird Island Cruise

TALLAHASSEE
Garden of Mystery

WAKULLA SPRINGS
Wakulla Springs (now Edward Ball Wakulla Springs State Park)



---
---
NORTHEAST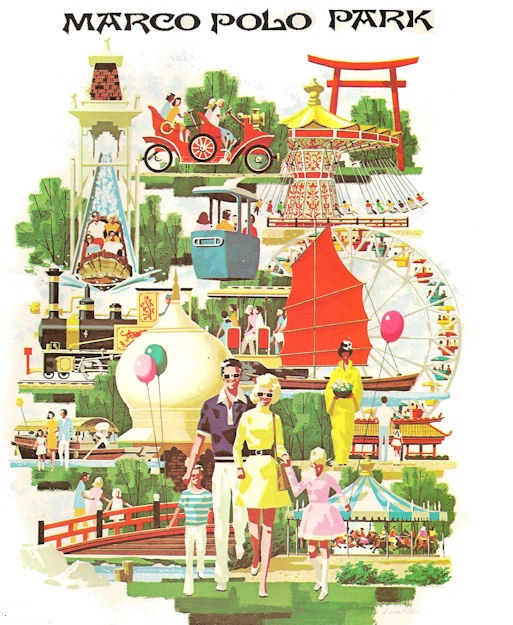 BUNNELL
Marco Polo Park

FERNANDINA BEACH
Peppermint Land

JACKSONVILLE
Dixieland Park
Florida Ostrich Farm
Griffen Amusement Park
Oriental Gardens
Riverview Amusement Park

ORMOND BEACH
Parrot Paradise

PALM COAST
Animal Land

ST. AUGUSTINE
Casper's Ostrich & Alligator Farm
Cross and Sword
Gator Land (not the one in Kissimmee)
Mystery House
Tragedy In The US Museum
---
CENTRAL EAST
DAYTONA BEACH
Atomic Tunnel
Forest Amusement Park
Klassix Auto Museum
Jungle Gardens
Sea Zoo

PALM BAY
Indian Springs Museum




PORT ORANGE
Bongoland

VERO BEACH
McKee Jungle Gardens(Part of it is now a park)

TITUSVILLE
Tropical Wonderland (AKA Tarzan's Jungleland or Florida Wonderland)
Marine Life Park
---
---
CENTRAL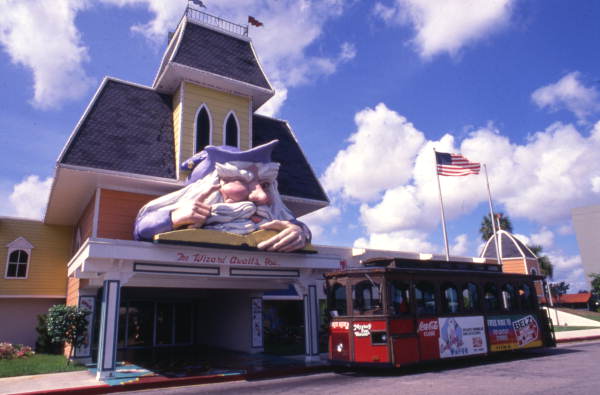 DUNDEE
USA of Yesterday Americana-Museum

HAINES CITY
Boardwalk & Baseball
Circus World
House of Mystery

KISSIMMEE
Haunted Mansion (not the one at Walt Disney World)
Indian World Museum and Trading Post
Jungleland Zoo
Splendid China

LAKE BUENA VISTA
Discovery Island
River Country


LAKE WALES
Black Hills Passion Play
Masterpiece Gardens
St. Anne Shrine, Grotto of Lourdes

LONGWOOD
Sanlando Springs

OCALA
Birds of Prey
Black's Haunted House
Ocala Caverns

ORLANDO
Florida Festival
Guinness World Records Experience
Hard Rock Vault
King Henry's Feast
Mystery Fun House
Stars Hall Of Fame
Terror on Church Street
Skull Kingdom
Wings and Wheels Museum

PALMDALE
Cypress Knee Museum

SILVER SPRINGS
Carriage Cavalcade
Early American Museum
Paradise Park
Silver Springs (now a Florida State Park)
Prince of Peace Memorial
Ross Allen's Reptile Institute
Tommy Bartlett's International Deer Ranch
Six Gun Territory

WINTER HAVEN
Cypress Gardens
Jungleland
Weapons of the World

ZELLWOOD
Zellwood Corn Festival



---
CENTRAL WEST
BROOKSVILLE
Fort Dodge
Lewis Plantation

CLEARWATER
Kapok Tree Inn

CLEARWATER BEACH
Sea-Orama

DUNEDIN Hobby House Museum & Eden Gardens

HERNANDO
Ted Williams Museum and Hitters
Hall of Fame

HOMOSASSA
Homosassa Springs(Now a state park)

INDIAN ROCKS BEACH
Tiki Gardens

LAND O' LAKES
Dupree Gardens

OSPREY
Floridaland

RUSKIN
Voice in the Wind

SARASOTA
Circus Hall Of Fame
Museum of the Cross
Sunshine Springs & Gardens
Texas Jim's Sarasota Reptile Farm and Zoo

SPRING HILL
Foxbower Wildlife Exhibit (AKA Dinosaur Wildlife)

ST. PETERSBURG
Caswell Orchid Gardens
Criswell's Money Museum
Florida Wild Animal & Reptile Ranch
Fountain of Youth
Gresh Wood Parade
HMS Bounty
Moses Tabernacle In The Wilderness
St. Petersburg Alligator Farm
Sunken Gardens (Operated now as a city botanical park)
The Peacock Farm
Webb's City

ST. PETERSBURG BEACH
Aquatarium
Shark World
Tussaud's London Wax Museum

TAMPA
Fairyland Park
Fun Forest
Rattlesnake Farm
Supertest Amusement Park
Treasureland
---
SOUTHWEST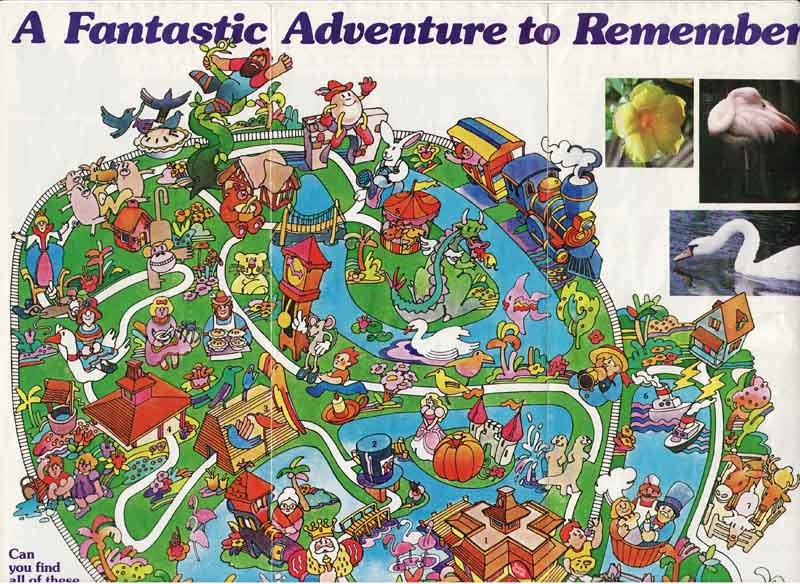 CAPE CORAL
Cape Coral Gardens
Waltzing Waters Aquarama

FORT MYERS
Fantasy Isles
Florida Marine Museum
Fort Myers Tropical Gardens
Honey Bee Observatory

NAPLES
Collier Automobile Museum
The Teddy Bear Museum of Naples

SAN CARLOS PARK
Rainbow Palace Waltzing Waters



---
SOUTHEAST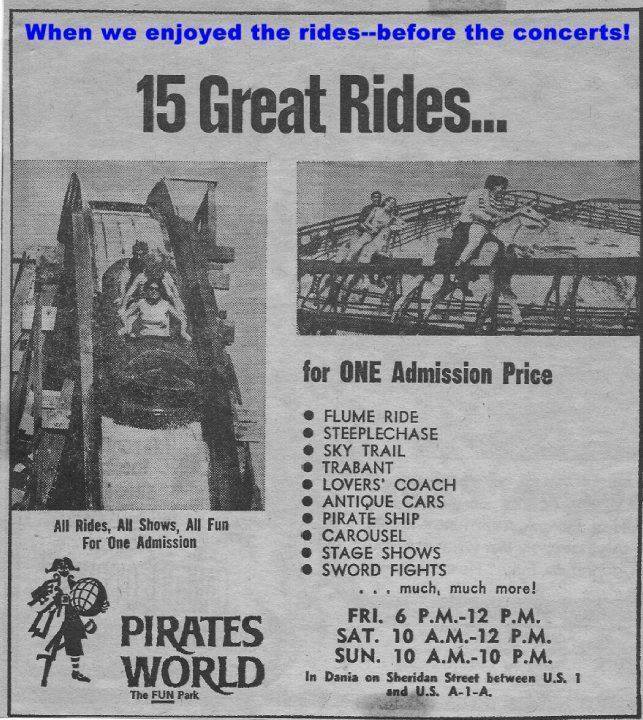 BOCA RATON
Africa U.S.A.
Ancient America
International Museum of Cartoon Art

BOYNTON BEACH
Waite Bird Farm
Lewis Bird Farm

DANIA
Chimp Farm
Pirates World
Wyldewood Bird Farm

DANIA BEACH
Graves Museum of Archaeology

DAVIE
Pioneer City

FORT LAUDERDALE
Atlantis the Water Kingdom (6 Flags Atlantis)
New River Tunnel Radio Station
Ocean World

HOLLYWOOD
Six Flags Atlantis

HOMESTEAD
Orchid Jungle

HYPOLUXO
James Melton Autorama

KEY BISCAYNE
Crandon Park Zoo

KEY WEST
Ripley's Odditorium

LAKE WORTH
Alligator & Ostrich Farm
Lake Worth Aquarium

LANTANA
Ostrich and Alligator Farm and Zoo

MIAMI
Bryce's Kiddie Park
Coppinger's Pirate's Cove
Donnin's Arms Museum
Famous Trees
Funland Park
Lost Lake
Miami Aquarium & Marine Museum
Miami Marine Stadium
Miami Rare Bird Farm
Miami Serpentarium
Miami Wax Museum
Musa Isle Indian Village
North Miami Zoo Garden
Parrot Jungle
Planet Ocean
Policemen's Park
Tropical Hobbyland

MIAMI BEACH
Fun Fair

NORTH MIAMI
Anirama
Aquafair
Holbrook Antique Arms & Gun Museum

NORTH MIAMI BEACH
Old West Kiddie Park

POMPANO BEACH
Storyland
World of Miniature Horses

RIVIERA BEACH
Bazaar Trylon Observation Tower

SUNRISE
The Upside-Down House

WEST PALM BEACH
Alligator Joe's
---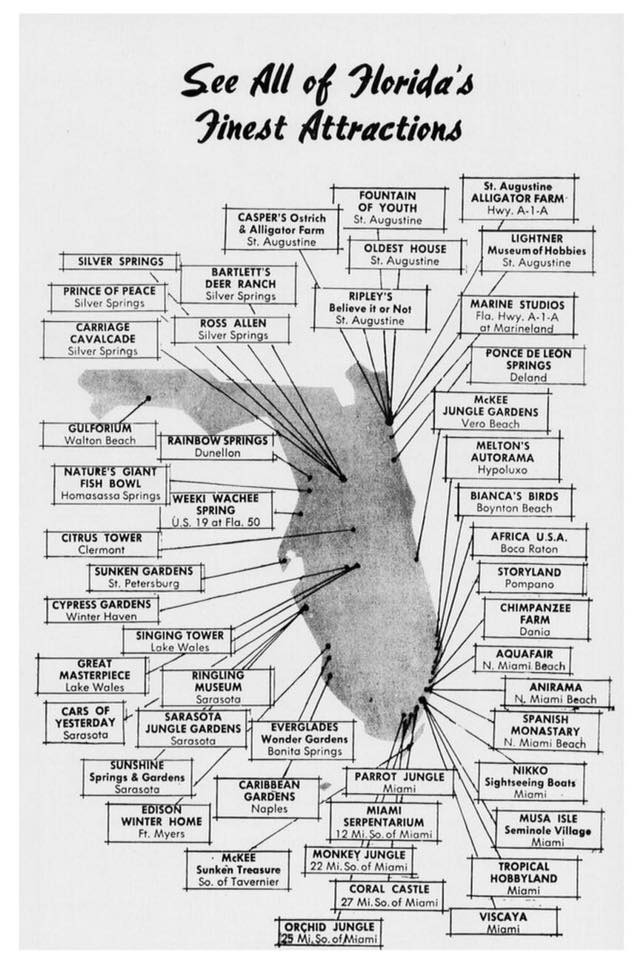 This map shows some Florida tourist attractions that existed in 1959.  Some are still around, others have folded up their tents and marched off into history.
---
Visitor Comments
We used to invite visitor comments. Click below to read some of them.
---
Return to Florida Backroads Travel Home