Mandarin, McIntosh and Micanopy
Three Old Florida Towns

Mandarin, McIntosh,  and Micanopy are three old Florida towns that can be visited on one of your Florida day trips and offer lots of interesting historic buildings for you to enjoy and photograph.  Here is some information about each little town.
MANDARIN, FLORIDA

Mandarin is on State Road 13 not too far south of Jacksonville, Florida.  It is probably most famous as the Florida home of Harriet Beecher Stowe, the author of "Uncle Tom's Cabin".  Abraham Lincoln once referred to her as the little lady that started a great war.
Mandarin was named after the Mandarin Orange by an early settler in the area named Calvin Reed.  It is a small place on the eastern shore of the St. Johns River, and was called a tropical paradise by Mrs. Stowe.  It prospered in the late 1800's as a bustling farm village that shipped citrus and vegetables to northern cities via steamboats that plied the river.
One reminder of the old days is the Church of Our Saviour, and example of Florida Carpenter Gothic architecture that still stands on the banks of the St. Johns River.  Mrs. Stowe and her husband attended for many years.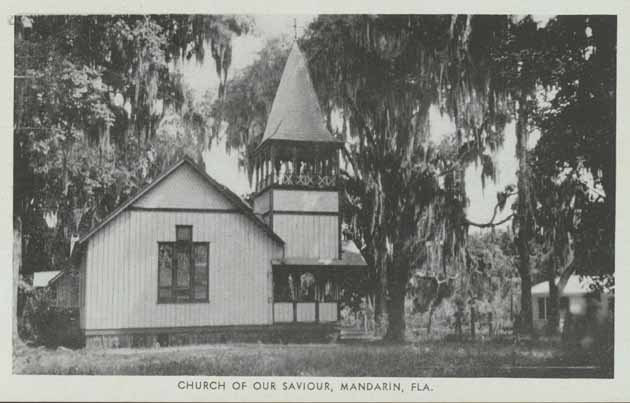 Although the church was damaged by Hurricane Dora in 1964, it has been repaired to some degree and still serves today.

The village is an example of Old Florida with huge ancient oak trees providing canopies over the narrow streets.  The Spanish Moss drifting in the breeze is on every tree, and several quiet parks provide a place to rest.
Mandarin today is surrounded by nice residential subdivisions.
View Larger Map
MCINTOSH, FLORIDA

McIntosh is on U.S. Highway 441 about 20 miles south of Gainesville.  You have to get off the road and drive east a block or two to get into the old part of town with its historic old homes and buildings.  When you do, you will see an authentic Old Florida village that is home and work place to real people, not a gentrified made up town like so many these days.
The town was incorporated in 1913 and has remained pretty much the same since I first visited it in 1963.  Residents say that it hasn't changed much in almost 100 years.  The National Register of Historic Places list 68 sites in McIntosh.
The narrow quiet streets, many of them unpaved, are shaded from the Florida sun by centuries old oak trees draped with Spanish Moss.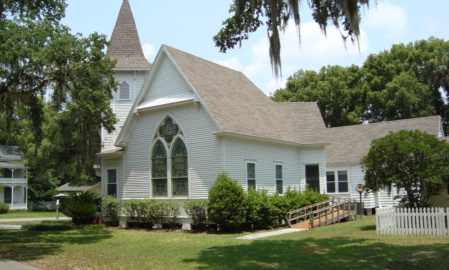 The Carpenter Gothic architecture is on display in the McIntosh Historic District in the Presbyterian Church at 5825 Avenue F on the corner of 7th Street.  It was built in 1907 and still serves its congregation.
View Larger Map
MICANOPY, FLORIDA

Micanopy is on the west side of U.S. Highway 441 south of Gainesville.  It is a small village with some nice antique shops and restaurants.  The entire town is designated a historic district.
The name comes from a Seminole chief of the same name.  He didn't actually live here, but a lot of his tribesmen did and there was a lot of fighting around Micanopy during the Seminole Wars.
It's hard to think of violence in this peaceful village of about 700 people.  It's more fun to browse the antique shops, an interesting musical instrument shop or just lounge around the small restaurants in town.
Micanopy is also a great place to try a bed and breakfast - perhaps The Herlong Mansion - and take a side trip to nearby Cross Creek, the home of famous author Marjorie Kinnan Rawlings.
The movie "Doc Hollywood" starring Michael J. Fox and Woody Harrelson was largely shot in Micanopy in 1991.

View Larger Map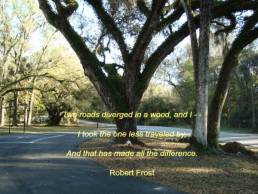 Over 65,000 followers can't be wrong. Learn about off the beaten path Old Florida, historic towns, attractions,  festivals, scenic drives and more.
Like Us On Facebook
---
Return From Mandarin McIntosh Micanopy To Florida Towns
Return To Florida Backroads Travel Home