NORTHEAST FLORIDA TRAVEL GUIDE
Northeast Florida Travel Guide is your free mentor through miles of beautiful beaches and and quaint historic towns.  

The area also has a solid industrial base and a lot of insurance company jobs.

Jacksonville is sometimes known as "The Hartford of The South" because so many insurance companies are headquartered here.
This diverse economy means that tourism is not the only game in town. Northeast Florida travel is usually easy on the more lightly traveled roads that are not clogged with tourists.
Northeast Florida is divided from Georgia by the St. Marys River. There are 7 counties in northeast Florida: Nassau, Duval, Baker, Clay, St. Johns, Putnam and Flagler.
The western counties are rural, but the region is crowned by Jacksonville, one of Florida's major cities.
Jacksonville is called by some the "Capital of South Georgia" because so many of its residents come from the piney woods farms and towns around Waycross, Baxley, Valdosta and other south Georgia communities.
Here is a Florida Road Map and a Florida County Map for your enjoyment.
These maps will be useful to you as part of your free Florida travel guide to Northeast Florida.
THINGS TO DO IN NORTHEAST FLORIDA
The following free Florida travel guide links will tell you all about the many things to do in Northeast Florida.
          Northeast Florida Art Festivals
          Northeast Florida Heritage Sites
          Northeast Florida Tourist Attractions
NORTHEAST FLORIDA TOWNS
This free Florida travel guide lists places to stay and eat on the individual town pages.
The individual town pages include a brief history of the town along with my recommended motels, hotels and restaurants.
Each town page also includes a description of at least one bed and breakfast or historic hotel.
Some towns and places in Northeast Florida currently on our free Florida travel guide website are:
Jacksonville
St. Augustine
NORTHEAST FLORIDA WINERIES
There are 3 Northeast Florida Wineries:
San Sebastian Winery, St. Augustine
Tangled Oaks Vineyard, Grandin
St. Augustine is a convenient place to stay while visiting all of these vineyards.
More information about the wine industry in Florida is available on our website at  Florida Wineries.
NORTHEAST FLORIDA BEACHES
Amelia Island and Ponte Vedra Beach have some of the best beaches in Florida. Amelia Island alone has more than 12 miles of uncrowded fine sand beaches.
The beaches at Little Talbot Island south of Amelia are fantastic.
For more beaches in Northeast Florida, consult Best Beaches In Florida. 

NORTHEAST FLORIDA ATTRACTIONS
Among the many Northeast Florida attractions are:
Flagler College, St. Augustine
Kingsley Plantation, Ft. George Island
Marineland, south of Crescent Beach
Princess Place Preserve, Palm Coast
Ripley's Believe It Or Not, St. Augustine
Visiting Flagler College will give you a look at what was once the magnificent Hotel Ponce de Leon.
Our getaways are inns that capture the authentic Florida feeling and have been stayed at by Florida Backroads Travel staff or inspected and rated by established associations.
Henry Flagler built the hotel before the turn of the twentieth century. It was the beginning of his venture to develop the Florida east coast into an American Riviera.
He saw the potential in Florida travel long before anybody else.
It is worth a visit. It is a magnificent building that would be too expensive to build today. If I were still a kid, I'd like to go to Flagler College and live in a national historic treasure.
Northeast Florida is also loaded with museums and historical sites as well.
More information on these and other attractions can be found at Florida Tourist Attractions.
NORTHEAST FLORIDA HERITAGE SITES
Northeast Florida heritage begins with the early native Americans who dwelled in the area 12,000 years ago.
This region lived under 8 flags during it's long history beginning with St. Augustine established in 1565.
In the years after the Civil War, many confederate veterans and their families moved to Northeast Florida.
This heritage is shared by all the counties in Northeast Florida. Each county has its fair share of sites that are an important part of Florida history.
A list of these heritage sites is at Northeast Florida Heritage Sites.
NORTHEAST FLORIDA STATE PARKS
There are several Florida State Parks in Northeast Florida. These include Little Talbot Island State Park north of Jacksonville . I have enjoyed camping there with my kids. The campground is close to the beach.
Any Florida travel experience will be enhanced by a visit to one of our beautiful state parks.
More information is available at Northeast Florida State Parks.
NORTHEAST FLORIDA DAY TRIPS AND ONE TANK TRIPS
There is a demand throughout the country for information on day trips and one tank trips. People like the idea of leaving their home, seeing a lot in a day or two, and not breaking the family budget.
Virtually every state, including Florida, has websites and books that focus on the concept of being able to travel from your home and see a lot of interesting places and things.
Florida-Backroads-Travel.com is a Florida travel website that will give you some great ideas for local day trips and one tank trips.
Northeast Florida has plenty of safe and scenic, lightly traveled backroads that will take you through interesting Florida towns and attractions. 

Here are some Northeast Florida day trips and one tank trips.
Here are some more at Jacksonville Day Trips.
---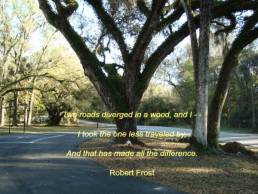 Over 65,000 followers can't be wrong. Learn about off the beaten path Old Florida, historic towns, attractions,  festivals, scenic drives and more.
Like Us On Facebook
Return From Northeast Florida Travel Guide To Florida Travel Guide

Return To Florida Backroads Travel Home