O'NEAL'S COUNTRY BUFFET
558 W. Base Street
Madison, Florida 32340
Tel: 850-973-6400 

O'Neal's Country Buffet is on US-90 on the western edge of downtown Madison, Florida.  It's about 3.5 miles from busy Interstate Highway 10.  These highways are the main thoroughfares between Jacksonville and Tallahassee.
The building is not fancy, but that's the way a good restaurant with Southern cooking should be.
The restaurant features a country buffet with many favorite Southern favorites.  They serve smoked chicken, for example, smoked on their own property.  It's an "all you can eat" venture, so it's best to come in hungry and leave well filled.
Fried chicken, fried catfish, green beans. butterbeans, are among the daily vegetables, always fresh.  On some nights they have seafood offerings like large shrimp prepared various ways.  The menu changes daily.
The salad bar is fresh, and there is a large variety of vegetables.  Your glass if kept full of ice water or ice tea (sweet tea, please), and the servers come by frequently.
Desserts include peach or blueberry cobbler, banana pudding, ice cream.
O'Neal's is open 7 days a week.
Monday, Tuesday, Wednesday, and Thursday their hours are 10:30 am to 2:30 pm.
Friday hours are 10:30 am to 9:00 pm.
Saturday hours are 4:00 pm to 9:00 pm.
Sunday hours are 10:30 am to 3:00 pm.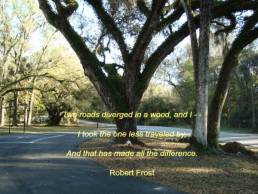 Over 65,000 followers can't be wrong. Learn about off the beaten path Old Florida, historic towns, attractions,  festivals, scenic drives and more.
Like Us On Facebook
---
Return to Florida Backroads Travel Home