PELICAN CAFE AND BEACH

351 Southwest Flagler Avenue
Stuart, Florida 34994
Tel:  772-283-3133
Pelican Cafe and Beach is a casual dining place on the St Lucie River in downtown Stuart. 

It features casual outside dining with a great expansive view of the river at the base of the high rise bridge that crosses the river.
The restaurant is on the north end of the historic Stuart downtown district.
If you have a dog, bring him or her along too.
Dogs are welcome and seem to enjoy the view as much as their owners.
You will be perfectly dressed if you wear shorts, tee shirt and flip flops.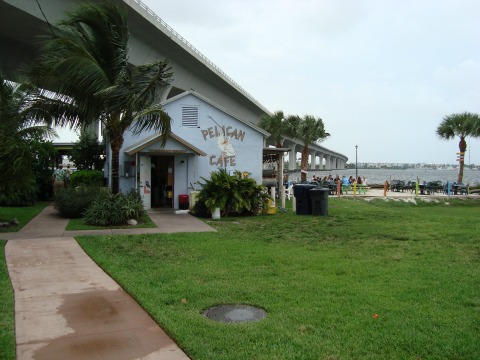 All of the seating is outside under umbrellas.  You can choose to sit on the deck at the base of the bridge, or in the sandy beach area.  If you are a connoisseur of bikini clad young women, the beach area might be your cup of tea.  If you are offended by beach attire, then the deck is for you.
Once in a while weather conditions will force the owners to close the cafe.  If it's too windy or a rainy day of long duration, they might close.  If you notice the weather isn't great, you should call the restaurant to make sure they're open.
Pelican Cafe Has A Huge Menu For A Small Place
They have a huge menu for a place this small.  You can have chowder, shrimp, chicken wings, hamburgers, chili, calamari, conch fritters, short ribs, Greek salad, fish tacos, blackened fish, hot dogs, mussels and you name it.  I've just scratched the surface of their menu.
I enjoyed conch fritters as an appetizer, and a tasty salmon entree with the fish wrapped in banana leaf and served with Bahamian style rice and steamed vegetables. It was very good and reasonably priced. I had a Budweiser with the meal;  they serve beer and wine only.
Kimie was my server, and she was attentive and very bright. She served a special treat called a "short rib turnover" that was absolutely delicious. It's kind of a cross between a dessert and a meat pie; sweet flavor, stuffed with shredded meat that I assume was beef. Whatever it was, it was great.
This neat little place has such a large and varied menu that there seems to be something for every taste.
More information is at the Pelican Beach Cafe and Beach website.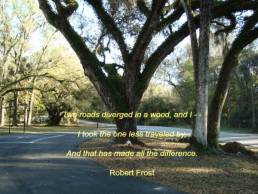 Over 67,000 followers can't be wrong. Learn about off the beaten path Old Florida, historic towns, attractions,  festivals, scenic drives and more.
Like Us On Facebook
Return From Pelican Cafe and Beach To Florida Restaurants
Return To Florida Backroads Travel Home