RED BAR
70 Hotz Avenue-Grayton Beach
Santa Rosa Beach, Florida32459 
Tel: 850-231-1008
Red Bar is a tradition in Grayton Beach. It is very popular with tourists and locals alike. It is in a weathered old building in downtown Grayton Beach that used to be a general store. 
It has a laid back beachy atmosphere. Parking is sometimes hard to find right next to the restaurant, and sometimes you will have to wait longer than you'd like for a table. But the wait will be worth it and when you are in Grayton Beach you should really try it.
Most nights you will be entertained by live jazz music. If you are a people watcher, you will enjoy watching the crowded bar. This is not a place you go if you want quiet conversation and candlelight. It is a busy happening place almost all the time. Many people come in right off the beach, so the ambience is always casual and light hearted. Don't be shocked to see a bikini now and then.
Some people come just to enjoy the bar, snacks and music. The drink menu is extensive and has the full range of alcohol from scotch to beer and wine. They are well known on this coast for their Mojitos.

The menu at Red Bar is short but the food is tasty. The staff doesn't hand you a menu; your server will stand at your table with a blackboard that pretty much sums up what is available. They are well known for their crab cakes and mahi-mahi, but you can get pizza and other pasta dishes if you like. Their salads are great too.
Try their blackened grouper or crawfish or shrimp. Landlubbers will like the panne chicken with mashed potatoes. Or you might enjoy the spinach and grits if it is available. For dessert, try the bread pudding or the key lime pie.
Red Bar is open 7 days a week from 11am to 10pm.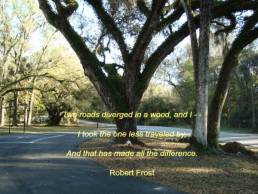 Over 65,000 followers can't be wrong. Learn about off the beaten path Old Florida, historic towns, attractions,  festivals, scenic drives and more.
Like Us On Facebook
Return to Florida Backroads Travel Home