SOUTHEAST FLORIDA TRAVEL GUIDE

Southeast Florida Travel Guide is your free mentor through this dynamic region of the state.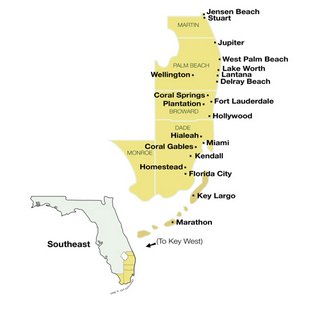 You will be introduced to an entirely different culture than that of the northern counties that border Georgia and Alabama.
As the old saying goes about Florida:  north is southern;  south is northern.  Culturally, that is.

It is also a different culture than you will find in Florida's central and western regions.
If the north Florida regions are also known as Florabama and Florgia, then Southeast Florida could be called lower New York or northern Havana.
Modern immigrants from the New England states and Latin and Central America give the region its diverse flavor. You can enjoy a New York Pizza, an Argentinian steak, and a Jamaican beef patty and never leave the shopping center.
Without the Standard Oil Company, Southeast Florida might not be what it is today. Henry Flagler was John D. Rockefeller's partner in the giant firm. He sold out and moved to Florida in 1885.
He was rich, but he wasn't the kind of man who considered retirement. His first Florida venture was to build the giant 540 room Ponce de Leon Hotel in St. Augustine. This magnificent building is now the home of Flagler College.
He saw the potential for a Florida travel industry before anybody else.
Southeast Florida has 5 counties:  Martin, Palm Beach, Broward, Dade and Monroe.
An important part of the history of Southeast Florida is the history of Miami.Here is a Florida Road Map and a Florida County Map for your enjoyment.
These maps will be useful to you as part of your free Florida travel guide to Southeast Florida.
THINGS TO DO IN SOUTHEAST FLORIDA
The following free Florida travel guide links will tell you about the many things to do in Southeast Florida.
SOUTHEAST FLORIDA TOWNS
Places to stay and places to eat can be found on the individual town pages.
The individual town pages include a brief history of the town along with my recommended motels, hotels and restaurants.
Each town page also includes a description of at least one bed and breakfast or historic hotel.
Some towns and places in Southeast Florida are:
Coconut Grove
Coral Gables
Delray Beach
Fort Lauderdale
Homestead
Key Biscayne
Key West
Miami
Palm Beach
SOUTHEAST FLORIDA WINERIES
There is one Southeast Florida winery listed in our free Florida travel guide:
Your Southeast Florida travel adventure would be enhanced by a visit to this most exotic of Florida Wineries.
Additional information on the Florida wine industry and a list of all Florida wineries and vineyards, is at Florida Wineries.
SOUTHEAST FLORIDA BEACHES
The beaches of Southeast Florida are mostly beautiful white sand and largely built up with high rise condominiums. Southeast Florida is more sparsely populated in the northern area from Jensen Beach down to Jupiter Inlet.
Further south, from West Palm Beach to Miami Beach, the beaches are still beautiful but sometimes crowded. This makes for wonderful people watching.
Haulover Beach north of Miami Beach is one of two Florida nudist beaches I am aware of that cater to sun worshipers.
Most Florida travel brochures I've seen don't advertise the nudist beaches.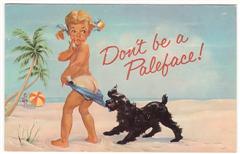 Unlike Playalinda Beach in Brevard County, bathing without clothes is legal at Haulover Beach.... or so I've been told.
It would be wise to check with the Miami-Dade Police Department just to make sure.
The beaches in the Florida Keys are different than the rest of Florida.
They are not typically of the white sand variety, but are usually crunchy coral and hard on bare feet. There are a few sandy beaches, however, including Bahia Honda State Park.
The Florida Keys still mean "beach" to me.
Even without the miles of white sandy beaches that are typical of much of Florida, the whole Conch Republic is Margaritaville.
It is impossible for me not to have a beachey feel when I am in Key West.
The Florida Keys make you want to be a beachcomber. Florida travel in the Keys makes you want to play a Jimmy Buffet CD on the car radio.
And it is still, literally and figuratively, the end of the road for any Florida travel experience.
More information about Southeast Florida beaches is available at Best Beaches In Florida.
SOUTHEAST FLORIDA ATTRACTIONS
Coral Castle, Homestead
Everglades National Park, Flamingo
Fairchild Tropical Gardens, Coral Gables
Fruit and Spice Park, Redland
Hemingway Home, Key West
Key West Aquarium, Key West
Jungle Queen Riverboat, Fort Lauderdale
Lion Country Safari, West Palm Beach
Miami Marine Stadium, Virginia Key
Morikami Gardens, Delray Beach
Robert Is Here, Homestead
Our free Florida travel guide has more information about Florida Tourist Attractions in other regions of Florida.

SOUTHEAST FLORIDA HERITAGE SITES
Southeast Florida heritage begins with the early native Americans who dwelled in the area 12,000 years ago.
This region was settled by northerners who came in floods after Flagler brought the railroad to Miami before 1900.
Later waves of northern U.S. immigration along with Cubans and other Caribbean and latin American residents make this a very diverse region.
This heritage is shared by all the counties in Southeast Florida. Each county has its fair share of sites that are an important part of Florida history.
This free Florida travel guide has a list of Southeast Florida Heritage Sites.
FLORIDA STATE PARKS
There are dozens of Florida State Parks in Southeast Florida. Many of them have great beaches and quiet campgrounds.
Your Southeast Florida travel adventures will be enhanced with a visit to one of our wonderful state parks.
Southeast Florida probably has some of the most interesting parks in the entire state, including a couple - John Pennekamp and San Pedro - that are under the sparkling clear water of the Florida Keys.
More information is available on this free Florida travel guide at Southeast Florida State Parks.
Our getaways are inns that capture the authentic Florida feeling and have been stayed at by Florida Backroads Travel staff or inspected and rated by established associations.
SOUTHEAST FLORIDA DAY TRIPS AND ONE TANK TRIPS
There is a demand throughout the country for information on day trips and one tank trips. People like the idea of leaving their home, seeing a lot in a day or two, and not breaking the family budget.
Virtually every state, including Florida, has websites and books that focus on the concept of being able to travel from your home and see a lot of interesting places and things.
Florida-Backroads-Travel.com is a free Florida travel guide that will give you some great ideas for local day trips and one tank trips.
Southeast Florida has plenty of safe and scenic, lightly traveled backroads that will take you through interesting Florida towns and attractions.

Here are some Southeast Florida day trips and one tank trips.
---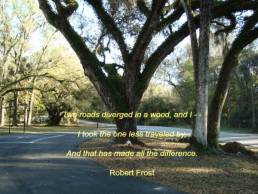 Over 64,000 followers can't be wrong. Learn about off the beaten path Old Florida, historic towns, attractions,  festivals, scenic drives and more.
Like Us On Facebook
Return From Southeast Florida Travel Guide To Florida Travel Guide 

Return To Florida Backroads Travel Home