SOUTHWEST FLORIDA TRAVEL GUIDE
Southwest Florida Travel Guide is your free mentor to Southwest Florida and some of the most diverse country in the state. 

You will find old Florida country towns with hardworking cowboys and fishermen, and also some unbelievably rich towns populated with famous people.

It is a vast land of beaches, high rise condominiums and wealthy golf course communities.
It stretches from the white sandy beaches of Englewood in the north to the marshy fishing villages of Everglades City and Chokoloskee in the south.
There are 5 counties in Florida Backroads Travel's version of Southwest Florida:  Charlotte, Glades, Lee, Hendry and Collier.
Here is a Florida Road Map and a Florida County Map for your enjoyment.
These maps will be useful to you as part of your free Florida travel guide to Southwest Florida.
There are more golf courses in Southwest Florida than you can shake a putter at. The area also has great fishing and boating.
THINGS TO DO IN SOUTHWEST FLORIDA
The following free Florida travel guide links will tell you about the many things to do in Southwest Florida.
Southwest Florida Art Festivals
Southwest Florida Heritage Sites
Southwest Florida Tourist Attractions
SOUTHWEST FLORIDA TOWNS
This free Florida travel guide lists places to stay and eat on the individual town pages.
The individual town pages include a brief history of the town along with my recommended motels, hotels and restaurants.
Each town page also includes a description of at least one bed and breakfast or historic hotel.
Some of the towns and places in Southwest Florida are:
Boca Grande
Captiva Island
Chokoloskee
Fort Myers
LaBelle
Naples
Palmdale
Punta Gorda
SOUTHWEST FLORIDA WINERIES
There was one Southwest Florida winery, Eden Vineyards and Winery in Alva. It produced nice wine, but it closed in 2013.  As far as we can tell, there are no wineries in Southwest Florida.
Our free Florida travel guide has a complete list of Florida Wineries.
SOUTHWEST FLORIDA BEACHES
The beaches of Southwest Florida are magnificent. From Marco Island on the south to Englewood on the north, these beaches are the envy of the world.
Some of the better known beaches include the entire City of Naples, Vanderbilt Beach, and the beach at Delnor-Wiggins Pass State Park.
More information about Southwest Florida beaches is available at Best Beaches In Florida.
SOUTHWEST FLORIDA ATTRACTIONS
Ave Maria University and Oratory, Ave Maria
Babcock Wilderness Adventures
More information on these and other attractions can be found at Florida Tourist Attractions.
Most people agree that the biggest attraction of all in Southwest Florida travel is the spectacular sunsets. The beautiful blue backdrop of the Gulf of Mexico gives these sunsets their unique flavor.
THE GREEN FLASH
Some people even claim to see the famous "green flash" that happens now and then with a Southwest Florida sunset.
A green flash is even featured in the Walt Disney Pictures movie "Pirates Of The Caribbean: At World's End".
I have never been lucky enough to see a green flash, but people I trust say it happens.
Famous author John D. MacDonald lived on Siesta Key. He reported seeing the green flash, and I believe him.
SOUTHWEST FLORIDA HERITAGE SITES
Southwest Florida heritage begins with the early native Americans who dwelled in the area 12,000 years ago.
This region was first settled by fishermen, farmers and ranchers from the southern United States and northern Florida.
This heritage is shared by all 12 counties in Southwest Florida. Each county has its fair share of sites that are an important part of Florida history.
A list of these heritage sites is at Southwest Florida Heritage Sites.
Our getaways are inns that capture the authentic Florida feeling and have been stayed at by Florida Backroads Travel staff or inspected and rated by established associations.
SOUTHWEST FLORIDA STATE PARKS
There are many Florida State Parks in this region with great beaches. Some also have quiet campgrounds.
Any Southwest Florida travel experience will be enhanced by visiting one of these parks.
More information is available at Southwest Florida State Parks.
SOUTHWEST FLORIDA DAY TRIPS AND ONE TANK TRIPS
There is a demand throughout the country for information on day trips and one tank trips. People like the idea of leaving their home, seeing a lot in a day or two, and not breaking the family budget.
Virtually every state, including Florida, has websites and books that focus on the concept of being able to travel from your home and see a lot of interesting places and things.
Florida-Backroads-Travel.com is a free Florida travel guide that will give you some great local travel ideas.
Southwest Florida has plenty of safe and scenic, lightly traveled backroads that will take you through interesting Florida towns and attractions.
Here are some Southwest Florida day trips and one tank trips.
---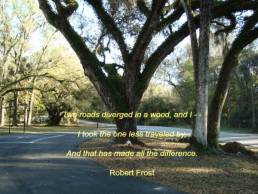 Over 64,000 followers can't be wrong. Learn about off the beaten path Old Florida, historic towns, attractions,  festivals, scenic drives and more.
Like Us On Facebook
Return From Southwest Florida Travel Guide To Florida Travel Guide 

Return To Florida Backroads Travel Home