1441 S. Miramar Ave (State Road A1A)
Indialantic, Florida 32903
321-723-3355
Indialantic is a small community on the Atlantic Ocean across the Intracoastal Waterway from Melbourne.  Tuckaway Shores is directly on the beach, one of the best beaches in Florida. The white sand stretches for miles north and south of the resort.
The beach along this coast is blessedly free of the massive skyscrapers you will see in most other beach areas of Florida.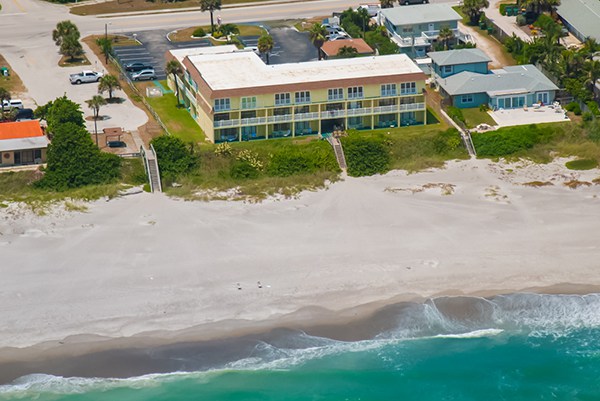 Tuckaway Shores from the Atlantic Ocean
Tuckwaway Shores has 29 units; most of them are two room suites with kitchenettes and two television sets.  They also have a heated pool, beach chairs you can use, and a Big Green Egg state of the art grill/smoker/baker you can also use.  They even provide the free wood chips and utensils.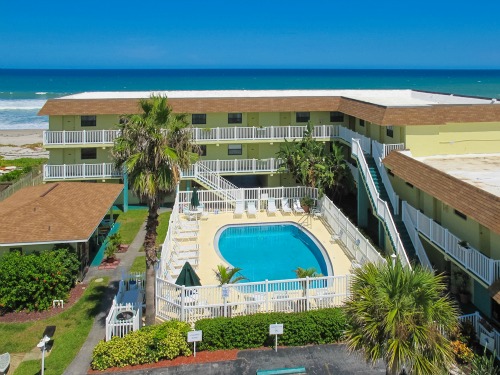 Tuckaway Shores Oceanfront Resort, Indialantic, Florida
Tuckway Shores is certified by the Superior Small Lodging Association and awarded their coveted White Glove award for exceptional housekeeping and also has AAA certification.  Combine this with the secluded white sand beach and other amenities and you have a winner.
Although the resort is located on a quiet beach, there are many shops and good restaurants within walking distance or a short drive from the inn.
Tuckaway Shores Typical Oceanfront Room
If you visit Tuckaway during sea turtle nesting season from May to October, you will have a fantastic viewing spot to watch the fascinating animals as they crawl from the ocean to the dunes to dig their nests and lay their eggs.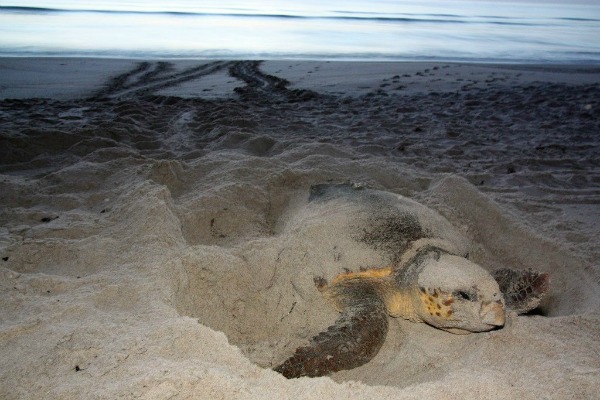 Sea Turtle on Tuckaway Shores Beach
The friendly staff at Tuckaway Shores can give you more information on how to enjoy this once in a lifetime experience.