CEDAR KEY, FLORIDA

Cedar Key Florida is at the end of State Road 24 in North Central Florida on the Gulf of Mexico.

It is an Old Florida fishing village of about 700 people that has become a tourist attraction in this part of the state.
This delightful destination is a straight shot from Gainesville and the University of Florida. 
There are several very good seafood restaurants in Cedar Key, and numerous lodging facilities.
Each year a couple of festivals are held here:  The Annual Fine Arts Festival (last weekend of March) and the Cedar Key Seafood Festival (third weekend in October).
More information is at North Central Florida Art Festivals.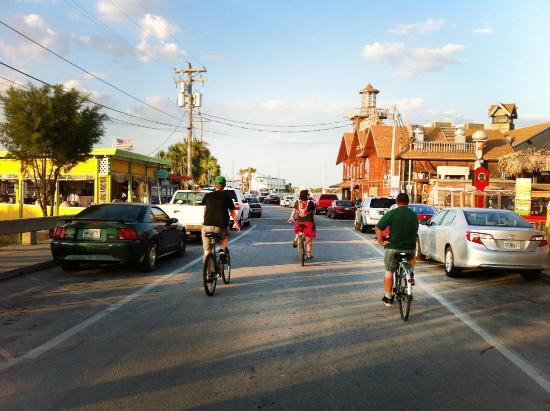 Downtown Cedar Key is along the waterfront and gives you a special feeling of being in Old Florida.

Cedar Key Florida is Important in the History of the State
For such a small town, it has a prominent place in Florida History.  Arrowheads dating back 12,000 years have been found in the area, along with various shell mounds created by the ancient Indians. Modern settlement of Cedar Key began about 1839 when General Zachary Taylor built Fort No. 4 on Depot Key;  it became Army headquarters during the early part of the Seminole Wars.

In the years before the Civil War, Cedar Key developed into a major Florida port.  Lumber and naval stores from the mainland were shipped out of the small village to major cities around the world.  By 1860, there were two saw mills producing cedar slats for shipment to pencil factores up north.  Also in 1860, David Levy Yulee completed his Florida railroad that crossed the state from Fernandina to Cedar Key.  Yulee was a U.S. Senator and an interesting character in Florida history.  Right about the time the railroad was completed, Parson and Hale's General Store was completed.  Today it is known as the Island Hotel.

During the Civil War, a lot of salt was produced around Cedar Key for use by the Confederate Army.  Much cotton was also shipped out of Cedar Key.  The Union army and navy destroyed a lot of Cedar Key during the war, and finally occupied the village until the end of the war.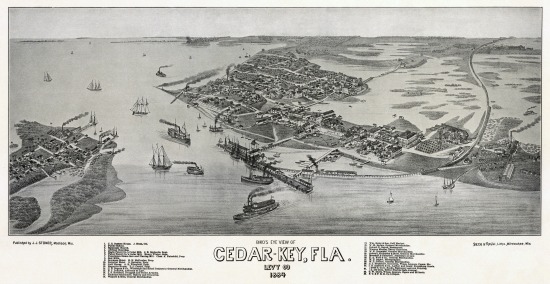 When Henry Plant's railroad reached Tampa in 1886, Cedar Key's importance as a port declined and it began to lose population and industry.  About ten years later, a major hurricane hit Cedar Key, killing 100 people and wiping out the saw mills and most other buildings.  A couple of months later, a fire just about finished the job of destruction.

By the beginning of the 1900s, the major industries in Cedar Key had become sponging and oyster harvesting.  Over harvesting exhausted these resources, and Cedar Key became a quiet place where people liked to spend weekends.  The State of Florida helped local fishermen learn how to farm clams, so clam farming has become a major village industry.  So also is tourism.

Cedar Key has a museum, and the entire village has national historic status through the Cedar Keys Historic and Archeological District and the U.S. National Register of Historic places.
CEDAR KEY LODGING

Cedar Key Bed & Breakfast, 810 3rd Street, Cedar Key FL 32625.  352-543-9000.

Faraway Inn, 847 Third Street, Cedar Key, FL 32625.  888-543-5330.

Island Hotel & Restaurant, 373 2nd Street, Cedar Key, FL 32625.

CEDAR KEY RESTAURANTS

Kona Joe's Island Cafe, 4051 D Street, Cedar Key Florida 32625.  352-543-9898.

Tony's Seafood Restaurant, 597 2nd St, Cedar Key, FL 32625.  352 543 0022.

Ken's Cedar Keyside Diner, 490 Dock St, Cedar Key, FL 32625. 352-543-6800.
View Larger Map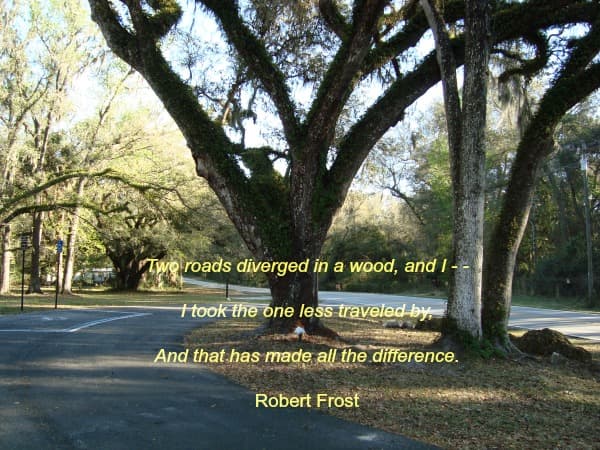 Over 55,000 fans can't be wrong. Learn about off the beaten path Old Florida and historic towns.
Like Us On Facebook
Return From Cedar Key Florida To Florida Towns

Return To Florida End Of Road Towns

Return To Florida Backroads Travel Home