FLORIDA BACKROADS TRAVEL

Florida Backroads Travel will help you discover rapidly vanishing Old Florida.  It can still be found on the back roads of the state.  This website will show you hundreds of interesting places to visit and tell you how to get there on the less traveled Florida backroads.
The map below is organized by the 8 geographic regions of Florida.   You can click on the title for the region you are interested in and you will be opening a new webpage with information about that region.   You can also look for information by clicking on the subjects on the left hand navigation column.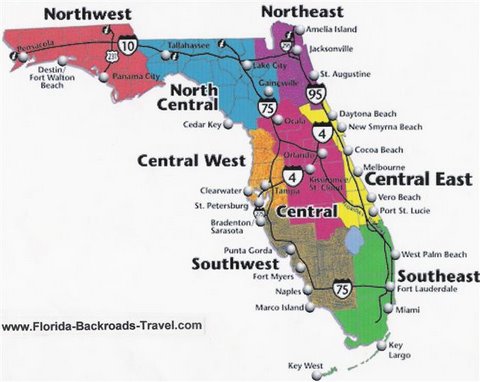 Millions of people visit Florida every year and never see it.  They focus on the major theme parks and beaches and miss the other Florida, the place of serenity and natural wonders and historic sites.
We include listings for historic hotels and bed and breakfast inns, along with historic districts.
The site includes hundreds of photos of Old Florida as it is now and many vintage postcards of Florida as it used to be.
The back issue feature of our Florida Heritage Ezine includes reviews of many towns and restaurants preserved from this free monthly publication.
We focus on scenic roads through tree canopied countryside and historic Florida towns and fishing communities. 
Many of the towns we feature are located on Florida rivers, lakes and on the shores of the Atlantic Ocean and Gulf of Mexico.
We give you information on the history and character of old Florida towns and lesser known tourist attractions like zoos, museums, wineries, beaches and state parks.
You will learn how to do Florida without spending a fortune.  You will learn about hundreds of art and music festivals and annual events.
All of this information is supplemented by maps and destinations for fun day trips in Florida.

Florida Backroads Travel will guide you to the real Florida.
---