LAKELAND FLORIDA

Lakeland Florida is a city of about 90,000 people in Polk County, Florida. 
It is in the center of a metro area that has more than 500,000 people. Lakeland is in the I-4 corridor between Orlando and Tampa.

The town is really a small city and is one of the prettiest of all Florida towns.
It is liberally dotted with beautiful small lakes and has a large swan population that lives and prospers among the lakes.
Swan sculptures are placed all over town and seem to be the mascot of choice. Lake Morton and Lake Mirror are in the downtown area, and are home to hundreds of swans.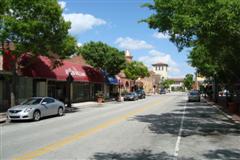 Lakeland Florida was first settled in the years after the Civil War, and began to grow quickly once the railroads came to town in 1884.
The town was founded by Abraham Munn, who purchased 80 acres in what is now downtown Lakeland.
The Florida land boom of the 1920's saw many major buildings go up in downtown Lakeland. Many of these are still standing and are on the National Register of Historic Places, including the Terrace Hotel and New Florida Hotel, now known as Regency Towers.
Lakeland also has numerous historic districts with buildings that go back the the 1920's, 30's and 40's. Many parks are in these neighborhoods, including several of them around Lake Mirror.
Frank Lloyd Wright Comes To Lakeland Florida
Frank Lloyd Wright came to town in 1938 and spent the next 20 years working on designs for various buildings on the Florida Southern campus. He designed 18 buildings, and 9 of them were built and are still standing.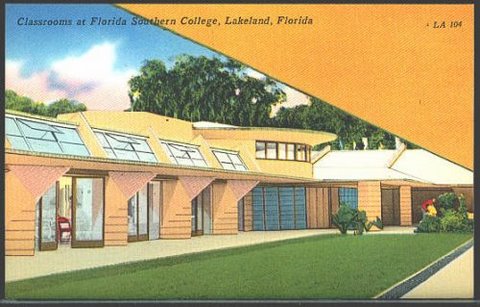 Florida Southern has the largest collection of Frank Lloyd Wright buildings in the world. It was recently announced that the school is going to build one of Wright's famous Usonian homes on campus.
For many years, up until the 1970's, Lakeland's nickname was the "All American City". It was considered a bellweather for all of the United States. It was believed that if a concept worked in Lakeland, it was likely to succeed elsewhere.
In 1968, I had lunch at the first Red Lobster to ever open in this country on the first week it opened. It was on Lake Ellenor Drive on Lake Parker. My fried flounder platter cost $ 1.69. The same meal today is about 8 times as much.
Lakeland is also the home of Publix, Florida's premier grocery chain. It's founder, George Jenkins, died some years ago but is fondly referred to by Publix employees as "Mr. George".
Former US Senator and Florida Governor, the late Lawton Chiles, was also a native of Lakeland.
Today's Lakeland Florida is a great place to visit, shop, dine and just enjoy the parks and swans.
LAKELAND, FLORIDA HOTELS
Terrace Hotel,
329 East Main Street
Lakeland, Florida 33801
Tel: 863-688-0800
This hotel was built in 1924 and was restored to luxury hotel status in 1998.  It has 73 guest rooms and 15 suites.  This great place in downtown Lakeland is on the National Register of Historic Places.
---
View Larger Map
Much of the information in our website has been published in a series of Amazon Kindle books for each of Florida's eight geographical regions.
Florida Backroads Travel, a separate Kindle book, covers all of the regions of the state in one volume.
All books can be read on a computer, tablet, Kindle and most smart phones.
Click on the book cover for free previews of these books at Amazon.com.
Return From Lakeland Florida To Florida Towns

Return To Free Florida Travel Guide Central Florida

Return To Florida Backroads Travel Home