TAMPA, FLORIDA
Tampa Florida is a City of Neighborhoods
Modern Tampa is a city of neighborhoods, many of them originally inhabited by various ethnic and cultural groups.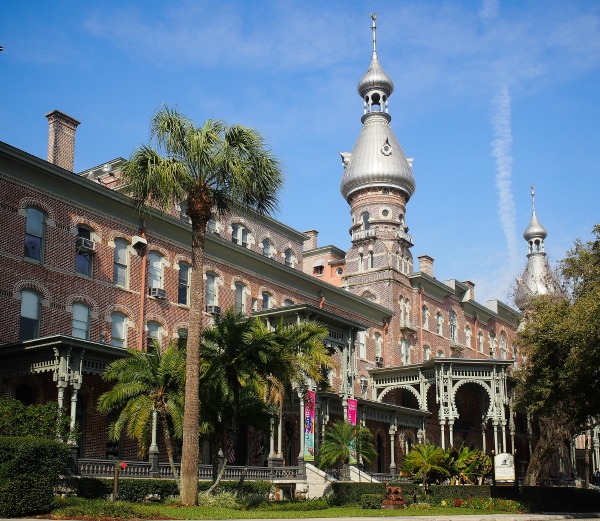 A few of these neighborhoods close to downtown are: 

Hyde Park, near downtown on the west side of the Hillsborough River. It has been renovated in recent years to create trendy housing, restaurants and shopping.

Ballast Point, Bayshore and Palma Ceia are old neighborhoods with fine large homes north of MacDill Air Force Base.
Davis Islands is a 1920's boom town development dredged up from Tampa Bay immediately south of downtown.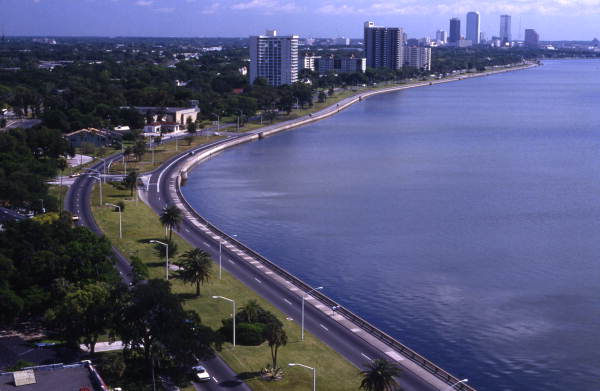 Harbour Island is immediately south of the heart of downtown Tampa. It was originally known as Seddon Island, and not to many years ago it was a seedy rundown industrial port. In 1979 it was purchased from the railroad, and redeveloped into today's fine condominiums, marinas, shops, offices and restaurants.
Ybor City is a historic entertainment and business district that is built around the cigar factories, homes, and shops of the cigar district founded by Martin Ybor in 1885.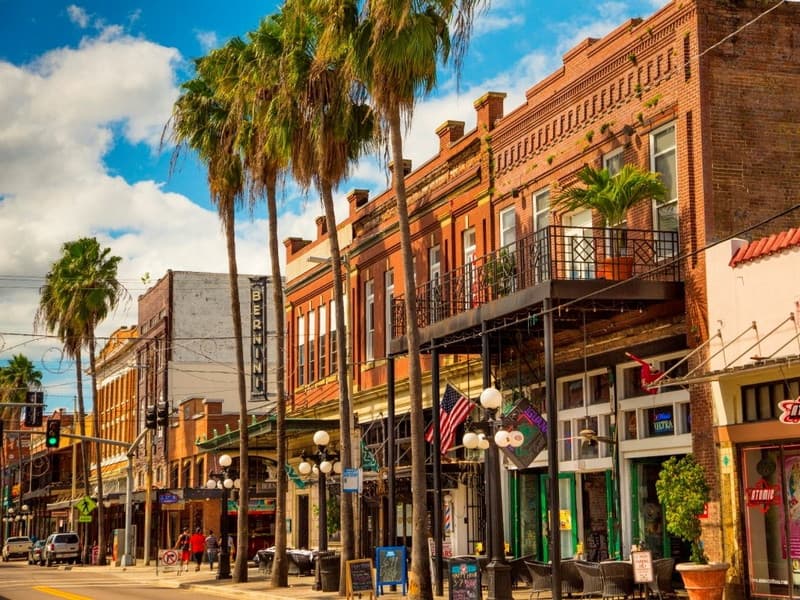 Like most Florida cities, Tampa has sprawled out from its center and is now surrounded by many beautiful suburbs and new towns. Sun City, for example, is south of Tampa and is one of the largest Florida active retirement communities.
Most areas of Tampa are safe, but like all big cities it's best to have some local advice before wandering around in some places and neighborhoods you don't know anything about. Tampa is also a good place to start and finish one of your favorite Florida day trips.
Its central location on the Gulf coast means there are many opportunities for one tank trips not only in Central West Florida, but in Southwest and Central Florida also.
HISTORY OF TAMPA
The modern history of Tampa Florida began when Spanish explorers visited the area in the 1520's.

They reported Tocobaga Indian villages on the north shore of the bay and Calusa Indian villages on the south shore.
These conquistadors, including Hernando de Soto and Panfile de Narvaez didn't find any gold, so they moved on and left the Indians to themselves.
The Spaniards apparently left behind some of the European diseases for which the Indians had no immunity, because most of the Indians disappeared not long after the Spanish contact.
Tampa history reveals a sparsely settled area for the next couple of hundred years.
In the mid 1700's, during our French and Indian wars and American Revolution, Seminole Indians began to drift into north and central Florida.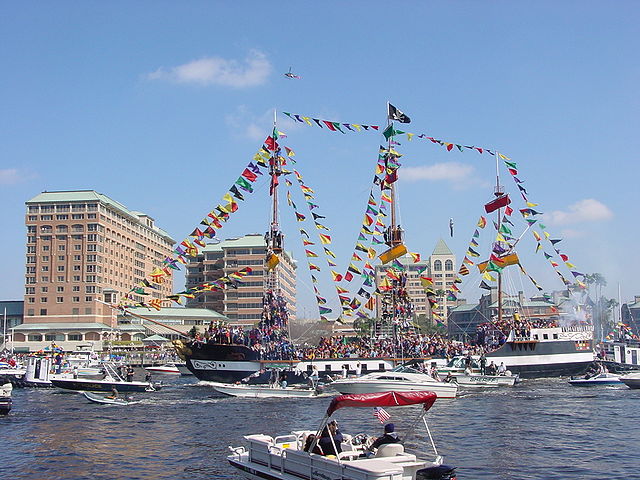 This period in Tampa history also saw Cuban fishermen set up temporary camps on Tampa Bay along a small creek near today's Hyde Park neighborhood south of downtown Tampa, Florida.
In 1821 the U.S. acquired Florida from Spain. The 1823 Treaty of Moultrie Creek created a large Indian reservation in the interior region of central and south Florida.
Shortly after this, the U.S. built a series of forts and trading posts in the new territory. Fort Brooke was established at the mouth of the Hillsborough River near today's downtown Tampa Convention Center. It became the first real settlement in Tampa history.
Tampa was nothing more than a lonely outpost on the frontier until the end of the Seminole Wars. By 1845, Florida had become the 27th state and a couple of years later Tampa was incorporated as the Village of Tampa, and modern Tampa history began.
Tampa History in the Civil War
During the U.S. Civil War, Florida was a Confederate State and Fort Brooke was manned by Confederate troops.
The Union Navy set up a blockade around many southern ports to cut off the Confederacy from outside help, and several ships were stationed near the mouth of Tampa Bay.
Confederate blockade runners based in Tampa, Florida were able to repeatedly slip through the blockade to trade cattle and citrus for needed supplies, mainly with Spanish Cuba.
Tampa history includes several minor battles that took place in the city during the Civil War. The Union finally occupied the city after the war was over, and stayed there until 1869.
The Reconstruction period after the Civil War was very a very hard time in Tampa history. There was no industry and very poor roads to and from the rest of the state.
Throughout Tampa history, the area had been affected by yellow fever epidemics borne by mosquitoes from the surrounding swampland, but the sickness was particularly widespread during the late 1860s and 1870s.
The disease was little understood at the time, and many residents simply packed up and left rather than face the mysterious and deadly peril.
Three Events That Formed Modern Tampa
Tampa's resurrection from a virtual ghost town was spearheaded by three fortunate events toward the end of the nineteenth century.
These three events changed the course of Tampa history.
First, phosphate was discovered in the Bone Valley region southeast of Tampa in 1883. The mineral, vital for the production of fertilizers and other products, was soon being shipped out from the Port of Tampa in great volume. Tampa is still a major phosphate exporter.

Second, Henry B. Plant's railroad line reached Tampa and its port shortly thereafter, connecting the small town to the country's railroad system. Tampa finally had the overland transportation link that it needed. The railroad enabled phosphate and commercial fishing exports to go north,brought many new products into the Tampa market, as well as its first tourists.

Third, the new railroad link attracted the cigar industry. In 1885, the Tampa Board of Trade helped Vicente Martinez Ybor move his cigar manufacturing operations to Tampa from Key West. Nearness to Cuba made imports of tobacco easy by sea, and Plant's railroad made shipment of finished cigars to the rest of the US market easy by land.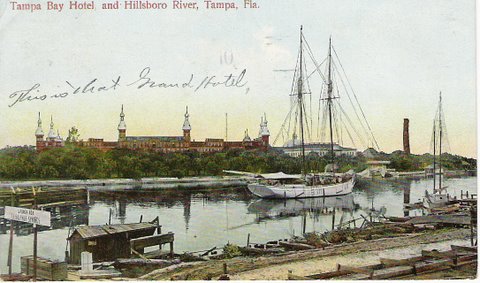 Tampa was a small town of 5,000 with very little housing at the time, so Ybor built hundreds of small houses around his factory to accommodate the immediate influx of mainly Cuban and Spanish cigar workers.
His factory and housing development were known as Ybor City, a place still famous in Tampa history.
Other cigar factories soon moved in, and Ybor City quickly made Tampa a major cigar production center.
Many Italian and a few eastern European Jewish immigrants also arrived starting in the late 1880s, operating businesses and shops that catered to the cigar workers.
The majority of Italian immigrants came from Alessandria Della Rocca and Santo Stefano Quisquina, two small Sicilian towns with which Tampa still maintains strong ties.
In 1891, Henry B. Plant built a lavish 500 room , Moorish Revival style luxury resort hotel called the Tampa Bay Hotel on 150 landscaped acres along the Hillsborough River.
The massive structure cost $2.5 million to build.
Plant filled his expensive hotel with exotic art collectibles from around the world and installed electric lights and the first elevator in Tampa.
The resort did well for a few years, especially during the Spanish-American War.
Tampa was chosen as an embarkation center for American troops in the Spanish-American War. Colonel Teddy Roosevelt and his Rough Riders were among the 30,000 troops who waited in Tampa for the order to ship out to Cuba during the summer of 1898.
With Plant's death in 1899, the hotel's fortunes began to fade. It closed in 1930. In 1933 the stately building reopened as the University of Tampa.
During the first few decades of the 20th century, the cigar making industry was the backbone of Tampa's economy. The factories in Ybor City and West Tampa made huge numbers of cigars.
In the peak year of 1929, over 500,000,000 cigars were hand rolled in Tampa.
In 1904, a local civic association of local businessmen dubbed themselves Ye Mystic Krewe of Gasparilla (named after mythical pirate Jose Gaspar), and staged an "invasion" of the city followed by a parade.
Jose Gaspar supposedly lived on nearby Gasparilla Island.
Ye Mystic Krewe continues to exist today, and is a prestigious community involvement group that enjoys tremendous support from the people of Tampa.
With a few exceptions, the Gasparilla Pirate Festival has been held every year since, and is a large part of the celebration of Tampa history.
Tampa History Includes Organized Crime
Beginning in the late 1800s, illegal bolita lotteries were very popular among the Tampa working classes, especially in Ybor City.
In the early 1920s, this small-time operation was taken over by Charlie Wall, the rebellious son of a prominent Tampa family, and went big-time.
Tall, talkative Charlie became one of the kings of crime in Ybor City in the 1920s and '30s. In addition to bolita, he bootlegged booze, fixed elections and ran brothels. Several of his rivals ended up mysteriously dead.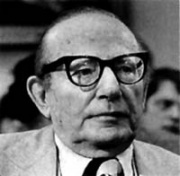 This crime culture was able to openly thrive because of kick-backs and bribes to key local politicians and law enforcement officials, and many were on the take.
Profits from the bolita lotteries and Prohibition-era bootlegging led to the development of several organized crime factions in the city.
Charlie Wall was the first major boss, but various power struggles culminated in consolidation of control by Sicilian mafioso Santo Trafficante, Sr. in the 1950s.
Santo died from cancer in 1954, and his son, Santo Trafficante, Jr. took over. He was allied with mob families in New York, other places in Florida, and Cuba.
One April day in 1955, long after Wall had been pushed out of the rackets by the Sicilian Mafia, his wife called a horde of lawmen and reporters to his rambling bungalow in Ybor City.
They found the old man in his nightclothes on the bedroom floor. His throat was cut, and he had been badly beaten. His murder has never been solved, and is part of Tampa history and lore.
The era of rampant and open corruption ended in the 1950s, when Senator Estes Kefauver's traveling organized crime hearings came to Tampa.

These hearings were followed by the sensational misconduct trials of several local officials.
Although many of the worst offenders in government and the mob were not charged, the trials helped to end the sense of lawlessness which had prevailed in Tampa for decades.
Tampa History During and After World War Two
Tampa began to boom during and after World War II. MacDill Field was built as a main base of operations for the United States Army Air Force, along with auxiliary fields in north Tampa and north St. Petersburg.
At the end of the war, MacDill remained as an active military installation while the auxiliary fields reverted to civilian control.
Two of these auxiliary fields would later become the present day Tampa International Airport (from the old Drew Field) and St. Petersburg-Clearwater International Airport.
The Tampa Bay Bucs of the NFL play in the modern Raymond James Stadium just east of Tampa International Airport.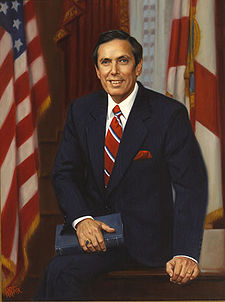 Tampa is still one of Florida's most diverse cities, reflecting it's earlier Hispanic and Italian heritage.
Former teacher, restaurateur and Tampa mayor Bob Martinez became Florida's first Hispanic governor in 1987.
He is also only the second Republican to hold that office since Reconstruction after the Civil War.
After leaving office in 1991, Martinez was appointed by President George H. W. Bush to the cabinet rank position of Director (or "Drug Czar") of the Office of National Drug Control Policy where he served until January 20, 1993.
A brief biography of Governor Martinez tells more about his life.
An excellent book by Gary Mormino tells the story of Ybor City and its role in Tampa History.
HOW TO FIND TAMPA FLORIDA

Tampa is on the west coast of Florida about 85 miles west of Orlando and 60 miles north of Sarasota.
It is 25 miles east of downtown St. Petersburg.
It is at the intersection of I-4 and I-275.
Tampa Florida is also served by the highways that were in place long before the interstates: US-41, US-301 and SR-60.
---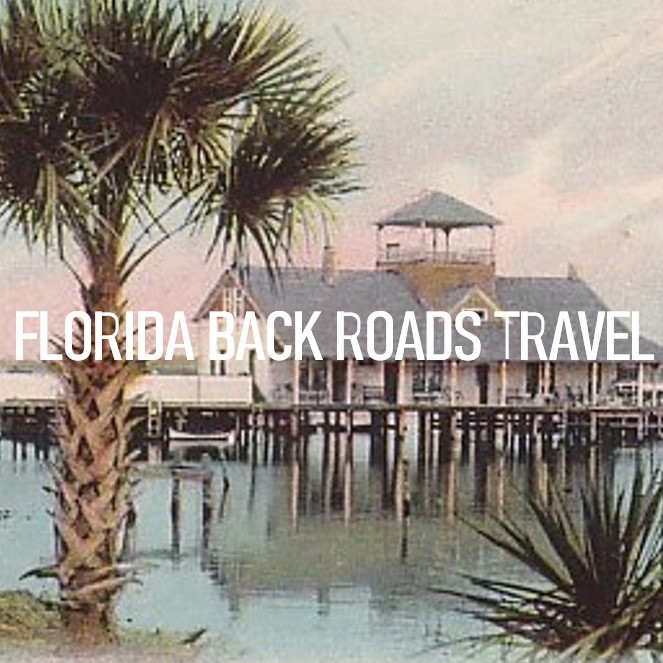 Our Facebook page has more than 107,251 followers who love off the beaten path Florida: towns, tourist attractions, maps, lodging, food, festivals, scenic road trips, day trips, history, culture, nostalgia, and more. 
Take a look. If you enjoy what you see, please give us a like.
---
---
Florida Back Roads Travel is not affiliated with or endorsed by Backroads, a California-based tour operator which arranges and conducts travel programs throughout the world.
By Mike Miller, Copyright 2009-2021 Florida-Back-Roads-Travel.com