TAMPA FLORIDA
The modern history of Tampa Florida began when Spanish explorers visited the area in the 1520's.

They reported Tocobaga Indian villages on the north shore of the bay and Calusa Indian villages on the south shore.
More about
Tampa Florida is a City of Neighborhoods
Modern Tampa is a city of neighborhoods, many of them originally inhabited by various ethnic and cultural groups.
A few of these neighborhoods close to downtown are:
Hyde Park, near downtown on the west side of the Hillsborough River. It has been renovated in recent years to create trendy housing, restaurants and shopping.
Ballast Point, Bayshore and Palma Ceia are old neighborhoods with fine large homes north of MacDill Air Force Base.
Davis Islands is a 1920's boom town development dredged up from Tampa Bay immediately south of downtown.
Harbour Island is immediately south of the heart of downtown Tampa. It was originally known as Seddon Island, and not to many years ago it was a seedy rundown industrial port. In 1979 it was purchased from the railroad, and redeveloped into today's fine condominiums, marinas, shops, offices and restaurants.
Like most Florida cities, Tampa has sprawled out from its center and is now surrounded by many beautiful suburbs and new towns. Sun City, for example, is south of Tampa and is one of the largest Florida active retirement communities.
Most areas of Tampa are safe, but like all big cities it's best to have some local advice before wandering around in some places and neighborhoods you don't know anything about. Tampa is also a good place to start and finish one of your favorite Florida day trips.
Its central location on the Gulf coast means there are many opportunities for one tank trips not only in Central West Florida, but in Southwest and Central Florida also.
HOW TO FIND TAMPA FLORIDA
Tampa is on the west coast of Florida about 85 miles west of Orlando and 60 miles north of Sarasota.
It is 25 miles east of downtown St. Petersburg.
It is at the intersection of I-4 and I-275.
Tampa Florida is also served by the highways that were in place long before the interstates: US-41, US-301 and SR-60.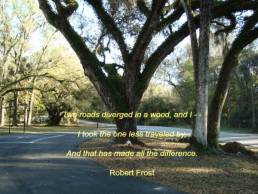 Over 67,000 followers can't be wrong. Learn about off the beaten path Old Florida, historic towns, attractions,  festivals, scenic drives and more.
Like Us On Facebook
Return From Tampa Fla To Florida Towns 

Return To Free Florida Travel Guide Central West Florida 

Return To Florida Backroads Travel Home