DEERFIELD BEACH, FLORIDA
Deerfield Beach, Florida Things To Do, Lodging, Dining, & Real Estate At End Of Article
The city of Deerfield Beach, Florida is on the Atlantic Ocean between West Palm Beach and the Pompano Beach - Fort Lauderdale area.  Its population is 80,312.
It is the northernmost city along the Broward County coast, reaching to the Palm Beach County line.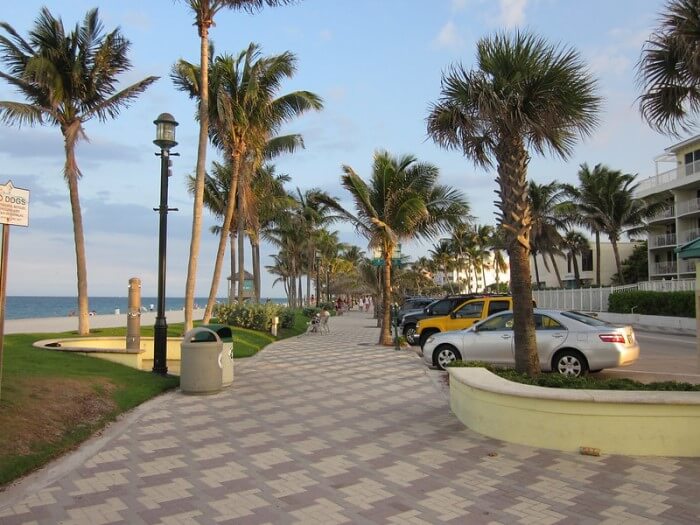 Deerfield Beach Boardwalk
Flickr/Infrogmation of New Orleans
The Hillsboro Canal, also known as Canal G-08, forms the boundary between Deerfield Beach and Boca Raton.
DEERFIELD BEACH, FLORIDA HISTORY
Native Americans, including the Tequesta, first settled along the banks of the Hillsboro River, a ghost river that no longer exists in its original form.
This is a different river than the Hillsborough River in the Tampa area.
What the rivers have in common is they were both named for Wills Hill, also known as the the Earl of Hillsborough. 
He served as British Secretary of State for the Colonies from 1768 to 1772.
The river was a small winding stream that drained the land, including the Everglades, east into what is now the lagoon behind the Atlantic barrier island. 

The first settlers began to show up in the area in the late 1870s.  Within a few years some houses were built along the river and people began to engage in farming west of the area.
This community was first known as Hillsboro. 
The settlers reported seeing large numbers of deer in the area.  This was a clue as to what their town would be named.
The Florida East Coast Railway was extended from Palm Beach south to Deerfield in 1896, and this opened a route for agricultural products to be shipped out of the area.
The river was all but swallowed up by the dredging of what is now the Hillsboro Canal that extends from Lake Okeechobee to the Intracoastal Waterway.
The dredging was begun in 1911 and completed in 1914.  The new canal drained land west of Deerfield, opening up much new farmland. 
Beans, peppers, and tomatoes were farmed.  Deerfield tomatoes were well known throughout the state for their high quality.
The Town of Deerfield was incorporated in 1925 when the population was 1,300. 
The name was changed to Deerfield Beach in 1939 for tourism promotion reasons.
The town remained largely an agricultural community until the end of World War Two. 
This is when it began to attract tourists to their beautiful beaches.

DEERFIELD BEACH, FLORIDA TODAY
The business district of Deerfield Beach was traditionally around the intersection of US-1 and East and West Hillsboro Boulevard.
As the town expanded, much of the commercial activity moved west to the areas around I-95 and the Florida Turnpike. 
The area near the beach also has a lot of hotels, waterfront restaurants, bars and tourist related businesses.  There are many fine dining places in this neighborhood.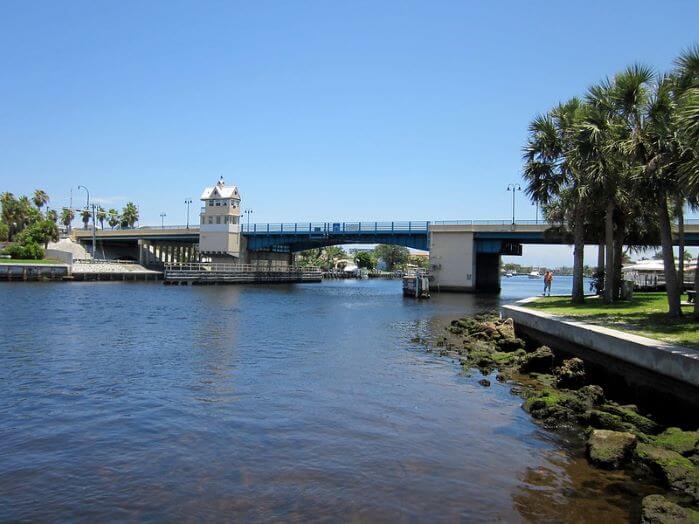 Deerfield Beach Intracoastal Bridge
Flickr/Infrogmation of New Orleans
Deerfield Beach has easy access from the north and south by State Road A1A, US-1, I-95, and the Florida Turnpike.

The eastern part of the city fronts on the Intracoastal Waterway across from a one mile stretch of beach along State Road A1A that is also within the city limits.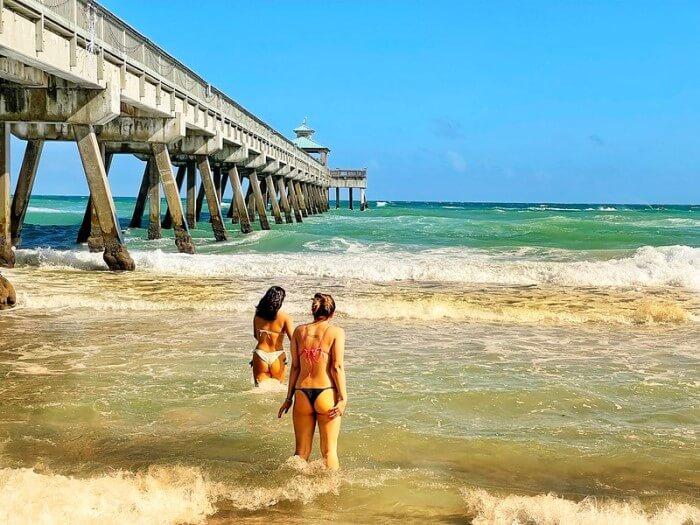 Deerfield Beach Pier and Bathers
Flickr/Rob Olivera
The white sand beach of Deerfield Beach is very popular.  There is a long pier extending out into the ocean.
Unusual in Florida, there are some patches of beach that are rocky.  The rocks were put in place years ago to slow down beach erosion.
The paved boardwalk is a favorite strolling place that parallels the ocean for a full mile.
There are a number of hotels, bars, and restaurants along the way, and plenty of parking lots with meters.
For those who walk on the beach, sandy feet can be washed off with a number of showers along the way.  There are also public restrooms for beach lovers.
Another great place to enjoy some outdoor activity is Quiet Waters Park.  It has a Ski Rixen USA cable water ski system and it the only water ski and wakeboard resort in South Florida.
UNIQUE DEERFIELD ISLAND PARK
An unusual feature for this part of highly populated Florida is Deerfield Island Park.  It is a natural undeveloped 53 acre island accessible only by water.
When you see the development surrounding it, you will considered it a miracle that some mangrove swamps still exist that are not covered by waterfront mega mansions.
It fronts on the Intracoastal Waterway at Hillsboro Boulevard and the along the water course of the discharge end of the Hillsboro Canal.

The park features a boat dock, butterfly garden, marina, nature trail, picnic area, shelter and room rentals, and boat rentals.
You can visit the park via a free shuttle boat that runs from the mainland every hour from 10am to 3 pm on Friday, Saturday, and Sunday.
Every Saturday morning in May and June the Deerfield Beach Farmer's market is open from 10am to2pm.  It is located in the historic Butler House at 380 East Hillsboro Boulevard.
---
THINGS TO DO IN DEERFIELD BEACH
Deerfield Beach International Fishing Pier - 200 NE 21st Ave: Enjoy breathtaking ocean views and try your hand at fishing from this iconic pier that stretches 976 feet into the Atlantic Ocean.
Quiet Waters Park - 401 S Powerline Rd: Immerse yourself in nature at this expansive park featuring lakes, trails, a water park, camping areas, and a variety of recreational activities for the whole family.
Butterfly World - 3600 W Sample Rd: Enter a tropical paradise at the world's largest butterfly and hummingbird park, with stunning gardens, educational exhibits, and thousands of colorful butterflies fluttering around you.
Deerfield Island Park - Accessible by boat only: Escape the mainland and take a boat ride to this serene island oasis, offering hiking trails, picnic spots, and a chance to spot wildlife in a natural setting.
South Florida Railway Museum - 1300 W Hillsboro Blvd: Delve into the region's railroad history at this fascinating museum, which showcases vintage locomotives, exhibits, and interactive displays for train enthusiasts.
Deerfield Beach Arboretum - 2841 W Hillsboro Blvd: Discover a diverse collection of trees and plants in this tranquil garden setting, perfect for a leisurely stroll or a picnic surrounded by natural beauty.
Sullivan Park - 1601 E Hillsboro Blvd: Unwind in this waterfront park along the Intracoastal Waterway, featuring a fishing dock, playgrounds, picnic shelters, and scenic views of passing boats.

Deerfield Beach Historical Society & Butler House Museum - 380 E Hillsboro Blvd: Step back in time and explore the rich history of Deerfield Beach through exhibits, artifacts, and a guided tour of the beautifully restored Butler House.
Deerfield Beach Boardwalk - 200 NE 21st Ave: Take a leisurely stroll along this scenic oceanfront boardwalk, lined with palm trees, shops, restaurants, and access to the pristine beach.
---
ALL ABOUT DEERFIELD BEACH FLORIDA
---
DEERFIELD BEACH, FLORIDA INTERACTIVE GOOGLE MAP
---
---
---

Our Facebook page has more than 128,577 followers who love off the beaten path Florida: towns, tourist attractions, maps, lodging, food, festivals, scenic road trips, day trips, history, culture, nostalgia, and more.  We post articles every day.  Please check it out and if you like it, we would appreciate a "like" from you.
---
By Mike Miller, Copyright 2009-2023
Florida-Back-Roads-Travel.com
Florida Back Roads Travel is not affiliated with or endorsed by Backroads, a California-based tour operator which arranges and conducts travel programs throughout the world.