GARY'S DUCK INN (1945-1994)
This article is about a restaurant that no longer exists, Gary's Duck Inn in Orlando. 
I moved to Florida in 1960 and have outlasted many of the restaurants and other places I enjoyed. 
All that remains of them for me is my memories, so I'll share a few about Gary's Duck Inn.
In 1968 I moved to Orlando to work on the construction of Walt Disney World.  In those early days, Gary's was one of the few Orlando restaurants you could go to when you felt like a great dinner.
It was located on South Orange Blossom Trail not far south of Interstate 4. 
When Gary Starling opened Gary's Duck Inn in 1945 that was not a bad neighborhood. South Orange Blossom Trail was also US-441 and it was a major tourist highway.
Orlando was still a small town and didn't realize how much growth was on the future horizon including I-4 and Walt Disney World.
Gary Starling sold the restaurant in 1963 to a group of investors who included Bill Darden and Charley Woodsby.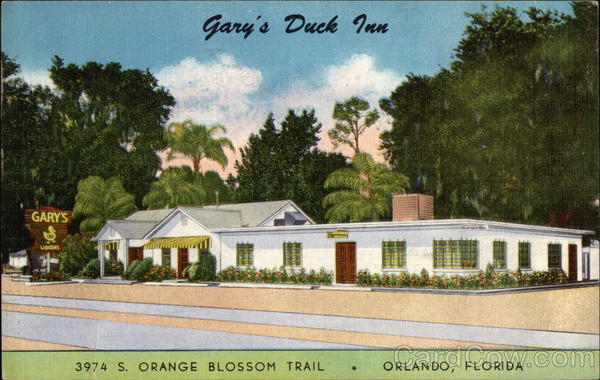 Darden and Woodsby were impressed with the food at Gary's and decided the menu could catch on nationally. 
They opened the first Red Lobster in 1968 in Lakeland, Florida. 
In those days Lakeland was a favorite place to try out new restaurant ideas.
I remember eating at that first one in Lakeland when it was almost new, in January 1968. 
As I recall, that day I had fried fillet of flounder.  It cost $1.69 but that price has increased over the years due to inflation.
I was immediately hooked on Red Lobster because it was the delicious seafood that reminded me most of what I enjoyed at Gary's Duck Inn.
Other people must have agreed because according to Scraphero.com, Red Lobster has grown to a large national chain 672 with restaurants in 551 cities.
Florida is home to 52 of those restaurants.
I believe future U.S. Senator and Florida Governor Lawton Chiles was one of the original investors in that first Lakeland Red Lobster.

Gary's specialized in seafood and what they served was some of the best around Central Florida.  
I was delighted recently to receive a letter from the former owner of Gary's Duck Inn and a co-founder of Red Lobster, Charley Woodsby.  He also sent me a copy of his excellent book recounting the history of Gary's and the Red Lobster chain.  Titled "RED LOBSTER...THE BEGINNING" it is available at Amazon.com and on Charley's website, Charley Woodsby.com
Their biggest years were in the 1970s to mid 1980s.  In its heyday it served 25,000 pounds of shrimp a year and had 90 employees. 
The restaurant kept expanding until it covered a half acre and seated 400 diners.
A couple of things were happening over which Gary's Duck Inn had no control. 
First was the sheer number of new chain restaurants opening in the area.
Second was the increasingly bad reputation of South Orange Blossom Trail. 
In addition to nude bars and raunchy nightclubs, the area experienced a lot of crime including car break-ins at Gary's.
Gary's hired security guards to protect the cars, but customers began avoiding the neighborhood, even those who loved Gary's.
Gary's Duck Inn finally closed in 1994, some 26 years after the grand opening of that first Red Lobster that it inspired. 
Today as you go by on SOB Trail you will see a Dollar General and a Seven Eleven store where Gary's used to be. 
I still miss it and so am sharing my memories with you.
---
If this article make you hungry for the good old day of Gary's, here is a Red Lobster store locator for you.
---
LOCATION OF THE LATE GARY'S DUCK INN
---
---
---

Our Facebook page has more than 129,275 followers who love off the beaten path Florida: towns, tourist attractions, maps, lodging, food, festivals, scenic road trips, day trips, history, culture, nostalgia, and more.  We post articles every day.  Please check it out and if you like it, we would appreciate a "like" from you.
---
By Mike Miller, Copyright 2009-2023
Florida-Back-Roads-Travel.com
Florida Back Roads Travel is not affiliated with or endorsed by Backroads, a California-based tour operator which arranges and conducts travel programs throughout the world.