VENICE FLORIDA
Venice Florida began when an early pioneer, Richard Roberts established a homestead in the 1870's near Roberts Bay and the beach. 
He planted an orange grove and a few other crops.
The area supported a few citrus operations, along with boat building and fishing until the turn of the century.
The early settlers chose the name Venice for their community post office. It was located south of Shakett Creek on what is now Portia Street in Nokomis.
The railroad came to Sarasota County in 1911, and development followed in the path of the rails.
Bertha Honore' Palmer Invented Venice Florida
Mrs. Potter Palmer, a wealthy Chicago woman, bought 60,000 acres in Sarasota County. Her land development operation platted an area south of Robert's Bay and called it Venice.
The rails were extended to the new village of Venice Florida. The new little town began to grow slowly, but it remained a small citrus and fishing community until the 1920's Florida land boom.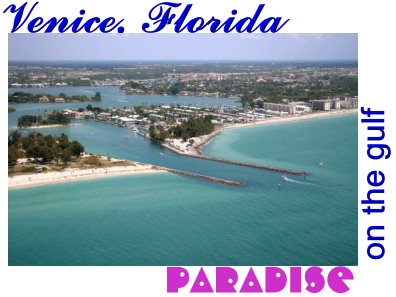 In 1925, Dr. Fred H. Albee, a prosperous orthopedic surgeon, purchased 2,916 acres of land from Mrs. Palmer. He hired John Nolan, a city planner, to design a city on his land.
Dr. Albee's dream was to cure sick patients using the magic power of sunshine. It's obvious he was not a dermatologist.
Before he started on his plan, however, he sold the land to the Brotherhood of Locomotive Engineers, a labor union. They made him an offer he couldn't refuse.
The union organized BLE Realty Corporation to develop the property.
The main feature of the development plan was Venice Avenue, a 200 foot wide boulevard terminating at the Gulf of Mexico beach.
Construction got underway and the town began to emerge from the palmettos and sand dunes. The Hotel Venice opened in 1926. It had 100 rooms with private baths, and was magnificent for its time.
There were very few Florida towns like Venice back then. That remains true today.
This was one of the first places in the state that had strict zoning regulations and design review requirements. All buildings had to be constructed in the Northern Italian Renaissance style.
Roof lines and tiles, awnings, building colors, relationships to adjacent buildings and setbacks were all carefully regulated.
The result is the friendly ambiance of today's downtown Venice.
The great depression devastated Venice, and the economic fallout from the great Miami hurricanes of 1926 and 1928 finished the job.
Venice languished in a severe depression until World War Two. Before the war, Dr. Albee bought a hotel and converted it to Florida Medical Center. It specialized in heliotropic healing: using the sun to heal.
The Venice Army Air Base was built on land south of town during the war, and brought much needed jobs and activity to the area.
The City of Venice obtained the air base after the war, and it is still in use today as a general aviation airport.
I've always been fond of Venice. My grandparents retired to this area in 1960. They lived in Nokomis, a little village north of town.
They rented a little two bedroom terrazzo floored house with no air conditioning for $ 75 per month.
That ate up most of their retirement income, so they worked at odd jobs around town. Grandpa actually died on the job as a substitute teacher.
The Ringling Brothers Barnum and Baily circus moved their winter quarters to Venice in 1960. My grandparents loved going to the quarters and watching the performers and animals rehearse.
Venice today is still a pedestrian friendly little town that has it all. Good shopping, restaurants, art, boating, beaches and walking.
Many people think that Venice has the best beaches in Florida.
The main thoroughfare of Venice is US-41, the Tamiami Trail, that runs generally north and south through town on its way from Tampa to Miami.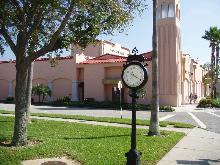 The heart of the town, however, lies along West Venice Avenue and the surrounding historic district. This broad boulevard is lined with charming sidewalk cafes and unique boutiques. It is a shopper's paradise.
Several great antique shops are located on "Antique Row" along Miami Avenue one block south of Venice Avenue. The town also has its own live theater and symphony orchestra.
Venice has beautiful natural beaches, and is known as the "Shark Tooth Capitol Of The World". Needless to say, you can find a few of these teeth along the beach.
Don't be alarmed. These are from sharks that died hundreds of thousands of years ago.
Head north from Venice to Nokomis and drive out to Casey Key. Go north along the Gulf.
The narrow road is shaded under canopies of tropical trees, and the blue water of the Gulf glistens over your left shoulder.
This drive will take you north for several miles to Blackburn Point Road where you will return to the mainland at Osprey.
Leave your windows open and enjoy the sea breeze.
VENICE FLORIDA MOTELS
The category of motels in Venice may also include hotels, bed and breakfast inns, or other forms of lodging including Florida state parks or private campgrounds.
Floridaloha Vacations.  These unique cottages are near everything in Venice and are all decorated in an Old Florida theme.  You can select from one of three cottages.  202 E. Pocono Trail, Nokomis, Florida 34275.  Tel: 941-375-4499.
Venice Beach Villas. Efficiencies, studios, and one or two bedroom units for the family. Nice clean facility near family beaches. 501 W. Venice Avenue, Venice Florida. Tel: 941-488-1580.


Horse and Chaise Inn, 317 Ponce de Leon, Venice Florida 34285. Tel: 941-488-2702. This bed and breakfast is in the heart of historic old downtown. Nice, comfortable and clean with friendly hosts who are longtime residents.
VENICE FLORIDA RESTAURANTS
It's best to make reservations at Venice restaurants in season, say December through March.
Cafe Venice. In the heart of historic downtown Venice. Good seafood, nice bar, outside dining. 116 W Venice Ave, Venice Fla. Tel: 941-484-1855.
Cassariano Italian Eatery. Good Italian pasta and seafood dishes. Right downtown in the historic district. 305 West Venice Avenue, Venice. Tel: 941-485-0507.
VENICE FLORIDA ATTRACTIONS
Venice Theatre. Since 1998, Venice Theatre has received more awards than any other community theatre in Florida and in the Southeastern United States. 140 West Tampa Avenue, Venice. Tel: 941-488-1115.
Venice Art Center. The oldest and largest community art center on Florida's Southwest coast. Art classes, workshops, summer camps, and ongoing exhibits. Open from 9am to 4pm daily. 390 S. Nokomis Avenue, Venice. Tel: 941-485-7136.
Shelling On The Beaches. If my grandmother were still alive she would want me to tell you that the best thing to do in Venice is go to the beach. Sift through the beach sand for beautiful shells and shark teeth. She liked the beach on Casey Key the best of all.
Venice Florida is a bit less than 25 miles south of Sarasota and is just west of I-75.  There are two exits into the Venice area. Exit 195, Laurel Road will take you into the north side of town.  Exit 193, Jacaranda Boulevard, takes you into downtown Venice.
View Larger Map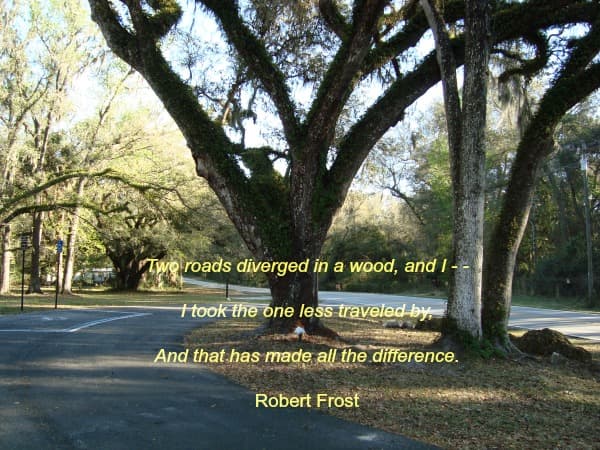 Over 55,000 fans can't be wrong. Learn about off the beaten path Old Florida and historic towns.
Like Us On Facebook
Return From Venice Florida To Florida Towns

Return to Free Florida Travel Guide Central West Florida

Return To Florida Backroads Travel Home