SARASOTA, FLORIDA

Sarasota, Florida Things To Do, Lodging, Dining, & Real Estate At End Of Article
Sarasota, Florida is on the Gulf of Mexico in Southwest Florida about 60 miles south of Tampa.  It's population is nearly 60,000.
The major highways entering Sarasota are US-41 and I-75 from the north and State Road 72 from the east.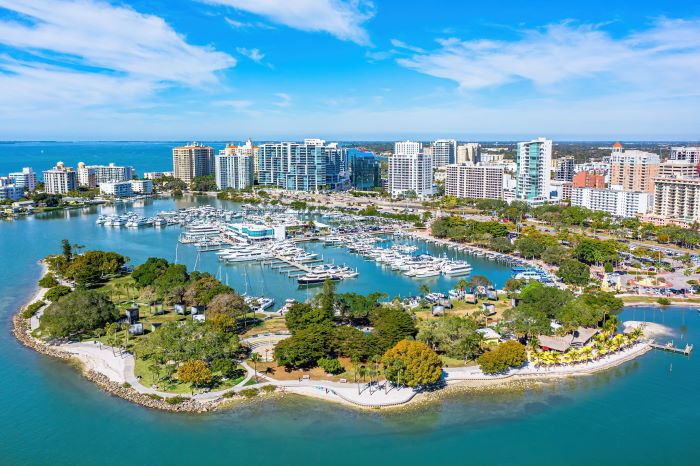 Downtown Sarasota and Marina Jack
HISTORY OF SARASOTA, FLORIDA
Sarasota, like many places in the state, was originally the home of native Americans who began settling in the area about 10,000 years ago.
The first Europeans to discover the area were the Spanish, who landed at Charlotte Harbor to the south in 1513.  Sarasota Bay is large and sheltered from the Gulf of Mexico by barrier islands. 
The bay became a seasonal place for fishing and trading by Americans and Cubans in the years leading up to Florida becoming a United States territory in 1821.
The people who made it a unique place include a circus tycoon and a wealthy Chicago heiress.
Read More About the History of Sarasota, Florida
The downtown area of Sarasota is loaded with theaters, art galleries, restaurants, and parks.
The focal point of downtown is Bayfront Drive, a curved boulevard along the shoreline of Sarasota Bay.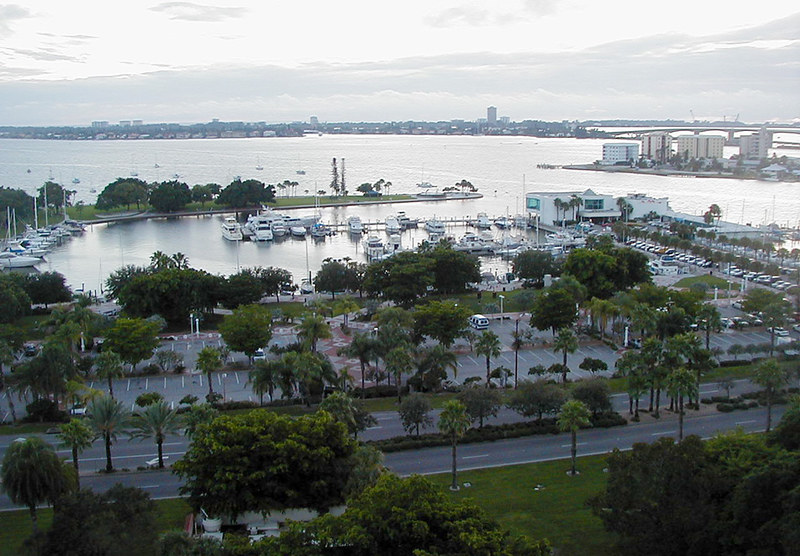 View of Marina Jack in Downtown Sarasota
Flickr/Roger W
Even though the east side of this thoroughfare is lined with high rise condominiums, you still have an unobstructed view of the bay to the west.

The John Ringling Causeway leads across the bay from downtown Sarasota to St. Armand's, a circular neighborhood of shops, galleries, and restaurants.
From that point on Lido Key, you can drive north to some of the most beautiful beaches in Florida on Longboat Key and up to Anna Maria Island on the north. 
The opera, theaters, ballet performances, museums, art museums and schools were all grown from the seeds planted by the early visionaries.
The Florida West Coast Symphony, Ringling School of Art, Asolo Theatre Company were all or in part gifts of wealthy benefactors.

The combination of cultural amenities and natural attractions make Sarasota a great place to live. 
Boating is popular from the many marinas including downtown's Marina Jack. 
The tropical landscaping, shell collecting, bird watching, balmy winter weather and well designed golf courses add to Sarasota's charm.
Sarasota's Unconditional Surrender Statue
An interesting feature in downtown Sarasota was the statue "Unconditional Surrender." 
The sculpture is based on a iconic photograph taken in Times Square when it was announced World War Two was over.
The 25 foot tall statue is located in Bayfront between O'Leary's Tiki Bar and Grill and Marina Jack. 
Probably more than any other place in Florida, the blue green waters of the Gulf of Mexico against the backdrop of sparkling white beaches make you feel like you are in a tropical paradise.
Nearby Siesta Key is a favorite tourist destination.
The Community of Lakewood Ranch in Sarasota
Sarasota and Sarasota County have seen tremendous growth in the recent decades. 
Much of this growth has been in several large developments east of town that were created after I-75 was completed.
The largest of these is Lakewood Ranch that comprises 31,000 acres in both Manatee County and Sarasota County.  The land was formerly a large cattle ranch.

It is a master planned community that was created in the late 1980s and has quickly grown to a totally "new town" of about 43,000 people living in 18,000 homes.  
People can not only live there, but work, shop, dine, and generally be self sufficient in their own community with numerous shopping centers and office complexes.
---
THINGS TO DO IN SARASOTA FORIDA
Visit the Ringling Museum: The John and Mable Ringling Museum of Art is a museum complex that features art galleries, circus exhibits, beautiful gardens, and a mansion. The museum houses an extensive collection of Baroque art, including works by Rubens, van Dyck, and Velázquez. The museum also hosts special events and exhibitions throughout the year. Website: ringling.org


Explore Siesta Key Beach: Siesta Key Beach is a popular beach in Sarasota, known for its white quartz sand and crystal-clear waters. The beach offers plenty of amenities, including picnic areas, volleyball courts, and a playground. Visitors can also rent equipment for water sports or take a relaxing walk along the shoreline. Website: visitsarasota.com


Go on a Jungle Gardens Adventure: Sarasota Jungle Gardens is a family-friendly attraction that features exotic animals, beautiful gardens, and interactive exhibits. Visitors can watch live animal shows, hand-feed flamingos, and even hold an alligator. The park also has a playground, a cafe, and a gift shop. Website: sarasotajunglegardens.com


Take a Boat Tour: Sarasota Bay Explorers offers a variety of boat tours that allow visitors to explore the area's unique ecology and wildlife. The tours range from a simple sightseeing trip to a more immersive eco-tour that includes snorkeling and kayaking. Visitors can choose from a variety of tour options, including sunset tours and private charters. Website: Sarasotabayexplorers.com


Visit the Marie Selby Botanical Gardens: The Marie Selby Botanical Gardens is a beautiful garden that features a wide variety of plant species from around the world. The gardens also have a butterfly house, a greenhouse, and several art exhibits. The gardens offer a peaceful and educational experience for visitors of all ages. Website: selby.org


Go on a Segway Tour: Segway tours are a unique and fun way to explore Sarasota. There are several companies that offer Segway tours, including the Sarasota Segway Tours and Segs by the Sea. Visitors can choose from a variety of tour options, including a sunset tour, a city tour, and a beach tour. Website: sarasotasegwaytours.com or segsbythesea.com


Visit the Sarasota Farmers Market: The Sarasota Farmers Market is a popular attraction that features local vendors selling fresh produce, artisanal products, and handmade crafts. The market is open every Saturday from 7 am to 1 pm and is located in downtown Sarasota. Visitors can enjoy live music, food trucks, and a variety of other activities. Website: sarasotafarmersmarket.org


Explore the Mote Marine Laboratory & Aquarium: The Mote Marine Laboratory & Aquarium is a world-renowned marine research facility that also features an aquarium with exhibits that showcase the marine life of the Gulf of Mexico. The aquarium has a variety of interactive exhibits, including touch tanks and a shark habitat. Visitors can also take a boat tour to see dolphins and manatees in the wild. Website: mote.org


Take a Cooking Class: Sur La Table is a cooking supply store that offers a variety of cooking classes for all skill levels. Classes cover a variety of topics, including baking, knife skills, and international cuisine. Visitors can also purchase high-quality kitchen supplies and gourmet food products. Website: surlatable.com


Attend a Performance at the Sarasota Opera House: The Sarasota Opera House is a beautiful historic theater that hosts a variety of performances throughout the year, including operas, concerts, and plays. The theater has been restored to its original grandeur and features stunning architecture and acoustics. 
---
ALL ABOUT SARASOTA, FLORIDA
---
INTERACTIVE GOOGLE MAP SARASOTA, FLORIDA
---
---

Our Facebook page has more than 128,577 followers who love off the beaten path Florida: towns, tourist attractions, maps, lodging, food, festivals, scenic road trips, day trips, history, culture, nostalgia, and more.  We post articles every day.  Please check it out and if you like it, we would appreciate a "like" from you.
---
By Mike Miller, Copyright 2009-2023
Florida-Back-Roads-Travel.com
Florida Back Roads Travel is not affiliated with or endorsed by Backroads, a California-based tour operator which arranges and conducts travel programs throughout the world.