Best Places to Find Shark Teeth
BEST PLACES IN FLORIDA
TO FIND SHARK TEETH
By  Mike Miller Updated August 24, 2023

Florida is surrounded by salt water and in ancient times the entire state was completely under water. The oceans were full of sharks.
Trillions of fossilized shark teeth from 150 million years of the shark's existence are waiting to be uncovered in Florida's beaches and shallow waters.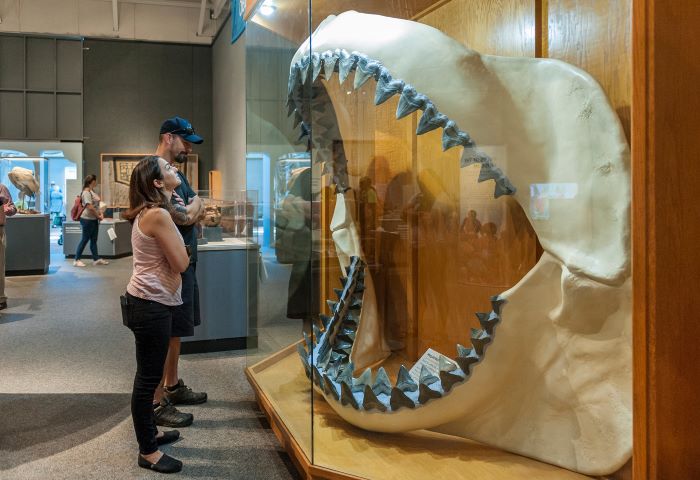 Megalodon Jaws
Florida Museum Photo by Kristen Grace
Some fossiled teeth have been found that came from giant Megalodon sharks the size of Greyhound buses, but most come from smaller animals with, predictably smaller teeth, usually the size of a fingernail.

Sharks have a lot of teeth and lose them on a frequent basis. They have up to 50 rows of teeth with 7 teeth in each row.  That adds up to a mouthful of 350 teeth.
One shark can lose up to 50 thousand teeth in its lifetime. This is why they are so abundant.
You should get a sand sifter of some kind to make your tooth hunting easier.  Down here we call a sand sifter a Florida Snow Shovel.
Great White Shark Tooth and Megadolon Tooth
Brittanica
So where are the best places in Florida to find shark's teeth other than the Florida Museum at the University of Florida?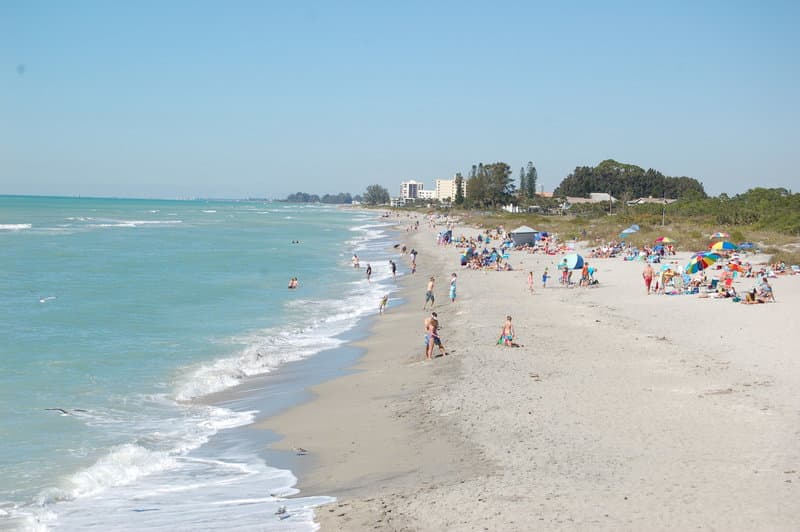 Venice Beach, Florida
Venice Beach: Known as the "Shark Tooth Capital of the World," Venice Beach boasts a long stretch of shoreline where pockets full of fossilized shark teeth are often discovered.
The abundance of these treasures are  here because of the unique Gulf of Mexico currents that carry large amounts of sand to the edge of the shallow beach dropouts, which bring the "toothy" treasures to the surface.
In fact, a sought-after and much coveted 6.25 inch Megalodon tooth was found here in May of 2023. Understandably, the beach and its nearby neighbor, Shark Tooth Beach, is extremely popular.
It is considered a good place to look for the bigger sharks teeth.
Shark Teeth From Florida Beach
Shutterstock
Caspersen Beach: Vying for the title of "Shark Tooth Capital of the World", Caspersen Beach is next to Venice Beach, and is another remarkable spot for finding shark teeth. Its soothing atmosphere and sandy shores make it an ideal location for leisurely combing through the surf and sand in hopes of discovering shark teeth.

Manasota Key: This barrier island on Florida's Gulf Coast is another great location for finding shark teeth. The beaches of Manasota Key, particularly Blind Pass Beach and Manasota Beach, are known for giving up a variety of fossilized shark teeth.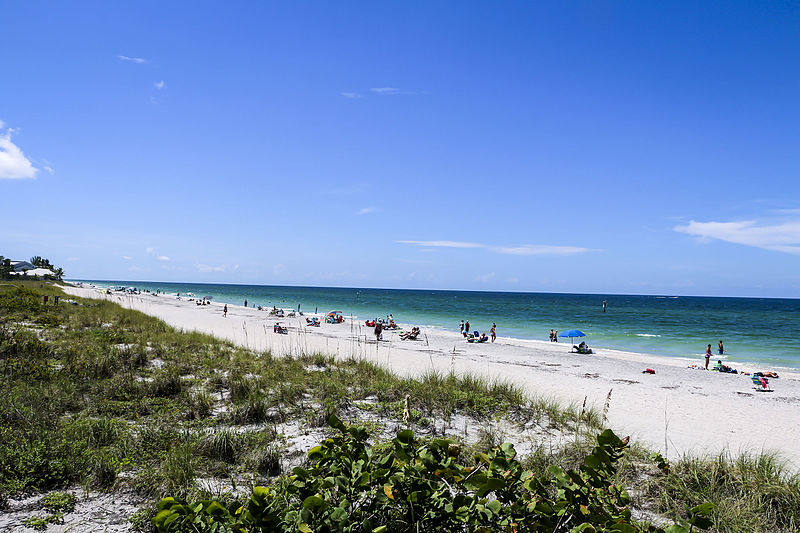 Englewood Beach
Englewood Beach: Situated on the Gulf Coast between Venice and Boca Grande, Englewood Beach offers another excellent location for shark tooth hunting. Nearby Stump Pass Beach State Park, is a particularly popular spot for finding shark teeth and other fossils.
Mickler's Landing: Located in Ponte Vedra Beach south of Jacksonville Beach, Mickler's Landing is renowned for its fossil-rich sands full of shark teeth. As with all shark teeth search expeditions, hunters should explore the beach during low tide because that is the best way to discover a bunch of prehistoric treasures.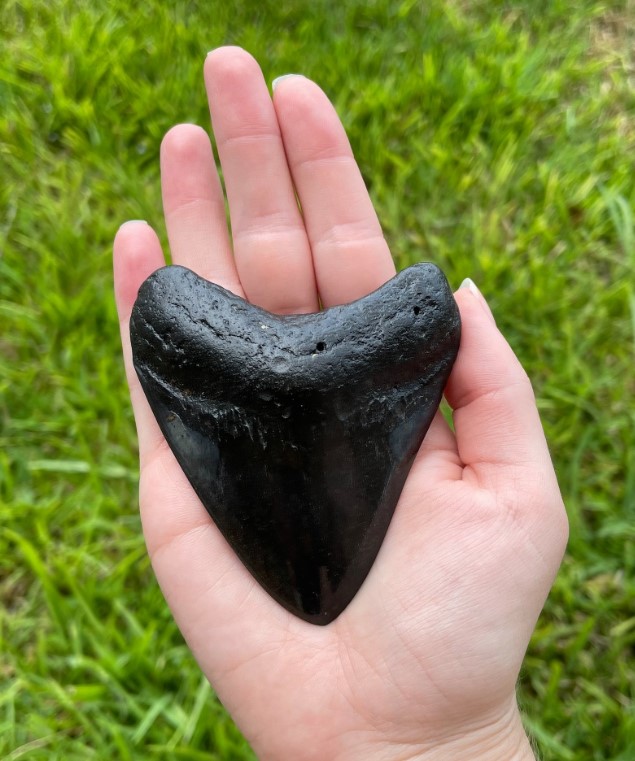 Megalodon Tooth
Peace River: While not a beach location, the central Florida Peace River is known as the best place in Florida to find Megalodon teeth. The currents in this beautiful river regularly deposit new supplies of fossils, including shark teeth, making the river a not to be missed destination.

Gainesville: The creeks and streams around Gainesville surprisingly yield shark teeth and other fossils. A four inch Megalodon tooth was recently pulled from a Gainesville creek.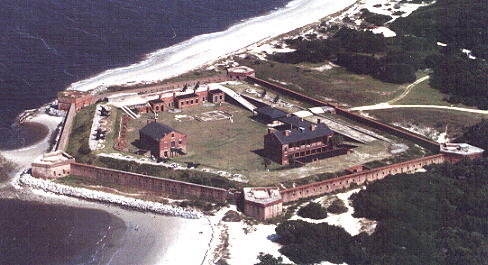 Fort Clinch on Amelia Island
Fort Clinch State Park: Located near Fernandina Beach on Amelia Island, Fort Clinch State Park offers a unique combination of history and shark tooth hunting. The park's sparkling beaches yield a wide range of shark teeth, including those from bull sharks, lemon sharks, and, even occasionally, from  Megalodons. Visitors can also explore the well-preserved 19th-century fort and enjoy beautiful nature trails.

Jacksonville/ St. Johns River: South of Fort Clinch, the underdeveloped areas at the base of the St. Johns River near Jacksonville have also proved to be interesting and productive  places to search for shark teeth.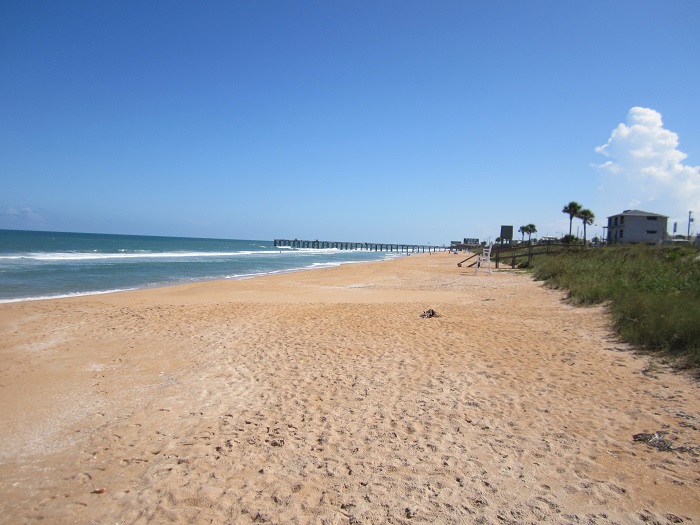 Flagler Beach
Flagler Beach: Situated on Florida's northern East coast, Flagler Beach offers a picturesque setting for shark tooth hunting. The ocean waves  frequently uncover a variety of fossils such as teeth from  tiger sharks, sand tigers, and bull sharks. Hunters can't but help enjoy the relaxing beach vibe while searching for these ancient treasures.
Shark at Florida Aquarium
Other good places to find shark teeth in Florida are at St. Augustine Beach, and further south on the east coast beaches at Palm Beach, Jupiter, and Juno Beach.

Casey Key and Nokomis Beach near Venice are loaded with plenty of shark teeth.  Siesta Key is also an excellent place to find a lot of shark teeth.
---
---

Our Facebook page has more than 128,577 followers who love off the beaten path Florida: towns, tourist attractions, maps, lodging, food, festivals, scenic road trips, day trips, history, culture, nostalgia, and more.  We post articles every day.  Please check it out and if you like it, we would appreciate a "like" from you.
---
By Mike Miller, Copyright 2009-2023
Florida-Back-Roads-Travel.com
Florida Back Roads Travel is not affiliated with or endorsed by Backroads, a California-based tour operator which arranges and conducts travel programs throughout the world.