BOWLING GREEN, FLORIDA
Bowling Green, Florida Things To Do, Lodging, Dining, & Real Estate At End Of Article
Bowling Green, Florida is in Hardee County and has a population of about 3,000. 
It is on US-17 between Fort Meade and Wauchula and about 55 miles east of the Bradenton - Sarasota area.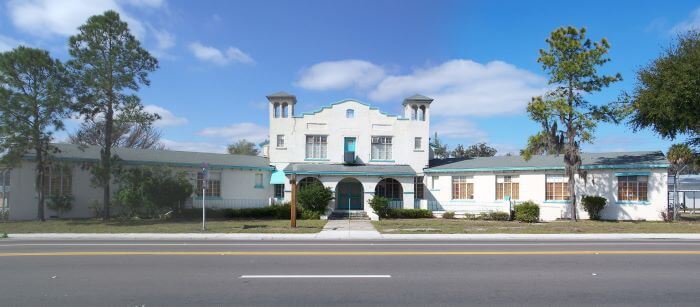 Former Green Hotel in Bowling Green, Florida
Ebyabe, CC BY-SA 2.5 httpscreativecommons.orglicensesby-sa2.5, via Wikimedia Commons
BOWLING GREEN, FLORIDA HISTORY
One of the first settlers in the area was A. M. Chester, who was originally from Bowling Green, Kentucky and moved to this part of Florida in 1883. 
He homesteaded in the area and gave 40 acres to the Florida Southern Railroad, which came to town in 1886.
The local people planted citrus groves after the Great Freeze of 1894-1895 and the town became an important center for serving the large citrus industry that grew up in the area.
Farming and cattle ranching also became major factors in the life of Bowling Green.
Phosphate mining was also an important economic driver in the county. You can see a lot of reclaimed phosphate mining areas surrounding the town.
The Florida real estate boom of the 1920s also touched Bowling Green. 
The Green Hotel was built in 1925 and is still standing but no longer used as a hotel.
BOWLING GREEN, FLORIDA TODAY
Bowling Green is a quiet unpretentious community with most of its businesses located on US-17, known as Oak Avenue here. 
It is not a fancy upscale town with abundant shopping and dining, but has a typical small country town feeling with a large working class population.  
Some of the businesses are typical of many small Florida towns. 
There is a Dollar General, a pharmacy, various retailers and a couple of restaurants.

The city has a City Hall for administration, animal control, and a police department. 
Bowling Green has more parks than most towns of this size. 
They have three major parks:  Centanino Park, Harrinton-Liston Community Park, and Pyatt Park.

The parks have basketball courts, baseball fields, and picnic pavilions, and are open from dawn to dusk.  They also have a tennis court.
Paynes Creek State Park is nearby, along with Hardee Lakes Park and Pioneer Park.
The residential areas are a nice mix of Old Florida style homes and more modern versions. 
There are abundant trees and plenty of vacant land between the homes.
Bowling Green has schools, churches, and at least two nice RV parks on the outskirts of town.

INFORMATION ABOUT BOWLING GREEN, FLORIDA
---
BOWLING GREEN, FLORIDA INTERACTIVE GOOGLE MAP
---
---
---

Our Facebook page has more than 129,275 followers who love off the beaten path Florida: towns, tourist attractions, maps, lodging, food, festivals, scenic road trips, day trips, history, culture, nostalgia, and more.  We post articles every day.  Please check it out and if you like it, we would appreciate a "like" from you.
---
By Mike Miller, Copyright 2009-2023
Florida-Back-Roads-Travel.com
Florida Back Roads Travel is not affiliated with or endorsed by Backroads, a California-based tour operator which arranges and conducts travel programs throughout the world.