ADVERTISING ON FLORIDA BACKROADS TRAVEL
THIS PAGE IS A WORK IN PROGRESS AS OF NOVEMBER 18, 2017 AND THE RATES ARE NOT VALID AT THIS TIME
Florida Backroads Travel is a popular travel site for residents and visitors interested in the more laid back and less hectic attractions of the state.  The highly targeted audience learns about scenic and quiet travel routes for day trips.  Information is presented about historic towns and sites, lodging, restaurants, wineries and tourist attractions.  Schedules are also included for music and art festivals, annual events and community theater performances.
Traffic has been continually increasing on the website since it was established in 2009, and new content is continually added. Some important facts about Florida Backroads Travel for the month of June 2017.
Monthly Page Views
Monthly Visits
Monthly Unique Visitors
Facebook Likes
Twitter Followers
Ezine Subscribers

          699,177
          487,550
          350,001
            59,147
              2,824
              4,963
---
DISPLAY ADVERTISING
All of our display ad options use 150x150 static banners that link to your website.  You provide the image.  Only static images will be accepted. 
Only three ads are allowed per page.
Rates are based on Page ViewS per month as determined by our traffic counter, SBI!, also known as Solo Built It, Inc.
---
Here are the 3 display ad options:

Ad On Home Page



This is one 150x150 banner on the top of the right sidebar of the home page.  Location from top to bottom is on a first come first served basis. 

This ad option is ideal for businesses who provide products or services all across Florida.

We allow only 3 ads on this page.
---
Navigation Page


This is one 150x150 banner on the right sidebar.  Location from top to bottom is on a first come first served basis. 

This ad option is best for businesses who provide a product or service related to the page topics as listed in the left hand navigation sidebar.
---
Ad On All Other Pages


This is one 150x150 banner on the right sidebar. Location from top to bottom is on a first come first served basis. 

This ad option is ideal for advertisers that operate in or near the location of the subject of the page.

Typical advertisers are restaurants, hotels and realtors.

We limit these ads to only 3 per page.
---
SPONSORED CONTENT
Florida Backroads Travel features selected sponsored content on some of its pages.  We value our credibility with our site visitors and are very selective about who we accept as sponsors.
Sponsored content is typically a brief article about an establishment or event that would be interesting to our visitors.  In the case of lodging places, we inspect and stay in the place before writing about it.  If the sponsor is a restaurant, we eat there, and if a winery we pay the establishment a visit and sip some wine.  The article is always followed by a link to the content sponsor.
The pages we currently create sponsored content for are those under the navigational headings of Getaways:  Fish Camps, Small Inns, Tourist Attractions, Florida Restaurants, Historic Hotels, Florida Wineries, and Florida Timeshares. 
The rate for sponsored content is determined on a case by case basis.
Here is an example of sponsored content for one of our lodging advertisers.
1111 Riverside Drive SE
P.O. Box 828
Steinhatchee, Florida 32359
352-498-4049
This inn is an all suites motel.  Each suite opens into a sitting area with couch.  All units have a private bathroom, and a shared terrace facing the swimming pool and the Steinhatchee River.  Each suite has a flat screen television. Although the inn is an older place, it is super clean and well maintained.  They welcome dogs under 35 pounds.
Steinhatchee River Inn
Steinhatchee is a quaint village surrounded by nature preserves and is near a scenic waterfall on the river.  It is a very popular little place during scalloping season (June - September) and is a popular "off the beaten path" destination all year round.  The Steinhatchee River flows past the inn to the nearby Gulf of Mexico.  It is truly a place where you can experience "Old Florida".  
There are several authentic hometown restaurants in Steinhatchee, many of them within a short walk of the Steinhatchee River Inn.  These restaurants include Fiddlers, Roy's, Kathy's Crabs and Bridge End Cafe.  Needless to say, fresh seafood is easy to find in this authentic fishing village.
Your suite is furnished with a microwave, mini fridge, coffee maker, cable television, and limited WiFi.  Suites with kitchenettes also have a full size refrigerator and freezer, a stove with oven, pots, pans, skillets, plates, cups, utensils and everything you need including a kitchen sink.  The suites with a kitchenette are attractive to guests that would rather grill outside or eat at home.
The Steinhatchee River Inn is a great base from which to explore Steinhatchee and the surrounding area.
Steinhatchee River Inn Website
Sponsored content is accessed by site visitors from a link on the appropriate navigation page.
---
If you are interested in a display ad or a sponsorship, please contact us so we can determine availability and make arrangements for your ad or content.  If you have any questions, call Mike Miller at 239-248-0051 or email at dmichaelmiller@florida-backroads-travel.com.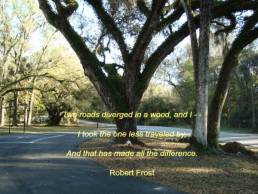 Over 65,000 followers can't be wrong. Learn about off the beaten path Old Florida, historic towns, attractions,  festivals, scenic drives and more.
Like Us On Facebook
---
Return to Florida Backroads Travel Home