Florida Road Trips on the East-West Highways
FLORIDA ROAD TRIPS ON
EAST-WEST HIGHWAYS
In the old days before the interstates, federal,  state and county highways were the only way to get across the state in an east-west direction.
There was no I-10 or I-4 back then.

Many of these historic routes are still very well maintained and are lesser traveled than the interstates.  These highways take you through the places that are still Old Florida.
The routes described in these web pages begin in north Florida and continue south starting with US-90 and ending with US-41 in the south.
Click on one of these routes to go directly to its map:
For no particular reason, I always start with the west end of the trip and proceed east.  
Needless to say, you can do it the other way around and have just as much fun unless it's late afternoon and you drive into the sunset.

---
Road Trip 1: US-90 Pensacola to Jacksonville Beach & Ocean: 377 Miles

US-90 is a well maintained Federal highway that crosses Florida in the northern regions and closely parallels Interstate 10. It continues on west through New Orleans and all the way to Texas.
In Florida, the east end of the highway is on the Atlantic Ocean at Jacksonville Beach and the west end is in Escambia County near Pensacola.
The first cross-Florida trip I ever made was in 1960 from Pensacola to Jacksonville Beach. I was being transferred from Naval Air Station Pensacola to Naval Air Station Mayport.
I drove through all these same old Florida towns you will enjoy today. Things have certainly changed, but not as much as elsewhere in the State.  You will still get the feel for Old Florida and its Southern heritage.
Some of the towns along this route, from west to east, include:
Pensacola - Milton - Crestview - DeFuniak Springs - Bonifay - Cottondale - Marianna - Chattahoochee - Quincy - Tallahassee - Monticello - Greenville - Live Oak - Lake City - Glen St. Mary - Macclenny - Baldwin - Jacksonville - Jacksonville Beach
The links take you to more information on this website about the town you will be passing through.  Some pages have hotel and restaurant information.
This convenient link will show you these cities on a single page:
---
Road Trip 2: Florida SR-20 Niceville to Flagler Beach & Atlantic Ocean: 360 Miles

Niceville to Perry: 187 Miles

Perry to Flagler Beach: 173 Miles

State Road 20 is signed as such along portions of this route, but it gets hidden sometimes by its other route signs as you drive along.  In Tallahassee you will be on US-90 for a short stretch and then US-27 all the way down to Perry.  
At Perry you will see the SR-20 signs again and take it all the  way to High Springs where it becomes invisible again and follows US-441 into Gainesville.  
The road out of Gainesville follows the same route as SR-100 and you can take it all the way to the ocean at Flagler Beach.
You will be immersed in Old Florida along this route, and won't get lost as long as you keep heading for the towns listed below that are on the route.
Niceville - Freeport - Ebro - Clarksville - Blountstown - Hosford - Tallahassee -  Capps - Perry - Mayo - Branford - Fort White - High Springs - Alachua - Gainesville - Hawthorne - Interlachen - Palatka - San Mateo - Bunnell - Flagler Beach
The links take you to more information on this website. Some pages have motel and restaurant information and an occasional winery.
This page will show you all the towns:  Old Florida Towns on SR-20
---
Road Trip 3: Florida SR-40 Yankeetown to Ormond Beach: 120 Miles

This trip begins in the little fishing village of Yankeetown on the Gulf just west of Inglis and proceeds through Old Florida on its way through Ocala and the Ocala National Forest to its end at Ormond Beach on the Atlantic Ocean.
On this one drive you can see the total variety that defines Florida:
A marshy coast on one end and white sand beaches on the other; rolling pastures with thoroughbred horses; majestic trees and shrubs of the forest and fish camps on the St. Johns River.
Yankeetown - Inglis - Dunnellon - Ocala - Silver Springs - Astor - Barberville - Ormond Beach
The links take you to more information on this website.
---
Road Trip 4:  CR-42 Pedro to Crows Bluff: 48 Miles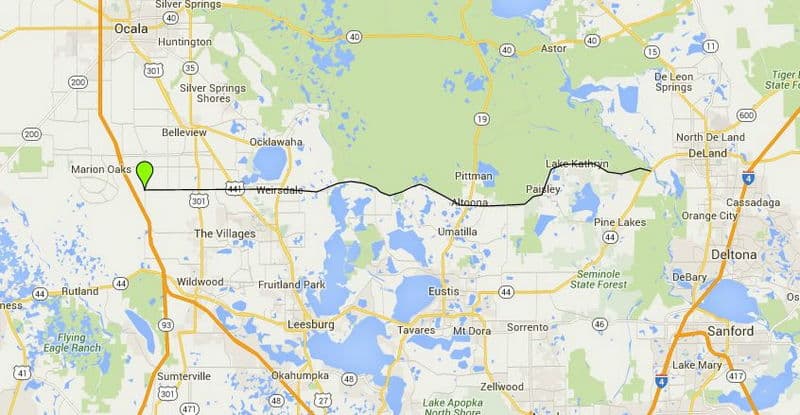 This is one of the prettiest rural highways in Florida.  It was formerly designated as State Road 42 and runs from a crossroads called Pedro (west of The Villages) to Crows Bluff on the west bank of the St. Johns River just west of DeLand.  
The road is winding and hilly and defines the southern border of the Ocala National Forest.
Some of the places you will go through (including DeLand) are as follows:
Pedro - The Villages - Weirsdale - Altoona - Cassia - Paisley - Crows Bluff - DeLand (from Crows Bluff CR42 hooks up with SR-44 and crosses the St. Johns River and goes on into DeLand. 
The links take you to more information on this website. Some pages have motel and restaurant information and an occasional winery.
---
Road Trip 5:  Florida SR-44 Crystal River to New Smyrna Beach: 117 Miles
This one starts in Crystal River, home of manatee watching, and heads across the state through pretty country and small towns.  
When you get past Leesburg, you can either stay on combined US-441/SR-44 or take a left and get on SR-44A.  You will bypass some of the traffic you would otherwise encounter going through Tavares, Eustis and Mount Dora.
If you don't take the quiet route, you won't be sorry but the scenery isn't as good.
Crystal River - Lecanto - Inverness - Wildwood - Leesburg - Tavares - Eustis -  Mount Dora - DeLand - New Smryna Beach 
This convenient link will show you 8 of these cities on a single page: Old Florida Towns on State Road 44.

---
Road Trip 7:  Florida SR-46 Mount Dora to Mims: 53 Miles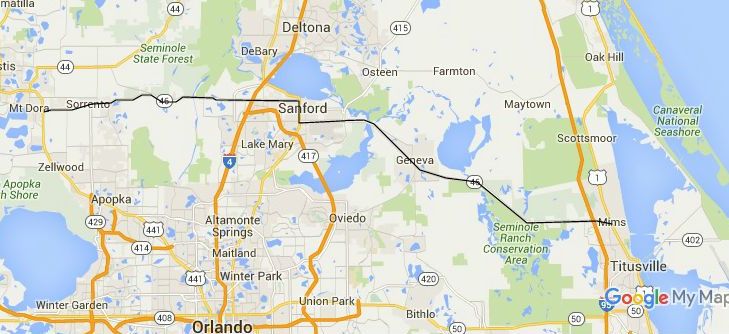 Mount Dora and Sanford are great towns for dining, shopping and antiques.  This road that connects them is through rolling country with lots of open space and beautiful trees.
Until very recently State Road 46 was a quiet back road, but it is becoming busier with each year.  The completion of a nearby beltway around Orlando is drawing increasing traffic.
The road becomes quiet again from Sanford east to Mims on the Indian River.
Geneva is an old historic town that's fun to visit and cruise around in.
Same thing with Mims, an old citrus town, that places you in Brevard County just north of Titusville.  A good position for exploring the land adjacent to Kennedy Space Center.

Some towns along the way:
Mount Dora - Sorrento - Mount Plymouth - Sanford - Geneva - Mims
The links will give you more information about the towns.
---
Road Trip 8:  Florida SR-50 Weeki Wachee to Titusville: 141 Miles

This route is largely rural except for the congested stretch as you pass through the metro Orlando area.  
I still like to go the old way even though the traffic is pretty heavy from Clermont through Orlando to Union Park.  This trip brings back memories for me of the days before Walt Disney World came to town.
Weeki Wachee - Spring Hill - Brooksville - Tarrytown - Linden - Mabel - Mascotte - Groveland - Clermont - Winter Garden - Ocoee - Orlando - Union Park - Bithlo - Christmas - Titusville
---
Road Trip 9:  Florida SR-52 Bayonet Point to Dade City: 33 Miles



Once you leave the heavy traffic on US-19 south of Hudson, your trip east will take you through some very quiet countryside.  
You should stop in St. Leo and visit the beautiful campus of St. Leo University.
Bayonet Point (Hudson) - San Antonio - St. Leo - Dade City
---
Road Trip 10:  Florida SR-60 Clearwater Beach to Vero Beach: 163 Miles



This route is very congested until you get east of the Tampa metro area just east of Brandon.  From there to Vero Beach you will see millions of acres of ranch land, groves and small towns worth stopping in and visiting.
Clearwater Beach - Clearwater - Tampa - Brandon - Valrico - Mulberry - Bartow - Lake Wales - Nalcrest - Fedhaven - Indian Lake Estates - Yeehaw Junction - Vero Beach
---
Road Trip 11:  Florida SR-70 Bradenton to Fort Pierce: 148 Miles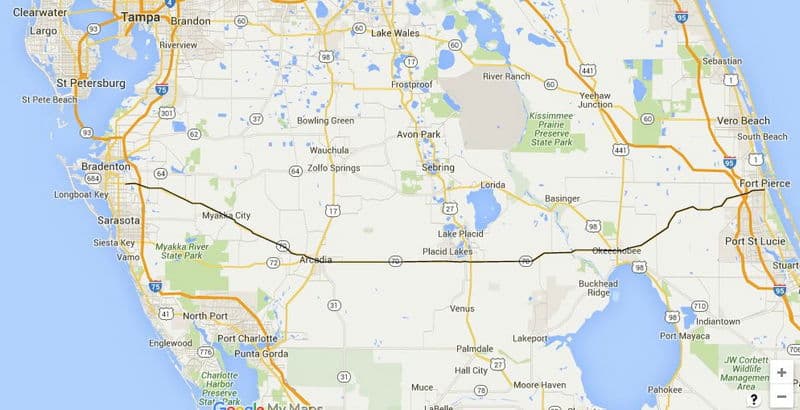 Patrick Smith wrote a classic Florida novel titled "A Land Remembered".
He was writing about the ranchers that still operate along this route through Florida cattle country.  You will see miles of cattle land and some real cowboy towns.
Bradenton - Arcadia - Placid Lakes (south Lake Placid) - Okeechobee - Fort Pierce
This convenient link will show you 10 of these cities on a single page:
---
Road Trip 12:  Florida Cracker Trail Bradenton to Fort Pierce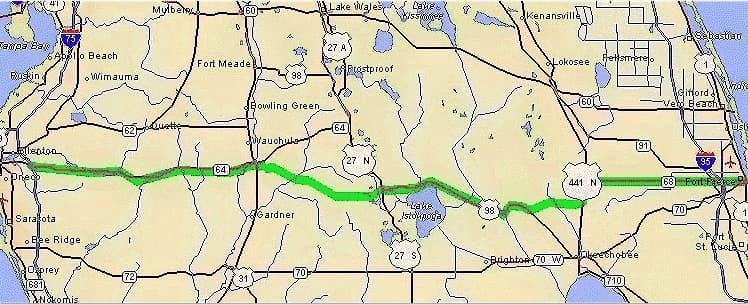 The Florida Cracker Trail is a historic route that early pioneers used for driving cattle from range lands in the interior of the state to salt water ports for shipment to other destinations.  These days you can follow the route by car or horse.  
Bradenton - Zolfo Springs - Wauchula - Sebring - Lake Placid - Ft Pierce
---
Road Trip 13:  Florida SR-80 Fort Myers to Palm Beach: 123 Miles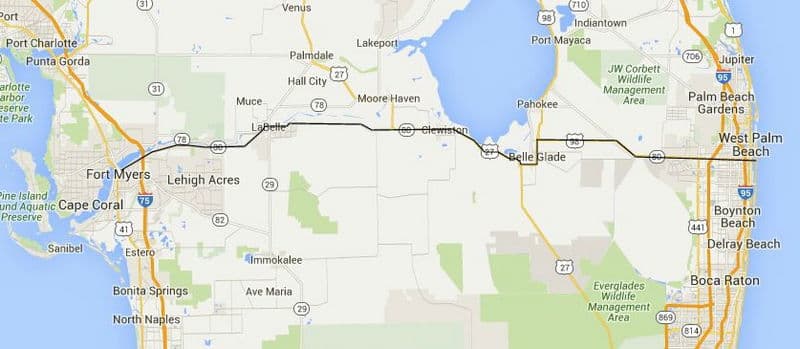 This route takes you through vast acreages of citrus groves and the eastern half is reclaimed land south of Lake Okeechobee that produces much of the world's sugar cane.
Fort Myers - Alva - LaBelle - Clewiston - Belle Glade - Wellington - Royal Palm Beach - West Palm Beach - Palm Beach
---
Road Trip 14:  US-41 Naples to Miami: 113 Miles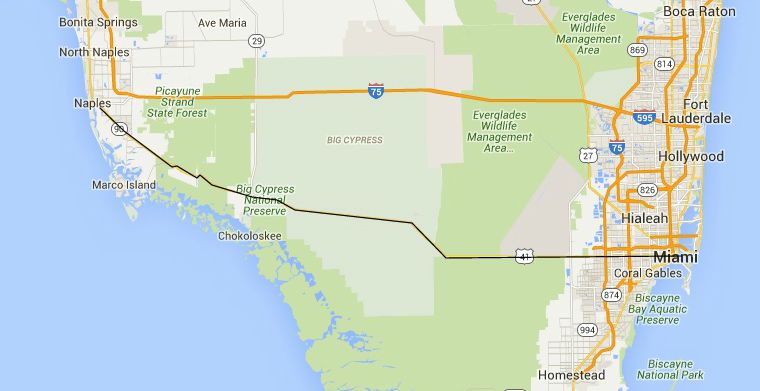 US-41 is a federal highway that runs from Brickell Avenue in Miami all the way north to Copper Harbor in Michigan's Upper Peninsula.
The portion of this highway from Naples to Miami runs east-west and is called the Tamiami Trail.
Once you leave Naples, you are in the Everglades.  
You can take side trips south to Marco Island and Everglades City.  At a spot called Monroe Junction you can also go south on Big Cypress Loop Road and visit an Everglades character named Lucky at his place.
Your stops along this route could be:
Naples - Marco Island - Everglades City - Loop Road & Lucky's Place - Sweetwater - West Miami - Miami
Click on the links for more information.
---
---

Our Facebook page has more than 128,577 followers who love off the beaten path Florida: towns, tourist attractions, maps, lodging, food, festivals, scenic road trips, day trips, history, culture, nostalgia, and more.  We post articles every day.  Please check it out and if you like it, we would appreciate a "like" from you.
---
By Mike Miller, Copyright 2009-2023
Florida-Back-Roads-Travel.com
Florida Back Roads Travel is not affiliated with or endorsed by Backroads, a California-based tour operator which arranges and conducts travel programs throughout the world.