FLORIDA BACK ROADS TRAVEL
SITE DIRECTORY

Updated April 1, 2021
This Florida Back Roads Travel site map shows all of the pages on the website and allows easy navigation to the areas of your interest.
You can also use the Google custom search box at the top of the page to search for specific things on this website, and take a peek at the short video below to get some ideas.
---
---
D Michael Miller, P.E. - Resume/Projects
PARTNER WITH FLORIDA BACKROADS TRAVEL

FLORIDA HERITAGE MONTHLY EZINE
FLORIDA BACK ROADS TRAVEL HOME PAGE

FLORIDA BACK ROADS TRAVEL UPDATE BLOG

SOLO BUILD IT! SYSTEM FOR ONLINE SUCCESS
FLORIDA DAY TRIPS AND ONE TANK TRIPS

Northwest Florida Day Trips and One Tank Trips
North Central Florida Day Trips and One Tank Trips
Northeast Florida Day Trips and One Tank Trips
Central East Florida Day Trips and One Tank Trips
Central Florida Day Trips and One Tank Trips
Central West Florida Day Trips and One Tank Trips
Southwest Florida Day Trips and One Tank Trips
Southeast Florida Day Trips and One Tank Trips
Printable Florida Map
Jacksonville Florida Day Trips
Miami Florida Day Trips
Orlando Florida Day Trips
Pensacola Florida Day Trips
Tallahassee Florida Day Trips
Tampa Florida Day Trips
Gainesville Florida Day Trips
            Florida Historic Restaurants
            The Corner Cafe
            Florida Ethnic Restaurants
            Clark's Fish Camp
            The Yearling Restaurant
            Alabama Jack's
            Cap's Place
            High Tides at Snack Jack
            Mai-Kai Restaurant & Polynesian Show
            Blackwater Inn
            Singleton's Seafood Shack
            Alhambra Dinner Theater
            Columbia Restaurant
            Gator Joe's Bar and Grill
            Aunt Catfish's on the River 
            Catfish Johnny's
            Nalan Sultan Mediterranean Grill
            Krazyfish Grille
            Havana Cafe of the Everglades
            The Catfish Place, St. Cloud
            Captain Hiram's Resort, Sebastian
            Peck's Old Port Cove, Ozello
            Lone Cabbage Fish Camp, Cocoa

FLORIDA NOSTALGIA
      Pier 66 Where Are You?
      Florida Vintage Postcards
      Alligator Border Postcards Key West
      Florida Citrus Labels
      Siple's Garden Seat Inn
      Gary's Duck Inn
      Howard Johnson's
      Lum's Restaurants
      Florida Places We Loved and Lost
      Horne's Restaurant & Motor Lodge
      Wood and Swink Store and Post Office
      Branch Ranch Dining Room, Plant City
      Holiday House Restaurants
      Orange Blossom Special
      Church Street Station
      Rainbow Ranch
      Genius Drive, Winter Park
      Chalet Suzanne, Lake Wales
      Flavet Villages at the University of Florida
      Cobb's Corner on the Ormond Scenic Loop
      Florida Backroads Travel Videos

    Pirates World
    Marco Polo Park
    Rainbow Springs
    Six Gun Territory
    Zellwood Corn Festival
    Mystery Fun House
    Floridaland
    Dania Chimpanzee Farm
    Musa Isle Indian Village
    Amelia Island Lighthouse
    Cape Florida Lighthouse
    Gasparilla Island Light
    Hillsboro Lighthouse
    Jupiter Inlet Lighthouse
    Mount Dora Lighthouse
    Pensacola Lighthouse
    Ponce Inlet Lighthouse
    Port Boca Grande Lighthouse
    St Augustine Lighthouse
    St Johns River Lighthouse

Alachua County Florida Towns and Cities
FLORIDA HISTORY

Florida Regional History
History of University of Florida 
History of Mount Dora Florida
Famous Floridians
Famous Women in Florida History
Jackie Gleason's Grave
Florida's Celestial Railway
FLORIDA COUNTY MAPS


FLORIDA EVERGLADES TRAVEL GUIDE
FLORIDA KEYS TRAVEL TIPS AND MAPS
Ernest Hemingway
John D. MacDonald
Marjorie Kinnan Rawlings
Zora Neale Hurston
Harriet Beecher Stowe
Al Burt
Patrick Smith
Randy Wayne White
Marjory Stoneman Douglas
Rex Beach
Dave Barry
Michael Gannon
Stetson Kennedy
Robert N. Macomber
Vernon Lamme
Carl Hiaasen
Pat Frank
David T. Warner
Jeff Klinkenberg
Tim Dorsey
Nick Wynne
Mike Miller
Totch Brown
Harry Crews
Kevin McCarthy
Sidney Lanier
Jimmy Buffett
Edna Buchanan
James W. Hall
Elmore Leonard
Raymond Arsenault
Gary R Mormino
Jack Kerouac
Peter Matthiessen
Stephen Crane
E Lynn Wright 
Jack Rudloe
Florida Authors A-I
Florida Authors J-P
Florida Authors Q-Z
A Land Remembered
Alas Babylon
Naked Came the Manatee
Travis McGee and His Novels
What is a Florida Cracker?
Florida Cracker Recipes
Galvanized Yankee from Florida
Florida Cracker Restaurants
Christo Surrounded Islands
Doc Webb
Kapok Tree
Frank Lloyd Wright, Child of the Sun
Florida Black Football Pioneers
Galloping Ghost of Indian Lake Estates
Old Wabasso Bridge
Mathers Bridge Restaurant
Florida Snakes
Florida Cracker Heritage and Genealogy
Florida Cracker Horse
Deseret Ranches
Hitler's Yacht
Bone Mizell
Jayne Mansfield
Fort Ogden and Ziba King

Chautaqua Vineyard, DeFuniak Springs
Emerald Coast Wine Cellars, Destin
Flagler Beachfront Winery, Flagler Beach
Florida Orange Groves, Inc., St. Petersburg
Henscratch Farms Vineyards & Winery, Lake Placid
Hutchinson Farm Winery, Apopka
Lakeridge Winery and Vineyards, Clermont
Log Cabin Winery, Satsuma
Monticello Vineyards and Winery, Monticello
Rosa Fiorelli Winery, Inc., Bradenton
San Sebastian Winery, St. Augustine
Schnebly Redland's Winery, Homestead
Strong Tower Vineyard and Winery, Spring Hill
Tangled Oaks Vineyards, Grandin
Three Oaks Winery, Vernon
Whispering Oaks Winery, Oxford

---
---
---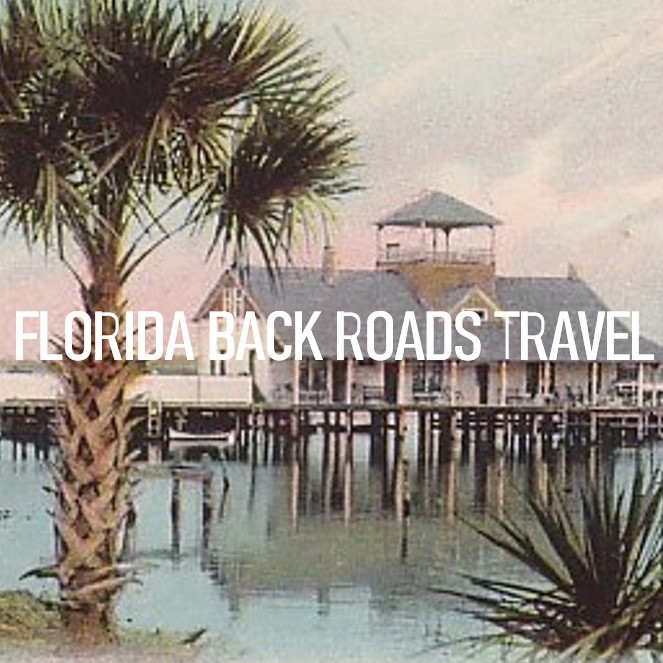 Our Facebook page has more than 107,251 followers who love off the beaten path Florida: towns, tourist attractions, maps, lodging, food, festivals, scenic road trips, day trips, history, culture, nostalgia, and more. 
Take a look. If you enjoy what you see, please give us a like.
---
---
Florida Back Roads Travel is not affiliated with or endorsed by Backroads, a California-based tour operator which arranges and conducts travel programs throughout the world.
By Mike Miller, Copyright 2009-2021 Florida-Back-Roads-Travel.com