TALLAHASSEE FLORIDA DAY TRIPS

The Tallahassee Florida day trips and one tank trips described in Florida Backroads Travel are all within a 100 mile radius of Tallahassee.
We estimate that the average passenger car can go about 250 miles on one tank of gas, so these trips will get you there and back with a few gallons to spare.
If you drive a compact economy car you can even go outside of the Tallahassee radius and try Jacksonville, Tampa and Orlando day trips.
Here are some things to do and places to see within 100 miles of Tallahassee.
The map below shows you some of the major towns and cities with a 100 mile radius of Tallahassee.
---
Recommended Tallahassee Florida Day Trips
Apalachicola is a small fishing village with lots of historic building and several good places to eat. It is a real Old Florida working waterfront village.
Bristol is a small Old Florida town that is near what some biblical scholars believe to be the site of the original Garden of Eden.

Dakotah Vineyards and Winery is a family owned winery in Chiefland. Enjoy the rustic setting and sample some wine.
DeFuniak Springs is a well preserved Victorian town that was the southern headquarters of the Chautauqua movement back in the day.
Ginnie Springs Outdoors is a privately owned campground that also has cottages and great canoeing, kayaking and diving. Super clear waters add to your enjoyment.
Mayo doesn't have a lot to see, but it is the hometown of Florida Gator folk hero Kerwin Bell. There is no clinic here; the Mayo Clinic is in Jacksonville.
Madison is one of the oldest towns in north Florida and has done a good job of hanging onto many of its old buildings.
Marianna is a small historic town that is one of the oldest in Florida.  It was founded in 1827 and is an example of an old plantation town.
Monticello is a small town typical of many in Old Florida that still retains its charm from yesteryear.

Monticello Vineyards and Winery is in the quaint small town of the same name. Enjoy seeing how the wine is made and have a sample or two.
North Central Florida Day Trips is a page on this website that has maps showing several day trip driving routes in the area around Tallahassee and the region.

Panama City has access to some of the best beaches in Florida. Panama City Beach has become the spring break capital of the world for college students.
Quincy is a small town with lots of buildings dating back to before the Civil War. It is also the town that Coca Cola made rich.
Seaside is a quaint village on the Gulf of Mexico. It is an early example of New Urbanism. When you visit, you won't feel like leaving.
Sopchoppy is a village with a funny name that features the annual Worm Gruntin' Festival every April.
St. Marks is a small historic town south of Tallahassee at the end of the road. It has some historic buildings and a scenic lighthouse nearby.
Stephen Foster Folk Culture Center State Park is a natural slice of Old Florida. It has many folk culture exhibits and is the setting every Memorial Day weekend for the Florida Folk Festival.
Tallahassee is a great place to visit with its museums and universities. Lots of canopied streets and old buildings, and many fine restaurants. Don't forget to check it out before starting on other Tallahassee Florida day trips.

Three Oaks Winery in Vernon is a small operation where you will learn how wine is made and be able to sample some on your trip.
Two Egg  doesn't have a whole lot to look at, but it has a funny name and is near the childhood home of famous actress Faye Dunaway.
---
North Central Florida Scenic Drives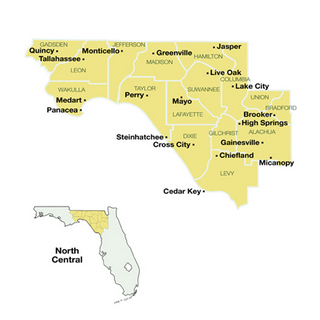 ---
Quincy to Greenville on US-90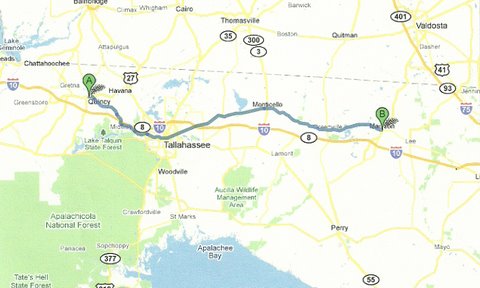 US-90 from Quincy to Madison through Tallahassee, Monticello and Greenville. Old southern towns with Victorian houses, plantations, farms and old Florida flavor. About 80 miles.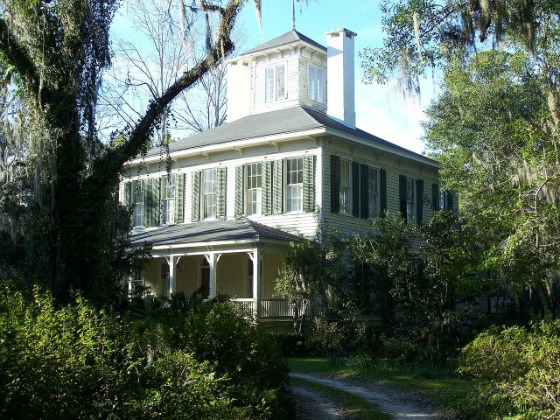 Bailey-Brinson House, Monticello
---
Pensacola to Carrabelle on US-98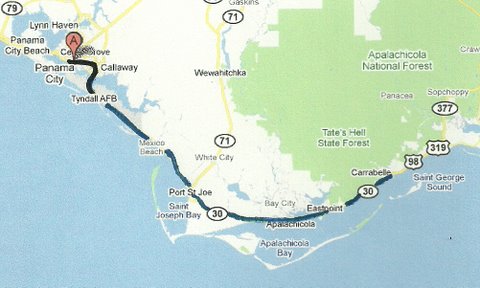 US-98 from Panama City to Carrabelle through Port St. Joe and Apalachicola. Great white beaches and ocean views. About 80 miles.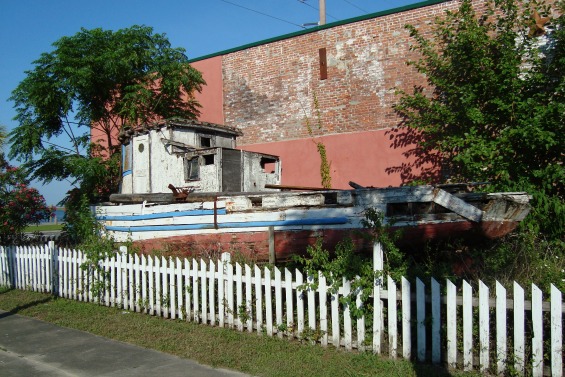 Apalachicola Downtown
---
Gainesville to Cedar Key on SR-24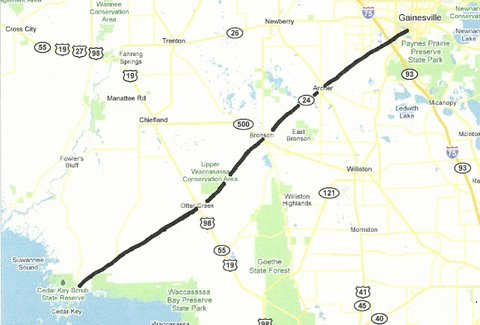 SR-24 from Gainesville to Cedar Key through Bronson, Otter Creek and Archer.Visit the University of Florida, then see the sunset at Margaritaville, Jr. About 57 miles.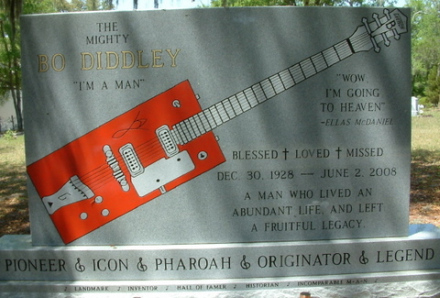 Grave of Bo Diddley, Bronson, Florida
---
---
Gainesville to Micanopy and McIntosh on US-441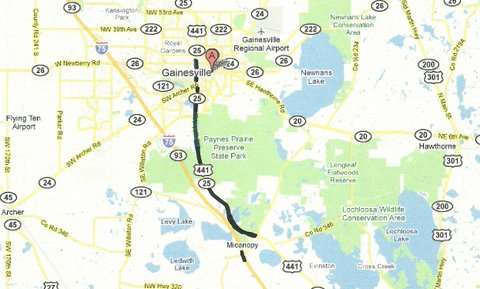 US-441 from Gainesville to Micanopy and McIntosh across Paynes Prairie south to the Alachua/Marion County Line. This is known as "The Old Florida Heritage Highway". You will see wildlife, rolling hills, antiques and art along this corridor. About 12 miles.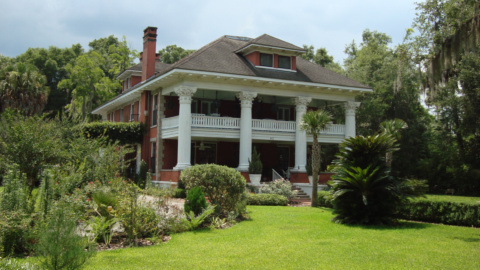 Herlong Mansion, Micanopy
---
Micanopy to Cross Creek on CR-346 and CR-325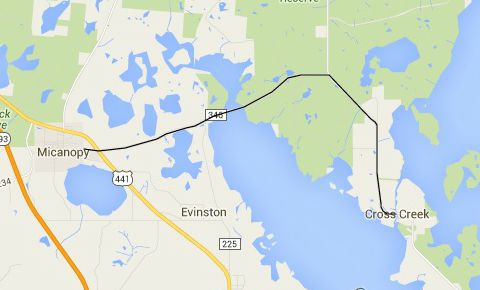 From US-441 at Micanopy go east on SR-346 until you come to SR-325, then go south to Cross Creek. This is the village where Majorie Kinnan Rawlings wrote The Yearling and other great stories about Florida crackers and their lives. About 10 miles.  A great little side trip is south to Evinston and the Wood & Swink general store and post office.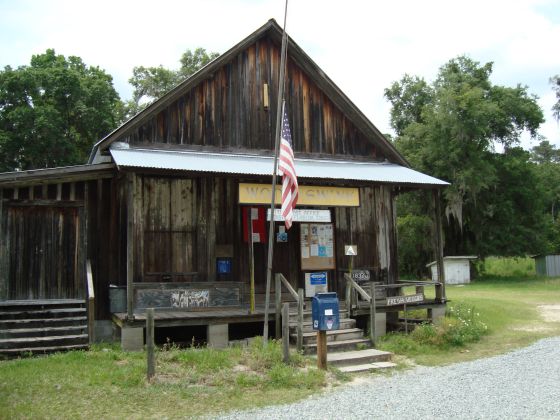 Wood and Swink Store, Evinston
---
Cross Creek to Marjorie Kinnan Rawling's Grave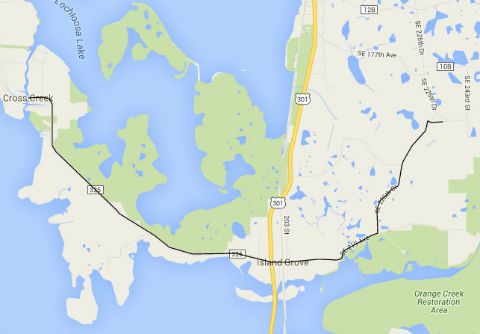 From Cross Creek go east on Country Road 325 to Island Grove and go across US-301 on SE 219 Avenue. After a couple of miles you come to SE 225 Road, a well maintained country dirt road. Keep going another couple of miles to the right fork of SE 189 Avenue. You will find Antioch Cemetery, the final resting place of Marjorie Kinnan Rawlings and her husband, Norton Baskin. About 8 miles.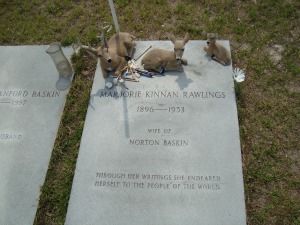 Marjorie Kinnan Rawlings Grave, Island Grove
---
White Springs to Suwannee along Suwannee River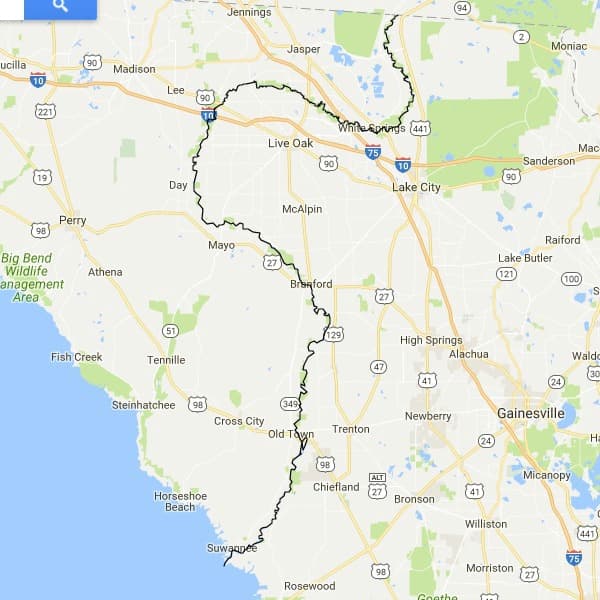 The Suwannee River Trip from North to South.  Take CR-136 and SR-136 through Live Oak to Dowling Park.  From Dowling Park take SR-250 across the river to County Road 251.  South on CR-251 south to US-27.  South on US-27 to just west of Branford.  South from just west of Branford on CR-349 and SR-349 through Old Town just west of Fanning Springs to Suwannee.  You will never be far from the Suwannee River but sometimes on one side or the other with bridges many miles between.  Click here for information on the towns you will pass through.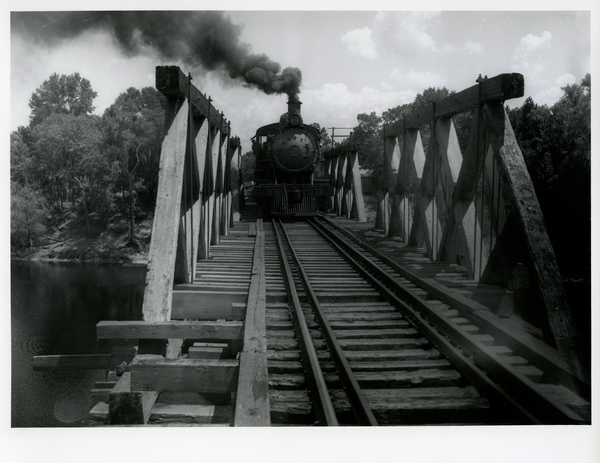 Dowling Park Bridge in the Old Days
---
Big Bend Scenic Byway from Apalachicola to St. Marks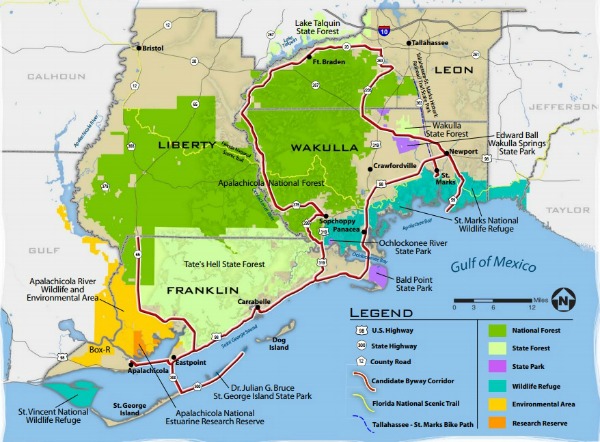 An official Florida Scenic Highway, the Big Bend Scenic Byway begins on the west at Apalachicola and extends along the coast to St Marks at its eastern limit.  The route meanders through Franklin, Liberty, Wakulla, and Leon Counties as shown on the official route map above.
The trip is about 220 miles.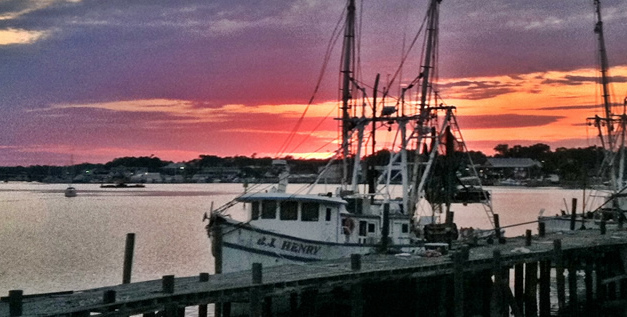 Carrabelle, Florida
---
Northwest Florida Scenic Drives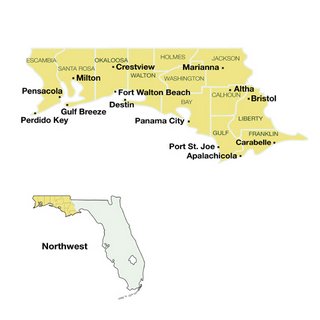 Northwest Florida
---
Pensacola to DeFuniak Springs on US-90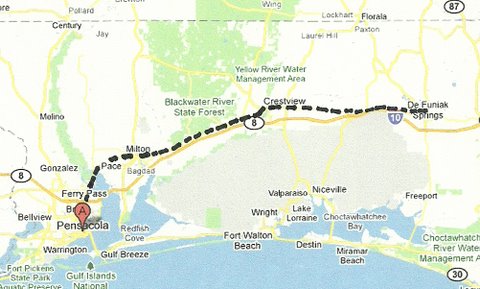 US-90 from Pensacola to DeFuniak Springs through Milton and Crestview. Pretty country and nice little towns. Enjoy the Red Bluffs area as you go through Pensacola with beautiful views of Escambia Bay. While in Pensacola, you can enjoy the National Naval Aviation Museum. It is a spectacular display, and admission is free.
DeFuniak Springs was the southern headquarters of the Chautauqua movement more than 100 years ago. Many old Victorian buildings from that era still decorate this quaint little town.
Another great spot to visit in DeFuniak Springs is Chautauqua Vineyards. This quaint place offers some great wine tasting sessions and wine gift baskets in Florida themes.
This trip is about 80 miles.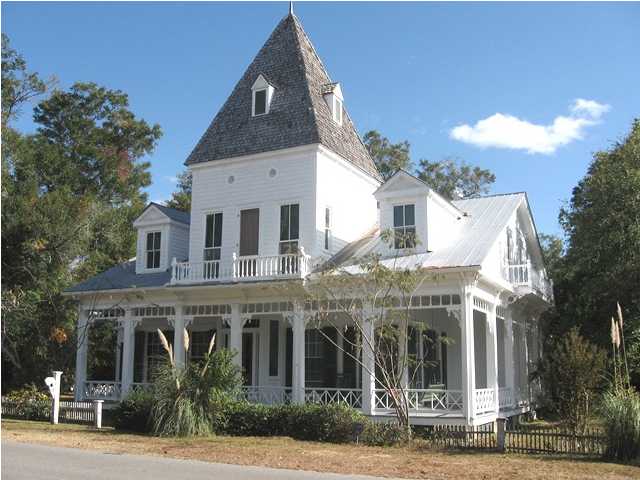 House in Milton, Florida
---
DeFuniak Springs to Seaside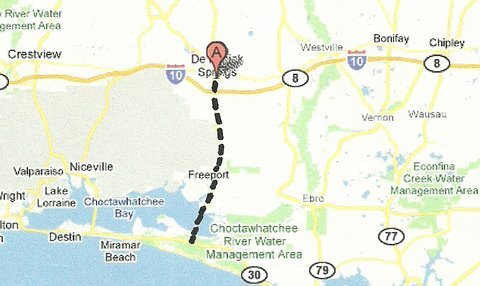 Take Circle Drive around the lake in downtown DeFuniak Springs to enjoy looking at the old Victorian houses. The town used to be the headquarters of the New York Chatauqua assemblies back in the day, so there is a lot of old charm in this town. After enjoying the sights, take US-331 south out of town to US-98 near Grayton Beach and Seaside. Northwest Florida wooded wilderness, peaceful and quiet. Not much to see, but that's the charm of this stretch of road.
This trip is about 30 miles.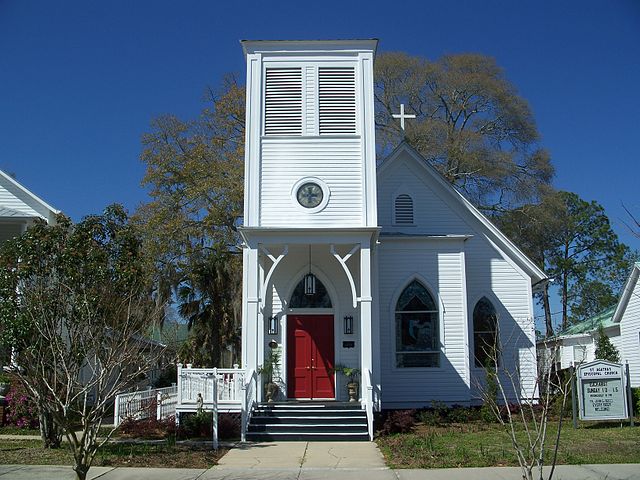 St Agatha Church, DeFuniak Springs
---
---
Pensacola to Seaside on US-98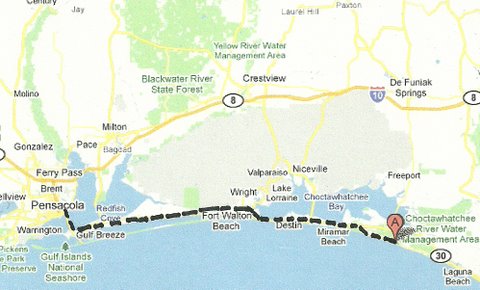 US-98 from Grayton Beach to Pensacola through Destin, Fort Walton Beach, and Gulf Breeze. Beautiful white sand beaches and blue green Gulf of Mexico views. Spend some time exploring the towns along County Road 30 and 30A. They parallel US-98 and are loaded with great scenery. Don't forget to visit Seaside when you are exploring.
Seaside is one of the country's leading examples of New Urbanism. This charming village is only 30 years old or so, but is designed for walkability. Once you are there, you don't even need a car. The beach is magnificent at Seaside. Seaside can be the starting point of many of your Northwest Florida day trips.
Take a look at some more beautiful beaches at Grayton Beach State Park and Topsail Hill Preserve State Park.
This trip, not including the wandering around you will want to do, is about 70 miles.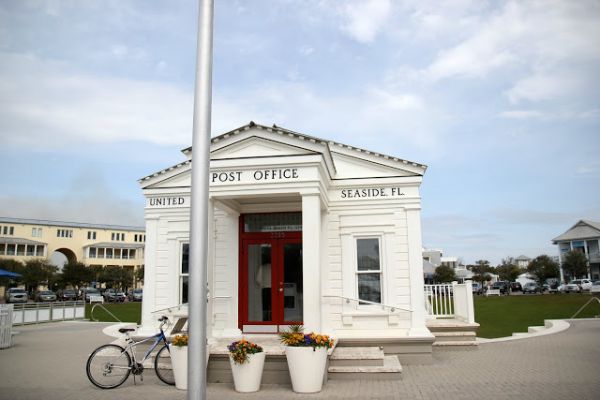 Seaside Post Office
---
Pensacola to Perdido Key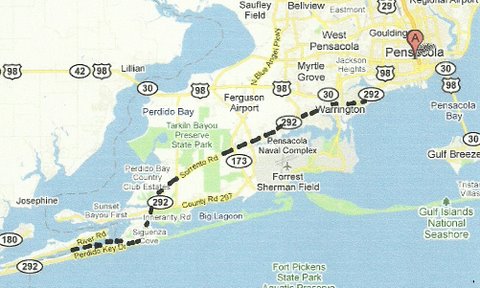 County Road 292 from Pensacola to Perdido Key State Park. Lonely road and beautiful beaches. No camping, but good picnics and beach walks. This is one of the most scenic Northwest Florida day trips.
The trip from downtown Pensacola is about 18 miles.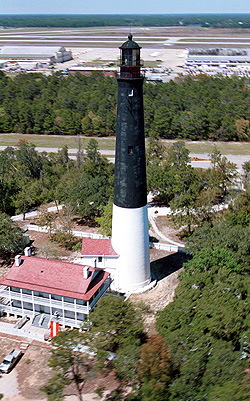 Pensacola Lighthouse
---
Panama City Beach to Grayton Beach on 30A
Turn left off US-98 onto County Road 30A from just west of Panama City Beach.  Drive through Rosemary Beach, Watersound, Seacrest, Seagrove, Seaside, and Grayton Beach and back to US-98.  The most beautiful beaches you will ever see.
The trip is about 20 slow miles.  Slowest in season (summer) and not quite so slow in winter.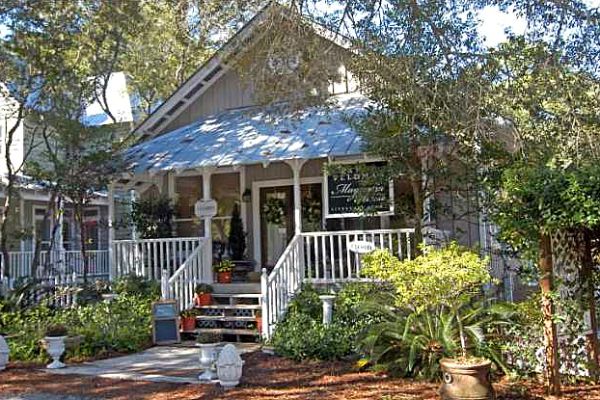 Grayton Beach Cottage
---
Chattahoochee Loop through Sneads and Marianna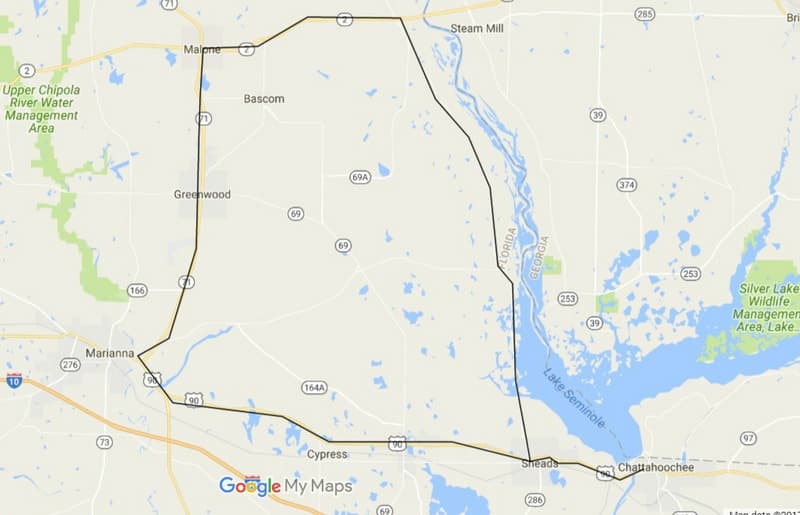 This trip takes you within 2 miles of the Alabama border, and directly on the Georgia border when you are in Chattahoochee. Start on US-90 in Chattahoochee and go west about 4 miles to River Road (CR-271) in Sneads. Turn right and go north along the west shore of Lake Seminole, Three Rivers State Park and the Chattahoochee River to CR 2, then left and west to Malone.  Take CR-71 from Malone south to US-90 on the east side of Marianna.  Follow US-90 back to Chattahoochee.  Wooded rural and farmland scenery, close to Two Egg if you want to say you've been there.  One of the most rurual northwest Florida day trips.
The trip is about 60 miles.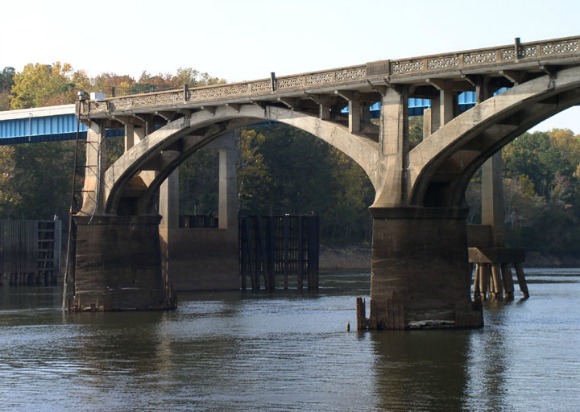 Victory Bridge in Chattahoochee
---
Big Bend Scenic Byway from Apalachicola to St. Marks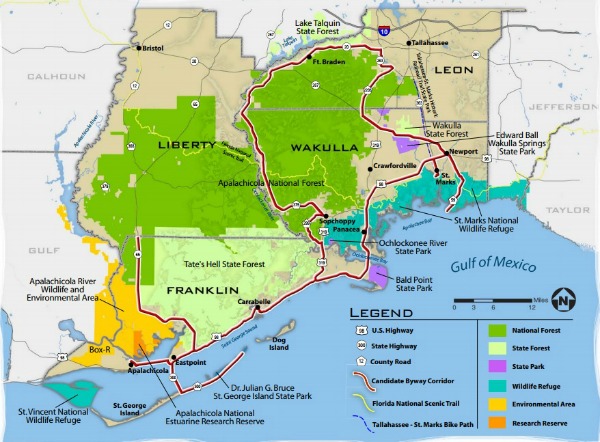 An official Florida Scenic Highway, the Big Bend Scenic Byway begins on the west at Apalachicola and extends along the coast to St Marks at its eastern limit.  The route meanders through Franklin, Liberty, Wakulla, and Leon Counties as shown on the official route map above.
The trip is about 220 miles.
Carrabelle, Florida
---
---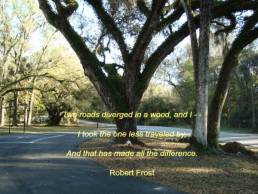 Over 61,000 followers can't be wrong. Learn about off the beaten path Old Florida, historic towns, attractions,  festivals, scenic drives and more.
Like Us On Facebook
Return From Tallahassee Florida Day Trips
To North Central Florida Day Trips

Return To Florida Day Trips

Return To Florida Backroads Travel Home