FLORIDA SMALL INNS, MOTELS, HOTELS
Room Rates and Reservation Information At End Of Article
Small inns, motels and hotels are often the most rewarding and economical way to enjoy the delights that Florida has to offer.
Quite often you will feel like a member of the family because many of these places are family owned.  Unlike many of the larger hotels, they usually have free parking on the site.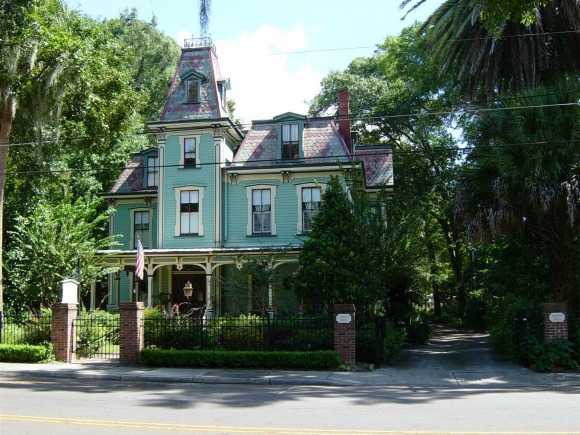 Magnolia Plantation, Gainesville
Being locals themselves, the owners of these small places know the best restaurants, attractions and shopping to help make your vacation or even a brief stay a success. 

They are also aware of special offers available at local places.  They can show you from personal experience the best places to visit, and will give you a marked up free map.
Since they own the place and often live there, they also make sure that maintenance is not overlooked and that the place is clean. The smaller places also seem to be more friendly and less hurried. 
From the minute you enter the place until you check out, you will feel like a special guest.
Another bonus is that you will usually be saving money on the price of the room.
Many of us are afraid to stay in a place that is unknown to us. With big chains we have come to expect a certain level of comfort and cleanliness.
This is not always the case with the smaller privately owned places.
TripAdvisor is one of the sources that can be used to check these places out as you travel, but it's not foolproof.  
One or two bad reviews can scare you away and glowing reviews from the owners and their friends can make the place look better than it is.
The places you will learn about on this website have been vetted either by me, my friends or a trusted organization and will not disappoint you.
---
OUR FAVORITE SMALL FLORIDA INNS
Caribbean Court - Vero Beach
Crane's Beach House - Delray Beach
Driftwood Resort - Vero Beach
Lakeside Inn- Mount Dora
Magnolia Plantation - Gainesville
Putnam Lodge - Cross City
River Palm Cottages - Jensen Beach
Sun Dek Beach House - Ocean Ridge
Steinhatchee River Inn - Steinhatchee
Tuckaway Shores - Indialantic
Welaka Lodge Resort - Welaka
Whippoorwill Sportsman's Lodge - Quincy
Lodging & More - Florida Keys
Historic Hotels -Statewide

---
The Caribbean Court Boutique Hotel
1601 South Ocean Drive
Vero Beach, Florida 32963
772-231-7211

Vero Beach is an upscale community that straddles the Intracoastal Waterway and has neighborhoods on both the mainland and beach sides.

Caribbean Court is one of the best boutique hotels around and is on the barrier island that divides the ocean from the waterway.
The inn is just a few hundred feet from the ocean. The beaches are magnificent and uncrowded in this part of Florida and this is in a quiet neighborhood.

The Caribbean Court has 18 guest rooms decorated with original art and antiques and the entire inn is decorated with hand painted tiles.
All rooms are furnished with either a king beds, queen beds or two full size beds.
The inn is affiliated with Maison Martinique across the street, a fine dining restaurant with a complete menu of French cuisine.  
Havana Nights Piano Bar featuring live music is on the second floor of Maison Martinique and is a popular nightspot for sophisticated locals.
---
Crane's Beach House Hotel & Luxury Villas
82 Gleason Street
Delray Beach, Florida 33483
561‑278‑1700
Delray Beach is one of the nicest communities on Floridaʹs Gold Coast. Its beautiful white sand beaches are uncrowded and its ocean views are framed by hundreds of tropical palms.
There are no condominiums for several blocks north and south of Atlantic Avenue because the highway is so close to the ocean. The entire area is an oceanfront park along the beach.
Craneʹs Beach House Boutique Hotel & Luxury Villas is located only one block from the ocean and is also close to downtown, but it has a tranquil Key West feel about it because of its fine tropical gardens and two heated saline pools.
The accommodations vary between the hotel and the villas, but all can enjoy a tiki bar with live music on the weekends, friendly staff.
There are also options for wellness including a full service spa with yoga, massage, and fruit baskets.
There is an outdoor living room and seating area than can be used for private functions or corporate events as well.
This place will not only please you with its luxury, it is a true value in this part of Florida.
---
The Driftwood Resort
3150 Ocean Drive
Vero Beach, Florida 32963
772-231-0550

The first two buildings of the historic Driftwood Inn and Restaurant were completed in 1937.  

Waldo Sexton was the eccentric genius who created this masterpiece from weathered wood he found on the beach.  Sexton was an early pioneer in the development of Vero Beach.  
The buildings, directly on the Atlantic Ocean, were originally Waldo's home.

Shortly after the Sexton's moved in, they began renting rooms and cooking meals for their guests.  
Today's operation has grown from that first venture.  
The resort has been expanded several times over the years, and the new buildings preserve the original beach comber theme that gives the place such charm.  
The Driftwood Resort has an assortment of guest rooms for nightly stays along with apartments for longer visits.  
There is a large outdoor pool in the center of the complex convenient to all rooms and to Waldo's Restaurant. You can dine inside or outside by the pool and enjoy the ocean view.
This resort is a people watching experience.  You will see many families and children having a great time.  
In 1979 all of the apartments and rooms were converted to interval ownership, and the resort is now operated by a management company.
In 1994, The Driftwood Inn and Waldo's Restaurant were added to the U.S. National Register of Historic Places.  The sign is on the property.
---
Lakeside Inn
100 Alexander Street
Mount Dora, Florida 32757
352‑383‑4101
This historic hotel has been in business since 1883. It is on the east shore of Lake Dora in the heart of downtown Mount Dora with all of its shops, restaurants and other attractions.

It is a great place to watch the sun set, for both locals and tourists alike.
Owners Jim and Alexandra Gunderson have been steadily renovating rooms and are dedicated to preserving this oldest continuously operating example of all Florida historic hotels.
The Inn boasts Tremainʹs Lounge (with a fireplace and music), a large dining room, a swimming pool overlooking Lake Dora and a dock for taking captained boat tours and seaplane flights.
Lakeside Inn is pet friendly, but charges an additional fee per pet.
---
Magnolia Plantation
309 S.E. 7th Street
Gainesville, Florida 32601
352-375-6653

This totally renovated bed and breakfast inn includes several rooms along with secluded cottages.  

It is in the heart of historic downtown Gainesville and close to many shops and restaurants and is a brief hop to the University of Florida.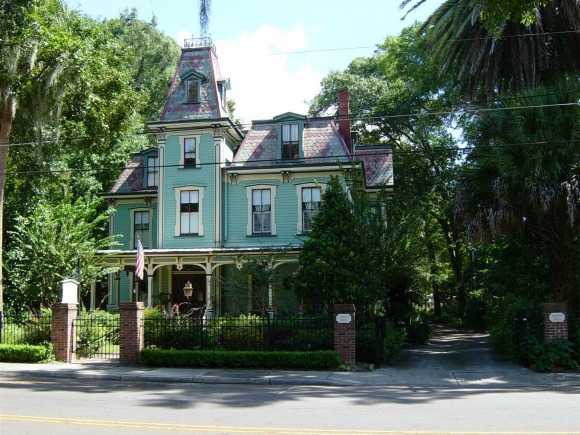 Magnolia Plantation, Gainesville
Joe and Cindy Montalto purchased what was then known as the Baird Mansion and transformed the 1885 French Second Empire Victorian structure into the completely restored inn you will enjoy today.
Each of the rooms and cottages have been designed with the comforts of home in mind and include a fireplace.
This dream destination inn makes for a great romantic getaway and has received many honors including "Most Romantic Bed and Breakfast in Florida" by Most Romantic Escapes;  "Best Bed and Breakfast in Florida" by Florida Living Magazine.  
The inn has also been featured in Southern Living Magazine.
You should know that the inn is usually booked solid for University of Florida football game weekends. 
Joe and Cindy are big Gator fans!
---
Putnam Lodge
15487 NW Highway 19
Cross City, Florida 32628
352-440-0414

This historic hotel was built in 1927 and 1928 as part of the company town of Shamrock. 
It originally served visitors and guests of the Putnam Lumber Company with comfortable lodging.  These were the days when lumber was king in this part of Florida.

The inn has been completely renovated and modernized.  The original dining room is paneled with stenciled "pecky cypress", and lumber that is almost extinct in modern times. 
Other areas of the hotel have been carefully restored to their original glory.
The hotel now has 25 available rooms (options include king bed, queen, suites, and a bridal suite) and can handle meetings of up to 25-30 people and weddings and receptions of up to 250 people. 
Modern amenities include air conditioning (of course) and free WiFi connectivity.
The Putnam Inn also has a full service restaurant and bar.  The restaurant is well known and popular with residents and visitors in the Cross City area.
---
River Palm Cottages & Fish Camp
2325 NE Indian River Drive
Jensen Beach, FL 34957
772‑334‑0401

Jensen Beach is a small community on the west bank of the Indian River Lagoon that separates Hutchinson Island, a barrier island, from the Atlantic Ocean.

This is salt water country and a perfect location for one of the most unusual Florida fish camps.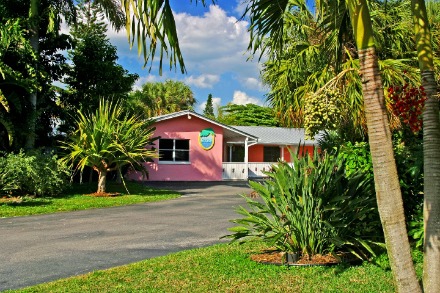 River Palm Cottages
Even though River Palm Cottages & Fish Camp is a fish camp, only about 15 per cent of their guests are fishermen.
More than twenty Key West style guest quarters are scattered among 7.2 acres of lush tropical plants. The cottages are extremely quiet.

---
Sun Dek Beach House
6666 N. Ocean Boulevard
Ocean Ridge, Florida 33435
561‑732‑2544

Ocean Ridge is a small oceanfront village across from Boynton Beach.
This location between Delray Beach and West Palm Beach is one of the quietest residential towns on the busy south Florida coast.
Locals and visitors like to refer to their place as ʺlow key, low density and low profile.
It makes a perfect place to enjoy a quiet relaxing stay near the beach.
Sun Dek Beach House fits perfectly into this quiet little town of less than 2,000 people.
The small inn has only 17 units, divided between studio and one or two bedroom apartments. It is located across Highway A1A just steps from the Atlantic Ocean Beach.
---
Steinhatchee River Inn & Marina
1111 Riverside Drive SE
P.O. Box 828
Steinhatchee, Florida 32359
352-498-4049

This inn is an all suites motel.  Each suite opens into a sitting area with couch.  

All units have a private bathroom, and a shared terrace facing the outdoor swimming pool and the Steinhatchee River.  
Each suite has a flat-screen TV. Although the inn is an older place, it is super clean and well maintained.  
They welcome dogs under 35 pounds.
Steinhatchee River Inn
Steinhatchee is a quaint village where you can enjoy the natural beauty of outdoors as it's surrounded by nature preserves and is near a scenic waterfall on the river.  
It is a very popular little place during scalloping season (June - September) and is a popular "off the beaten path" destination all year round.  
The Steinhatchee River flows past the inn to the nearby Gulf of Mexico.  It is truly a place where you can experience "Old Florida".  
There are several authentic hometown restaurants in Steinhatchee, many of them within a short walk of the Steinhatchee River Inn.  
These restaurants include Fiddlers, Roy's, Kathy's Crabs and Bridge End Cafe.  Needless to say, fresh seafood is easy to find in this authentic fishing village.
Your suite is furnished with a microwave, mini fridge, coffee maker, cable television, and free WiFi access.  
Suites with kitchenettes also have a full size refrigerator and freezer, a stove with oven, pots, pans, skillets, plates, cups, utensils and everything you need including a kitchen sink.  
The suites with a kitchenette are attractive to guests that would rather grill outside or eat at home.
The Steinhatchee River Inn is a great base from which to explore Steinhatchee and the surrounding area.
---
Tuckaway Shores Oceanfront Resort
1441 S. Miramar Avenue
Indialantic, Florida 32903
321‑723‑3355

Indialantic is a small community on the Atlantic Ocean across the Intracoastal Waterway from Melbourne.
Tuckaway Shores is directly on one of the best beaches in Florida and offers private beach access along with beach showers.
The white sand stretches for miles north and south of the resort.

The beach along this coast is blessedly free from the massive skyscrapers you will see in most other parts of Florida.

Tuckway Shores has 29 units; most of them are two room suites with kitchenettes and two television sets.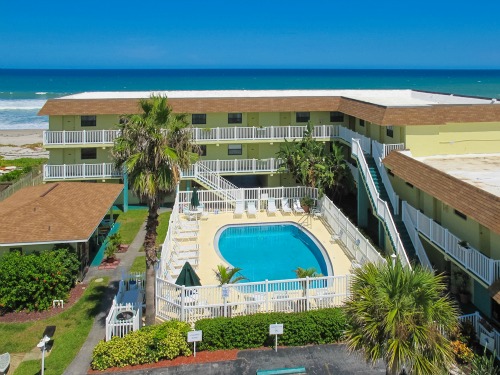 Tuckaway Shores, Indialantic
They also have a heated pool, beach chairs you can use and a Big Green Egg state of the art grill/smoker/baker for your cookouts.
They even provide the free wood chips and utensils.
Combine all this with the secluded white sand beach and other amenities and you have a winner.

---
Welaka Lodge & Resort
1001 Front Street
Welaka, FL 32193
386‑467‑7171

As fish camps go, this fish camp, lodge and RV park is a Ritz Carlton.

You also have to love a place whose home page quotes Florida literary icon Marjorie Kinnan Rawlings:
If I could have, to hold forever, one brief place and time of beauty, I think I might choose the night on that high lonely bank above the St. Johns river.
Welaka Lodge and Resort
Welaka is about 40 miles southwest of St Augustine, and about the same distance northwest of Daytona Beach.
It is close enough for comfortable day trips, but far enough away from the maddening crowds.
This resort caters to fishing enthusiasts and their families, and it is on a magnificent stretch of the majestic St Johns River in the village of Welaka.
The resort boasts a swimming pool and a variety of cottages of varying sizes perfect for a couples getaway or a larger family.
Most of the cottages are equipped with full kitchens and are set up so you can live there for long periods of time.
You may just want to do that once you have tried this place with its great views of the largest river in Florida.
---
Whippoorwill Sportsmanʹs Lodge
3129 Cookʹs Landing Road
Quincy, Florida
850‑875‑2605

This secluded camp is on the north shore of Lake Talquin, a large lake managed by the State of Florida and known for its fine fishing.

Speckled perch and bass are favorite catches in this lake.
Whippoorwill Sportsman's Lodge
Whipporwill is at the end of a secluded road, and even though you will only be 30 minutes by car west of Tallahassee, you will feel like you are in Old Florida. Most of the shoreline of the lake is in a natural forest setting.
The lodge has several options including small cabins, modern cottages with a full kitchen, dishwasher, and dining area along with some RV sites.
Nearby Lake Talquin State Forest has a lot of things to do if you donʹt feel like fishing: hiking, horseback riding, cycling and lots of nature trails.

---
Small Inns | Atlantic Ocean - Indialantic to Sebastian Inlet
My favorite stretch of Atlantic Ocean is from US-192 in Indialantic south to Sebastian Inlet on State Road A1A. I lived in Indialantic for many years.
This beautiful 18 mile long beach has been marred with only a few high rise condominiums.  Zoning and parks have accounted for that.
Most lodging is in the form of small motels and inns, many of them one or two stories, all of them directly on the beach.

Here are a few you might take a look at:
BLUE VIEW INN, OCEAN PINES, SANDY SHOES RESORT, SANDGATE OCEANFRONT, SEASIDE ESCAPE, SEAVIEW INN, SEASHELL SUITES RESORT, SERENITY BEACH
All have a Melbourne Beach address.
---
Florida Keys
from Key Largo to Key West

There are hundreds of great small inns, motel, and hotels available in the Florida Keys.  Click on the map to see our our favorites, identified by Mile Markers along the main drag in the Keys, the Overseas Highway.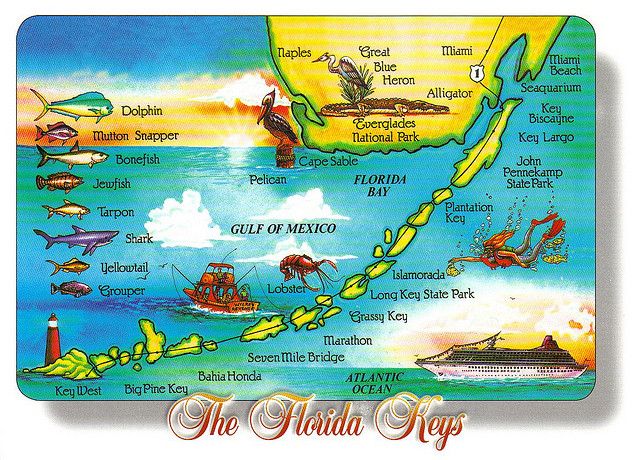 ---
Florida historic hotels are not always small inns, but they make great places to stay. Quite often they are in the heart of a Florida city. 
Our list includes only ones that are on The National Register of Historic Places....READ MORE ABOUT FLORIDA HISTORIC HOTELS
---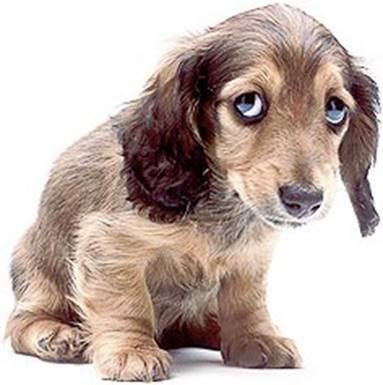 Many motels in Florida are pet friendly, but some are not.  Sometimes pets can stay free, other times there is an extra charge.  A great resource to find out the situation with motels or hotels in Florida is ....  BRING FIDO
---
You can check prices or make reservations at many of these inns at Booking.com by either typing in the name of the hotel or the city of its location.
---
---
---

Our Facebook page has more than 128,577 followers who love off the beaten path Florida: towns, tourist attractions, maps, lodging, food, festivals, scenic road trips, day trips, history, culture, nostalgia, and more.  We post articles every day.  Please check it out and if you like it, we would appreciate a "like" from you.
---
By Mike Miller, Copyright 2009-2023
Florida-Back-Roads-Travel.com
Florida Back Roads Travel is not affiliated with or endorsed by Backroads, a California-based tour operator which arranges and conducts travel programs throughout the world.