FLORIDA TOURIST ATTRACTIONS

Everybody knows about the giant Central Florida theme parks, but there are also many neat places to visit that are just as much fun and a whole lot cheaper.  This page tells you about 50 of them that we like.  
Our favorite Florida tourist attractions include small amusement parks, zoos, museums, state parks and oddities. We threw in Walt Disney World because it's too big to ignore.  We hope you find something here you will enjoy.

OUR FAVORITE FLORIDA TOURIST ATTRACTIONS
Babcock Ranch Eco Tours,
8000 State Road 31, Punta Gorda, Florida 33982. Tel:800-500-5583.
The tours take place on a 92,000 acre working ranch where you will see not only wildlife but typical cattle ranching operations.


Beaches.
Florida has some of the best in the world. Here is a listing of some of them including Florida's only legal clothing optional beach.  You need to know where it is in case you want to avoid it.


Big Cypress Loop Road & Lucky's Place,
Lucky Cole is a photographer who specializes in taking pictures of beautiful nude women in natural settings.  Halfway between Naples and Miami on Tamiami Trail (US-41). They are closed to the public during photo shoots. Tel: 239-695-2550.


Bok Tower Gardens,
1151 Tower Blvd., Lake Wales, Florida 33853. Tel:863-676-1408. The tower and gardens are a historic setting on one of the highest hills in Florida.  Enjoy daily carillon concerts.


Brevard Zoo,
8225 N Wickham Rd, Melbourne, Florida 32940. Tel:321-254-3002. This popular zoo was built entirely by volunteers and has award winning interactive exhibits, many designed to please children.


Cable Junction Zipline Adventures,
8010 Timber Trail, Sanderson, FL 32807. Tel:904-275-4546. This attraction is west of Jacksonville and has a 2500 foot long course where you can soar through the treetops at up to 40 mph.


Cassadaga-Mediums and Healers,
1325 Stevens St., Cassadaga, FL 32706. Tel: 386-228-3171. This small village was established in 1895 by a spiritualist organization and is home to many mediums, psychics, and healers.

Coral Castle,
28655 South Dixie Hwy, Homestead, FL33033. Tel:305-248-6345. A lovesick immigrant from Lithuania spent most of his life building this monument to the sweetheart who jilted him at the altar.


Crystal River Swim With Manatees,
Crystal River, Florida.  There are many businesses in this town that will show you the hundreds of manatees that gather here and even let you get in the water and swim with the gentle creatures.


Dali Museum,
1000 Third Street So., St. Petersburg, FL 33701. Tel: 727-823-3767. This museum displays the work of only one artist, Salvador Dali.  It is home to an amazing collection of traditional and modern art.


Dinosaur World,
5145 Harvey Tew Road, Plant City, FL 33565. Tel: 813-717-9865. The entire family will love wandering around this place that features replicas of more than 150 dinosaurs.  It's fun and educational.


2350 McGregor Blvd., Fort Myers, FL 33901. Tel:239-334-7419. The great inventor and auto tycoon had winter homes side by side on the Caloosahatchee River.  You can visit these amazing places.


Florida Aquarium,
701 Channelside Drive, Tampa, FL 33602. Tel: 813-273-4000.  It is ranked in the top 10 U.S. aquariums by TripAdvisor.  It focuses on teaching visitors about the ecosystems of Florida and the world.


Florida Day Trips by Theme
Some people like to focus on one theme like museums, art, theater, history, architecture, etc.  This web page has 250 attractions involving 20 different themes such as outdoor adventures, Florida history, arboretums, gardens, historic buildings, and more.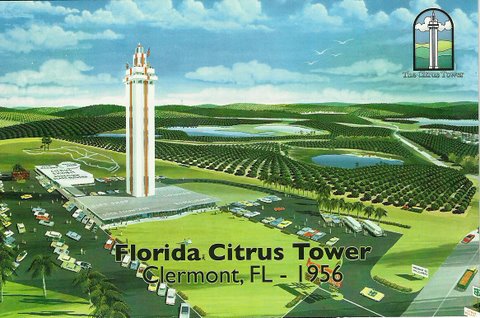 Florida Citrus Tower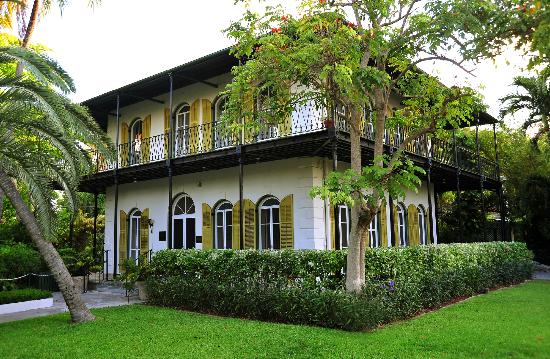 Hemingway Home, Key West
Hemingway Home,
907 Whitehead Street, Key West, FL 33040. Tel: 305-294-1136.  The great author lived here from 1931 to 1940.  It has many of his furnishings and the first in ground swimming pool in Key West.


Jacksonville Zoo,
370 Zoo Parkway, Jacksonville, FL 32218. Tel: 904-757-4463.  This historic zoo is organized around several major exhibits.  You will see dozens of exotic birds, crocodiles, antelopes, cheetahs, zebras, elephants, lions, monkeys, and you can feed a sting ray.


Jungle Island,
1111 Parrot Jungle Trail, Miami, Florida 33132. Tel:305-400-7000. This historic attraction is home to 2,000 varieties of tropical plants and 1,100 tropical birds that are allowed to fly free.


Jungle Queen Riverboat,
801 Seabreeze Blvd., Fort Lauderdale, FL 33316. Tel:954-462-5596. You can enjoy day tours of the Fort Lauderdale waterways and also go on dinner cruises past the homes of the rich and famous.


Key West Aquarium,
1 Whitehead Street (Mallory Square), Key West, Florida 33040. Tel: 305-296-2051. This historic museum is a place where you can get up close and personal with animals such as horseshoe crabs and Florida lobster.  You will enjoy a 90 minute guided tour.
 

Leu Gardens,
1920 North Forest Avenue, Orlando, FL 32803. Tel: 407-246-2620. The former estate of an Orlando businessman, this 50 acre botanical garden is divided into more than a dozen specialty gardens.


Lighthouses,
Florida has many that can be visited by car.  You can climb to the top of some of them, and many also have museums featuring the history and artifacts of their area.


2003 Lion Country Safari Road, Loxahatchee, FL 33470. Tel: 561-793-1084.  You will love driving through this large attraction in your car while the animals roam free.  You will see more than 1,000 exotic animals in something close to their natural habitat.


Marineland Florida,
9600 Oceanshore Blvd., St. Augustine, Florida 32080. Tel:904-471-1111.  Here you can swim with the dolphins.  It is a dolphin research center that was once Florida's most popular tourist attraction.


Miami Marine Stadium,
Rickenbacker Causeway, Virginia Key, Miami, Florida.  You can drive up to this place but not go in.  It's a historic graffiti covered stadium that used to feature many events and boat races before it finally bit the dust.  It may be preserved, but see it while you can.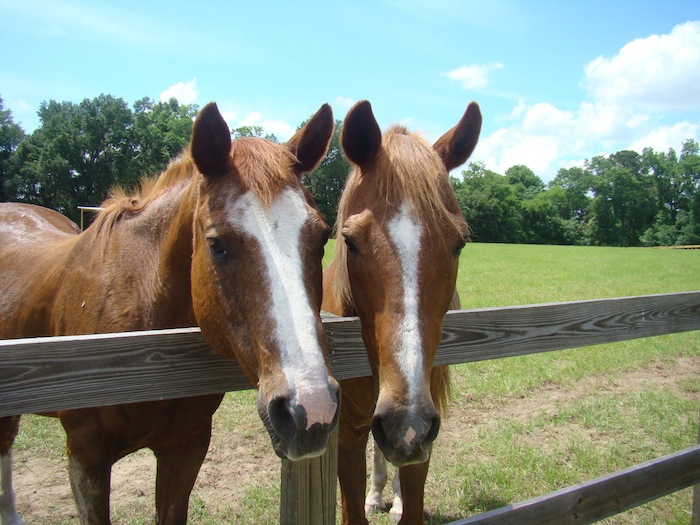 Mill Creek Retirement Home for Horses
Princess Place Preserve,
2500 Princess Place Rd., Palm Coast, Florida 32137.  This was the hunting lodge of a rich northerner.  He died and his widow married a Russian prince.  This became their winter home and you can tour it.


Robert Is Here,
19200 SW 344th St., Homestead, FL 33034. Tel: 305-246-1592.  One of the largest produce stands in Florida, it features an amazing selection of tropical fruits grown in South Florida.


Sea Turtles on Florida Beaches,
Nesting season is from May to October and the turtles nest on beaches in every region of the state.  This article tells you where you can go to see them.


Solomon's Castle, 
4533 Solomon Rd., Ona, FL 33865. Tel: 863-494-6077.  The late Howard Solomon was an artist who created art out of junk, including the castle-like museum.  You will be amazed at his creations.


5th St, Lake Wales, FL 33853.  This old attraction has been around for years.  You park your car, put it in neutral, and watch it apparently coast uphill.


St. Augustine Alligator Farm,
999 Anastasia Blvd., St. Augustine, FL 32080.  Tel: 904-824-3337.  The oldest in Florida, and it features a huge selection of animals including gators and Maximo, the 14 foot long crocodile.


Theatre Of The Sea,
Mile Marker 84.5, Islamorada, Florida. Tel: 305-664-2431.  An old attraction where you can swim with dolphins and watch sharks, turtles, and other species swimming around in front of you.
Ancient Spanish Monastery
The Ancient Spanish Monastery
16711 W. Dixie Hwy, North Miami Beach, FL 33160. Tel: 305-945-1461. This is the oldest building in Florida.  Built in Spain in 1141, it was taken apart, and put back together in 1954. 


The Dolphin Connection,
Hawk's Cay Resort,61 Hawk's Cay Boulevard, Duck Key, FL 33050. Tel: 1-888-814-9154.  This is one of the most popular places in the Florida Keys to learn about dolphins and swim with them.


Walt Disney World Florida,
Walt Disney World Resort, Orlando, FL 32830. Tel: 407-939-5277. We cannot ignore the largest theme park in the world.  People come here from all over the world;  affordability is a matter of opinion.


12200 San Servando Ave, North Port, FL 34287. Tel: 941-426-1692. People come from all over the world to soak in the warm waters of this spring that supposedly has many healing minerals.


Webster Flea Markets,
516 NW Third Street, Webster, Florida 33596.  Tel: 352-793-9877. One of the largest flea markets in the world, this one if only open on Mondays.  Thousands of vendors and anything you can think of.


Weeki Wachee Springs,
6131 Commercial Way, Weeki Wachee, FL 34646. Tel:352-592-5656.  An old attraction that features underwater mermaid shows and is now a state park with a water park attraction.
  
Winter Park Scenic Boat Tour,
312 East Morse Blvd, Winter Park, FL 32789. Tel: 407-644-4056. Several lakes in Winter Park are connected by scenic canals.  The pontoon boat guides know their stuff and show you a lot of historical places and natural things on your one hour cruise.

The following admission fees for the Florida tourist attractions featured on Florida Backroads Travel are updated annually.  They are provided to help you plan your Florida family vacation.

Some attractions have other ticket combinations available for special events and groups. You should call the attraction for current information.
---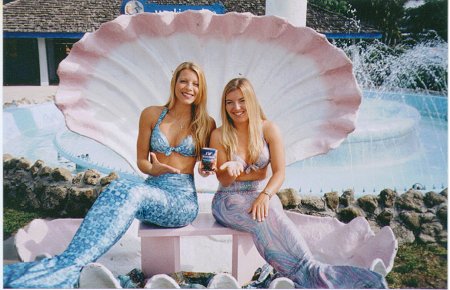 Mermaids at Weeki Wachee Sprngs, Florida
20181201