Florida Tales
Florida tales are stories and fragments submitted to our website by visitors or written by Florida Backroads Travel.  
Some are written by the website author, but many are from people who just yearned to tell us interesting stories from their lives.
Most of these stories don't quite fit into the formal categories we've established for Florida-Backroads-Travel.com.
For example, there is a story about a large ghost horse reportedly seen by motorists many times near Osteen.  It just doesn't quite fit to put a story like that in an article about Osteen, so we've put it here.
The titles of these Florida Tales are presented below as links.
Click on a link and enjoy a story.
A Land Remembered.
Patrick Smith tells the story in this novel of a Florida pioneer family.  It is one of the most popular Florida historical novels.
The Travis McGee Series
These mystery novels by John D. MacDonald will give you an appreciation of the Florida of the 1960s through 1980s and how it has changed.
Alas Babylon.
Pat Frank wrote this bestseller in the cold war of the 1950s about a nuclear war.  It features a setting resembling Mount Dora, Florida.
Alas Babylon is an Apocalyptic Novel by Pat Frank
Naked Came the Manatee. 
A funny parody written by Carl Hiaasen, Dave Barry, Elmore Leonard and 10 other Florida authors.
The Day I Chased Away the Highwaymen
An engineer who is not an expert on art chases away some Florida painters who were destined to be famous.
What Is a Florida Cracker?
We've heard the term.  This story tells us how the name may have come about and what a Florida Cracker is all about.
Tales of Old Tampa Stadium.  A Floridian remembers a football game from 1969:  Boston Patriots vs Miami Dolphins.

Unity Community Archway  The citizens of Mount Dora built a memorial to one of its favorite women.
Winter Beach, Florida
A grand dream is now little more than a place name on the map near Vero and a few memories of a time that was.
Lake Apopka Loop Trail
This nice walking and cycling trail is in a nature preserve on the north side of Lake Apopka.
Florida By Bicycle
Some ideas about how to maximize the pleasure of your Florida vacation by having a bicycle.

La Chua Trail and Paynes Prairie
A quiet walk along the wilderness of Paynes Prairie south of Gainesville to see wild horses and more.
Mount Zion Church, Mount Dora
Dedicated local volunteers have stepped forward to try to preserve this old church on the verge of crumbling.
Vernon, Florida:  The Movie
A documentary film maker changed his mind about the movie he wanted to make about this small panhandle town.
Eglin Air Force Base
A family story that involves the aviator the base was named for.
Green Florida Pioneers
Some early Floridians powered their homes with artesian wells and used solar heating for their hot water.
Boulogne, Florida:  The Town That Lived on Speeders
The northeast Florida town that lived on speeders.
The Galvanized Yankee from Florida
A Confederate soldier tells his story of how he ended up in an Old Soldiers Home in Illinois.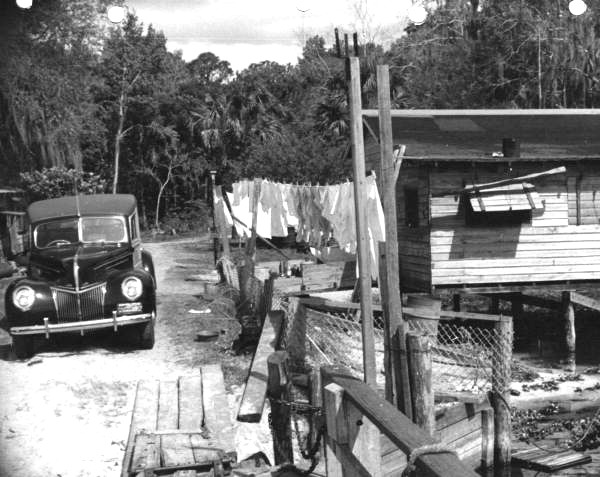 The Fort Gates Ferry in 1941
Crossing the St Johns River on the Fort Gates Ferry
Florida's oldest ferry carries two cars at a time across the river from the Ocala National Forest to a rural part of Florida.
Jackie Gleason's Final Resting Place
The legendary entertainer put Florida on the map when he moved his TV show to Miami Beach.
Frances Langford's Outrigger Resort
The famous actress and her husband, Ralph Evinrude, were often in attendance at her Jensen Beach resort.
Frederick Delius House
The famous composer's house is preserved on the campus of Jacksonville University.
DeBary Florida and Ox Fibre Brush Company
An old abandoned factory where brooms and history were made from the lowly palmetto.
My Mount Dora Getaway
A fan extols the pleasures of staying at the historic Lakeside Inn in Mount Dora.
Walt Disney has Florida Roots
Walt Disney's Roots Are In Paisley, Florida.
His pioneer maternal grandparents rest side by side in an old cemetery in this Central Florida place.
Welaka, Florida on the Peaceful St. Johns River
This little Old Florida riverside town is great for fishing and just laying back and relaxing.
The Old Wabasso Swing Bridge Goes To Disney World
When the State decided to replace an old swing bridge near Vero Beach, Disney decided to buy it and move it to Walt Disney World.
Gator, Glidden Chemical Co. & Jacksonville 1962
Gator was an old black laborer who wanted to retire but couldn't prove to Social Security what year he had been born.  His friends helped him.
Ziba King, Fort Ogden and Arcadia Cattle Baron 
When Ziba King died in 1901 he owned 50,000 head of cattle worth $500,000. This represented 10 percent of all the cattle in Florida. 
Pier 66, Where Are You?  It Was Our Favorite Watering Hole
This revolving lounge on the top of the Pier 66 Hotel in Fort Lauderdale was a favorite local hangout for years.  Then management made it more exclusive.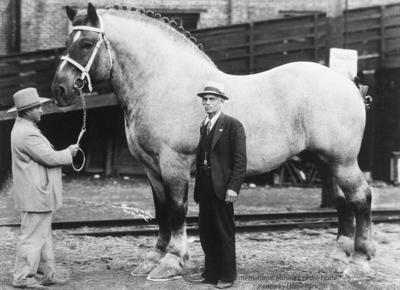 Giant Horse Not the one from Osteen
Sanford and Osteen:  A Florida Ghost Story
A blacksmith named Sligh Ernest owned a horse which stood twenty-two hands high and weighed 3,200 pounds. When the horse died, it had to be hauled by a tractor to its burial pit beside Celery Avenue.

The Beeline Ferry From Bradenton to St. Petersburg
In the old days before the first Sunshine Skyway bridge was built, it was a 69 mile trip from Manatee to Pinellas County. The ferry shortened the trip to 22 miles and took one hour.
Rainbow Springs: Lost Florida Tourist Attraction
This tourist attraction was just north of Dunnellon and at one time it was quite a popular tourist attraction. It was not as big as Silver Springs further up north in Ocala, but it did pretty good. 
Lewis Plantation and Turpentine Still
This old time Florida tourist attraction defied all probabilities of succeeding. It was on U.S. 41 about two miles south of Brooksville.
Hitler's Yacht was in Jacksonville
A sailing yacht spends some of its final days in a shipyard on the Trout River in Jacksonville before sinking to a watery grave in Miami Beach.
The Darker Side of Jim Crow Florida
Gus was one of the best men I ever knew. He worked for me on one of the soil testing drill rigs that I ran out of Tampa shortly after I graduated from the University of Florida in 1966.
Flavet Villages at the University of Florida
It probably would have been too expensive for me to go the University of Florida in the 1960s had it not been for the existence of married student housing known as Flavet Villages.
Wood and Swink General Store is a Historic Treasure
Evinston, Florida and the Wood and Swink Store
This old Florida village is a short hop from Cross Creek, and is worth a trip just to visit the Wood and Swink Store and post office.  It's on the U.S. National Register of Historic Places.
Kenansville and Henry Flagler's Divorce
This spot on US-441 is halfway between Yeehaw Junction and Holopaw. Travelers whiz through without knowing the history of the place. It's name ties into the history of one of Florida's iconic developers, Henry Morrison Flagler. 
Mathers Bridge Restaurant Remembered, Merritt Island
The Mathers Bridge Restaurant was near the south end of Merritt Island at the west end of the Mathers Bridge that connects the island to Indian Harbour Beach.  It was destroyed for economic reasons in 1992.
Hurricane Charley Changed Punta Gorda
This 2004 storm did so much damage it changed the face of the town like nothing else could have.
The Lonely Port Charlotte Knight
A homemade statue by the side of the road is pop art.
Homosassa River
Homosassa:  Lost in Time
This quiet place on the river is Old Florida serenity at its best.
Yeehaw Junction
This crossroads place with the funny name is well known by many Floridians and tourists.
Hastings, Florida.  A Long Way From Iwo Jima
A Navy veteran comes home after World War Two and tries to make a living in the potato business.
Lake Wales and Small Town Hotels
Many old Florida towns still have grand old hotels from the 1920s land boom.  Some are crumbling, some are restored.
Old Venus, a Florida Ghost Town
This historic old place is not much more than ruins off US-27 south of Lake Placid and north of Palmdale.
Deleon Springs
This small place north of DeLand is home to a state park and was once home to a famous Florida spa.

Espanola, Florida and the Old Brick Road
This old brick road runs for 9 bumpy miles in Flagler County.  It is part of the Dixie Highway built in 1915.
Nature Spot near Howey in the Hills
This quiet marina is part of nearby Mission Inn and has some nice walks through the natural wetlands next to the marina.
---
---
---
20181021