Interesting Facts About Florida
80 INTERESTING FUN FACTS
ABOUT FLORIDA
By  Mike Miller September 22, 2023

One of the first Florida facts is that ʺLa Floridaʺ was named by
Juan Ponce de Leon in 1513. He discovered the state and named it for all of the flowers he saw blooming everywhere.
Vintage Postcard, Fountain of Youth, St. Augustine
Ponce was really looking for the ʺfountain of youthʺ, but got
sidetracked by those pretty flowers. He was followed by many other Spanish explorers who mostly wiped out the original native American tribes.
78 INTERESTING FUN FACTS ABOUT
FLORIDA IN NO PARTICULAR ORDER
OFFICIAL NICKNAME: The Sunshine State

OFFICIAL REPTILE: The Florida legislature gave this honor to the American alligator in 1987. It is notable also that Florida is the only place in the world where alligators coexist with crocodiles.  There are many places in Florida to see alligators.
STATE FLOWER: The orange blossom, celebrating when Florida was king of the citrus producers.
STATE BIRD:  The mockingbird.
STATE FRESHWATER FISH:  Largemouth bass.
STATE SALT WATER FISH: Atlantic Sailfish
STATE MOTTO: In God We Trust.
HISTORY: Florida has belonged to Spain, England, France, The
Confederate States of America, and the United States of America.
It became a U.S. territory in 1821 and a state in 1845 and was the 27th state admitted into the union. Florida history is an interesting subject.
CIVIL WAR:  Florida seceded from the Union and joined the Confederate States of America in 1861. The Battle of Olustee was the largest conflict in Florida and the Confederates won.
Flag of the State of Florida
OLDEST CITY:  St. Augustine, founded in 1565.

OLDEST NATIONAL PARK: Pelican Island is a bird sanctuary in the Indian River Lagoon near Sebastian established by President Teddy Roosevelt in 1903.
CAPITAL: Tallahassee, also the home of Florida State University and Florida A&M University.
FLORIDA LEGISLATURE: After the Civil War and up until the 1960s, the Florida Senate and House were all Democrats. Now the state has more Republican than Democrat legislators.
WORLD'S LARGEST OUTDOOR COCKTAIL PARTY: This is the now frowned upon name for the tailgating activities at the annual Florida-Georgia football game in Jacksonville.
POPULATION: 22,400,000 estimated in 2023. It is the third most populous state in the U.S. Only California and Texas have more people.  Only a few years ago New York used to be more populous than Florida, but so many people have moved from New York to Florida, the Sunshine State now leads the Empire State.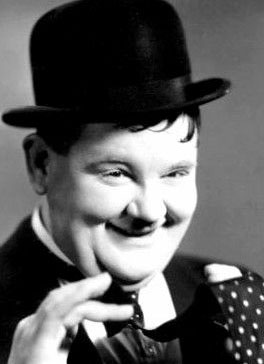 Oliver Hardy
MOVIE INDUSTRY:  Jacksonville was the location of many studios beginning in 1908 with many early silent films made there. Oliver Hardy began his career here. Even after the industry moved to Hollywood, many movies were made in Florida.

JIM CROW ERA:  Segregation of schools, restaurants, and most public and private facilities was a fact of life in Florida until after the Civil Rights Act of 1964.
LONGEST SERVING CONGRESSMAN: Charles Bennett (1910-2003) served in the U.S. Congress from 1949 to 1993. He is the longest-serving member in either house of Congress in Florida's history.
RAY CHARLES: This music icon was raised in Greenville, Florida and educated at the St. Augustine School for the Deaf and Blind.

JOHN PENNEKAMP CORAL REEF STATE PARK:  This Key Largo park is the first underwater state park in the United States.
JACKIE ROBINSON:  City Island park in Daytona Beach was the site of the first integrated professional baseball game.  The stadium is now named after the first black player in the major leagues.
Cadillac Hotel, Miami Beach
ART DECO:  Florida has the most Art Deco buildings in the world, with most of them being in Miami Beach.
FLORIDA CRACKER: The early white Florida pioneers and their descendants.  Allegedly named after the cracking sound of a cattle whip, but there are other theories too.
CITIES: One of the least known Florida facts is that Jacksonville is the largest city in the United States by land area. It has a population of 962,970 and a land area of 875 square miles.
AIRPORTS: Florida has hundreds of local airports, and 12
international airports.
KENNEDY SPACE CENTER: Located on Cape Canaveral, it is the headquarters for NASA and the space program and a leading Florida tourist attraction.
FIRST COMMUNICATION SATELLITE: Echo 1 was launched in 1960 from what was then Cape Canaveral Air Force Base.
Bumper 8 Launch from Cape Canaveral
FIRST ROCKET LAUNCH BY NASA: Bumper 8 was launched from Cape Canaveral on July 24, 1950. 
INCOME TAX: Florida has no income tax. Only 5 states in the
U.S. have a lower total tax burden than Florida, including
property taxes and sales taxes. One of the most interesting facts
about Florida taxes is that the State of Florida constitution
prohibits an income tax.
SALES TAX: Florida state sales tax is 6%.
FLORIDA HOMESTEAD EXEMPTION: Florida residents get a
reduction of $50,000 in their homeʹs assessed value for property
tax purposes.
COUNTIES: Florida has 67 counties. The most populated is
Miami‑Dade, with 2,763,366; the least populated are Lafayette (8,034) and Liberty (7,974). 
VENICE OF AMERICA: This is the nickname for Fort Lauderdale because of its 165 miles of canals and rivers.
Map of State of Florida
GEOGRAPHY: It is 833 miles from Pensacola in Northwest Florida to Key West, at least in my car. The total area of the state is 58,560 square miles. Of this area, 4,308 acres is water.
GEOGRAPHIC CENTER: The geographic center of Florida is 12 miles northwest of Brooksville in Hernando County. 
LAKES: Florida has about 7,800 lakes, some as small as one acre. The largest is 448,000 acre Lake Okeechobee. 
RIVERS: Florida has 34 major rivers, including the 273 mile long
north‑flowing St. Johns River. All told, Florida has more than
11,000 miles of rivers, streams & waterways.
SPRINGS:There are 1,000 identified springs in Florida. Of these,
27 are classified as first magnitude, meaning they produce at
least 100 cubic feet of freshwater per second.
Melbourne Beach, Florida
BEACHES: The shoreline of Florida is 1,800 miles long and 1,200 of that is sandy beaches. No place in Florida is more than 60 miles from an ocean beach either on the Gulf of Mexico or Atlantic Ocean.
COASTLINE:  Florida has the longest coastline in the continental United States and is second only to Alaska.
HOTEL ROOMS: Florida has more than 483,000 hotel and motel rooms spread over 4,514 separate properties.
BED TAX: Many Florida cities and counties have a tourist development tax as a percentage of the hotel room rate. It can be steep and is added to the room quote you receive from the hotel.
CAMPGROUNDS: There are more than 1,100 Florida campgrounds, both public and private, with over 100,000 campsites. Camping in Florida state parks is a favorite recreational activity.
Campers in a Florida State Park
GOLF COURSES: Among the interesting facts about Florida is that it has 1,250 golf courses, more than any other state. There are more of them in Palm Beach County than any other Florida county.
AIR CONDITIONING: Dr. John Gorrie built the first machine that produced ice to keep his patients cool.  This Apalachicola invention was what made Florida boom after World War Two.
ELEVATIONS: The highest natural point in the state is at elevation 345 feet above sea level on Britton Hill near DeFuniak Springs in North Florida close to the Georgia state line.
FLATTEST STATE: Florida ranks first in this category;  Britton Hll at 345 feet is lower than the highest point in any other state.
EDUCATION:  In its 2023 report, U.S. News and World Report says Florida ranks first in the nation in higher education.
AVIATION: The first scheduled airline passenger flight was in 1914 from St. Petersburg to Tampa across the bay.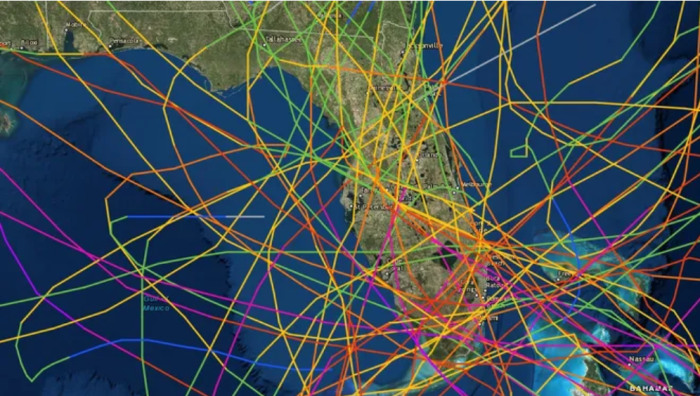 NOAA Map of Historic Hurricane Paths
HURRICANES: The six‑month hurricane season runs from June
1 through November 30. Florida has had many bad
storms, and Florida hurricane history is well known. Most
Floridians head for high ground when a storm threatens their
area.
TEMPERATURES:  The highest was 109 degrees in Monticello in 1931, and the lowest was 2 below zero in Tallahassee in 1899.
DINOSAURS:  There are no dinosaur fossils in Florida because it was underwater during the age of the dinosaurs.  There is a nice attraction called Dinosaur World in Plant City to make up for it.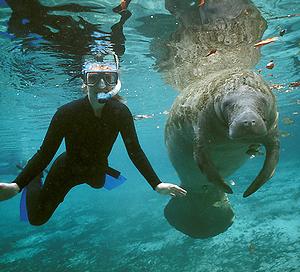 Diver and Manatee at Crystal Springs
MANATEES: A popular activity in Florida is to watch these sea cows in the winter when they come into warmer waters.  Some people even swim with them.
LIGHTNING STRIKES:  Florida leads the nation in lightning strikes per capita.  
NATIONAL PARKS: There are two national parks in the State.
Biscayne National Park has more than 180,000 acres underwater.
Everglades National Park has more than 1.4 million acres
SEA TURTLES:  With its super long coastline, Florida's beaches are popular places for nesting sea turtles and the nests are rigorously protected by law.
NATIONAL FORESTS: There are four national forests in
Florida: Apalachicola, Choctawhatchee, Osceola and Ocala National Forests.  These national forests add up to more than one million acres.
SCALLOPING:  Florida has a season each year where people are allowed to harvest scallops along various Gulf coasts.  This popular activity involves being in shallow water in a small boat or walking on the bottom and scooping up the little guys.
Gary Revells, Professional Worm Grunter
WORM GRUNTIN': This involves rubbing a stake with a piece of iron.  The sound makes worms come out of the ground.  Sopchoppy is the "Worm Gruntin' Capital of the World."
NATIONAL SANCTUARIES: There is one national sanctuary,
the Florida Keys Marine Sanctuary. It covers 2,600 square miles and stretches from Biscayne Bay southwest to Fort Jefferson inthe Dry Tortugas.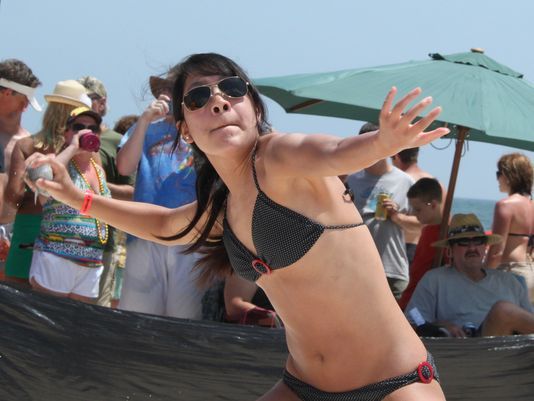 MULLET: This fish was a staple of early Florida pioneers.  Today it is celebrated in Perdido Key by the annual mullet tossing contest where you throw a dead fish over the Florida-Alabama state line.
STATE PARKS: The Florida state park system is one of the best in the U.S. More than 175 parks, most with camping, are well distributed around the state.
SCUBA DIVING: Key Largo is considered by many to be the "diving capital of the world" because of its location among the reefs and clear waters of the Florida Keys.
Naples Zoo, A Rescued Blind Panther
FLORIDA PANTHER:  This endangered species is slowly making a comeback in the areas surrounding the Florida Everglades.
FLORIDA SNAKES: Of the 45 species and 44 subspecies of snakes in Florida, only 6 are venomous. The most terrifying snake is the Burmese Python, a non-native invasive reptile that is devastating the ecology of the Everglades.
SOUTHERNMOST STATE: Florida's status is marked in Key West at a point only 90 miles north of Havana, Cuba.
HERITAGE SITES: There are more than 1,300 heritage sites in
Florida, ranging from Indian trails to old forts, and including
many structures in St. Augustine and South Beach and hundreds
of other Florida towns and state parks.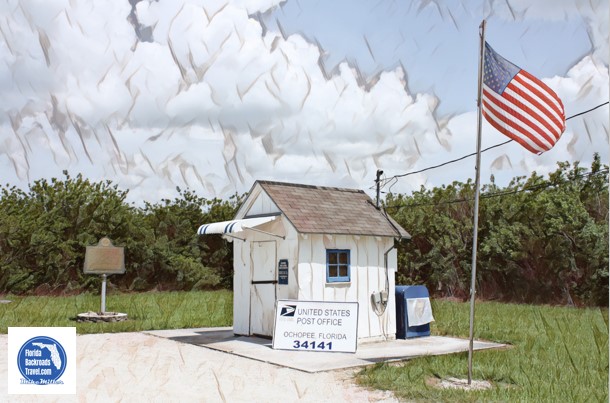 OCHOPEE POST OFFICE: This tiny spot on Tamiami Trail between Naples and Miami has the world's smallest post office at 61 square feet.
PROFESSIONAL FOOTBALL: The Miami Dolphins were the
first NFL team in Florida. Now there are also the Tampa Bay
Bucs and the Jacksonville Jaguars. 
PROFESSIONAL BASKETBALL: In the NBA, there are the Orlando Magic and the Miami Heat.
PROFESSIONAL BASEBALL: In the baseball major leagues, there are the Florida Marlins and the Tampa Bay Devil Rays. Another 15 major league baseball teams in Florida have their spring training in Florida each year.  
PROFESSIONAL HOCKEY: In the NHL there are the Tampa Bay Lighting and the Florida Panthers.
FLORIDA GATOR FOOTBALL: One of the amazing Florida facts is that none of these professional teams fills the stadium or arena with as many people as the University of Florida Gator football team in Gainesville during its regular schedule. The seating capacity of Ben Hill Griffin Stadium is 88,548.
Skunk Ape Research Headquarters
THE SKUNK APE:  There is a Skunk Ape Research Headquarters on Tamiamai Trail through the Everglades.  Many people report to  have seen this Big Foot kind of creature. Available photos are always to hazy to tell much.
PORTS: Florida has 14 deep water seaports, with Miami, Fort Lauderdale (Port Everglades) and Port Canaveral being leading
cruise ship ports.
THE CONCH REPUBLIC:  As a protest to a government road block on US Highway One in 1982, the Florida keys seceded from the United States and declared independence.
TOMATOES:  Florida is one of the leading growers of tomatoes in the United States.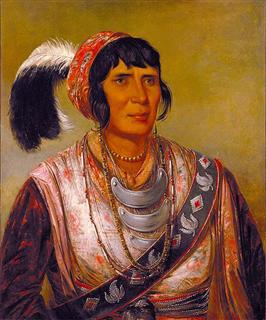 Osceola
SEMINOLE TRIBE: These Native Americans came into Florida from Georgia and Alabama after the original tribes were decimated during the Spanish occupation. They split into two tribes: Seminole and Miccosukee.  Today the tribes have reservations in the Everglades and casinos around the state.
CARABELLE: The world's smallest police station is in this small town on the Gulf Coast.  It is a phone booth with "Police Department" written on the side.

SPANISH LANGUAGE: One in five Floridians speak Spanish as their native tongue.  The ratio is probably more than that in Miami because of the Cuba refugees.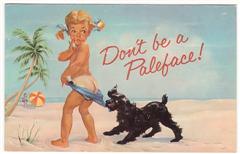 Coppertone Girl Advertising Poster
SUNTAN LOTION:  A pharmacist from Miami invented the first suntan lotion during World War Two and it became the Coppertone brand.
POSSUM: Up north they are called Opossum.  Here in Florida early pioneers used them for food.  They are celebrated each year in the Wausau Possum Festival in the Panhandle.
Frank Lloyd Wright Usonian Home
FRANK LLOYD WRIGHT:  Florida Southern College in Lakeland has the largest collection in the world of the famous architect's buildings.  The collection of 13 functioning buildings is called "Child of the Sun."
STRAWBERRIES: Plant City is known as the "Strawberry Capital of the World" and celebrates with an annual strawberry festival.
CELERY: Sanford was once known as the "Celery Capital of the World" because 1/3 of the country's celery was grown here. There was a large farming area east of the town on what is now called Celery Avenue.  Celery farms have been replaced with numerous subdivisions.
CATTLE:  According to the USDA, Florida ranks 13th in the nation with one million head of cattle. The largest ranch in Florida is the Lykes Ranch with 337,000 acres closely followed by Deseret Ranches with 312,000 acres.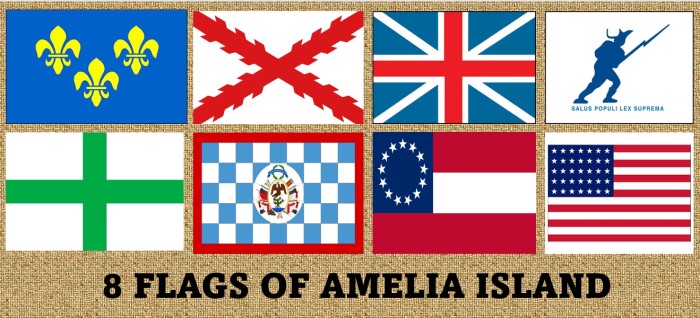 MOST FLAGS IN USA: Amelia Island in northeast Florida has been governed by 8 different entities, more than any other place in the United States..
---
---

Our Facebook page has more than 129,275 followers who love off the beaten path Florida: towns, tourist attractions, maps, lodging, food, festivals, scenic road trips, day trips, history, culture, nostalgia, and more.  We post articles every day.  Please check it out and if you like it, we would appreciate a "like" from you.
---
By Mike Miller, Copyright 2009-2023
Florida-Back-Roads-Travel.com
Florida Back Roads Travel is not affiliated with or endorsed by Backroads, a California-based tour operator which arranges and conducts travel programs throughout the world.