GAINESVILLE FLORIDA DAY TRIPS
The Gainesville, Florida day trips and one tank trips described in our website are all within a 100 mile radius of Gainesville.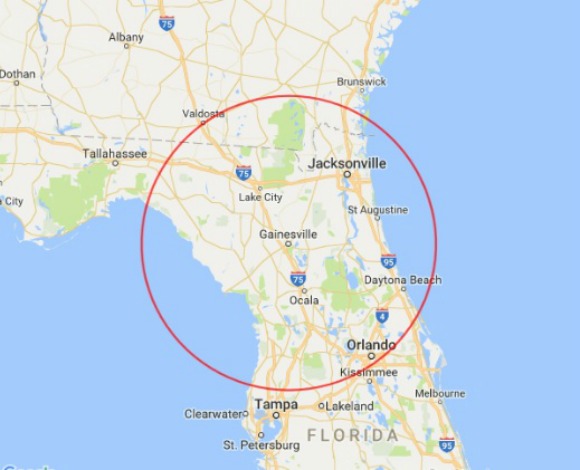 We estimate that the average passenger car can go about 250 miles on one tank of gas, so these trips will get you there and back with a few gallons to spare.
Gainesville itself is a great day trip destination with many interesting places to see and things to do. Check it out in addition to the other neat places.
Here are some things to do and places to see within 100 miles of Gainesville.

Recommended Gainesville Day Trips
Albin Polasek Museum and Sculpture Gardens,
Winter Park home and studio of American sculptor.
Alexander Springs Recreatonal Area,
Ocala National Forest, canoeing, swimming, kayaking, camping.
Amelia Island Horseback Riding,
Fernandina Beach. You can ride on the Atlantic Ocean beach. Fees vary by selected ride and number of people.
Appleton Museum of Art ,
Ocala, stunning example of classical architecture clad in Italian travertine marble. The 81,610-square-foot museum features 30,000 square feet of gallery space.
Blue Spring State Park, 
Orange City park is a tremendous spot to observe manatees sheltering from the cold in the clear waters from November to March.

Bob's River Place,
Branford, rustic attraction on the Suwannee River with water slides, rope swings, docks, waterwheels, ladders: an old fashioned swimming hole.
Boggy Creek Airboat Adventures,
Kissimmee fleet of 12 airboats takes you on a wide variety of tours where you will see wildlife including water birds and alligators.
Cassadaga-Mediums and Healers ,
This small village was established in 1895 by a spiritualist organization and is home to many mediums, psychics, and healers.
Castillo de San Marcos,
The oldest 17th century fort in North America, this well preserved fort dominates the waterfront in downtown St. Augustine. The oldest 17th century fort in North America, this well preserved fort dominates the waterfront in downtown St. Augustine.

Catty Shack Ranch Wildlife Sanctuary,
Jacksonville non-profit sanctuary that gives big cats a permanent home.  They have lions, tigers, pumas, leopards, lynxes and more. 
Central Florida Railroad Museum,
Winter Garden small museum managed by the Central Florida Railway Historical Society, Inc. It focuses on the railroads of Central Florida.
Cedar Key is on the Gulf of Mexico and was at one time a major Florida port at the end of the state's first railroad.  This quaint village now loves tourists.
Cross Creek is between Gainesville and Ocala.  It was the home of famous author Marjorie Kinnan Rawlings and current home of the Yearling Restaurant.
Crystal River Swim With Manatees,
There are many businesses in this town that will show you the hundreds of manatees that gather here and even let you get in the water and swim with the gentle creatures. 
Cummer Museum of Art and Gardens,
Jacksonville.  The Cummer has one of the finest permanent art collections in Florida, with nearly 5,000 objects. 

Dade Battlefield Historic State Park,
Bushnell.  This park was established in 1921 to preserve the site of Dade's Battle of 1835.  Of 110 American soldiers, only 3 survived the ambush by Seminoles.  It precipitated am awful war.
Daytona Beach is home to the International Speedway and beaches you can drive on in your car.

Daytona International Speedway
If you visit during other than the featured events, you can go on a first come-first served tour.
DeLand is home of Stetson University and is loaded with art galleries and good restaurants.
Devil's Millhopper Geological State Park,
Gainesville.  You walk down a 232-step wooden staircase into the bottom of a geological formation that has been attracting visitors for well over a century. 
Disney Springs,
Orlando.  Spend a day to two and this giant outdoor shopping, dining, and entertainment complex at Walt Disney World.
Don Garlits Museum of Drag Racing,
Ocala museum has more than 90 race cars on display and another 50 antique cars.  Garlits is a former champion drag racer. 

Dr. Phillips Center for the Performing Arts,
Orlando 2-block Center includes the Walt Disney Theater, the Alexis & Jim Pugh Theater, the DeVos Family Room, the Seneff Arts Plaza, and many other spaces set aside for private events. 
Epcot,
Walt Disney World Resort.   One of 4 theme parks at WDW, this is a park that celebrates human achievement in technology and culture.
Fantasy of Flight,
1400 Broadway Blvd SE, Polk City, FL 33868. Tel: 863-984-3500.  A display of more than 140 civilian and military planes and many of them can fly.  Tours and learning about aviation history.
Farm Tours of Ocala,
Ocala 3 hours and 15 minute tour of working farms where you can go behind the scenes and chat with pros who work with thoroughbreds.

Flagler College (Ponce de Leon Hotel)
St. Augustine hotel was built by railroad tycoon Henry Flagler in 1888 and is a National Historic Landmark.You can take a tour and explore.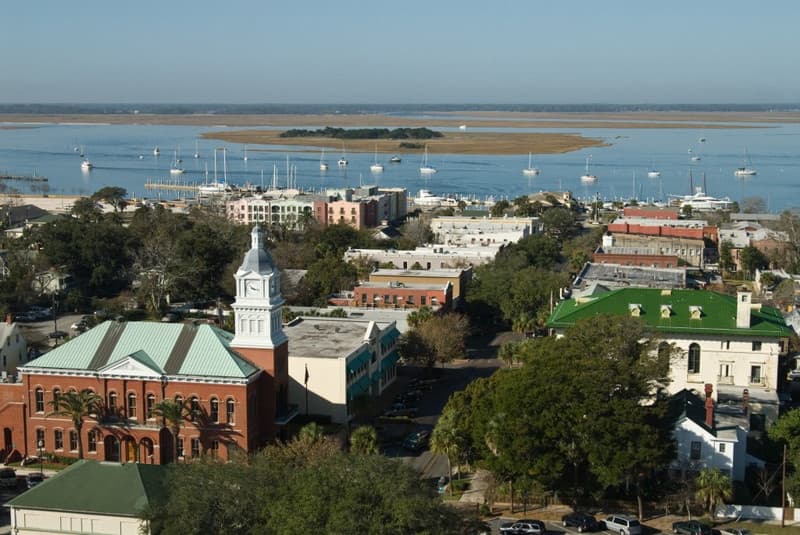 Fernandina Beach
Fernandina Beach  is a port city and one of the state's oldest. It has a lot of history, and old fort and great beaches.
Flagler Beachfront Winery  is north of Daytona and is a fun place to visit while you visit the great sand beaches.
Florida Museum of Natural History  is at the University of Florida, and has a huge collection of natural history items.
Fort Clinch State Park,
Fernandina Beach park has 1,400 acres of natural beauty and a historic fort that sometimes has rangers dressed in period military uniforms.
Fun Spot America,
Orlando attraction on International Drive has 4 different go-kart tracks and 3 roller coasters, plus another 3 different thrill rides. 
Gatorland,
Orlando, one of Florida's oldest attractions, it still entertains with thousands of alligators and a thrilling canopy ride. 
Ginnie Springs Outdoors  is a privately owned campground that also has cottages and great canoeing, kayaking and diving. Super clear waters add to your enjoyment.
High Springs is a small town west of Gainesville with some good antique shops and restaurants. It is center of spring country.
Ichetucknee Inner Tube Trip
Ichetucknee Springs State Park. A Florida tradition for years, floating down the clear cool river. 
ICON Orlando, 
A giant 400 foot tall observation tower in the shape of a Ferris Wheel with separate enclosed air conditioned observation capsules. 
Jacksonville  is one of the south's major cities and straddles the majestic St Johns River.  
Jacksonville Day Trips  is a page on this website that covers many of the destinations on this page and more.

Jacksonville Museum of Science and History,
Interactive exhibits about your body's systems, energy exhibits, and animal encounters. Also a boat tour on the St. Johns River.  
Jacksonville Zoo , 
 This historic zoo is organized around several major exhibits. You will see dozens of exotic birds, crocodiles, antelopes, cheetahs, zebras, elephants, lions, monkeys, and you can feed a sting ray.  
Kanapaha Botanical Gardens  is an unusual display of natural vegetation and trees in Gainesville.
Kingsley Plantation,
Jacksonville. Located on Fort George Island are the owner's house built around 1798 and the remains of 25 slave cabins.

La Chua Trail, Paynes Prairie  is a preserve where you might see horses, bison, wading birds, gators, and more.
Lake City  has many historic homes and buildings and is near some Civil War battlefields.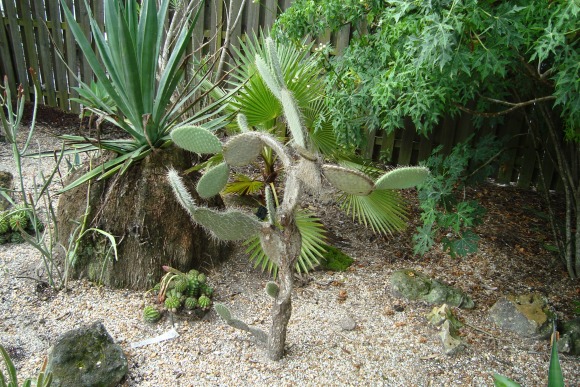 Leu Gardens, Orlando
Leu Gardens  in Orlando is one of the finest botanical gardens in Florida.
Live Oak  is a small Old Florida town with many historic buildings and homes.
Log Cabin Winery  is near Satsuma on the St Johns River and you can taste their wine and take a tour.
Marineland  was one of the earliest Florida tourist attractions that is now a dolphin research center.
Mayo  does not have a lot to see, but it is the hometown of Florida Gator folk hero Kerwin Bell. There is no clinic here; the Mayo Clinic is in Jacksonville.
Madison  is one of the oldest towns in north Florida and has done a good job of hanging onto many of its old buildings.
Marjorie Kinnan Rawlings Historic State Park, 
Cross Creek. You will experience what 1930s farm life was like when the famous author lived and worked here. Her Florida Cracker style home and farm has been restored and is preserved.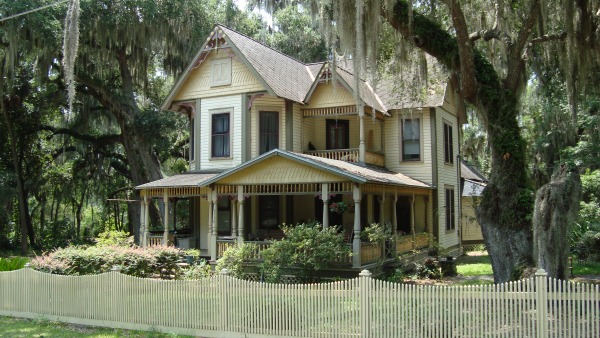 Home in McIntosh
McIntosh  has a population of only 469 people but has almost 70 buildings in its designated historic district.

Melrose  is a small Victorian village near Gainesville with historic buildings and a fine restaurant.
Menello Museum of American Art,
Orlando museum's mission is to preserve, display, and interpret the permanent collection of paintings by Earl Cunningham, a folk artist who painted mostly coastal landscapes of America's Atlantic Coast. 

Micanopy  is a historic tiny town named for a great Seminole chief. Nice antique stores and restaurants.
Mount Dora  is in rolling hill country on beautiful lakes and is one of the antique centers of the state.

North Central Florida Day Trips  is a page on this website that has maps showing several day trip driving routes in the area around Gainesville and the region.
Mill Creek Farm Retirement Home For Horses,
Alachua. Old horses wear out just like people. These horses used to pull carriages, support police forces, and just work. Here they can spend their senior years on a nice rolling horse farm. 
Newberry is a rural town west of Gainesville that has a typical Old Florida downtown feel to it.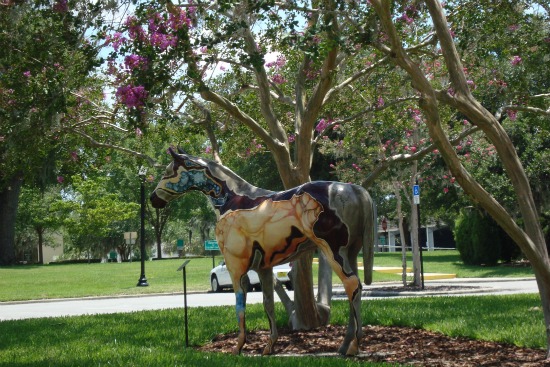 Thoroughbred Horse Statue in Ocala
Ocala  is a good sized city surrounded by thoroughbred horse farms and rolling pasture land.
Oldest House Museum Complex,
The Oldest House Museum Complex is located across from the historic National Guard building in downtown St. Louis. Augustine.
Olustee Battlefield Historic State Park,
Site of a significant Civil War battle. US Colored troops took part in the battle. You can see exhibits and artifacts in the visitor center.
Orange County Regional History Center.
The Orlando museum celebrates Central Florida history all the way from the first Native Americans to today's giant theme parks. 
Orlando  is home to Florida's major theme parks, but also has many quiet and historic neighborhoods away from the noise.

Orlando Science Center,
777 E Princeton St, Orlando, FL 32803. Tel: 407-514-2000. It teaches science and makes sure kids have fun doing it. A large facility with 4 floors of science exhibits, giant screen movie theaters, and live programming, exhibit halls and science stations. 
Orlando Significant Tree Tour.   
Various city parks each feature ancient giant trees. It is a self guided tour and our website provides you with a map. Free.
Paynes Prairie Preserve State Park
100 Savannah Blvd., Micanopy, FL 32667. Tel: 352-466-3397. A 22,000 acre savannah with a wide variety of wildlife including bison and horses in addition to hundreds of bird varieties.
Ponce de Leon Inlet Lighthouse
Ponce Inlet lighthouse is on an inlet south of Daytona Beach. You can climb to the top and see a fantastic view of the ocean and beaches.  

Princess Place Preserve  is a historic lodge in a natural setting near the Palm Coast.
Rainbow Springs State Park,
Dunnellon. At the park's main entrance you can swim in the freshwater Rainbow River, rent canoes and kayaks, view waterfalls and gardens and enjoy a picnic area with grills, and pavilions.
Silver Springs State Park,
This long time popular tourist attraction with glass bottom boats is now operated as part of Silver Springs State Park.
St Augustine  is America's oldest continuously occupied city and has preserved many of its old buildings.
St Augustine Alligator Farm  is on the National Register of Historic Places. It's a Gainesville Florida day trip with gators galore and a zipline too.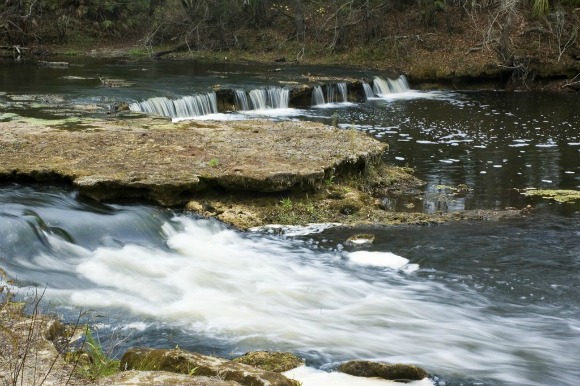 Steinhatchee Falls
Steinhatchee  is a fishing village on the Gulf of Mexico near the mouth of the Steinhatchee River.

Stephen Foster Folk Culture Center State Park is a natural slice of Old Florida. It has many folk culture exhibits and is the setting every Memorial Day weekend for the Florida Folk Festival.
Suwannee is a small fishing village near the mouth of the Suwannee River on the Gulf of Mexico.
The Villages is a modern retirement community for active adults and has more than 60,000 golf carts rolling around.  We also have a web page similar to Gainesville Florida day trips that focuses on trips from here.
Treaty Oak is in a quiet park in a busy Jacksonville neighborhood. It is a beloved 250 year old Southern live oak.

Trenton is a small town west of Gainesville with a typical Old Florida downtown area and homes.
University of Florida is home of the Fightin Gators and was once the largest university in the state.
Walt Disney World is on everybody's list of places to visit while in Florida. There are 4 theme parks for you to visit.
Whispering Oaks Winery  is near the Villages and specializes in wines made from blueberries.
White Springs is a small town in North Florida that is home to the Stephen Foster Folk Culture Center State Park.
Wood and Swink is a historic general store in Evinston that is like a step back into the past. It also serves a local post office.
---
---
THEME BASED FLORIDA DAY TRIPS
If you are interested in particular themes, there are many places to enjoy in and out of the 100 mile radius. Examples of themes are " beaches", "seashells ", " zoos " " historic buildings ", " rockets ", "l ighthouses ", and at least 20 others. Click below to learn more.
250 FLORIDA DAY TRIPS BY THEME
---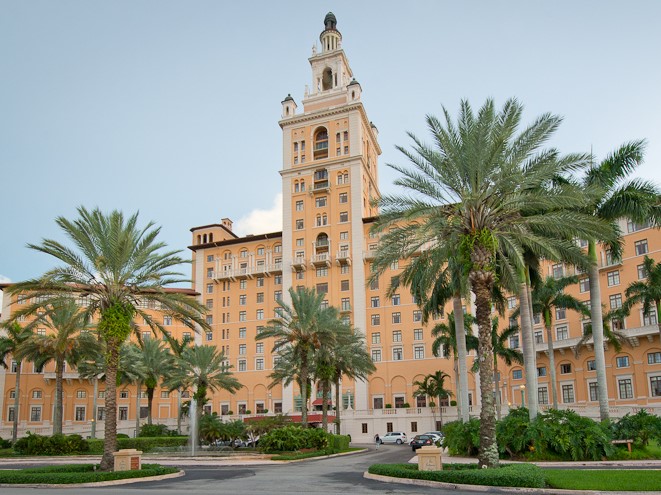 Biltmore Hotel, Coral Gables
---
---
---

Our Facebook page has more than 128,577 followers who love off the beaten path Florida: towns, tourist attractions, maps, lodging, food, festivals, scenic road trips, day trips, history, culture, nostalgia, and more.  We post articles every day.  Please check it out and if you like it, we would appreciate a "like" from you.
---
By Mike Miller, Copyright 2009-2023
Florida-Back-Roads-Travel.com
Florida Back Roads Travel is not affiliated with or endorsed by Backroads, a California-based tour operator which arranges and conducts travel programs throughout the world.