GAINESVILLE FLORIDA DAY TRIPS
The Gainesville, Florida day trips and one tank trips described in Florida Backroads Travel are all within a 100 mile radius of Gainesville.
We estimate that the average passenger car can go about 250 miles on one tank of gas, so these trips will get you there and back with a few gallons to spare.
If you drive a compact economy car you can even go outside of the Gainesville radius and try Jacksonville, Tampa, The Villages, and Orlando day trips.
Here are some things to do and places to see within 100 miles of Gainesville.
The map below shows you some of the major towns and cities within a 100 mile radius of Gainesville.
Recommended Gainesville Florida Day Trips
Cable Junction Zipline Adventures is 50 miles north of Gainesville and is an attraction the entire family can enjoy. 
Cedar Key is on the Gulf of Mexico and was at one time a major Florida port at the end of the state's first railroad.  This quaint village now loves tourists
Dakotah Vineyards and Winery is a family owned winery in Chiefland. Enjoy the rustic setting and sample some wine.

Daytona Beach is home to the International Speedway and beaches you can drive on in your car.
DeLand is home of Stetson University and is loaded with art galleries and good restaurants.
Fernandina Beach is a port city and one of the state's oldest.  It has a lot of history, and old fort and great beaches.
Flagler Beachfront Winery is north of Daytona and is a fun place to visit while you visit the great sand beaches.
Florida Museum of Natural History is at the University of Florida, and has a huge collection of natural history items.
Ginnie Springs Outdoors is a privately owned campground that also has cottages and great canoeing, kayaking and diving. Super clear waters add to your enjoyment.
Jacksonville is one of the south's major cities and straddles the majestic St Johns River.  
Jacksonville day trips is a page on this website that covers many of the destinations on this page and more.
Kanapaha Botanical Gardens is an unusual display of natural vegetation and trees in Gainesville.
La Chua Trail, Paynes Prairie is a preserve where you might see horses, bison, wading birds, gators, and more.
Lake City has many historic homes and buildings and is near some Civil War battlefields.
Leu Gardens in Orlando is one of the finest botanical gardens in Florida.
Live Oak is a small Old Florida town with many historic buildings and homes.
Log Cabin Winery is near Satsuma on the St Johns River and you can taste their wine and take a tour.
Marineland was one of the earliest Florida tourist attractions that is now a dolphin research center.
Mayo doesn't have a lot to see, but it is the hometown of Florida Gator folk hero Kerwin Bell. There is no clinic here; the Mayo Clinic is in Jacksonville.
Madison is one of the oldest towns in north Florida and has done a good job of hanging onto many of its old buildings.
McIntosh is a classic old Florida town with majestic oaks and historic homes.
McIntosh has a population of only 469 people but has almost 70 buildings in its designated historic district.
Melrose is a small Victorian village near Gainesville with historic buildings and a fine restaurant.
Micanopy is a historic tiny town named for a great Seminole chief.  Nice antique stores and restaurants.
Mount Dora is in rolling hill country on beautiful lakes and is one of the antique centers of the state.

North Central Florida Day Trips is a page on this website that has maps showing several day trip driving routes in the area around Gainesville and the region.

Ocala is a good sized city surrounded by thoroughbred horse farms and rolling pasture land.
Orlando is home to Florida's major theme parks, but also has many quiet and historic neighborhoods away from the noise.
Princess Place Preserve is a historic lodge in a natural setting near Palm Coast.
St Augustine is America's oldest continuously occupied city and has preserved many of its old buildings.
St Augustine Alligator Farm is on the National Register of Historic Places.  Gators galore and a zipline too.
Steinhatchee is a fishing village on the Gulf of Mexico near the mouth of the Steinhatchee River.

Stephen Foster Folk Culture Center State Park is a natural slice of Old Florida. It has many folk culture exhibits and is the setting every Memorial Day weekend for the Florida Folk Festival.
Suwannee is a small fishing village near the mouth of the Suwannee River on the Gulf of Mexico.
The Villages is a modern retirement community for active adults and has more than 60,000 golf carts rolling around.
University of Florida is home of the Fightin Gators and was once the largest university in the state.
Whispering Oaks Winery is near the Villages and specializes in wines made from blueberries.
---
Clicking on the covers takes you to Amazon.com where you can preview or buy two soft cover books with destinations not covered on this website.
---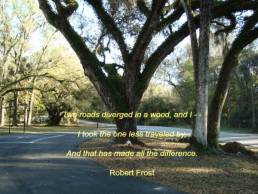 Over 67,000 followers can't be wrong. Learn about off the beaten path Old Florida, historic towns, attractions,  festivals, scenic drives and more.
Like Us On Facebook
20181004