FLORIDA DAY TRIPS
Road Trips and Scenic Drives

The Florida day trips and scenic drives you will learn about on this website are the best way to get around the state and see the real Old Florida out on the back roads.
These trips are designed to keep you off congested highways including interstates.
We make sure, however, that your route is on paved roads not too far from restaurants, gas stations and rest rooms.
Our focus is on on tree canopied routes through historic old towns and rural scenic countryside.  Some of the routes are designated Florida Scenic Highways or Byways by the Florida Department of Transportation.  
We have divided Florida into 8 regions, and each regional web page has a listing of recommended day trips. Each regional web page also has it's own interactive Google Florida state map focused on the region.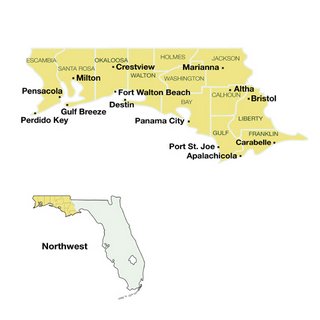 Towns:
Bristol, Crestview, DeFuniak Springs, Destin, Fort Walton Beach, Grayton Beach, Gulf Breeze, Marianna, Panama City, Pensacola, Seaside

Pensacola One Tank Trips with towns and attractions

Northwest Florida Scenic Driving Routes With Maps
1.  Pensacola to DeFuniak Springs on US-90
2.  DeFuniak Springs to Seaside
3.  Pensacola to Seaside on US-98
4.  Panama City Beach to Grayton Beach on Highway 30A
5.  Chattahoochee Loop through Sneads and Marianna
6.  Big Bend Scenic Highway from Apalachicola to St Marks
---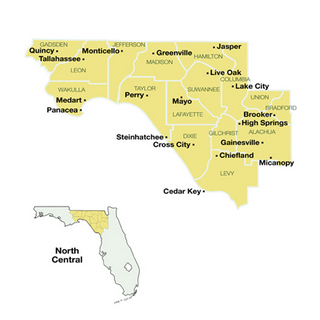 Towns:
Apalachicola, Archer, Bronson, Carabelle, Cedar Key, Cross Creek, Gainesville, Greenville, Island Grove, Madison, Micanopy, Monticello, Otter Creek, Port St. Joe, Quincy, Tallahassee

Gainesville One Tank Trips with towns and attractions
Tallahassee One Tank Trips with towns and attractions
North Central Florida Scenic Driving Routes With Maps
1.  Quincy to Gainesville on US-90
2.  Panama City to Carrabelle on US-98
3.  Gainesville to Cedar Key on SR-24
4.  Gainesville to Micanopy and McIntosh on US-441
5.  Micanopy to Cross Creek on CR-346 and CR-325
6.  Cross Creek to Marjorie Kinnan Rawlings Grave
7.  White Springs to Suwannee along the Suwannee River
8.  Big Bend Scenic Highway from Apalachicola to St Marks
---
---
Towns:
Amelia Island, Crescent Beach, Crescent City, Fernandina Beach, Flagler Beach, Green Cove Springs, Jacksonville, Jacksonville Beach, Korona, Lake Como, Mandarin, Marineland, Mayport, Orange Park, Ormond Beach, Palatka, Ponte Vedra Beach, Spuds, St. Augustine, St. Augustine Beach, Vilano Beach

Jacksonville One Tank Trips with towns and attractions

Northeast Florida Scenic Driving Routes With Maps
1.  Fernandina Beach to St Augustine Beach on SR-A1A
2.  Jacksonville to Spuds on SR-13 along the St Johns River
3.  Korona to Atlantic Ocean at Highbridge Road
4.  Highbridge Road to St Augustine on SR-A1A
5.  Orange Park to Crescent City on US-17 & St Johns River
6.  Nature Drive North of St Johns River and Jacksonville
7.  Satsuma Loop through Welaka and Crescent City
---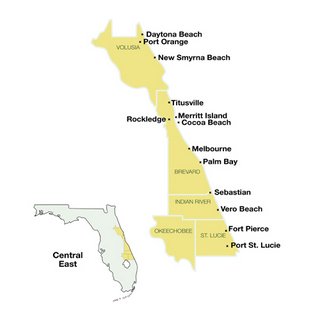 Towns:
Bonaventure, Cocoa, Cocoa Village, Daytona Beach, Edgewater, Fort Pierce, Georgiana, Indialantic, Jensen Beach, Johns Island, Merritt Island, New Smyrna Beach, Oak Hill, Rockledge, Sebastian Inlet, Shiloh, Titusville, Vero Beach, Wabasso

Central East Florida Scenic Driving Routes With Maps
1.  Anderson Drive from Highbridge to Ormond Beach
2.  South Daytona Beach to Ponce Inlet on S Atlantic Ave
3.  New Smyrna Beach to Edgewater along the Halifax River
4.  Oak Hill through Kennedy Space Center to Titusville
5.  Williams Point thru Cocoa & Rockledge on Indian River
6.  Merritt Island to Georgianna on South Tropical Trail
7.  Pineda Causeway to Mathers Bridge on S Tropical Trail
8.  Indialantic to Sebastian Inlet on SR-A1A
9.  Wabasso Beach to Vero Beach on Jungle Trail
10. Fort Pierce to Jensen Beach along the Indian River
11. New Smyrna Beach Pioneer Trail Shortcut
---
---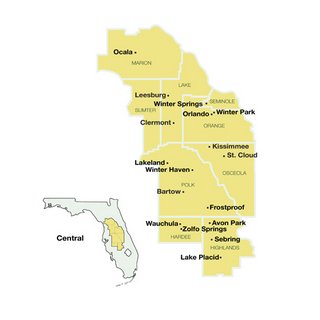 Towns:
Apopka, Arcadia, Avon Park, Auburndale, Babson Park, Bartow, Bowling Green, Clermont, Groveland, Fort Meade, Frostproof, Haines City, Highland Park, Howey In The Hills, Indian Lake Estates, Lake Buena Vista, Lake Placid, Lake Wales, Maitland, Mount Dora, Polk City, Oakland Park, Ocala, Orlando, Sebring, Tavares, The Villages, Wauchula, Windermere, Winter Haven, Winter Park
Orlando One Tank Trips with towns and attractions

The Villages One Tank Trips with towns and attractions
Central Florida Scenic Driving Routes With Maps
1.  Maitland to Orlando through Winter Park
2.  Lake Buena Vista to Windermere on SR-535
3.  Orlando to Winter Haven on US-17
4.  Orlando to Mount Dora on US-441
5.  Clermont to Lake Wales on US-27
6.  Lake Wales to Lake Placid on US-27
7.  Mount Dora to Groveland on SR-19
8.  Winter Haven to Wauchula on US-17
9.  Lake Wales to Frostproof on Scenic Highway 17
10. Polk City to Auburndale on CR-557 and CR-559
11. Mount Dora to Altoona to Villages and Return
12. Lake Griffin Scenic Loop via Lady Lake and Weirsdale
13. Yalaha Scenic Loop from Howey in the Hills
14. Mount Dora to Melrose through Ocala National Forest
15. Mount Dora to Cross Creek, Micanopy, and McIntosh
16. Mount Dora to St Leo through Dade City
17. Lake Apopka Loop via Apopka, Montverde, Howey
18. Emeralda Island Scenic Loop west of Eustis
19. Haines Creek Lock between Lakes Griffin and Eustis
20. Fort Gates Ferry Drive across St Johns River
21. Green Mountain Scenic Byway around Lake Apopka
22. Sugarloaf Mountain Loop near Montverde and Ferndale
23. On Top Of The World near Ocala to Melrose
---
Towns:
Aripeka, Brooksville, Bushnell, Clearwater, Crystal River, Dunedin, Floral City, Hernando Beach, Holiday, Hudson, Inverness, Istachatta, Juneau, Lecanto, Nobleton, Ozona, Palm Harbor, Tampa, Tarpon Springs

Tampa One Tank Trips with towns and attractions

Central West Florida Scenic Driving Routes With Maps
1.  Bushnell to Floral City through Istachatta
2.  Inverness to Crystal River on SR-44
3.  Weeki Wachee Springs, Aripeka and Hudson on CR-595
4.  Holiday, Palm Harbor, Tarpon Springs and Dunedin
4.  New Port Richey-Tarpon Springs on roads west of US-19
5.  Gospel Island Bypass - Inverness & Lake Tsala Apopka
6.  Gobbler's Drive Loop - Floral City & Lake Tsala Apopka
---
---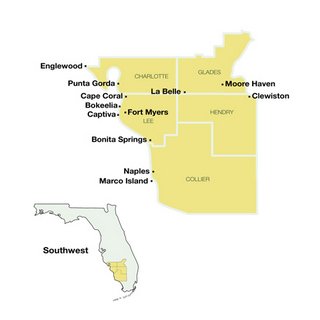 Towns:
Alva, Ave Maria, Boca Grande, Bokeelia, Cape Coral, Chokoloskee, Everglades, Fort Myers, Immokalee, Iona, LaBelle, Naples, Old Naples, Pine Island, Port Charlotte, Port Royal, St. James City

Southwest Florida Scenic Driving Routes With Maps
1.  Port Charlotte to Boca Grande thru Placida on CR-771
2.  Fort Myers to Iona on McGregor Boulevard
3.  LaBelle to Immokalee on SR-29
4.  LaBelle, Alva and Olga along the Caloosahatchee River
5.  Cape Coral to Matlacha and Pine Island
6.  Vanderbilt Beach to Port Royal through Old Naples
7.  Fifth Avenue Historic District in Old Naples
8.  Naples to Chokoloskee through Everglades City
9.  Naples to Miami on Tamiami Trail - US-41
10. Naples to Fort Myers Beach along the Gulf of Mexico
---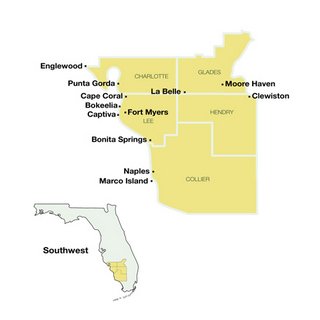 Towns:
Bal Harbour, Belle Glade, Boca Raton, Boynton Beach, Clewiston, Coconut Grove, Coral Gables, Dania Beach, Deerfield Beach, Delray Beach, Florida City, Fort Lauderdale, Fort Lauderdale Beach, Goulds, Hallandale Beach, Haulover Beach, Hobe Sound, Hollywood, Homestead, Juno Beach, Jupiter, Jupiter Island, Key Biscayne, Key Largo, Key West, Lakeport, Miami, Miami Beach, Moore Haven, North Palm Beach, Okeechobee, Pahokee, Palm Beach, Pompano Beach, Surfside, West Palm Beach

Miami Day Trips with towns and attractions

Southeast Florida Scenic Driving Routes With Maps
1.  Fort Pierce to Jensen Beach along the Indian River
2.  Jupiter to Hobe Sound via Jupiter Island on the Ocean
3.  Jupiter to North Palm Beach on SR-A1A
4.  Palm Beach to Lake Worth Inlet among the mansions
5.  Palm Beach to Boynton Beach on SR-A1A
6.  Boynton Beach to Fort Lauderdale on SR-A1A
7.  Coconut Grove to Goulds on Old Cutler Road
8.  Miami to Fort Myers via Belle Glade, Clewiston, LaBelle
9.  Martin County Scenic Highway west of Stuart
---
Believe it or not, there are still many roads in Florida that haven't changed that much from the old days. If anything, they've been widened and paved for your traveling pleasure.
The road you see in the photo below is in Central East Florida south of Rockledge on the west side of the Indian River Lagoon. You would recognize the scene today if you drove that road.
One of the great things about Florida is that you are never more than 60 miles from a salt water beach. Salt water can always be part of Florida on a tankful, and a beach visit is always a one tank trip in Florida no matter what kind of gas guzzler you drive.

---
See SCENIC DRIVES IN FLORIDA for a single very long web page that has maps and photos for all of the trips listed on this page.
See FLORIDA TOWNS for information on hundreds of towns along with histories and Google interactive maps.
See BEST ONE TANK TRIPS IN FLORIDA for more maps and information.
See FLORIDA SCENIC HIGHWAYS, a website of the FDOT, for more information on their designated highways and byways.
---
---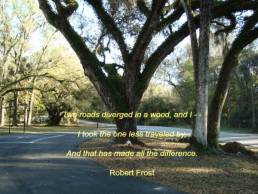 Over 67,000 followers can't be wrong. Learn about off the beaten path Old Florida, historic towns, attractions,  festivals, scenic drives and more.
Like Us On Facebook