FLORIDA DAYTRIPS BY THEME
You may be a person who likes to plan your Florida day trip around a particular theme. 

Most websites focus on locations when discussing day trips.  There is another way to find something to do.
You may be interested in outdoor adventure, history, museums, nature centers, historic buildings, or any number of other themes. 
We can think of at least 20 themes that might interest you.
If the type of experience on the day trip is more important to you than the location, then this page is for you.
Here Are Our Florida Day Trip Themes
Amusement and Theme Parks.
Does your perfect day include a family visit to a giant theme park or would you rather go to a smaller and less expensive attraction? No matter your preference, there are hundreds if not thousands of fun getaways in Florida. 
Orlando and Central Florida are home to some of the largest theme parks in the world.  Smaller attractions are scattered across the state.  From water parks to roller coaters to giant Ferris Wheels, it can be found in Florida. 
Beaches and Sea Shells.
Florida has one of the longest saltwater shorelines in the United States, and the Environmental Protection Agency says the state has 570 beaches with a total beach length of 902 miles. 
We don't know who can challenge that number, but it doesn't really matter.  No matter what kind of beach you are looking for, Florida probably has it. 
From just sunbathing, beach combing, long walks, treasure hunting, or searching for unique sea shells – you can find it here. 

Birds, Dolphins, Manatees, and More. 
Florida's mild climate makes it home to an amazing variety of animals.  Millions of birds stop by on their annual migratory journeys and a similar number stay here year-round. 
The state is surrounded by salt water and is home to multitudes of dolphins, a friendly and smart mammal.  Manatees, also known as sea cows, are comfortable in the warmer waters around the state.  They can't survive in waters below 60 degrees F., so they congregate in various warmer waters around the state in the cold months. 
There are countless opportunities in Florida to observe and interact with these creatures especially around Florida's many springs.
Enjoying the Water.
Florida has thousands of miles of salt water coastline, thousands of lakes, and dozens of rivers.  Getting out on the water is a traditional way to enjoy the state and get to see a lot of things you can't see from the roads. 
Tours and adventures are readily available to help you enjoy the water, or you can rent a boat and do it on you own.  Snorkeling, fishing, sailing are activities that Floridians enjoy all year long.
Everglades. 
The Florida Everglades is a huge subtropical wetland of sawgrass marshes in a complex system of interdependent ecosystems. These ecosystems include cypress swamps, the estuarine mangrove forests of the Ten Thousand Islands, tropical hardwood hammocks, pine rock land, and the salt water marine environment of Florida Bay in the Keys.  
The western parts of the extremely urban southeast Florida counties of Martin, Palm Beach, Broward and Miami-Dade are in the Everglades. The rampant development in this megalopolis has created new problems for the Everglades and aggravated old ones.  
Also, although Naples, Fort Myers, Labelle, Immokalee and Everglades City are in southwest Florida, the Everglades ecosystem touches their very back doors and is part of their history and future.  
The Florida Everglades sprawls across 16 counties, all the way from Orlando in the north to Monroe County in the south. 
Florida History.
Native Americans were in Florida at least 12,000 years ago, but written records only began when Juan Ponce de León arrived in 1513.   Spain built St. Augustine and Pensacola in 1565 and governed Florida for most of the next 250 years until it became a territory of the United States in 1821. 
The new territory attracted people from bordering southern states.  Florida became a state in 1845.  Much of Florida heritage is derived from the Old South, especially in north Florida.  Although part of the Confederacy, it suffered less damage in the Civil War than other southern states.
Only one significant battle was fought in Florida. The Union army occupied most coastal towns and forts, but the state's interior remained in Confederate hands.  After the Civil War, agriculture grew in importance, especially cattle and citrus. 
Florida's economy collapsed in 1926 and was soon followed by the Great Depression.  World War II spurred major economic development because Florida's year-round mild climate made the state a major training center for our military.  Tourists began visiting and many stayed.  The population growth continues to this day.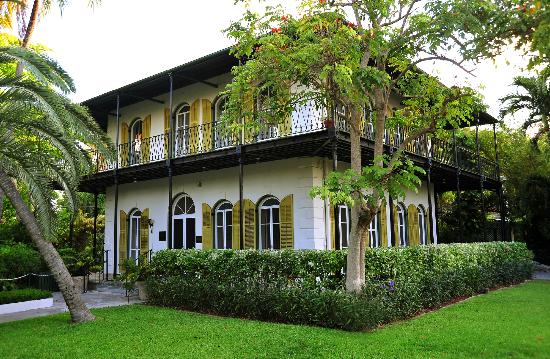 Hemingway Home, Key West
Florida Keys Adventures.
The Florida Keys are a string of coral cays that stretch from the mainland south of Miami all the way through Key West to the Dry Tortugas.  Most of these cays don't have sand beaches, but shores of coral rock. 
The Keys are not only different geologically from the rest of the state, the people have a culture that is unique and reflects a turbulent history.  The Keys were isolated from one another and only accessible by water until 1912.  In that year, the extension of Henry Flagler's railroad all the way to Key West connected the cays for the first time. 
Early settlers of The Keys were called "conchs" (conks) because of the main staple of the sea.  Many of these early settlers were Loyalists who came from the Bahamas, descendants of those who fled the United States after the Revolutionary War. 
In 1982 the people of Key West had a disagreement with the U.S. government, declared their independence, and briefly became the "Conch Republic".  Though only a stunt, it brought a lot of publicity to The Keys and cemented its reputation as home to a bunch of independent people. 
The image still sticks today.  The Keys are for people who love boating, fishing, and the unusual. 
Gardens, Flowers, and Arboretums.  
Florida's mild to tropical climate makes it ideal for growing a large variety of plants.  The huge population explosion in recent state history makes these botanical gardens even more attractive.  They are peaceful oases that provide refuge and quiet among the busy state of Florida.
Good Spirits and Good Times. 
Reliable sources claim that Florida has about 50,000 restaurants, wineries, bars, diners, and other establishments to enjoy good spirits and good times.  We scratch the surface here with some of the oldest and most popular establishments.  You can enjoy a wide variety of food, drinks, and entertainment at these places.
Historic Buildings and Architecture.
The oldest buildings in Florida are in St. Augustine reflecting the Spanish heritage dating back to 1565.  Many architectural masterpieces in the rest of the state were constructed during Florida's Gilded Age of the 1880s and 1990s. 
Some of the most impressive buildings were built during the real estate boom of the 1920s and are still functioning as hotels or other businesses.  Florida also has its share of historic mansions, many of which have been preserved and converted to museums. 
Historic Florida Hotels. 
Most Florida historic hotels, with some exceptions,  were built in the boom days of the early to mid 1920s.  Many of them were masterpieces of architecture of that golden era;  many of them also deteriorated over the years as more modern motels and hotels popped up all over Florida. 
Thanks to good old capitalism and the huge population explosion in Florida from the 1950s until now, many of these grand old ladies have been renovated and can stand up to any luxury hotel or motel in the state.
Lighthouses.
Florida lighthouses are among the state's oldest structures.  All of them have interesting stories to tell, and some of them can be visited by tourists. These places make an entertaining destination for a Florida day trip. 
The oldest lighthouse on mainland Florida is the one in St. Augustine that was built in 1824.  The tallest lighthouse in Florida is at Ponce de Leon Inlet south of Daytona Beach.  It is 175 feet tall and one of the tallest in the United States. 
6 of the lighthouses in Florida are open to the public.  Some of them allow visitors to climb to the top.  A few lighthouses also serve as popular wedding locations.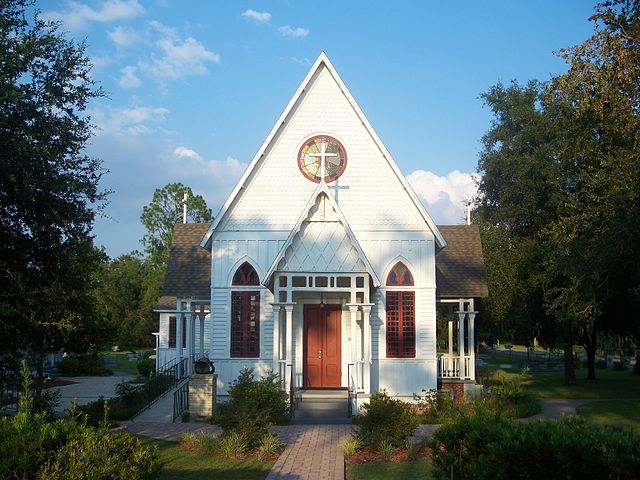 Holy Trinity Church, Fruitland Park
Historic Carpenter Gothic Churches.
In the late 1800s Florida had tremendously large forests and lumber was used for much of the construction in those days.  An architectal form was developed so the average carpenter could build a church that replicated many of the features that other churches had in stone. 
There were once about 80 such churches in Florida.  Today, about 39 of them remain.

Museums.
There are museums in Florida for just about any interest you might have. From fine Tiffany art to the bizarre collections in a Believe it or Not museum, you name it and it is probably somewhere in the state.
Museums range from the serious, such as the state museums of history and natural history, to the sports themed and the automobile-oriented museums, to some of the most interesting artifacts in Florida such as recovered buried Spanish treasure.

Outdoor Adventures. 
Florida's year round temperate to tropical climate makes it a perfect place for outdoor adventure. The state is bordered by 1,300 miles of saltwater coast, and its interior is bejeweled by 30,000 lakes and hundreds of miles of rivers and streams.
Florida has an extensive state park system, along with national parks, local parks, and bike trails.  There are limitless places for boating, fishing, or just plain beach combing and shell hunting.  Florida is made for enjoying the outdoors.

Local, State, and National Parks.
Florida Parks are treasured Florida natural resources.  The Old Florida that is rapidly disappearing from the state is being preserved in local, state, and national parks. 
It is because of these parks that some parts of natural Florida are still alive and well despite the proliferation of condos, theme parks, subdivisions and shopping malls that have obliterated much of the Florida landscape in the past half century or so. 
Many Florida state parks have camping sites carved out of the surrounding pine woods and palmettos. The campsites are separated from each other by this natural vegetation. The privacy is much greater than in the average private campground.  Each campsite usually has an electric outlet, a water faucet, a charcoal grill and a fire ring for campfires.
Rockets, Airplanes, and Railroads. 
Florida's modern history began first with the railroads, then airplanes, and finally rockets.  After the U.S. Civil War, water routes were the main form of transportation in the state. 
Railroads made the development of Florida possible by increasing export routes for its agricultural products, and ways for tourists to come down from the north. 
During World Wars I and II, aviation became a large part of Florida history.  The mild climate resulted in hundreds of army air force bases being built for training pilots.  The modern space program began in Florida at Cape Canaveral with the launch of Bumper 8 In 1950.
Federal, state, and local governments along with private individuals have done a great job preserving the memories and artifacts of these eras.  
Science Museums and Nature Centers. 
The rapid development of Florida has been a double-edged sword.  On the negative side, this growth has too often been rampant and careless and done a lot of environmental damage.  Native habitat has been lost forever and what remains continues to be erased or damaged by development. 
On a more positive note, the financial resources generated by this growth have provided the funds for government and private organizations to buy sensitive lands and put them into preservation forever. 
These preserves, along with nature centers and science museums, continue to educate the public about environmental issues and help them become good stewards of the land. 
Seminole Indian Culture.
There were 12 Native American tribes who lived in Florida before the Spanish arrived in the 1500s.  They were all gone within 200 years, either dying of European diseases or enslaved in the Caribbean. 
The Seminoles emerged in the 1700s from a combination of various Native American tribes who settled in Florida.  The dominant tribe was the northern Muscogee Creeks from Georgia and Alabama. 
The word "Seminole" is derived from a Creek word or may be a corruption of the Spanish word "cimarron" which means runaway or wild one. The Seminoles intermarried with free blacks and escaped slaves, hence the runaway designation. 
Most Seminoles were relocated by 1842 to reservations west of the Mississippi River.  The remaining population fought 3 wars against the United States.  The few hundred who never surrendered moved to the Everglades. 
In the twentieth century, the Miccosukee separated from the Seminoles and became a recognized tribe.

Springs.
Florida has about 1,000 fresh water springs, more than any other state in the country.  27 of these are first magnitude springs discharging more than 100 cubic feet of water per second. 
At least 14 Florida cities have "springs" in their names, as this is where development typically began. 
The largest springs discharge ground water from the Floridan aquifer, a limestone formation underlying much of the state.  Most spring water is at a constant temperature of 68 to 72 degrees F.  Many Florida springs support unique ecosystems, and they also flow into streams and rivers that depend on the flow of fresh water. 
Springs are one of the few natural areas in Florida where you can encounter a large variety of plants and animals in one compact area.  A visit to a spring can not only give you a wonderful swimming hole, but a place where you can see manatees, alligators, otters, and a large variety of fish, birds, and turtles.
The Arts.
The arts in Florida include a wide variety of forms that reflect the state's diverse culture. 
In addition to hundreds of private art galleries, Florida has a large variety of museums ranging from fine art to sidewalk art.  From street musicians to symphony orchestras to Broadway musicals in modern performing arts centers, you will find it here. 
Folk music is part of the cultural fabric, and the State is home to the annual Florida Folk Festival.  Dozens of community theaters add to the entertainment opportunities across the State.
Zoos.  
Even if you go exploring in the Florida wilderness, you are not likely to see a lot of wild animals.  That's because they are masters at hiding from danger and they often see humans as dangerous. 
They spend most of their time looking for something to eat and drink. Hiding from other animals is hard wired into their genetic code.  In Florida zoos, a lot of their biological needs are taken care of and the animals can relax. 
This lets you observe them in more detail. 
Some people believe zoos are cruel because they imprison wild animals.  There are many others who believe zoos give an opportunity for millions of people to see, enjoy, and appreciate wild animals. 
They feel in the long run that this exposure helps animal species survive because of human's love and understanding of them.

---
---
---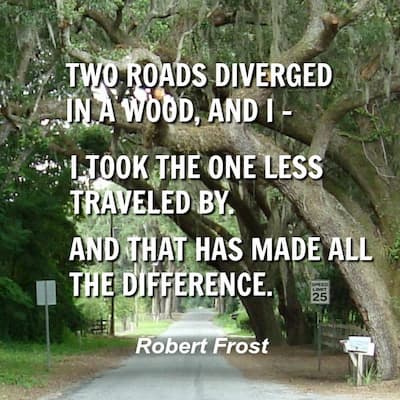 Our Facebook page has more than 71,000  followers who love off the beaten path Florida:  towns, lodging,  road maps, festivals, attractions, scenic road trips, day trips, history, and more.
Take a look and if you enjoy what you see, please give us a like.