JACKSONVILLE FLORIDA DAY TRIPS

The Jacksonville Florida day trips and one tank trips described on this website are all within 100 miles of Jacksonville.
We figure that the average car can go at least 250 miles on one tank of gas or one electric charge. Some, like a Toyota Corolla or Prius can go even further.
These day trips can be made with gallons or battery charge to spare to allow some exploring on the way to and from your destination.
Here are some things to do and places to see within 100 miles of Jacksonville.
---
Recommended Jacksonville Florida Day Trips
Alexander Springs Recreational Area,
Ocala National Forest, canoeing, swimming, kayaking, camping.
Amelia Island Horseback Riding,
Fernandina Beach.  You can ride on the Atlantic Ocean beach.  Fees vary by selected ride and number of people.
Appleton Museum of Art,
Ocala, stunning example of classical architecture clad in Italian travertine marble. The 81,610-square-foot museum features 30,000 square feet of gallery space.
Blue Spring State Park,
Orange City park is a tremendous spot to observe manatees sheltering from the cold in the clear waters from November to March.
Bronson is a small town west of Gainesville where you can visit the cemetery and see the grave of Bo Diddley.
Castillo de San Marcos,
The oldest 17th century fort in North America, this well preserved fort dominates the waterfront in downtown St. Augustine.
Catty Shack Ranch Wildlife Sanctuary,
Jacksonville non-profit sanctuary that gives big cats a permanent home.  They have lions, tigers, pumas, leopards, lynxes and more.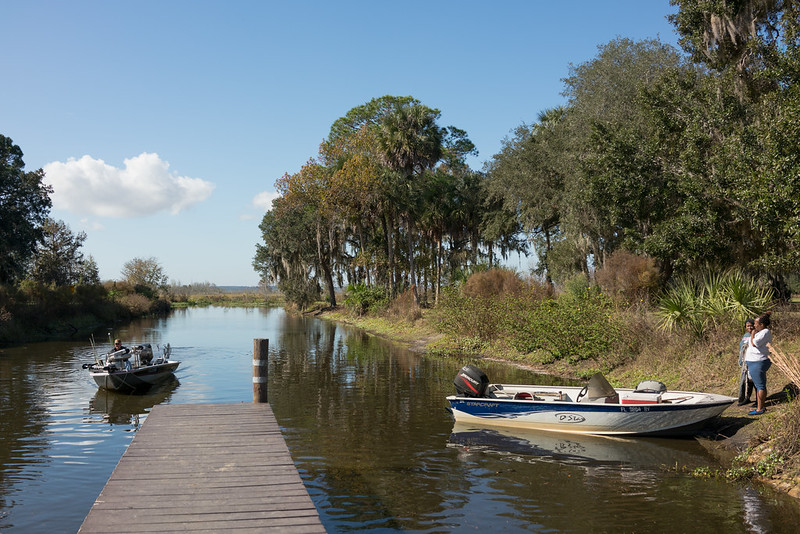 Cross Creek
Cross Creek is south of Gainesville and was the home for many years of Marjorie Kinnan Rawlings. It was the setting for her famous novel "The Yearling" as well as "Cross Creek". She is buried in a quiet cemetery nearby.

Cummer Museum of Art and Gardens,
Jacksonville.  The Cummer has one of the finest permanent art collections in Florida, with nearly 5,000 objects. 

Daytona Beach is the motor city and has hard packed sands where you can drive your car on the beach. Home of NASCAR and many famous races including the Daytona 500. Lots of great lodging and dining opportunities.
Daytona International Speedway
If you visit during other than the featured events, you can go on a first come-first served tour.

DeLand is home of Stetson University and is loaded with art galleries and good restaurants.
Devil's Millhopper Geological State Park,
Gainesville.  You walk down a 232-step wooden staircase into the bottom of a geological formation that has been attracting visitors for well over a century. 
Don Garlits Museum of Drag Racing,
Ocala museum has more than 90 race cars on display and another 50 antique cars.  Garlits is a former champion drag racer.
Farm Tours of Ocala,
Ocala 3 hours and 15 minute tour of working farms where you can go behind the scenes and chat with pros who work with thoroughbreds.

Fernandina Beach is one of the oldest towns in Florida. It has a beautiful restored downtown area with many gift shops and a lot of good restaurants. Many historic buildings to admire, and a working waterfront make this a good place to visit.
Flagler College (Ponce de Leon Hotel)
St. Augustine hotel was built by railroad tycoon Henry Flagler in 1888 and is a National Historic Landmark.You can take a tour and explore.
Flagler Beach is a great little beach town with almost no condos between State Road A1A and the Atlantic Ocean beach.
Flagler Beachfront Winery is north of Daytona and is a fun place to visit while you visit the great sand beaches.
Florida Museum of Natural History is the biggest and the best and is on the campus of the University of Florida in Gainesville. Prehistoric animals on display and frequently scheduled butterfly release events. The kids will love you for putting this on your Jacksonville Florida day trips.

Fort Clinch State Park is in Fernandina Beach and included Fort Clinch, a ancient fort going back to before the Civil War. Re-enactors in uniform will entertain you. Beaches and camping are also in the park.
Fort Gates Ferry is a historic ride across the St Johns River between the Ocala National Forest and Fruitland.
Frederick Delius Home is located on the campus of Jacksonville University.  He was a famous composer.
Gainesville has many attractions in addition to the large museums and university. Many historic buildings and structures on the National Register of Historic Places.
Gamble Rogers State Park was named for a famous Florida folk singer and storyteller who lost his life in the ocean trying to save somebody who was drowning. It has one of the most beautiful beaches in Florida.
Ginnie Springs Outdoors is a privately owned campground that also has cottages and great canoeing, kayaking and diving. Super clear waters add to your enjoyment.
Glen St. Mary is a village of 500 people 32 miles west of Jacksonville that was voted Florida's Outstanding Rural Community of the Year.
Green Cove Springs is an historic town on the St. Johns River with many well preserved examples of Old Florida buildings.
High Springs is a small quaint town in the middle of Florida freshwater spring country.  A great place for outfitting and kayak or snorkeling trip.
Ichetucknee Inner Tube Trip
Ichetucknee Springs State Park. A Florida tradition for years, floating down the clear cool river. 

Jacksonville is the major city in Northeast Florida. It is home to many insurance companies, and straddles the beautiful St. Johns River. The city has many things to do and places to see.
Jacksonville Museum of Science and History,
Interactive exhibits about your body's systems , energy exhibits, and animal encounters.  Also a boat tour on the St. Johns River.  

Jacksonville Zoo is one of the finest in the state. You will enjoy the train ride and the many animals on display in natural settings. It is located in North Jacksonville.
Kanapaha Botanical Gardens is an unusual display of natural vegetation and trees in Gainesville.
Kingsley Plantation,
Jacksonville.  Located on Fort George Island are the owner's house built about 1798 and the remains of 25 slave cabins.

La Chua Trail, Paynes Prairie is a preserve where you might see horses, bison, wading birds, gators, and more.
Lake City  is an old Florida town with a lot of history that goes back to Civil War days. It was the birthplace of the school that merged to become the Univesity of Florida.
Live Oak is a small historic town near Lake City in North Florida with a history that goes back to Civil War Days.
Log Cabin Winery is a quaint little vineyard and wine making operation in Satsuma near the St. Johns River. Enjoy wine tasting and seeing the operation.
Macclenny is 30 miles west of Jacksonville and is a typical Old Florida small town with several well preserved historic buildings.
Mandarin is on the St. Johns River south of Jacksonville.  It was the home of Harriett Beecher Stowe and Clark's Fish Camp is there now.
Marineland is a Florida historical treasure south of St. Augustine Beach. It was once Florida's largest tourist attraction. These days it is scaled down, but still has dolphin encounters and other attractions.  It remains one of my favorite Jacksonville Florida day trips.
Marjorie Kinnan Rawlings Historic State Park, 
Cross Creek.  You will experience what 1930s farm life was like when the famous author lived and worked here.  Her Florida Cracker style home and farm has been restored and is preserved.

McIntosh has a population of only 469 people but has almost 70 buildings in its designated historic district.
Melrose is a small Victorian village near Gainesville with historic buildings and a fine restaurant.
Micanopy is a historic tiny town named for a great Seminole chief.  Nice antique stores and restaurants.
Mill Creek Retirement Farm For Horses is a place where retired horses can live their lives out with dignity and comfort. 
Northeast Florida Day Trips and Scenic Drives is a page on this website that has maps showing several scenic driving routes in the area around Jacksonville and the region.

Ocala is the center of horse country, and has a lot of great statuary celebrating this fact scattered all over the city. Many good restaurants and lodgings, and home to nearby Silver Springs, and Old Florida tourist attraction.
Ocala National Forest is a sprawling wilderness area in central Florida covering over 600 square miles of land and is one of the oldest and largest national forests in the continental United States. Hiking, birding, trails, springs, and nature..
Oldest House Museum Complex,
The Oldest House Museum Complex is located across from the historic National Guard building in downtown St. Augustine.
Olustee Battlefield Historic State Park,
Site of a significant Civil War battle.  U.S. Colored troops took part in the battle.  You can see exhibits and artifacts in the visitor center.
Palatka is on the St. Johns River and has a lovely historic district and is home to Mulholland House and Ravine State Gardens.
Paynes Prairie Preserve State Park
100 Savannah Blvd., Micanopy, FL 32667. Tel: 352-466-3397. A 22,000 acre savannah with a wide variety of wildlife including bison and horses in addition to hundreds of bird varieties.

Ponce Inlet Lighthouse south of Daytona offers a chance to climb to its top for a magnificent view.
Ponce de Leon Inlet Lighthouse
Ponce Inlet lighthouse is on an inlet south of Daytona Beach.  You can climb to the top and see a fantastic view of the ocean and beaches.  

Princess Place Preserve is a historic site once owned by a princess and now a place of tranquility and history.
Ravine Gardens State Park is a Palatka treasure with beautiful gardens, trails, suspension bridges, and amazing topography.
San Sebastian Winery is conveniently located not too far west of downtown St. Augustine. You can enjoy wine tasting from their comfortable upstairs deck, and watch how wine is made.
Silver Springs State Park in Ocala is home to a former private attraction where you can enjoy riding on the glass-bottomed boats and being amazed at the crystal-clear blue waters of Silver Springs. 

St. Augustine is the oldest continuously occupied city in the United States. It was founded by Spaniards in 1565 and is still dotted with beautiful old buildings and cobbled streets. It is a journey back in time, complete with an ancient fort on the water.

St. Augustine Alligator Farm is the oldest alligator attraction in Florida. No visit to St. Augustine is complete without visiting the farm and enjoying their fascinating shows featuring snakes, gators and other denizens of the sunshine state.
St Augustine Lighthouse gives you the best view of the Ancient City and surroundings if you climb to its top.
Stephen Foster Folk Culture Center State Park is a natural slice of Old Florida. It has many folk culture exhibits and is the setting every Memorial Day weekend for the Florida Folk Festival.

Tangled Oaks Vineyard is a family owned business in Grandin not far from Palatka. You will be able to sample their wine and watch how it is made. Jacksonville Florida day trips can always be enhanced by a little wine.
Treaty Oak is a beloved 250 year old giant Southern live oak in a quiet park in a busy city neighborhood.
University of Florida is home of the Fightin' Gators and was once the largest university in the state.
Washington Oaks Gardens State Park on the barrier island east of Palm Coast has beautiful trees, gardens, and amazing rock formations on the beach.
White Springs is a small town where Stephen Foster Folk Culture Center State Park is located.  Nice old rural town with interesting buildings.
---
SEE TICKET INFORMATION FOR THESE & MANY OTHERS
---
---
---

Our Facebook page has more than 128,577 followers who love off the beaten path Florida: towns, tourist attractions, maps, lodging, food, festivals, scenic road trips, day trips, history, culture, nostalgia, and more.  We post articles every day.  Please check it out and if you like it, we would appreciate a "like" from you.
---
By Mike Miller, Copyright 2009-2023
Florida-Back-Roads-Travel.com
Florida Back Roads Travel is not affiliated with or endorsed by Backroads, a California-based tour operator which arranges and conducts travel programs throughout the world.